BIOGRAPHY
George Lucas was raised on a walnut ranch in Modesto, California. His father was a stationery store owner and he had three siblings. During his late teens he went to Downey High School and was very much interested in drag car racing. He planned to become a professional racecar driver. However a terrible car accident just after his high school graduation ended that dream permanently. The accident changed his views on life. He decided to attend Modesto Junior College before enrolling in the University of Southern California film school. As a film student he made several short films including THX-1138: 4EB (Electronic Labyinth) which won first prize at the 1967-68 National Student Film Festival. In 1967 he was awarded a scholarship by Warner Brothers to observe the making of Finian's Rainbow (1968) which was being directed by Francis Ford Coppola. Lucas and Coppola became good friends and formed a company called American Zoetrope in 1969. The company's first project was Lucas' full-length version of THX 1138 (1971). In 1971, Coppola went into production for The Godfather (1972), and Lucas formed his own company, Lucasfilm Ltd. In 1973 he wrote and directed the semi-autobiographical American Graffiti (1973) which won the Golden Globe and garnered five Academy Award nominations. This gave him the clout he needed for his next daring venture.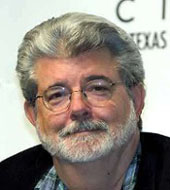 George Lucas
From 1973 to 1974 he began writing the screenplay for Star Wars (1977). He was inspired to make this movie from Flash Gordon and the Planet of the Apes films. In 1975 he established ILM (Industrial Light & Magic) to produce the visual effects needed for the movie. Another company called Sprocket Systems was established to edit and mix Star Wars and later becomes known as Skywalker Sound. His movie was turned down by several studios until Twentieth Century Fox gave him a chance. Lucas agreed to forgo his directing salary in exchange for 40% of the film's box-office take and all merchandising rights.
The movie went on to break all box office records and earned seven Academy Awards. It redefined the term "blockbuster". The rest is history. Lucas made the other Star Wars films and along with Steven Spielberg created the Indiana Jones series which made box office records of their own. From 1980 to 1985 Lucas was busy with the construction of Skywalker Ranch, built to accommodate the creative, technical, and administrative needs of Lucasfilm. Lucas also revloutionized movie theaters with the THX System which was created to maintain the highest quality standards in motion picture viewing. He went on to make several more movies that have created major breakthroughs in film making. He is chairman of the board of The George Lucas Educational Foundation. In 1992 George Lucas was honored with the Irving G. Thalberg Award by the Board of Governors of the Academy of Motion Picture Arts and Sciences for his lifetime achievement.
Date of birth: 14 May 1944
Location: Modesto, California, USA
Birth name: George Walton Lucas Jr.
Height 5' 6" (1.68 m)
Sometimes Credited As: Lucas
Spouse Marcia Lucas (22 February 1969 - 1983) (divorced)
TRADE MARK
Letters/numbers THX-1138 (name of his first "real" movie) appears in many films: The licence plate number on Milner's deuce coupe in American Graffiti (1973) was THX 138. A battle droid who captures Jar Jar Binks and the Gungans has the number 1138 written on his back. In Star Wars (1977), Luke Skywalker said (with reference to Chewbacca) "Prisoner transfer from cell block 1138." In Star Wars: Episode V - The Empire Strikes Back (1980), General Rieekan says, "Send Rogues ten and eleven (11) to station three-eight (38)." His films usually feature a battle scene which takes place around a large shaft or pit.
TRIVIA
Three adopted children: Amanda Lucas (aka Amanda Lucas, b. 1981), Katie Lucas (b. 1988), and Jett Lucas(b. 1993). Attended University of Southern California School of Cinema.
In his early twenties he was in a severe road accident and spent many months in the hospital. And when in the hospital he created the concept of the Force.
Lucas provided all the funding for Star Wars: Episode V - The Empire Strikes Back (1980), Star Wars: Episode VI - Return of the Jedi (1983) and Star Wars: Episode I - The Phantom Menace (1999).
For 2nd consecutive year, ranked No. 4 on Entertainment Weekly's annual list of "101 Most Powerful People in Entertainment." Ranked just ahead of Steven Spielberg and just behind the power couple that runs Time Warner Turner media empire.
Sits on USC School of Cinema-Television's Board of Councilors. In the 2001 edition of the Forbes' "400 Richest People In America", it is reported that Lucas' fortune is $3 billion. Ranked #10 in Premiere's 2003 annual Power 100 List. Had ranked #14 in 2002. He is a diabetic.
Frequently uses the famous "Wilhelm Scream" sound effect in his films. This sound effect has been used in dozens of movies. He has created the image of always being on the cutting edge of technology. However, when he writes, he does it in longhand in a loose leaf binder rather than on a word processor.
He was so impressed with relatively unknown stage actor James Wheaton that he cast him over studio objections in the voiceover role of "OMM" in THX 1138 (1971). The studio wanted Orson Welles to play the role.
His script for Star Wars (1977) was turned down by every major Hollywood studio, the reason being that no one would want to see it. In a last ditch attempt, Lucas approached 20th Century Fox who decided to go ahead with the script even though they were convinced it would flop. Star Wars ended up becoming the highest grossing movie ever released at that time. It still ranks as one of the highest grossing movies ever made to this day.
Sold Lucasfilm's Computer Graphics Division to Apple Computer co-founder Steve Jobs, and it later became Pixar Animation Studio. His name backwards is Egroeg Sacul. This name is also used in the Disney theme park ride Star Tours (1987). Rewrote the ending of Raiders of the Lost Ark (1981) to tighten it up due to the fact that the scene would have been too busy. It originally ended with the mine-car chase that was later added to Indiana Jones and the Temple of Doom (1984).
Conceived Indiana Jones while on vacation with his friend Steven Spielberg in Hawaii. Lucas decided to produce while Spielberg would direct. Had a long romantic involvement with Linda Ronstadt. With THX 1138 (1971) and Star Wars (1977), Lucas re-invented the way sound was used in films. Using it in both a linear and abstract way, to tell the story, he pushed sound design to the forefront of the filmmaking process. Refuses to put "critics quotes" on his movie posters. Something that infuriates many critic societies.
Ranked #16 in Premiere's 2004 annual Power 100 list. Had ranked #10 in 2003. Biography in: John Wakeman, editor. "World Film Directors, Volume Two, 1945-1985". Pages 605-610. New York: The H.W. Wilson Company, 1988. He based the character of Han Solo on his friend Francis Ford Coppola. He originally wanted his friend Steven Spielberg to direct Star Wars: Episode VI - Return of the Jedi (1983), but his dispute with the Director's Guild barred him from doing so. He settled for director Richard Marquand instead.
Became so stressed during the filming of the original Star Wars (1977) that he checked himself into a hospital, where he was diagnosed with hyper-tension. Said that Alec Guinness was very helpful to him during the filming of the original Star Wars (1977) even to the point of getting the other actors to work more seriously. Disowned Howard the Duck (1986) after the film's release.
When he began his apprenticeship at Warner Brothers, what he wanted to see most was the Animation Department. He claims that the day he arrived on the lot was the very day the Animation Department was closed down. According to Lucas, one of the themes in all of his films is man's relationship to machines and technology - either controlling them, or being controlled by them.
Despite a reputation as Hollywood blockbusters, all of the Star Wars films are actually independent films, with the exception of Star Wars Episode IV: A New Hope. The only way he could get the required funding to make the film was to apply for studio funding. With the success of the film and its merchandising, Lucas no longer needed to go to the studios. For Episodes V and VI, he took out bank loans, which he paid off on each films' earnings. For the Prequel Trilogy, he no longer needed bank loans, having made enough money to fund each film out of his own personal savings.
He made what was at the time an unusual deal for the film, Raiders of the Lost Ark (1981). Paramount financed the film's entire $20 million budget. In exchange, Lucas would own over 40% of the film and collect almost half of the profits after the studio a grossed a certain amount. It turned out to be a very lucrative deal for Lucas. Paramount executive Michael Eisner said that he felt the script for the film was the best he had ever read.
Won the American Film Institute's Life Time Achievement Award.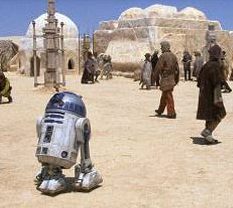 Star Wars droid - R2D2
QUOTES
"A special effect is a tool, a means of telling a story. A special effect without a story is a pretty boring thing."
"The sound and music are 50% of the entertainment in a movie"
"The script is what you've dreamed up-this is what it should be. The film is what you end up with."
"I am simply trying to struggle through life; trying to do God's bidding."
On the making of Star Wars (1977): "When you're directing, you have to get up at four thirty [A.M], have breakfast at five, leave the hotel at six, drive an hour to location, start shooting at eight, and finish shooting around six. Then you wrap, go to your office, and set up the next day's work. You get back to the hotel about eight or nine, hopefully get a bite to eat, then you go to your room and figure out your homework, how you're going to shoot the next day's scenes, then you go to sleep. The next morning it starts all over again."
"I took over control of the merchandising not because I thought it was going to make me rich, but because I wanted to control it. I wanted to make a stand for social, safety, and quality reasons. I didn't want someone using the name 'Star Wars' on a piece of junk."
"The object is to try to get the (movie) system to work for you, instead of against you. And the only way you can do it is through success, I'm afraid"
"Making a film is like putting out a fire with a sieve. There are so many elements, and it gets so complicated"
"To be renewed is everything. What more could one ask for than to have one's youth back again?"
"He is his own man, he is not a son anymore, he is an equal." - describing Luke Skywalker after his duel with Darth Vader in Star Wars: Episode V - The Empire Strikes Back (1980). "I wanted to make abstract films that are emotional, and I still do."
"He is one of the best. He's outwitted the empire on numerous occaisons, and he has made some very fast deals. One of his problems is that he gambles quite heavily and that's where he loses most of his money. He's tough and sharp, but never manages to scrape together enough to get any power...He's slightly self-destructive and he sort of enjoys being on the brink of disaster...You might meet him and he may be worth ten billion dollars and the next time you meet him he's in debt up to his ears." - Describing Han Solo
"It's hard work making movies. It's like being a doctor:you work long hours, very hard hours, and it's emotional, tense work. If you don't really love it, then it ain't worth it."
"From being a struggling. starving filmmaker to being incredibly successful in a period of a couple of years is quite a powerful experience, and not necessarily a good one."
"I've had a very volatile relationship with Francis (Ford Coppola). It's on both sides, like we were married and we got divorced. It's as close a relationship as I've had with anybody."
"If you can tune into the fantasy life of an 11-year-old girl, you can make a fortune in this business."
Regarding Star Wars: Episode III - Revenge of the Sith (2005): "Right or wrong this is my movie, this is my decision, and this is my creative vision, and if people don't like it, they don't have to see it."
"I am very concerned about our national heritage, and I am very concerned that films that I watched when I was young and the films that I watched throughout my life are preserved, so that my children can see them."
(On Gangs of New York) "We showed a print of it at the Skywalker Ranch. I was amazed by what he (Scorsese) did with it and where he went. It was terrific."
"The parallels between what we did in Vietnam and what we're doing in Iraq now are unbelievable."
I've worked hard enough and earned enough to fail for the rest of my life. And I'm gonna do it!! - About making art films that he admits no one will want to see.
[When asked what it was like to watch Steven Spielberg direct] "It's like watching Albert Einstein or Thomas Edison. It's like watching Michael Jordan or Tiger Woods, any genius you can name."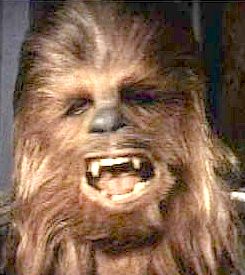 Chewbacca
SALARY
| | |
| --- | --- |
| | $400,000,000 |
| Raiders of the Lost Ark (1981) | $2,500,000 + net profits |
| Body Heat (1981) | $250,000 + 5% of profits |
| Star Wars (1977) | $200,000 + 40% of the net profits |
| American Graffiti (1973) | $50,000 + 15% of gross |
| THX 1138 (1971) | $15,000 |
| The Rain People (1969) | $3,000 |
| Finian's Rainbow (1968) | $3,000 |
Biography from Leonard Maltin's Movie Encyclopedia:
Despite the fact that he has directed only a handful of films, George Lucas' name looms large in the motion picture industry. The staggering success of his films enabled him to become his own mogul, overseeing both moviemaking projects and technical developments that have made him Hollywood's foremost futurist. A child of the TV generation, Lucas studied film at the University of Southern California (where one of his teachers was Jerry Lewis). He had already made several short subjects when he won an internship at Warner Bros., where he met Francis Ford Coppola, who was making Finian's Rainbow there. Coppola took him on as an assistant, and allowed him to make a cinema-verité documentary about his next production, The Rain People which Lucas called Filmmaker (1968).
Coppola then persuaded the studio to finance an expansion of Lucas' student film into the feature-length THX-1138 (1971), an intelligent if somewhat nihilistic sci-fi yarn. The film's poor box-office performance persuaded Lucas to direct his energies toward a project with mainstream appeal. Coppola's willingness to serve as executive producer persuaded Universal to finance Lucas' American Graffiti (1973), a semiautobiographical coming-of-age story set in 1962 that took off like a rocket and became one of the decade's biggest hits, launching a number of young actors on the road to stardom. It also earned the young filmmaker dual Oscar nominations, as director and coscreenwriter.

Over the next few years Lucas developed his next project, another sci-fi outing, but with a very different sensibility. Star Wars (1977) synthesized elements of hokey old space operas and serials Lucas had enjoyed as a kid, and even borrowed from Akira Kurosawa's 1958 adventure The Hidden Fortress but had a popculture feeling all its own. As with Graffiti the studio that backed this project had no faith in it whatsoever, and it came as a total surprise that Star Wars became a megahit-no, more of a phenomenon It earned more than $400 million dollars, and in fact helped usher in the era of the blockbuster hit (for better or worse).
It spun off a mini-industry of its own, and saw its characters become part of contemporary lore. (Lucas also received Oscar nominations for writing and directing the picture.) What's more, the film inspired Lucas to establish his own full-time special effects company, Industrial Light and Magic (ILM), which would create dazzling new illusions for the Star Wars sequels, The Empire Strikes Back (1980) and Return of the Jedi (1983). With the clout his earnings gave him, he saw no need to work in Hollywood, and built his own filmmaking "empire"-actually a ranch named after his character Luke Skywalker-on his home turf in Northern California to house Lucas Film Ltd.

He also decided to relinquish the director's chair and escape from that nervewracking job. He and another Bay Area filmmaker, Philip Kaufman, created the character of archeologist/adventurer Indiana Jones (inspired, again, by old-time Saturday matinee serials), and persuaded Steven Spielberg to direct Raiders of the Lost Ark (1981), which Lucas also coexecutive produced. This gave him yet another film in the All-Time Top-Grossing Hits roster, and led to a pair of sequels, Indiana Jones and the Temple of Doom (1984) and Indiana Jones and The Last Crusade (1989). Lucas later brought his character to television in the lavishly produced, award-winning (but, sadly, little seen) series "The Young Indiana Jones Chronicles" (1992- ).

Lucas was also responsible for executive producing such other films as More American Graffiti (1979), Body Heat (1981, for which he took no screen credit), Twice Upon a Time (1983), Mishima (1985), the notorious flop Howard the Duck(1986), Labyrinth (1986), The Land Before Time, Tucker: The Man and His Dream (for Coppola), Willow (all 1988), and Radioland Murders (1994, from a story he had written years earlier). He also executive produced and wrote the screenplay for the 3-D Disneyland attraction Captain EO (1986), which Francis Coppola directed. In addition to LucasFilm Ltd. and Industrial Light and Magic, Lucas also developed the THX Sound System, which sought to improve the quality of sound in movie theaters. In 1992 he was given the prestigious Irving Thalberg Award by the Academy of Motion Picture Arts and Sciences. As for his millions of fans, Lucas has promised them a new series of Star Wars adventures to come.
---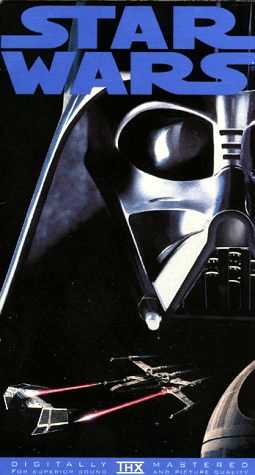 Star Wars DVD
Filmography as: Writer, Producer, Miscellaneous Crew, Director, Editor, Cinematographer, Actor, Sound Department, Second Unit Director or Assistant Director, Himself, Notable TV Guest Appearances
Writer - filmography

(In Production) (2000s) (1990s) (1980s) (1970s) (1960s)
Filmography as: Writer, Producer, Miscellaneous Crew, Director, Editor, Cinematographer, Actor, Sound Department, Second Unit Director or Assistant Director, Himself, Notable TV Guest Appearances
Producer - filmography

(In Production) (2000s) (1990s) (1980s) (1970s) (1960s)
Filmography as: Writer, Producer, Miscellaneous Crew, Director, Editor, Cinematographer, Actor, Sound Department, Second Unit Director or Assistant Director, Himself, Notable TV Guest Appearances
Miscellaneous Crew - filmography

(2000s) (1990s) (1980s) (1970s) (1960s)
Filmography as: Writer, Producer, Miscellaneous Crew, Director, Editor, Cinematographer, Actor, Sound Department, Second Unit Director or Assistant Director, Himself, Notable TV Guest Appearances
Director - filmography

(2000s) (1990s) (1970s) (1960s)
Filmography as: Writer, Producer, Miscellaneous Crew, Director, Editor, Cinematographer, Actor, Sound Department, Second Unit Director or Assistant Director, Himself, Notable TV Guest Appearances
Editor - filmography

(2000s) (1980s) (1970s) (1960s)
Filmography as: Writer, Producer, Miscellaneous Crew, Director, Editor, Cinematographer, Actor, Sound Department, Second Unit Director or Assistant Director, Himself, Notable TV Guest Appearances
Cinematographer - filmography
Filmography as: Writer, Producer, Miscellaneous Crew, Director, Editor, Cinematographer, Actor, Sound Department, Second Unit Director or Assistant Director, Himself, Notable TV Guest Appearances
Actor - filmography
Filmography as: Writer, Producer, Miscellaneous Crew, Director, Editor, Cinematographer, Actor, Sound Department, Second Unit Director or Assistant Director, Himself, Notable TV Guest Appearances
Sound Department - filmography
Filmmaker (1968) (sound)
... aka Filmmaker: A Diary by George Lucas

Marcello, I'm Bored (1966) (sound editor)


Filmography as: Writer, Producer, Miscellaneous Crew, Director, Editor, Cinematographer, Actor, Sound Department, Second Unit Director or Assistant Director, Himself, Notable TV Guest Appearances
Second Unit Director or Assistant Director - filmography
Star Wars: Episode VI - Return of the Jedi (1983) (second unit director) (uncredited)
... aka Return of the Jedi (USA: short title)
... aka Star Wars VI: Return of the Jedi (USA: video box title)


Filmography as: Writer, Producer, Miscellaneous Crew, Director, Editor, Cinematographer, Actor, Sound Department, Second Unit Director or Assistant Director, Himself, Notable TV Guest Appearances
Himself - filmography
(In Production) (2000s) (1990s) (1980s) (1970s)
Filmography as: Writer, Producer, Miscellaneous Crew, Director, Editor, Cinematographer, Actor, Sound Department, Second Unit Director or Assistant Director, Himself, Notable TV Guest Appearances
A - Z FILMS INDEX
A - Z ACTORS INDEX
---
A taste for adventure capitalists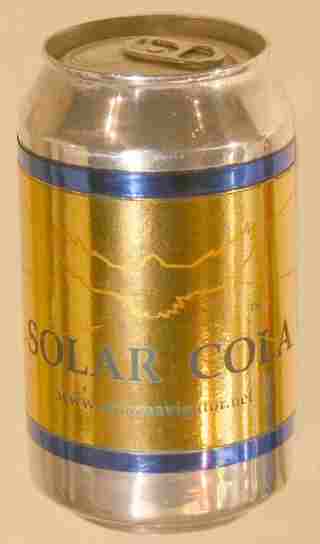 Solar Cola - a healthier alternative