BIOGRAPHY
Steven Allan Spielberg KBE (born December 18, 1946) is an Oscar winning Jewish American film director and producer. His German last name comes from the name of the Austrian city where his Hungarian ancestors lived in 17th century: Spielberg. He is noted in recent years for his willingness to tackle emotionally powerful issues, such as the horrors of the Holocaust in Schindler's List, slavery in Amistad, hardships of war in Saving Private Ryan, and terrorism in Munich. One consistent theme in his family friendly work is a childlike, even naïve, sense of wonderment and faith, as attested by works such as Close Encounters of the Third Kind, E.T. the Extra-Terrestrial, Hook and A.I., and the challenging role of a father-figure.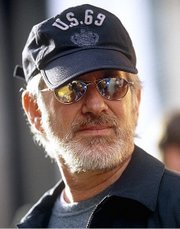 Steven Spielberg
Arguably the most important figure to emerge from the creative ferment of Hollywood cinema in the 1970s, Steven Spielberg has changed the way movies are made and about what they are made. He is perhaps the Western world's most famous living filmmaker; three movies he directed ("E.T. the Extra-Terrestrial" 1981; "Jurassic Park" 1993; "Jaws" 1975) are among the top ten highest grossing films of all time. His former production company, Amblin Entertainment, was also responsible for such hits as "Gremlins" (1984), "Back to the Future" (1985) and "Who Framed Roger Rabbit" (1988). Spielberg has succeeded in combining the intimacy of a personal vision with the epic requirements of the modern commercial blockbuster, but his astonishing success invalidated his acceptance as an artist for many years. Marketplace issues aside, Spielberg certainly travels in august creative company: like Orson Welles, he has been celebrated and penalized for precocity; like Alfred Hitchcock, he has been alternately praised and damned as a master of emotional manipulation; and like Frank Capra, he has been criticized for shameless sentimentality. Spielberg's most important spiritual predecessor, however, is Walt Disney, another creative individual who made himself into a brand name while attending to the serious business of making "frivolous" entertainments.
Several Spielberg films have become landmarks in the development of special effects, both in their visual and aural aspects. This filmmaker, however, is no technocrat nor does he display a serious intellectual interest in science fiction. Spielberg utilizes elements of sci-fi and fantasy but tends to eschew heavy ideas in favor of sublime feelings, such as childlike awe and trust. Indeed, his work has decisively influenced the emphasis in late 20th Century sci-fi filmmaking on the sensibility of youth and they succeed in spite of blatant sentimentality through the director's masterful use of emotionally potent visual imagery. If nothing else, Spielberg possesses an uncanny knack for eliciting and manipulating audience response.
Unlike many of his contemporaries, Spielberg did not attend a major university film program. Largely self-taught, at age 16, he fashioned his first film "Firelight", a two-hour science fiction movie, that a local movie house in Phoenix, AZ, consented to run for one evening. His short film, "Amblin'" (1969) impressed executives at the television unit of Universal Studios and Spielberg was hired, making his debut directing the formidable Joan Crawford in the TV-movie pilot for Rod Serling's "Night Gallery" (NBC, 1969). He went on to hone his craft helming episodes of such weekly series as "Columbo" and "Marcus Welby, M.D." as well as three TV-movies. One telefilm, "Duel" (ABC, 1972), about a salesman (Dennis Weaver) pursued by a giant diesel truck whose driver is never seen, was released theatrically in Europe, where it enjoyed both critical and commercial success.
Spielberg's first theatrical film, "The Sugarland Express" (1974) was based on the true story of a lumpen Texas woman and her escaped convict husband fighting to regain custody of their baby. The film anticipates the emphasis on family in Spielberg's subsequent work; his choreographed car chases and deft handling of suspense and comedy marked him as a director to watch. Poorly marketed, this entertaining and poignant feature failed at the box office. Spielberg's second, "Jaws", however, helped usher in the modern age of movie blockbusters. This troubled production--a neophyte director and a disgruntled crew with a malfunctioning automated shark--emerged as a classic adventure yarn that propelled Spielberg to the A-list of Hollywood directors.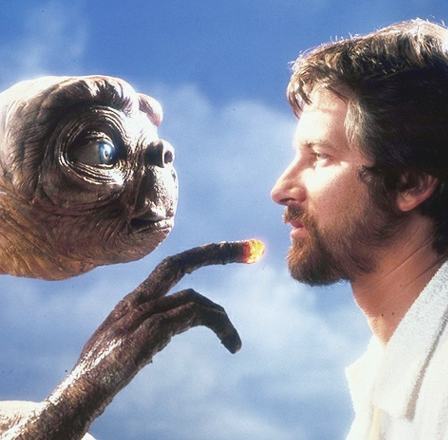 ET (extra terrestrial) and Steven Spielberg
His transcendent follow-up, "Close Encounters of the Third Kind" (1977), revealed the first flowering of his cinematic interest in the world of childhood, an affinity shared with the late Francois Truffaut, who played the head scientist in the film. Though initially terrifying, the alien creatures in this revisionist work resemble strange and wondrous children, presenting a more benign representation than the monstrous conquerors of 50s sci-fi films. These beings offer the promise of life beyond the restrictions of middle-class conventions. When Richard Dreyfuss boards the mother ship for unknown adventures, it is the film's final grandiloquent embrace of the possible.
Riding high after two back-to-back blockbusters, Spielberg attempted a colossal big-budget comedy. "1941" (1979) was a loud, sprawling and wildly uneven film about paranoia in a small California town after the attack on Pearl Harbor. Though it ultimately turned a profit, the film was perceived as a huge and indulgent flop. Spielberg next chose to work under the watchful eye of a tough producer, George Lucas, and fashioned what would turn out to be one of his signature films, "Raiders of the Lost Ark" (1981). The movie introduced the world to Indiana Jones (played by Harrison Ford), the celebrated archeologist and intrepid adventurer that became the most popular screen hero since James Bond and spawned two sequels. During the production, Spielberg was so wearied by the rigors of location shooting that he would relax by concocting a story for a little personal film to feature a couple of kids and a lost alien. This set the stage for "E.T. The Extra-Terrestrial"--the work for which Spielberg may well be best remembered. An instant classic, this emotionally overwhelming film transformed its maker's career.
In most Spielberg films, anything that threatens the family and its routine existence is evil. In "Jaws", the normally safe harbor of a public beach is threatened by a great white shark. The heroes of "The Sugarland Express" and the Indiana Jones trilogy are transported from normal life to a world of exciting adventure though, in the former, the consequences are tragic. As a young filmmaker, Spielberg seemed to prefer the child's world of harmless adventure (c.f., "E.T.") to the violence and hardships of the real world. Significantly, Spielberg presented WWII through the eyes of a youthful protagonist in "Empire of the Sun" (1987), a transitional work, and he oversaw an Oedipal fantasy as the producer of "Back to the Future", in which a son remakes his parents from nerds into successful yuppies.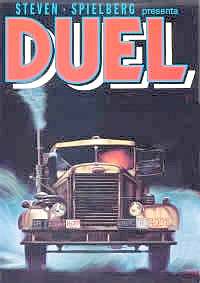 The Lucas collaborations--"Indiana Jones and the Temple of Doom" (1984), in particular--have aspects that some find embarrassingly racist, imperialist, and misogynistic. Even his affecting adaptation of Alice Walker's novel "The Color Purple" (1985), although dealing with racism, wife-beating and lesbianism, recreates the air of an old-fashioned Disney film. That Spielberg co-produced and co-wrote "Poltergeist" (1982) and took over directing the film when Tobe Hooper was incapacitated is significant, for it presents the dark underside of suburbia that is only hinted at in his own films.
There was a marked shift in Spielberg's artistic and commercial concerns beginning in the mid-80s, as he began devoting more time to producing. With the notable exception of the continuing Indiana Jones franchise, the projects he chose to direct were departures from his usual material. After "The Color Purple" and "Empire of the Sun", he directed Always" (1989), his first romantic feature in which he also dealt with issues of emotional commitment, loss, and mortality. Even "Indiana Jones and the Last Crusade" (1989) broke new ground, shifting the locale to Europe and the emphasis to Jones' family dynamics. While the action sequences were largely uninspired, the spiky father-son banter between Harrison Ford and Sean Connery was the film's highlight.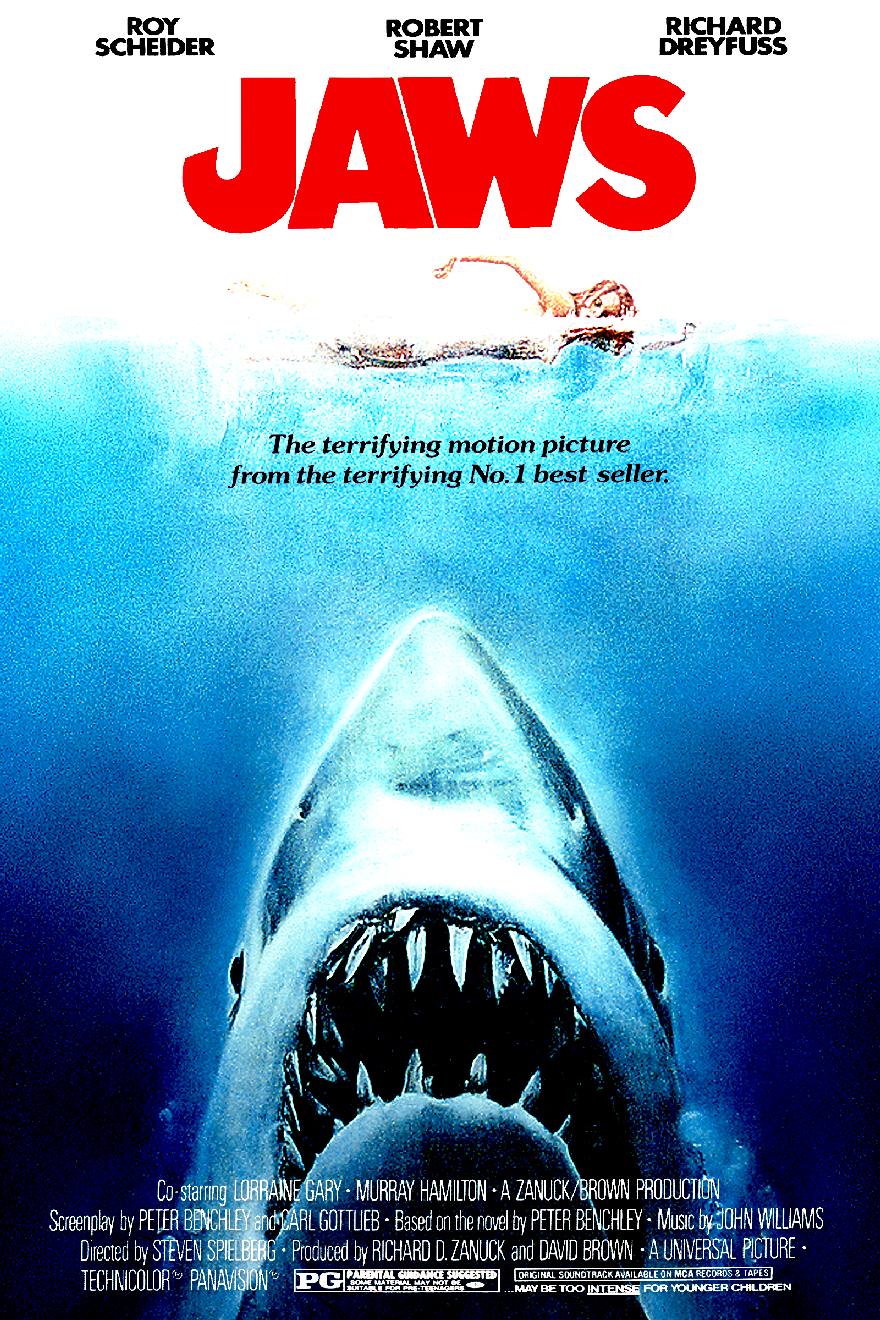 Steven Spielberg cut his teeth on the meaty role Jaws presented, directing a film using a giant rubber shark model, that simply would not work. Oddly enough, having to resort to Alfred Hitchcock like suspense building, in not showing 'Bruce,' as the flawed animatronic became known, the lack of props actually helped to make the film a success.
Through Amblin, Spielberg continued to oversee the production of a series of popular escapist fantasies, animated features and conventional genre films into the 90s. He even diversified into TV with the fantasy anthology series, "Amazing Stories" (NBC, 1985-87), which he executive produced and provided with many of its stories. Though lavishly produced and often dealing with Spielberg's characteristic themes, too many of the episodes were slight and unsatisfying, although at least one, "Family Dog," an animated outing with director Tim Burton, was spun off into its own 1993 series . He achieved far greater success with such children's animated series as "Tiny Toon Adventures" (syndicated, 1990-95) which attempted to resurrect the style and sensibility of classic Warner Brothers animation, the knowingly retro "Steven Spielberg Presents Animaniacs" (Fox, 1993-95; The WB, 1995-1998 ) and its spin-off "Steven Spielberg Presents Pinky and the Brain" (The WB, 1995-1998); along with "Freakazoid" (1995-1997) and the short-lived "Toonsylvania" (1998). Spielberg's involvement with high-quality retro animation stemmed back to his stint producing the 1988 film "Who Framed Roger Rabbit?" which pioneered effects techonology that allowed live action characters to interact with animated chreations.
On the big screen, "Hook" (1991) was Spielberg's long-awaited return to fantasy material. A lavish yet quirky update of the Peter Pan story, the film displayed its maker's increased concern with the responsibilities of parenting, the therapeutic aspects of regression and preparing for death. Budgeted at over $60 million, the film garnered mixed reviews and decently impressive box office but--due to an unprecedented deal brokered by Creative Artists Agency wherein Spielberg and his stars, Dustin Hoffman, Robin Williams, and Julia Roberts split a huge cut of worldwide revenues up front--failed to make much money for its studio.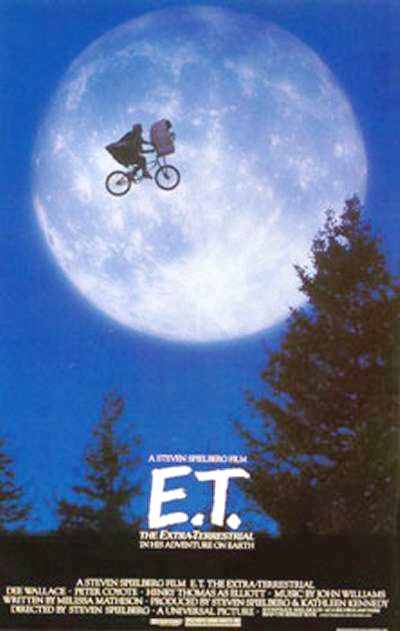 The Spielberg of the 90s again made directing a top priority, lending his name to various Amblin products while leaving producing chores to others. "Jurassic Park", a $70 million adaptation of Michael Crichton's dinosaur disaster novel, represented a return to the kind of muscular adventure that served Spielberg so well in the past. The film was a special effects breakthrough and boasted awesome action sequences though the characters were unusually shallow. Intriguingly, Spielberg did relatively little publicity for one of the most aggressively marketed films in history. He had juggled post-production work on "Jurassic Park" in Paris--with George Lucas reportedly lending a hand stateside - with filming his long-awaited WWII Holocaust drama, "Schindler's List" (1993) in Poland.
Filmed in black-and-white, without big stars and few slick stylistics, this bleak version of Thomas Keneally's Booker Prize-winning novel (based on a true story) marked a dramatic change-of-pace for this purveyor of warm WASP visions. For once, he went against his instincts and made an impressively restrained, documentarian drama of Jewish suffering that built to a shattering yet life-affirming conclusion. The resulting film earned Spielberg the most respectful notices of his career. Spielberg was now widely hailed as one of the masters of world cinema. (That the film, which earned seven Oscars including Best Picture and Best Director, also grossed over $100 million domestically didn't hurt either.)
As an encore, he returned to familiar ground with the inevitable sequel "The Lost World: Jurassic Park" (1997) which merely rehashed the story of the far superior original. Spielberg then tackled the tricky historical drama "Amistad" (also 1997), based on a true story of a mutiny on a slave ship that spawned a legal battle in the USA. Meticulously staged, the film was noted for its depiction of the Middle Passage, a harrowing portrayal of the conditions of slavery. The following year, Spielberg returned to WWII for one of his most acclaimed films, "Saving Private Ryan". A nearly three-hour fictionalized look at a unit sent to locate the sole survivor of four brothers serving in the military. the film earned praise for its no-holds-barred depiction of the battlefield, although the characters bordered on cliche. Critics anointed the picture one of the year's best on its release in July and it subsequently earned over $200 million at the box office and received 11 Academy Award nominations. Although favored to take home the Best Picture award, it didn't, but Spielberg was crowned with a Best Director statue.
In the fall of 1994, Spielberg, recording mogul David Geffen and former Disney production head Jeffrey Katzenberg formed a new multimedia entertainment company, christened DreamWorks SKG, which would produce live-action and animated features, TV programs, recordings and interactive computer software in a relatively cost efficient manner. According to Spielberg, DreamWorks would grant its filmmakers "moral rights" to protect the original versions of their films after release. The studio also decided to give its animators and screenwriters contracts that guarantee them a share of a given film's success in defiance of the standard creative bookkeeping for the industry.
Spielberg was to oversee the design of the studio's planned physical plant, laid out like a college campus on the old Howard Hughes aircraft site near the wetlands of Playa Vista, California--however, after much back-and-forth the Playa Vista plan was scrapped and DreamWorks ended up being housed on the Universal lot, co-existing with Spielberg's Amblin Entertainment facilities. The game plan was that Spielberg would oversee the production of live-action features, Katzenberg would direct the state-of-the-art animation division, and Geffen would head SKG's independent recording label.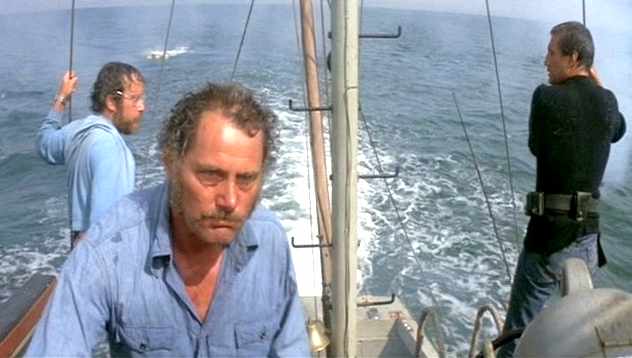 Jaws - Captain Quint draws the shark
The fledgling studio's first small screen efforts met with limited success; only the Michael J Fox vehicle "Spin City" (ABC, 1996- ) was a hit. Other efforts like "Champs" (ABC, 1996), a male-bonding comedy, and the overly-familiar police drama "High Incident" (ABC, 1996-97) came and went quickly. Even DreamWorks' first major feature "The Peacemaker" (1997), a nuclear war thriller, enjoyed only a modest box office, but the studio eventually came into its own with hits such as "Saving Private Ryan," "Shrek," "The Ring," "Gladiator," "Galaxy Quest," "American Beauty," "A Beautiful Mind," "Meet the Parents" and "Minority Report," which company produced and/or co-produced with other studios.
Spielberg was also not without success on televison, being one of the executive producer of the long-running smash hit medical drama "ER" (1994- ) created by Chrichton, and the hugely-rated Sci-Fi channel miniseries "Taken" (2002) and the similarly popular Western-oriented TNT mini "Into the West" (2005). His most impressive accomplishment on the small screen was the HBO mini-series "Band of Brothers" (2001), based on historian Stephen Ambrose's book about Easy Company, the 506th Regiment of the 101st Airborne Division, U.S. Army. Spielberg produced the powerful 10-episode series with Tom Hanks, and "band of Brothers" earned a multitude of Emmys along with critical and popular acclaim.
But moviemaking with himself behind the camera remained the director's primary passion, and he continued to explore the boundaries of his talents within a commercial context.
Although he was unable to fully integrate his own crowd-pleasing filmmaking sensibilities with the more bleak and philosophical viewpoint of one of his idol, director Stanley Kubrick, when he elected to make "A.I. Artificial Intellegence" (2001), a Pinocchio-like sci-fi fable Kubrick had mused over for over a decade, the film was a noble failure, with several arresting moments, eye-popping visuals and fine performances from Haley Joel Osment and Jude Law. But Spielberg returned to top blockbuster form when he adapted Phillip K. Dick's sci-fi novella "Minority Report" (2002) and tapped Tom Cruise, one of the biggest movie stars on the planet at the time, to star. A fast-paced, intense and compelling thriller, "Minority Report" was Spielberg's leanest and meanest film in years, despite its abundant sci-fi trappings, and showed that the director still stood head-and-shoulders above the new wave of video-game style directors of similar action-adventure fare. The director followed that artistic and commercial triumph with yet another impressive achievement that same year, helming "Catch Me If You Can," the true-life story of con man Frank Abagnale, Jr. (Leonardo DiCaprio), the youngest person ever to make the FBI's Most Wanted list. Not only did Spielberg flawlessly recreate-on both a realistic and nostalgic level-the 1960s setting and coax DiCaprio's most charming and mature performance to date, he cannily cast his close collaborator Hanks against type as the downtrodden, schleppy FBI agent who doggedly pursues the con artist.
The director re-teamed with Hanks a third time for a seemingly unlikely project, "The Terminal" (2004), in which Hanks plays an Eastern European immigrant who, due to a political regime change and passport snafu, is forced to reside in a New York City airport terminal until his documentation glitch is resolved. Although the film had its share of wonderful moments, overall it was one of the director's more artificial-feeling efforts. Much more effective was Spielberg's riveting remake of the H.G. Wells sci-fi classic "War of the Worlds" (2005), adding a contemporary spin on the familiar tale while also culling inspiration from some of the best elements of earlier incarnations, including Wells' novel, Orson Welles' radio broadcast and the 1950s film version, bouyed by a spectacular array of special effects. The director re-teamed with Tom Cruise, casting the actor as a working class deadbeat dad who must step up and protect his two children during a horrific alien invasion (The film was nearly overwhelmed by the controversial morass of publicity that surrounded the seemingly erratic behavior of Cruise in the weeks prior to the release).
Spielberg's success has allowed him to pursue numerous philanthropic and cultural pursuits. He refused to accept any earnings from "Schindler's List" calling it "blood money". He channeled those millions into the Righteous Persons Foundation, which has granted money to a range of projects that impact on modern Jewish life. He also served as chairman for the Survivors of the Shoah Visual History Foundation, an ambitious project devoted to filming interviews with Holocaust survivors. Back in the entertainment world, Spielberg lent his name and clout to several organizations devoted to film preservation and artists' rights. In addition, the director also made a habit of buying back Oscars that were put on the auction block by the heirs of now-deceased recipients such as Clark Gable, and returning the trophies to the Academy of Motion Picture Arts & Sciences, free of charge. The once awkward outsider has become the ultimate insider, generally considered as one of the most powerful individuals in Hollywood.

Family
Daughter: Destry Allyn Spielberg. born on Dec. 1, 1996; mother, Kate Capshaw

Daughter: Mikaela George Spielberg. born on Feb. 28, 1996; adopted with Capshaw

Daughter: Sasha Spielberg. born in June 1990; mother, Kate Capshaw

Father: Arnold Spielberg. lost relatives in the Holocaust; involved in the early development of computers; born c. 1918; divorced from Spielberg's mother; remarried on April 6, 1997

Grandmother: taught English to European Jews who survived the Holocaust

Mother: Leah Adler. had four children with Arnold (Steven the youngest); married to second husband, Bernie Adler; they own a kosher dairy restaurant called The Milky Way on Pico Boulevard in Los Angeles

Sister: Anne Spielberg. born on December 25, 1949; co-wrote and co-produced "Big" (1988)

Sister: Nancy Spielberg. born in 1956

Sister: Sue Spielberg. born in 1953

Son: Max Spielberg. born in June 1985; mother, Amy Irving; Spielberg and Irving share custody

Son: Sawyer Spielberg. born on March 10, 1992; mother, Kate Capshaw

Son: Theo Spielberg. born c. 1988; African-American; adopted by Capshaw before her marriage to Spielberg; adopted by Spielberg

Step-daughter: Jessica Capshaw. born in 1976; Kate Capshaw's daughter by a previous marriage

Step-father: Bernie Adler. married to Spielberg's mother

Step-mother: Bernice Colner. married Arnold Spielberg on April 6, 1997
Significant Others
Wife: Amy Irving. had on-again, off-again relationship from the late 1970s; married on November 27, 1985 in Santa Fe, New Mexico; divorced in 1989

Wife: Kate Capshaw. married on October 12, 1991 at Spielberg's East Hampton, Long Island, New York estate; converted from Episcopalianism to Judaism c. 1993 after more than a year of study with an Orthodox rabbi

Companion: Holly Hunter. had relation ship c. 1989

Companion: Margot Kidder. had realtionship in the early 1970s

Companion: Sarah Miles. had relationship in the early 1970s; Miles reportedly became pregnant and chose to have an abortion
Education
California State College, Long Beach, California, English, BA, 1970

Saratoga High School

The director
Spielberg is the most financially successful motion picture director of all time. He has directed and/or produced an astounding number of major box-office hits, giving him enormous influence in Hollywood. As of 2004, he has been listed in Premiere and other magazines as the most "powerful" and influential figure in the motion picture industry. In 2005, Empire magazine created a list of the 50 greatest film directors of all time. Spielberg was number one on the list.
Currently, he has won two Academy Awards for Best Director, one for Schindler's List and another for Saving Private Ryan. He is seen as a figure who has the influence, financial resources, and acceptance of Hollywood studio authorities to make any movie he wants to make, be it a mainstream action-adventure movie (Jurassic Park) or a three-hour-long black and white drama about the Holocaust historical subject (Schindler's List).
His beginnings
Spielberg was born in Cincinnati, Ohio but raised in the suburbs of Haddonfield, New Jersey and Scottsdale, Arizona. He is known by film historians as one of the famous "film-school generation" (also known as "the movie brats" or "the New Hollywood") of the 1970s: along with fellow filmmakers (and personal friends) George Lucas, Francis Ford Coppola, Martin Scorsese, John Milius, and Brian De Palma, Spielberg grew up making movies. He was making amateur 8mm "adventure" movies with his friends as a teenager (scenes from these amateur films have been included on the DVD edition of Saving Private Ryan), and he made his first short film for theatrical release, Amblin', in 1968 at the age of twenty one. (Spielberg's own production company, Amblin Entertainment, was named after this short film.)
His maiden directorial work was a segment of the pilot film to Rod Serling's Night Gallery. While working on this segment its star Joan Crawford collared a production executive and said, "Keep an eye on this kid, he's going places." After directing episodes of various TV shows, including an early Columbo TV movie, Spielberg directed his first well-known feature with a 1971 TV "movie-of-the-week" entitled Duel (later released to theatres overseas and eventually in the U.S.). This film, about a truck mysteriously terrorizing an average citizen, has become a cult classic, having been released on video several times over the years. Much of his early success was due to Sidney Sheinberg who is credited with discovering him; Spielberg also received an honorary degree from Brown University in 1999.
Move to theatrical films
Spielberg's debut theatrical feature film, The Sugarland Express (takes place and filmed on location in Sugar Land, Texas and is about a husband and wife attempting to escape the law), won him critical praise and enough studio backing to be chosen as the director of a summer movie that would secure him a place in the history of motion pictures. Jaws, a horror film based on the Peter Benchley novel about a killer shark that attacks people off the coast of a small island. Jaws won three Academy Awards (for editing, original score and sound), and grossed over USD$100 million at the box office, setting the domestic record for box office gross.
In 1976, Spielberg was asked by Alexander Salkind to direct Superman, but decided instead to expand on a pet project he had had in mind since his youth: a film about UFOs, which became Close Encounters of the Third Kind (1977). The film remains a cult sci-fi classic among its fans.
The success Spielberg was beginning to enjoy, as well as his eventual tendency to make films with wide mainstream and commercial appeal, also subjected him to disdain in critical circles by film reviewers. For example, Spielberg's next film was 1941, a big-budgeted World War II comedy farce set in L.A. days after the attack on Pearl Harbor, with the two top stars from Saturday Night Live, Dan Aykroyd and John Belushi, along with other all-stars. Although the film did make a small profit, it is considered by some to be Spielberg's first flop, although today it is also considered a cult classic. An expanded version has been shown on network television and later on Laserdisc and DVD.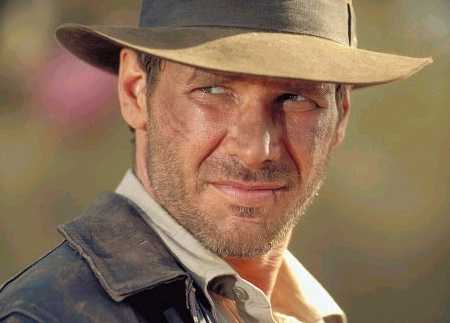 Harrison Ford as Indiana Jones in the Temple of Doom
The Bulk (1980-1999)
Indiana Jones
But what some would consider Spielberg's greatest film work was still to come, beginning in the 1980s. In 1981, Spielberg teamed up for the first time with his friend George Lucas to make Raiders of the Lost Ark, his homage to the cliffhanger serials of the Golden Age of Hollywood, with Harrison Ford (whom Lucas directed in Star Wars) as the dashing hero Indiana Jones. Raiders itself spawned two sequels, also directed by Spielberg and executive produced by Lucas.
E.T. the Extra-Terrestrial
One year later, Spielberg returned to his alien visitors motif with E.T. the Extra-Terrestrial, a Disney-inspired story of a boy and the alien whom he befriends (and is trying to get back "home" to outer space). E.T. went on to become the top-grossing film of all time for many years.
When E.T. was released, Spielberg, a Porsche 928 aficionado, had his car's moon-roof button re-designed with the movie's logo as both a gag for passengers, and a tribute to the movie's success. Despite their enormous appeal, few film scholars and critics place such Spielberg films as Raiders or E.T. in the same class as The Godfather, Citizen Kane, or many other classics of the cinema.
E.T. originated as a sci-fi suspense thriller called Night Skies. Night Skies also gave birth to Poltergeist, a film that Spielberg co-wrote , co-produced (and some people who worked on the film claim directed) and was released only a week before E.T. Spielberg also negotiated an unusually lucrative video game licensing deal with Atari for an E.T. video game. This was a famously expensive failure which contributed to the video game crash of 1983.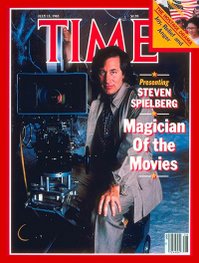 Spielberg - TIME Magazine July 85
The Color Purple
In 1985, Spielberg made The Color Purple, an adaptation of Alice Walker's Pulitzer Prize-winning novel. Many critics were unsure of whether or not Spielberg could handle such serious material, as his output to that point had been viewed as "lighter" entertainment. Indeed, this proved to be Spielberg's trial by fire in presenting the story of a generation of oppressed African-American women (Whoopi Goldberg and Oprah Winfrey) during depression-era America. Danny Glover played the abusive patriarch. The film was widely received and hailed by critics as Spielberg's successful foray into the dramatic genre.
Empire of the Sun
1987 was a time when the Chinese economy was beginning to boom, and as the Chinese gates began to open to the world, Spielberg took advantage by shooting the first American movie in Shanghai since the 1930s. The result was an adaptation of J.G. Ballard's autobiographical novel, Empire of the Sun, which told the story of a young boy named Jim (Christian Bale) who is separated from his parents during the sacking of Shanghai in 1938, and is forced to survive through the rest of the war. Spielberg wanted to convey a heartfelt message of innocence being shattered as a result of war, as audiences saw the transformation of Jim from sheltered [taipan]] to a struggling and resourceful war refugee. The film garnered numerous praise form critics, was nominated for several Oscars, but did not attract the kind of box-office power that Spielberg's films usually get.
Hook
Spielberg had tried numerous times to film a live-action version of Peter Pan without success. He eventually decided to create his own take on the Pan legend in 1991. Hook focused on a middle-aged Pan (played by Robin Williams), who returns to Neverland to face the title character (Captain Hook, played by Dustin Hoffman). However, by the time the film began shooting, innumerable rewrites and creative changes made by the numerous major Hollywood players attached to project resulted in a film regarded by most critics as hit-and-miss at best. The film was made for $70 million (at that time a huge amount) and made $119 million domestically, but it was not as successful as some had hoped.
In 1993, Spielberg decided to once again tackle the adventure genre, as he directed the movie version of Michael Crichton's novel Jurassic Park, about killer dinosaurs rampaging through a tropical island resort. The adaptation muted somewhat the novel's message about the consequences of mankind tampering with nature, instead focusing on the adventure aspects of the story. With the aid of revolutionary special effects provided by friend George Lucas' Industrial Light and Magic, the film became an instant classic. It would eventually overtake E.T. as the all-time top grossing film - a position it held for several years (until James Cameron's Titanic).
Schindler's List
It was in that same year that Jurassic Park was released that Spielberg finally received the critical acclaim he had long sought for making Schindler's List (based on the true story of Oskar Schindler, a man who sacrificed himself to save 1,100 people from the wrath of the Holocaust). The screenplay, adapted from Thomas Keneally's novel, was originally in the hands of fellow director Martin Scorsese, but Spielberg negotiated with Scorsese to trade scripts (at the time, Spielberg held the script for a remake of Cape Fear). Schindler's List earned Spielberg his first Academy Award for Best Director (it also won Best Picture). While the film made a killing in the box-office, Spielberg claimed not to have partaken in the profits, and instead used the money to set up the Shoah Foundation. Critics maintain that Schindler's List is the most accurate portrayal of the Holocaust, and in 1999 the AFI listed it among the 10 Greatest Films ever Made.
The Lost World
After dabbling in projects such as The Flintstones, Spielberg found himself back in the director's chair in 1997, 4 years after Schindler's List. This time, he was helming the sequel to 1993's gigantic Jurassic Park, Michael Crichton's The Lost World. The film was critically panned, but did manage to generate nearly $230 million in domestic box-office, giving it the third-highest total for 1997 behind Titanic and Men in Black.
Indiana Jones and the Last Crusade
Amistad
Spielberg, together with former Disney animation exec Jeffrey Katzenberg and media mogul David Geffen, decided to form a new studio company called Dreamworks SKG. Its first feature release was The Peacemaker and Antz, both of which did moderately well at the box-office. Spielberg's first project with his new studio, Amistad, was based on a true story about African slaves who rebelled against their captors. The film received lavish praises from the critics, but was noted for its violent massacre scenes. It did not do well at the box-office however, and is considered one of Spielberg's flops.
Saving Private Ryan
Another of Spielberg's critically acclaimed films, the World War II drama Saving Private Ryan, was released in 1998. The film follows a platoon of soldiers led by Capt. Miller (Tom Hanks), from the landing at Omaha Beach in Normandy to the heart of French resistance, in order to retrieve a missing private (Matt Damon), whose brothers were lost to the war. Spielberg considered it one of his finest works, yet in a highly publicized "showdown", it lost the Best Picture Oscar at the 1999 Academy Awards to Shakespeare in Love. However, Spielberg would win his second Academy Award for his direction in the war epic.
Later on, Spielberg and Hanks, overwhelmed with the greatness of the film's subject, decided to team together to produce a TV mini-series based on Stephen Ambrose's historical novel, Band of Brothers. The ten-part HBO mini-series follows the trials and accomplishments of the 101st Airborne, or Easy Company, also starting from the landing in Normandy, to the Battle of the Bulge, to the capture of Hitler's Eagle's Nest in Germany itself. The series was hailed as the greatest TV event of all time, winning a slew of awards both at the Golden Globes and the Emmys.
Into a new century (2000-2005)
A.I.
In 2001, Spielberg filmed fellow director and friend Stanley Kubrick's final project, A.I.: Artificial Intelligence, a project planned by the two directors for many years but which Kubrick was unable to begin during his lifetime. The futuristic story of a humanoid android longing for love, A.I. featured groundbreaking visual effects, but unfortunately was not the blockbuster film Spielberg had hoped for. It starred William Hurt, Jude Law, Frances O'Connor, and child actor Haley Joel Osment as the android boy David. The film polarized both critics and audiences, many stating that the film was overly long and a pretentious impression of Kubrick, while a small minority of critics believed it to be a masterpiece. The film failed to recoup its budget at the US box-office.
Minority Report and Catch Me If You Can
Following A.I., Spielberg came upon the sci-fi short story written by Philip K. Dick about the future of crime-fighting using precognitive vision. In 2002, Spielberg and actor Tom Cruise headlined Minority Report, which features Cruise as a D.C. police captain who has been foreseen to murder a man he has not even met. The film was a futuristic homage to film noir, with its intelligent premise, thrilling chase scenes, and whodunnit structure. Shortly after the release of Minority Report, Spielberg and Co. immediately went to work on Catch Me If You Can, a story of the daring adventures of a youthful con artist. The film stars Leonardo DiCaprio in the lead role, with Saving Private Ryan star Tom Hanks as the FBI agent out to catch him. The movie marked a turn of genre for Spielberg, who was at this point seen to be branching out to different kinds of film genres aside from the usual sci-fi fare he was known for. Both films did well in the box-office.
War of the Worlds
A modernized adaptation of War of the Worlds, featuring Tom Cruise, was released in the U.S. on June 29, 2005. As with past Spielberg films, Industrial Light and Magic (ILM) provided the special effects.
In his films E.T. and Close Encounters of the Third Kind, Spielberg portrayed alien visitors as potentially friendly for human beings willing to connect with them. War of the Worlds marked a departure from those optimistic themes; more violent alien invaders visit havoc upon the earth.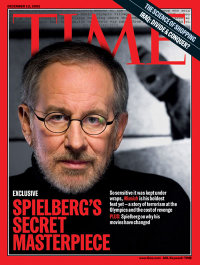 Spielberg - Time Magazine Dec 05
Munich
On the same day as the release of War of the Worlds, Spielberg began shooting Munich, a film allegedly about the events following the 1972 Munich Massacre. The film is based on Vengeance: The True Story of an Israeli Counter-Terrorist Team, a book by Canadian journalist George Jonas, the first husband of Barbara Amiel, (now married to Conrad Black).
The Jonas book, although promoted as non-fiction, has been largely discredited by journalists. It was previously adapted into the 1986 made-for-TV movie Sword of Gideon. The screenplay for Munich was written by Pulitzer Prize-winning playwright Tony Kushner. The movie is said to be an examination of the murder of 11 Israeli athletes at the 1972 Munich Olympics by the Black September organization, followed by the event's aftermath in which Israel's intelligence agency hunted down and killed the perpetrators. The protagonist, Avner, is believed to be the invention of Jonas' source, Yuval Aviv.
According to Jonas and Aviv, the Israeli team suffered misgivings about their assignment, two were killed, and the others were abandoned or treated badly by Mossad. None of these claims have been verified by other sources.
Upcoming projects
Also in the works are an Abraham Lincoln bio-pic starring Liam Neeson as the 16th President of the United States, and a 4th Indiana Jones film. Both are scheduled for release in 2007.
He is also serving as the executive producer of Memoirs of a Geisha, an adaptation of the best-selling novel by Arthur Golden, a film he was previously attached to as director.
Spielberg is also an executive producer on the critically acclaimed 2005 TV miniseries Into the West. He is also co-executive producing the new Transformers live action film with Brian Goldmer, an employee of Hasbro.
In October, 2005, Spielberg announced that he had been signed by Electronic Arts to direct three video game projects.
Films by Steven Spielberg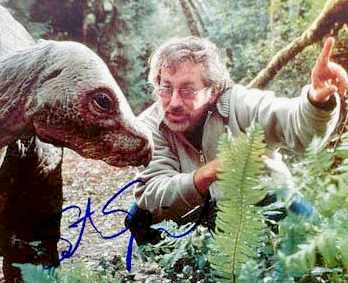 Salaries
Jurassic Park III (2001) $72,000,000

Schindler's List (1993) $0 (Asked not to be paid)

Jurassic Park (1993) $250,000,000 (gross and profit participations)

Raiders of the Lost Ark (1981) $10,500,000 + % of gross
Side projects
Spielberg has produced (without directing) a considerable number of films, and can be credited with launching the career of Robert Zemeckis. He is also a lover of animated cartoons, and has produced several hit cartoons (and a few flops), including Tiny Toon Adventures, Animaniacs, Pinky and the Brain and Freakazoid.
He was also, for a short time, the executive producer of the long-running medical drama ER which currently airs on NBC.
In 1989 he brought the concept of The Dig to LucasArts. He contributed with the project from that time to 1995 when the game was released.
He is one of the co-founders of DreamWorks Pictures (DreamWorks SKG, with Jeffrey Katzenberg and David Geffen providing the other letters in the company name), which has released all of his movies since Amistad in 1997.
Following the critical and box office success of Schindler's List in 1993, Spielberg founded and continues to finance the Shoah Project, a non-profit organization with the goal of providing an archive for the filmed testimony of as many survivors of the Holocaust as possible, so that their stories will not be lost in the future.
He directed a few sequences and created some designs for George Lucas's Star Wars Episode III: Revenge of the Sith.
Personal life
Spielberg has been married to actress Kate Capshaw, whom he met when he cast her in Indiana Jones and the Temple Of Doom since 12 October 1991. He has seven children—four biological: Max Spielberg (by actress Amy Irving, whom he married on 27 November 1985), Sasha, Sawyer, and Destry (by Capshaw); two adopted (Theo and Mikaela); and one stepdaughter (Jessica Capshaw). Both Max and Sasha were born out of wedlock, but Spielberg legitimated each child by marrying Irving and Capshaw. Irving received a whopping US $100 million settlement from Spielberg in their 1989 divorce. As an adult, Spielberg was diagnosed with Asperger's syndrome, explaining in part some of his social tendencies and childhood obsessiveness about filmmaking.
Criticism
Perhaps the most prominent critic of Steven Spielberg is American artist and actor Crispin Glover. In a 2005 essay titled What Is It? Glover says that Spielberg has "wafted his putrid stench upon our culture, a culture he helped homogenize and propagandize." Among Glover's accusations are that Spielberg purchased the Rosebud sled used in Orson Welles' 1941 film Citizen Kane for $50,000 but refused to hire Welles to write a screenplay in the later years of his life, that he received money from the United States government to promote his personal religious and cultural beliefs, that his films do not take risks, that he exploited tragedy for personal gain in the films Schindler's List and Saving Private Ryan, and that he, as a co-owner of DreamWorks, considered building a studio on the last remaining wetland in Southern California.

Another prominent criticism by several movie-goers(both professional and public) is that Spielberg's films lean towards sentimentalism at the expense of the theme of the film. An instance often cited by science fiction fans is the ending of A.I.: Artificial Intelligence which they believed was too 'happy'. This being a collaboration with Stanley Kubrick whose films such as Dr. Strangelove and A Clockwork Orange are often tinged with pessimism drew a heated debate as to whether or not Kubrick would have liked it or not. However, both Kubrick's long-time assistant Jan Harlan and the film's original story writer Ian Watson have said that the ending is exactly what Kubrick intended. A related criticism is that Spielberg's films lack depth and do not take risks, the most prominent person with this viewpoint is anti-mainstream film theorist Ray Carney.

However this criticism is rejected by several knowledgable film-makers and film critics who attribute it to either jealousy of Spielberg's success or inability to look past his name. Reknowned critic Roger Ebert once stated that 'If only people could look past his popularity they would see how talented he really is.' Some of Spielberg's most famous fans include film legends Ingmar Bergman and Francois Truffaut.

Spielberg's unabashed support for Israel has also put him in the hot seat. In 2002, a rumor circulated that Spielberg was planning a film about Palestinian suffering during the Israeli/Palestinian feud. The director's spokesman, Marvin Levy, called the report "an obvious, vicious hoax." Spielberg is, however, currently in production on Munich, a highly controversial project which deals with the Israeli retaliation to the massacre of the Israeli Olympic athletes during the 1972 Munich Games. In order to deflect claims of bias, the filmmaker has consulted various sources in creating the film.
Trivia
While the films that Steven Spielberg directed have won numerous awards, no actor or actress has won an Academy Award for a performance for one of his films.

Spielberg had a cameo role as the Cook County assessor in the last minutes of the 1980 film The Blues Brothers.

In 1982 Ben Kingsley won Best Actor and Richard Attenborough won Best Director for the film Gandhi, which beat Steven Spielberg's film E.T. for Best Picture. Eleven years later, in 1993, Steven Spielberg cast Richard Attenborough as John Hammond in Jurassic Park (his first performance in 13 years) and Ben Kingsley in Schindler's List. Steven Spielberg won Best Director and Best Picture Oscars that year.

Spielberg, an Eagle Scout, designed the requirements for the Boy Scout Cinematography merit badge.

While attending college, Spielberg was a member of Theta Chi Fraternity. Fraternity rumor states that many of his films have very low-key symbols referring to the ritual of the fraternity.

The asteroid 25930 Spielberg is named in his honour.

Supports the U.S. Democratic Party.

Attended Arcadia High School in Scottsdale, AZ and graduated from Saratoga High School in Saratoga, California in 1965.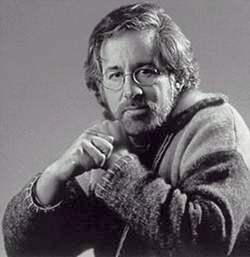 Steven Spielberg - Director/Producer
In the Warner Bros. animated series Tiny Toon Adventures and Animaniacs (both of which were executive-produced by Spielberg), Spielberg was a semi-recuring character. In some episodes, Spielberg voiced himself, and in others, veteran voice-over artist Frank Welker did Spielberg's voice.

On attending Saratoga High School, he said that it was the "worst experience" of his life and "hell on Earth".

He first enrolled at California State University in Long Beach in 1965, quit in 1969 to take a television director contract at Universal Studios, and much later, as a returning student, was awarded a B.A. in Film Production and Electronic Arts with an option in Film/Video Production in 2002.

Attempted at admission to the University of Southern California's School of Cinema-Television three separate times, and the prominent school later awarded Spielberg an honorary degree in 1994. Two years later, Spielberg became a Trustee of the University and has since tirelessly devoted himself to supporting USC.

The A&E Network is expected to announce that it will produce a two-hour drama about the relationship between filmmakers George Lucas and Steven Spielberg. According to Daily Variety, the biopic, tentatively titled Celluloid Titans, is being executive produced by Jody Brockway.

For his work on the Survivors of the Shoah Visual History Foundation since 1994, he was awarded with the Great Cross of Merit with Star, the German version of the Great Officer's Cross, in September 1998 for "a very noticeable contribution to the issue of the Holocaust".

Spielberg is expected to make a cameo appearance in an episode of the second season of Extras, the BBC comedy TV series written and directed by Ricky Gervais and Stephen Merchant (previously responsible for The Office).

Steven Spielberg is recreated as a LEGO minifigure in the LEGO Studios series of sets.

His mother, the former Leah Adler, owns a Kosher restaurant in Los Angeles, California.

In the 2005 edition of Forbes' "400 Richest People in America", his net worth is estimated at $2.7 billion, a $100 million improvement over 2004 (due mostly to his share of the DreamWorks Animation public stock offering). He, and good friend George Lucas (net worth: $3.5 billion) are the only filmmakers on the list.

Every Spielberg-directed film since and including Jaws, with the exception of The Color Purple, has been scored by John Williams. See also List of noted film producer and composer collaborations.
Urban legends
Spielberg started a fanciful story of how he broke into Hollywood by sneakily squatting in an unoccupied office on the Universal Studios lot. In fact, he had an unpaid summer job on the lot.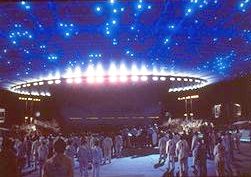 Close Encounters of the Third Kind
Milestones
Directed Tom Cruise in "War of the Worlds," which chronicles a Martian invasion of Earth (2004)

1960 Won first contest with 40-minute war film, "Escape to Nowhere" at age 13

1962 Made first amateur 8mm feature film, "Firelight" at age 16; father hired local theater to screen film

1968 Professional debut with 24-minute short, "Amblin'" (shown at Atlanta Film Festival)

1968 Signed to seven-year contract as TV director with Universal-MCA

1969 TV directing debut with the "Eyes" episode of the anthology series "Night Gallery"; segment starred Joan Crawford

1971 First feature-length film for TV, "Duel" (ABC)

1973 Wrote story for feature film, "Ace Eli and Rodger of the Skies"

1974 Feature directorial debut, "The Sugarland Express"

1975 Breakthrough feature film, the summer blockbuster "Jaws"; also first collaboration with actor Richard Dreyfuss; film brought in 100 days over schedule (and comparably over budget); reportedly the first director to do so

1977 Reteamed with Dreyfuss on the sci-fi classic "Close Encounters of the Third Kind"; received first Best Director Oscar nomination

1978 First feature as executive producer, Robert Zemeckis's "I Wanna Hold Your Hand"

1979 Had rare flop with the large-scale comedy "1941"

1980 Made a cameo appearance as the Cook County Clerk at the end of John Landis's "The Blues Brothers"

1981 First collaboration with executive producer George Lucas; first collaboration with actor Harrison Ford, "Raiders of the Lost Ark"; garnnered second Best Director Academy Award nomination

1982 First film as producer, "Poltergeist", helmed by Tobe Hooper

1982 Helmed the blockbuster "E.T. the Extra-Terrestrial"; also served as one of the producers; became the top-grossing movie of all time pulling in $399 million in its initial release; earned third Best Director Oscar nomination as well as a Best Picture nod; re-released on 20th anniversary in March 2002 with minor changes and enhanced digital effects

1983 Helmed the "Kick the Can" segment of "Twilight Zone - The Movie"

1984 Directed the sequel "Indiana Jones and the Temple of Doom"

1984 Formed production company, Amblin Entertainment

1985 First TV series as executive producer, "Amazing Stories" (NBC)

1985 Produced and directed "The Color Purple", adapted from Alice Walker's novel; movie received 11 Academy Award nominations including Best Picture, but not one for Best Director

1986 Executive produced first animated feature, "An American Tail"

1987 Made the underrated WWII drama "Empire of the Sun", which featured a young Christian Bale in his debut

1989 Directed the second sequel "Indiana Jones and the Last Crusade"

1989 Served as a founding member and VP of the Artists Rights Foundation

1989 Stumbled a bit with the romance "Always", a remake of the 1943 feature "A Guy Named Joe"; third film with Richard Dreyfuss

1989 TV acting debut as himself in a segment of "The Tracey Ullman Show" (Fox)

1991 Helmed the lavish "Peter Pan" update "Hook" starring Robin Williams as a grown-up Peter and Dustin Hoffman as the title character

1992 Signed a one-year deal to produce "seaQuest DSV" a 22-episode series, a joint effort between Universal and Amblin Entertainment

1992 With wife Kate Capshaw, co-hosted "Shattered Lullabies", a documentary on high infant mortality rates in the USA, broadcast on Lifetime as an episode of "Your Family Matters"

1993 Co-produced and directed his most critically acclaimed feature, "Schindler's List"; first feature shot in black-and-white; won Best Director Oscar as well as the Best Picture award

1993 Directed his most commercially successful feature, "Jurassic Park"; film outgrossed "E.T." to become the top movie of all time (to that date)

1994 Announced, along with mogul David Geffen and former Disney executive Jeffrey Katzenberg, the formation of DreamWorks SKG, a multimedia entertainment company for the production of live-action and animated features, TV programming, music and interactive software

1994 Formed the Survivors of the Shoah Visual History Foundation to videotape the testimonies of Holocaust survivors

1994 Invested in a CD-ROM company Knowledge Adventure; participated in the creation of five titles

1995 Announced that DreamWorks SKG would grant their filmmakers "moral rights" to protect the original versions of their films after release

1996 "Champs", an ABC sitcom from executive producer Gary David Goldberg, became the first DreamWorks TV series (only lasted for a month)

1996 Received story credit on the premiere episode of "High Incident", an ABC cop drama, the first hour-long dramatic series from DreamWorks; reportedly was highly involved with production, even personally choosing each cast member, and operating a camera during portions of the pilot

1997 "Amistad", a film based on a real-life 19th-century legal case involving slaves who staged a mutiny on the ship carrying them to North America, was subject of some controversy; author Barbara Chase-Riboud claimed that the film's script was based in part on her book; subsequent threats of lawsuits and articles tainted film's release

1997 Helmed the sequel "The Lost World: Jurassic Park"

1998 Bounced back with the acclaimed WWII story "Saving Private Ryan", starring Tom Hanks; earned second Best Director Academy Award

2001 Returned to filmmaking with "A.I. Artificial Intelligence", based on a story by the late Stanley Kubrick; also wrote screenplay

2001 With Hanks, produced the HBO WWII miniseries "Band of Brothers"

2002 Directed the sci-fi thriller "Minority Report", starring Tom Cruise and Colin Farrell

2002 Executive produced the hit Sci-Fi Channel miniseries "Taken"

2002 Reunited with Tom Hanks who co-starred as an FBI agent pursuing the first teenager ever to make the Ten Most Wanted list in "Catch Me If You Can", starring Leonardo DiCaprio

2002 Served as a co-executive producer on Woody Allen's "Hollywood Ending"

2002 Was an executive producer of "The Tuxedo", starring Jackie Chan

2002 With the Survivors of the Shoah Visual History Foundation, served as presenter of "Broken Silence", a series of five documentaries about Holocaust survivors; aired on Cinemax

2003 Received star of the Hollywood Walk of Fame (January 10, 2003)

2004 Again paired with Tom Hanks for "The Terminal" also starred Catherine Zeta-Jones

2005 Executive produced "Into the West," (TNT) a saga which spans 65 years of U.S. history from 1825 to 1890

Made first 8mm (3 1/2 min.) Film while in grade school; set up a tree-planting business to pay for film and equipment while in teens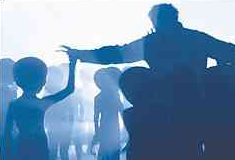 Richard Dreyfuss - Close Encounter
LINKS:
A - Z FILMS INDEX
A - Z ACTORS INDEX