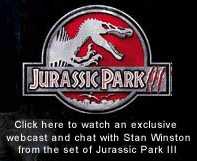 With Jurassic Park, Steven Spielberg recalled from extinction the greatest creatures our planet has ever known. "My interest is in making a good movie that honors the existence of dinosaurs," Spielberg said during filming of the 1993 biogenetics adventure, which would become the highest grossing motion picture of all time and win three Academy Awards for its ground-breaking visual and sound effects.
Steven Spielberg

(WGA)
Michael Crichton (novel) Michael Crichton (screenplay) ... (more)
Genre: Horror / Sci-Fi / Adventure / Action (more)

Tagline: An Adventure 65 Million Years In The Making (more)

Plot Outline: Scientists clone dinosaurs to populate a theme park which suffers a major security breakdown and releases the dinosaurs. (more) (view trailer)

User Comments: Brilliant (more)

User Rating: ***** 7.4/10 (56,768 votes)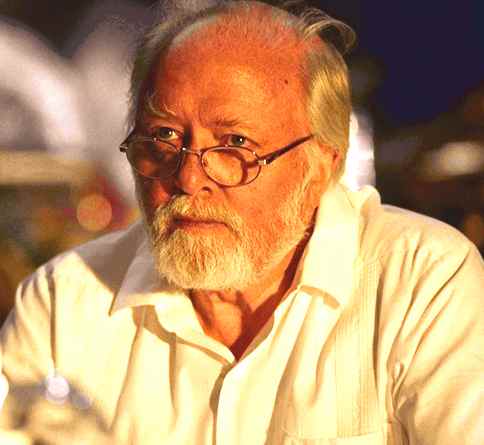 Richard Attenborough plays John Hammond
To resurrect these ancient and powerful species who ruled the world for 165 million years, the director and his team of special effects wizards embarked on a three-year journey of discovery, creating new technologies, transforming old ones and ushering filmmaking into the 21st Century.
In May of 1990, Universal Pictures obtained the galleys of best-selling author Michael Crichton's upcoming book Jurassic Park, and within a matter of hours, the studio was intently negotiating to purchase the book on behalf of Steven Spielberg.
"It was one of those projects that was so obviously a Spielberg film," recalls producer Kathleen Kennedy, who has closely collaborated with the filmmaker for 18 years. "If you look at the body of Stevens work, he is very often interested in the theme of extraordinary things happening to ordinary people."
As Crichton began adapting his book about a theme park for genetically engineered dinosaurs into a feature-length screenplay, Kennedy and Spielberg began to recruit the behind the scenes team that would lay the creative foundation for Jurassic Park. First on board was production designer Rick Carter, who started work with a group of illustrators and storyboard artists to translate Crichtons words into cinematic images.
The next challenge was to find an all-star effects team that would bring the dinosaurs to life. Stan Winston was contacted to create the live action dinosaurs, with Phil Tippet serving as dinosaur supervisor, Michael Lantieri handling special dinosaur effects and Industrial Light & Magics Dennis Muren in charge of full motion dinosaurs. Their achievements, individually and collectively, had included box-office successes from Star Wars to Teminator 2: Judgment Day, and they would eventually receive an Oscar for best visual effects for Jurassic Park.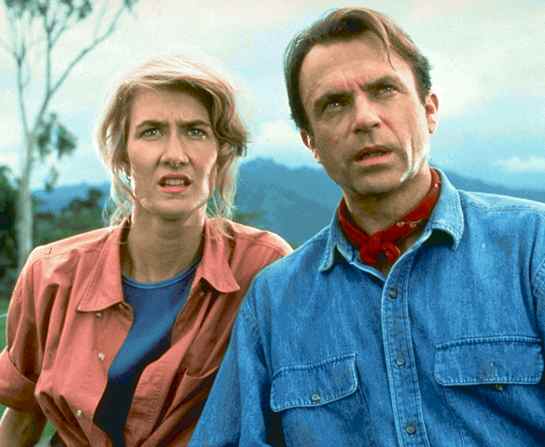 Sam Neil and Laura Dern play Dr Alan Grant & Dr Ellie Sattler
Meanwhile, work continued on the screenplay, beginning with Michael Crichtons first draft. Later, screenwriter David Koepp was brought in on the project and shared screen credit with Crichton.
Casting was a relatively short process, capped by the signing of Richard Attenborough (whose acclaimed work as a film director had distracted him from acting since 1979) for the pivotal role as Jurassic Park developer John Hammond. Rounding out the talented ensemble cast were Sam Neill as Dr. Alan Grant, a renowned paleontologist who is asked to inspect the park; Laura Dern as his colleague, Dr. Ellie Sattler; Jeff Goldblum as a brilliant but eccentric mathematician whose chaos theory explains the dangers inherent in the project; and Ariana Richards and Joseph Mazzello as Hammond's young grandchildren.
In order to tackle the scope and breadth of the project ahead, Winston designated a group of teams that included both artists and engineers. To give you an idea of each team's complex responsibilities, meet "Team rex," which consisted of 12 operators performing widely varying functions. Constructed from a frame of fiberglass and 3000 pounds of clay, the 20 foot tall T-rex was covered with a durable yet delicate latex skin and then painted by a team of artists who blended a rich palette of colors to bring his body to life. The T-rex was then mounted on a "dino-simulator," an imaginative mechanism inspired by hydraulic technology and based on a traditional six-axis flight simulator used by the military. On this motion-based foundation, both the platform and the T-rex could be actuated through a computer control board.
....

Dr. Alan Grant

....

Dr. Ellie Sattler

....

Dr. Ian Malcolm

....

John Hammond

....

Robert Muldoon

....

Donald Gennaro

....

Tim Murphy

....

Lex Murphy

....

Ray Arnold

....

Henry Wu

....

Dennis Nedry

....

Gerry Harding (as Jerry Molen)

....

Juanito Rostagno

....

Lewis Dodgson

....

Volunteer 1

Also Known As:

JP (USA) (promotional abbreviation)
Runtime: 127 min
Country: USA
Language: English
Color: Color (DeLuxe)

Sound Mix:

Certification:
Argentina:13 / Australia:PG / Canada:PG / Chile:TE / Finland:K-12/9 / France:U / Germany:12 / Ireland:12 (VHS release) / Ireland:PG / Israel:PG / Netherlands:AL / Norway:11 / Portugal:M/12 / Singapore:PG / South Korea:12 / Spain:13 / Sweden:11 / UK:PG / USA:PG-13


When "Jurassic Park" began principal photography on the island of Kauai on August 24, 1992, it had been exactly two years and one month since the start of pre-production. The lush green resort-land near Lihue was an ideal setting for the Jurassic Park exteriors, but after three weeks of filming under the tropical sun, a real-life drama overshadowed the movie.
Hurricane Iniki was fast approaching Kauai, and the crew was asked by the hotel to pack their suitcases and fill their bathtubs with water in case of future power and water shortages. Next, they were instructed to pack a day bag and meet in the ballroom of the hotel on the basement level.
By 9:00 a.m. the storm was headed straight for the island. Kathy Kennedy recalls, "We started pulling all our supplies into the ballroom, and the camera crew was quickly packing their things in the trucks. But if you're going to be stranded with anyone, be stranded with a movie crew," says Kennedy. "We had generators for lights, and plenty of food and water. We were self-sustaining because we moved around on location all the time."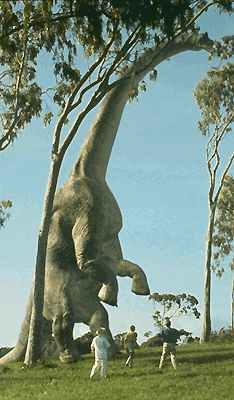 Brachiosaurus
Camped out in rows of chaise lounges on the ballroom floor, the cast and crew heard the winds pick up at about 4:00 p.m. and rumble by at almost 120 mph. "It sounded like a freight train roaring past the building," recalls the producer.
When water seeped into one end of the ballroom, the crew huddled on the other side of the room. But at 7:30 p.m., Kennedy and Gary Hymes, the stunt coordinator, stepped outside into silence. "It was the eeriest thing I had ever seen," recalls Kennedy. "Here we were that morning on a beautiful tree-lined street adjacent to a golf course, and now virtually every single tree had been flattened."
Although the company had scheduled one more day of filming, the sheer force of Iniki literally struck all the sets. There was no power or working phones on the island, so at dawn the next morning, Kennedy jogged two miles to the airport to explore their options. "The destruction in the airport was unbelievable," she recalls. "All the windows were blown out in the terminals, and the buildings were full of palms, trees, sand and water. Every single helicopter had been tipped on its side."
Thanks to her relentless efforts among airport and military personnel in Lihue, Kennedy was able to hitch a ride to Honolulu on a Salvation Army plane and began organizing from a pay phone. Over the next 24 hours, she not only coordinated the safe return of the company, but also arranged for more than 20,000 pounds of relief supplies to be transported from Honolulu and Los Angeles into Kauai.
Upon its return to Los Angeles, "Jurassic Park" resumed production at Universal Studios. Stage 24 had become the industrial-size kitchen for Jurassic Park's Visitors Center and it was being visited by two predatory Velociraptors. While Winston's team manipulated every moving part of the full size Raptor from head to tail, actors Ariana Richards and Joseph Mazzello cowered in the corner, deep into their characters of two young children who are trapped in their worst nightmare.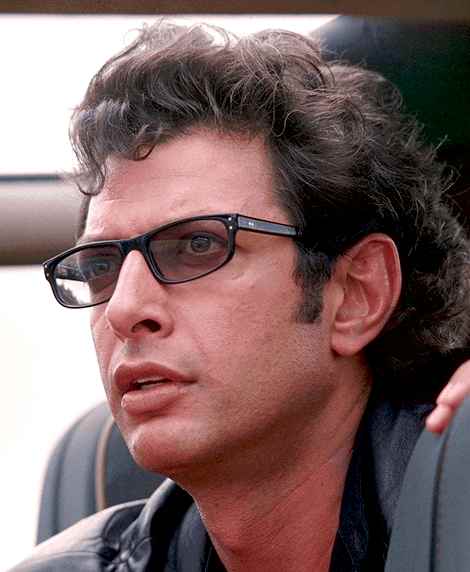 Jeff Goldblum plays Dr Ian Malcolm
From there, the company packed up and moved to Red Rock Canyon State Park, at the west end of the Mojave Desert. Chosen for its similarities to a Montana dinosaur dig site, Red Rock played host to actors Laura Dern and Sam Neill, both of whom were coached by one of the country's premier paleontologists, Jack Horner. As a professor at the University of Montana and curator of paleontology at the Museum of the Rockies in Bozeman, Horner was a valued member of the crew and the official paleontology consultant.
Returning to Stage 27, the Company began a complicated sequence following a confrontation with the mighty T-rex, who had effortlessly picked up a Ford Explorer and hung it on the branches of a gigantic gnarled tree. Rigged by Michael Lantieri's team and suspended on steel cables, the car slowly slips from branch to branch until it falls to the ground with a reverberating crash. By the end of the shoot, the tropical jungle on Stage 27 had been re-dressed for three additional scenes: an early morning visit from a Brachiosaurus, a surprise attack on Muldoon (Bob Peck) and Dennis Nedry's (Wayne Knight) encounter with a Spitter.
Stage 28 housed the heart of Jurassic Park; a computer control room and dinosaur hatchery. Headed up by Michael Backes, computer effects designer, the Control Room was headquarters for almost a million dollars in high-end equipment, on loan from such industry leaders as Silicon Graphics, SuperMac, Apple and Thinking Machines.
When Nedry's sabotage results in Control Room chaos, the audience will simply watch the display screens in order to understand the problems that face the park visitors who are on the royal tour.
By size and scope, the most memorable "Jurassic Park" set was perhaps the Visitor's Center constructed on Stage 12, but it was closely rivaled by the T-rex Paddock, located on one of the largest sound stages at Warner Brothers Studios. Lantieri and his crew built the riggings that mobilized the 3000 lb. dinosaur, who along with his fellow actors, worked long, hard hours in the wind, rain and mud.
The film's climactic finale was filmed on Stage 12, in Jurassic Park's enormous Rotunda, which, according to the script, is still under construction. As John Hammond escorts his visitors into the main lobby, the first thing they see are two gigantic dinosaur skeletons displayed in the middle of the Rotunda.
Constructed by Toronto-based Research Casting International, the museum-quality pieces are full-size re-creations of a T-rex, which is approximately 40 feet long, and an Alamosaurus, which measures 45 feet long.
As the cast and crew lifted their glasses in a champagne toast on the final night of filming, a weary but enthusiastic Spielberg announced that "Jurassic Park," an ambitious project which had been two years in the planning and four months before the cameras, had finished on budget and 12 days ahead of schedule.
SUMMARY :
In my opinion, the Jurassic Park series is probably the best computer enhanced dinosaur stories ever. It is the fourth highest grossing movie ever (for the time being) and was a motion picture bible for eight-year-olds across the country. Sadly, it has never been regarded as artistically superior. When, in reality, it is one of the most artistically inventive movies ever. It contains all of Spielberg's magical strokes of genius from fantastic art direction and wonderful camera techniques to astounding technical quality. The casting is excellent, the acting is superb.
Spielberg's camera usage ranges from foreshadowing the appearance of dinosaurs with extreme up-angles to exquisitely composed scenes of the dinosaurs' "interaction" with the characters. Aside from technical quality, Jurassic Park bears powerful social messages of human intrusion and destruction of the natural environment.
Also, it had an undeniable effect on cinema being one of the first movies to use CGI at such a large scale. However, the most ingenious aspect of the film is the portrayal of the dinosaurs as animals rather than ruthless monsters. At many times throughout the movie, the humans are shown as antagonists and the respect and appreciation of the dinosaurs is wonderfully developed. Whether you analyze the movie or just sit back and enjoy the ride, it's another brilliant story providing an excellent return for investors in a movie classic every bit as much as Jaws or ET.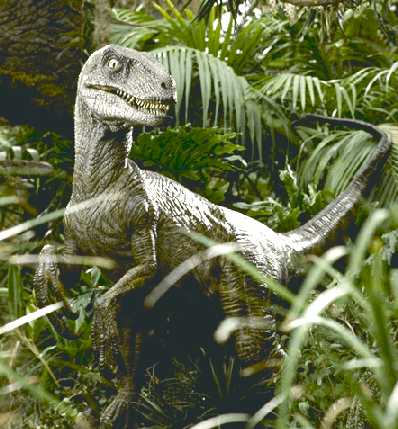 Velocirapter

Trivia: The novel was published in 1990. However, pre-production of the film began in 1989, using only Crichton's manuscript. It was widely believed that the book would be such a hit that it would make an outstanding movie. It turns out that assumption was correct. (more)
Steven Spielberg on storyboarding the film - Quicktime 10fps 1.3mb 5fps 992k
---
UNIVERSAL STUDIOS THEME PARK LINKS :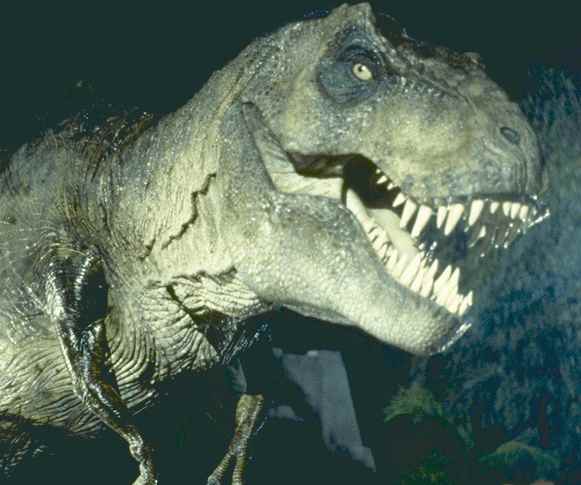 Tyrannosaurus Rex
Jurassic Park (Widescreen Collector's Edition) (1993) DVD

| | | |
| --- | --- | --- |
| List Price: | | $14.98 |
| Price: | | $11.24 & eligible for FREE Super Saver Shipping on orders over $25. See details. |
| You Save: | | $3.74 (25%) |
Amazon Visa Reward Points: 33* (Earn rewards with the Amazon Visa® card. Learn how.) *Points are calculated based on the final amount charged.

Availability: Usually ships within 24 hours

Want it delivered Tuesday, April 19? Order it in the next 21 hours and 16 minutes, and choose One-Day Shipping at checkout. See details.


102 used & new from $6.45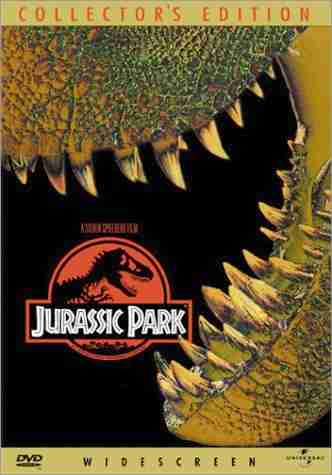 DINOSAURS | DINOSAUR LINKS | JURASSIC PARK
A - Z FILMS INDEX
A - Z ACTORS INDEX
---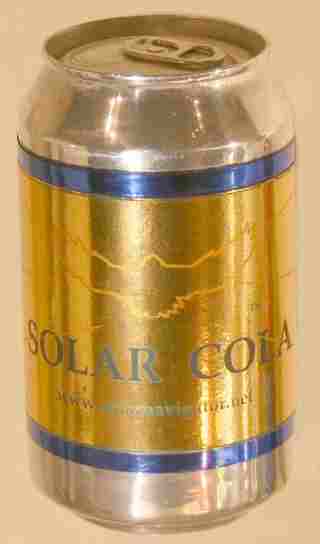 Solar Cola - a taste for adventure