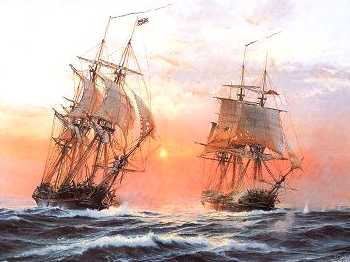 Indefatigable takes on a 40 gun French frigate
MOVIE 1951
Captain Horatio Hornblower R.N. (released in the U.S. without the 'R.N.') is a 1951 naval adventure film. It was directed by Raoul Walsh and stars Gregory Peck, Virginia Mayo, Robert Beatty and Terence Morgan. The film has become a classic, to be ranked with others such as Mutiny on the Bounty starring Marlon Brando, rather than the Mel Gibson remake with Anthony Hopkins..

The 1951 movie was based upon three of C. S. Forester's Horatio Hornblower novels, The Happy Return (Beat to Quarters in the United States), A Ship of the Line and Flying Colours. Forester is credited with the adaptation; as a result, the film is faithful to his novels and features an occasionally introspective tone unusual for an old-fashioned swashbuckler.
PLOT

In 1807, during the Napoleonic Wars, English Royal Navy Captain Horatio Hornblower (Gregory Peck) commands the 38-gun frigate HMS Lydia on a lengthy secret mission to Central America. He is to provide arms and support to a megalomaniac named Don Julian Alvarado, who is calling himself "El Supremo" or "The Almighty" (Alec Mango), in his rebellion against Spain, an ally of Britain's enemy France. As Hornblower observes to First Lieutenant Bush (Robert Beatty), "War breeds strange allies."

Upon his arrival, Hornblower is told that a larger, much more powerful Spanish warship, the 60-gun Natividad, has been sighted. When it anchors nearby, Hornblower and his crew board and capture it in a surprise nighttime attack. He then reluctantly hands the ship over to Alvarado to appease the madman, and they go their separate ways.

Later, he encounters a small Spanish vessel and learns that Spain has switched sides, so the Lydia will have to attack the Natividad again. Two passengers transfer to the Lydia (over Hornblower's objections): Lady Barbara Wellesley (Virginia Mayo) and her maid, fleeing a yellow fever epidemic. As Lady Barbara is the (fictitious) sister of the Duke of Wellington (an anachronism, as the title was created in 1814 and he would have been Sir Arthur Wellesley at this time), Hornblower is in no position to refuse her request for passage to England.

Using superior seamanship and masterful tactics, Hornblower sinks the Natividad, and when the ship's surgeon is killed in the battle, Lady Barbara insists on helping by nursing the wounded. When she later falls gravely ill, Hornblower nurses her back to health. On the voyage back to England, they fall in love. However, when she makes advances (although she is engaged), Hornblower informs her he is married.

After arriving home, Hornblower learns that his wife has died in childbirth, leaving him an infant son. He is given command of the Sutherland, a 74-gun ship of the line captured from the French, and is assigned to a squadron commanded by Rear Admiral Leighton (Denis O'Dea), Lady Barbara's new husband. The squadron's mission is to help enforce the British blockade against Napoleonic France.

At a conference on Leighton's flagship, Hornblower learns that four French ships of the line have broken the blockade. Leighton assumes they will make for the Mediterranean, but Hornblower suggests that they mean to support Napoleon's campaign on the Iberian Peninsula.

Leighton decides to cover both possibilities by detaching one ship to patrol the French coast. When he learns that Hornblower's Sutherland is best suited for this task, having the shallowest draught, he becomes suspicious that Hornblower is after glory and prize money. Leighton therefore expressly forbids Hornblower from taking any independent action if he sights the French.

Hornblower's French-built ship is subsequently mistaken for a friendly vessel by a small French brig, which flies the enemy's recognition signal for the day. After capturing the vessel, Hornblower learns from interrogating its captain that he was transporting army supplies to the four warships for use in Spain. Rather than return to the squadron, Hornblower sends the brig back with a prize crew and the news.

He enters the enemy harbour where the French ships are anchored and guarded by a well-armed fort. By flying a French flag and the recognition signal and taking advantage of the appearance of his ship's French design, Hornblower fools the garrison into believing that the Sutherland is friendly. His gun crews dismast all four enemy ships before French cannon fire forces the British to abandon the Sutherland. Hornblower scuttles his ship in the channel, bottling up the French ships.

As the rest of the British squadron arrives to complete the job, Hornblower and Bush, accompanied by seaman Quist (James Robertson Justice), are taken by carriage to Paris to be tried for piracy. However, they manage to escape en route and make their way to the port of Nantes. Disguised as Dutch officers, they board The Witch of Endor, a captured British ship. They overpower the skeleton crew, free a working party of British prisoners of war to man her, and sail away to freedom.

Hornblower is hailed as a national hero, and learns that Leighton was killed in the battle. Hornblower returns home to visit his young son, and finds Lady Barbara there. The two embrace.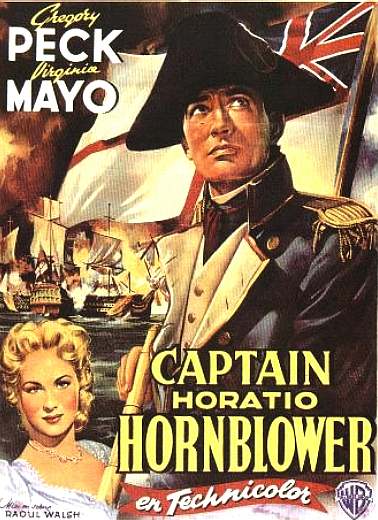 CAST

* Gregory Peck as Captain Horatio Hornblower, R.N.
* Virginia Mayo as Lady Barbara Wellesley
* Robert Beatty as First Lieutenant William Bush
* Terence Morgan as Second Lieutenant Gerard, gunnery officer on the Lydia
* Moultrie Kelsall as Third Lieutenant Crystal, navigator on the Lydia
* James Kenney as Midshipman Longley
* James Robertson Justice as Seaman Quist, who helps Hornblower and Bush escape
* Denis O'Dea as Rear Admiral Sir Rodney 'Mucho Pomposo' Leighton
* Richard Hearne as Polwheal, Hornblower's steward
* Michael Dolan as Surgeon Gundarson
* Stanley Baker as Mr. Harrison, Hornblower's bosun
* Alec Mango as El Supremo / Don Julian Alvarado
* Christopher Lee as the Spanish captain of the Natividad
* Diane Cilento as the voice of Hornblower's wife Maria, reciting a letter written to him on her deathbed.

CASTING

Warner Bros. acquired the films rights to the first three Hornblower novels – Beat to Quarters, A Ship of the Line, and Flying Colours – as a star vehicle for Errol Flynn when they were initially published. However, influenced by the financial failure of the 1948 adventure romance film Adventures of Don Juan, growing difficulties with the actor, or his advancing age, Flynn was not cast. Warner's was already building up Burt Lancaster as their new swashbuckling screen star, but the role of a British sea captain seemed to be outside of his range, so Peck was ultimately cast on a loan-out from David O. Selznick who received screen credit in the opening titles. Virginia Mayo was only cast after a number of high profile British actresses were not free or interested. Peck's personal choice was Margaret Leighton.

PRODUCTION

The film was shot at studios inside the United Kingdom, on Mermaid Street in Rye, East Sussex, at HMS Victory and also on location in France. To save costs, the Hispaniola set from the 1950 Disney film adaptation of Treasure Island was reused as the frigate HMS Lydia. However, the ship was rocked instead of moving the horizon background, which caused many problems because of the combined weight of ship crew and equipment. The Italian brigantine Marcel B. Surdo represented the The Witch of Endor for all at-sea exterior footage. The Marcel B. Surdo would also appear in such seafaring films as The Crimson Pirate, The Master of Ballantrae, and John Paul Jones. The explosive and fire effects were supervised by Cliff Richardson.

RELEASE

The film made its worldwide premiere in New York on September 13, 1951. It was the 9th most popular film at the British box office that year.

MODERN REVIEW

The film has been well received by modern critics with film aggregate site Rotten Tomatoes giving it 7.3 out of 10 and a 100% 'fresh' rating.
HSBC SPONSORED TV SERIES
Winter in the Bay of Biscay brings ferocious gales, mountainous seas and bitter cold discomfort for ships' crews. Early in his assignment aboard the British Navy frigate Indefatigable, Horatio Hornblower, C.S.Forrester's dashing eighteenth-century naval officer, played by Ioan Gruffudd, experienced the worst of conditions at sea while serving the arduous task of blockading the ports off the west coast of France. No doubt the excitement of battle came as welcome relief.

The scene above depicts an exchange of cannon fire between Indefatigable - on the left - and a 40-gun French frigate attempting to run the blockade on a chill winter's morning. Moments later the two hulls crashed alongside each other, and the Frenchman was boarded and taken.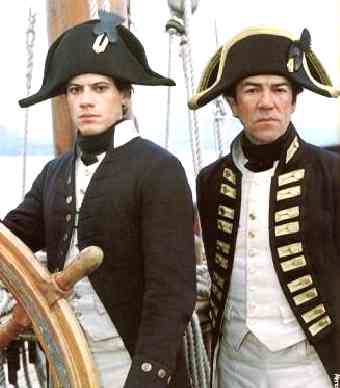 Hornblower (Ioan Gruffudd) and Captain Pellew (Robert Lindsey)
The Hornblower min series was produced by the BBC and sponsored by HSBC. There are six episodes:-

1: The Even Chance (The Duel)
2: The Examination for Lieutenant (The Fire Ships)
3: The Duchess & the Devil
4: The Frogs & the Lobsters (The Wrong War)
5: Mutiny
6: Retribution

CHECK OUT THE LINKS BELOW FOR MORE HORNBLOWER ACTION

Horatio Hornblower Website II Hornblower Fan Website Hornblower Picture Website Hornblower Fame Page
Here you can find descriptions of ALL the characters from the A & E Mini-Series Hornblower, (which are based on the novels by C. S. Forester) and analysis of their roles. There are also pictures and fan links of each character.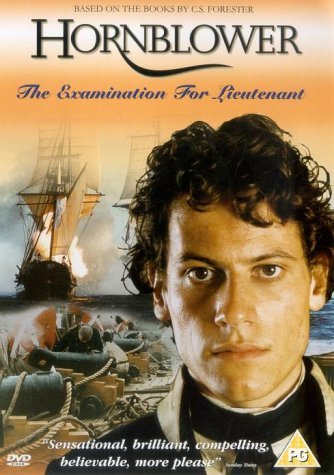 BOOKS AND VIDEOS FROM AMAZON.COM
The Adventures of John Wetherell; C.S. Forester; Paperback; $10.75
The African Queen Vol 1; Cecil Scott Forester, C. S. Forester; Paperback; $10.75
Videos Of Interest
4 Tape Set
List Price: $59.95 Our Price: $41.97 You Save: $17.98 (30%)
Based on the rousing sea adventures in C.S. Forester's novel Mr. Midshipman Hornblower, the four-film television series Horatio Hornblower explores the education of a plucky young officer rising through the ranks of His Majesty's Navy. Ioan Gruffudd is all integrity and honor as the ambitious midshipman who is taken under the stern yet nurturing guidance of Captain Pellew (Robert Lindsay) during the war against France in the French Revolution
Mr. Midshipman Hornblower Click on title for order information
The first Hornblower novel, It is 1793 the time of the Napolianic wars In it the adolescent and seasick Hornblower enters the Royal Navy. Among other adventures he engages in a duel, is captured by the Spanish and freed after saving the crew of a wrecked ship, and is commision as a junior Lieutenant.
Volume 1; Reprint Edition
Paperback
List Price: $13.00 Our Price: $10.40 You Save: $2.60 (20%)
Lieutenant Hornblower Click on title for order information
The second Hornblower novel, chronologically (1800-1803), in which Hornblower is a junior officer on HMS RENOWN sailing under secret orders to the British West Indies. meets William Bush, who is to become his good friend. They engage in a possibly mutinous plot against their captain and have successful engagements against the Spanish.
Volume 1; Reprint Edition
Paperback
List Price: $13.00 Our Price: $10.40 You Save: $2.60 (20%)
Hornblower and the Hotspur Click on title for order information
The third Hornblower novel, chronologically (1803-1805). Hornblower goes forward with his ill-considered marriage to Maria and becomes a father. Hornblower serves as commander of a sloopHotspur that is part of the naval force blockading France.Is commission to act as spy along the French coast. He masterminds a daring plan to sabotage a major signaling station. He also misses a chance at a lot of prize money, but fights his way to briiant victories.
Volume 1; Reprint Edition
Paperback, 344 pages
List Price: $13.00 Our Price: $10.40 You Save: $2.60 (20%)
Hornblower During the Crisis; Click on title for order information
The fourth Hornblower novel, chronologically (1805). It contains two short stories, Hornblower's Temptation (U.K. Title: Hornblower and the Widow McCool) and The Last Encounter, in addition to the novel, which was unfinished at the time of the author's death. It includes brief notes from the author describing the unwritten conclusion of the novel. The plot involves Hornblower on a spy mission in France. In Hornblower's Temptation, Lieutenant Hornblower is in charge of hanging a convicted deserter who is also an Irish rebel. In The Last Encounter, Admiral of the Fleet Lord Hornblower has a chance encounter with Prince Louis Napoleon Bonaparte, the future Napoleon the Third
List Price: $13.00 Our Price: $10.40 You Save: $2.60 (20%)
Hornblower and the Atropos Click on title for order information
(1805-1808). Captain Hornblower is put in charge of Nelson's funeral, recovers sunken treasure in Turkish waters, and fights a Spanish frigate that far outguns the Atropos.
Volume 1; Reprint Edition

List Price: $13.00 Our Price: $10.40 You Save: $2.60 (20%)
Beat to Quarters; Click on title for order information
The sixth Hornblower novel, chronologically (1808), Capt Hornblower, under secrect order, keeps his ship the Lydia seven months at sea without touching land. This novel has spectacular naval battles and an encounter with an insane Spanish revolutionary. also he meets his future wife, Lady Barbara Wellesley, sister of the Duke of Wellington.
Volume 1; Reprint Edition
List Price: $14.95 Our Price: $11.96 You Save: $2.99 (20%)
Ship of the Line Click on title for order information
The seventh Hornblower novel, chronologically (1810). This one has lots of fighting, both land and sea, against the French in Spain. Lady Barbara's new husband, Rear Admiral Leighton, becomes Hornblower's commander. Hornblower in a single ship attack on French fleet is taken prisoner. He escapes and steals back a captured English cutter.
Volume 1; Reprint Edition
Paperback, 323 pages
List: $14.95 ~ Our Price: $11.96 ~ You Save: $2.99 (20%)
Flying Colors Click on title for order information
The eighth Hornblower novel, chronologically (1810-1811), opens with Hornblower and Bush, captives of the French, being taken to Paris to be tried and executed as pirates. They escape, spectacularly, and return to England where Hornblower faces a court-martial. His wife, Maria, dies in childbirth while he's in captivity, but his son survives and is cared for by the recently widowed Lady Barbara.
Volume 1; Revised
Paperback, 294 pages
List: $14.95 -- Amazon.com Price: $13.45 -- You Save: $1.50(10%)
Commodore Hornblower Click on title for order information
The ninth Hornblower novel, chronologically (1812), has Hornblower as the commodore of a squadron of ships on duty in the Baltic, and married to Lady Barbara. Hornblower engages in some naval action and lots of diplomacy. He also assists with an interesting land battle against the Prussians and then gets very ill with typhus.
Volume 1; Revised
Paperback, 313 pages
List: $14.95 ~ Our Price: $11.96 ~ You Save: $2.99 (20%)
Lord Hornblower Click on title for order information
The tenth Hornblower novel, chronologically (1813-1814). In it Hornblower must deal with a mutiny, Bush's death, and Napoleon's return to France from Elba.
Volume 1; Reissue Edition
Paperback, 322 pages
List: $14.95 ~ Our Price: $11.96 ~ You Save: $2.99 (20%)
Admiral Hornblower in the West Indies Click on title for order information
The eleventh Hornblower novel, chronologically (1821-1823). Admiral Hornblower is commander-in-chief of the British Navy in the West Indies and must deal with pirates and revolutionaries and is almost killed, in the end, by a hurricane.
Volume 1; Reissue Edition
Paperback, 329 pages
List: $14.95 ~ Our Price: $11.96 ~ You Save: $2.99 (20%)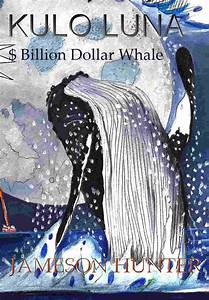 A heartwarming adventure: pirate whalers V conservationists
due for release in 2013 as an e-book, with a film production
planned for 2015/16 - TBA