As of December 18, 2005 The $207 million "King Kong" epic has climbed its way to the top of the box office. Director Peter Jackson's remake of the 1933 classic took in an estimated $14.2 million in 3,568 theaters in the United States and Canada Friday. That's well ahead of "The Chronicles of Narnia: The Lion, the Witch and the Wardrobe," which pulled in $8.9 million in 3,680 theaters. "Kong" opened Wednesday at $9.7 million — ranking it 21st on the all-time Wednesday opening list. Despite heavy promotion and positive reviews this could have been better, but the quality of the film is sure to reap long term rewards for it's investors.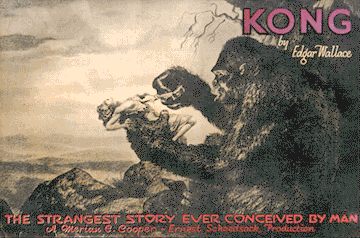 Kong by Edgar Wallace
King Kong is a truly great action adventure film. The story begins when a flamboyant, documentary film maker, Carl Denham, hastily departs for a mystery Island to avoid his backers halting his film, in the process becoming a wanted man. He takes with him a script writer and a starving young lady, Ann Darrow, plucked from the streets of a depressed New York (tricks them into it) and sails to Skull Island with the persuasive Denham, to film what he hopes will be something spectacular.
They get more than they bargained with, when after a harrowing fog-bound Island landing during which their boat is nearly wrecked, they find themselves on the menu, as the natives turn out to be cannibals. The Island has a huge high wall, taller than the Great Wall of China, obviously designed to keep something terrible on the other side of the Island.
Denham and Darrow escape the cannibals when the Captain of the tramp steamer mounts a surprise rescue, just as we thought it was all over. Later, native warriors sneak aboard their boat and kidnap Ann to use as a sacrifice as the local witchdoctor summons "Kong" for an ancient ritual. But instead of devouring this tasty offering, Kong saves her. It seems Kong has suffered a loss recently and is captivated by the blonde actress.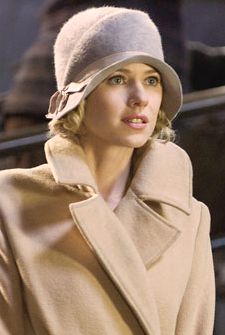 Naomi Watts as Ann Darrow
Kong proves he prizes Ann, fighting off dinosaurs and other perils, during which episodes, Ann realises that Kong will not harm her and comes to trust and admire the powerful giant. Other adventures befall the crew who endure a dinosaur stampede and attack by giant insects, scenes that you will almost feel involved in.
Kong is eventually overpowered with chloroform and taken back to New York where he is put on public display, but not before many crew members suffer terrible deaths from the Island creatures. Being chained does not bother Kong, until he believes harm may come to Ann, when he breaks his chains and bounds into the city streets creating carnage, as he searches high and low for Ann. He eventually finds our heroine, then in an effort to escape the army, who are hell bent on killing him, Kong does what comes naturally and climbs the tallest building (the Empire State Building) where he enjoys a fleeting moment of calm and similar panoramic views to his home on Skull Island. Finally, the Air Force send in a fleet of World War I bi-planes who circle Kong firing endlessly, and although he claims a few with a roar and beat of his chest, finally the bullets take their toll and Kong plummets silently earthward, while Ann Darrow looks on helplessly as her giant friend slips away. A very moving end to a great adventure movie and well worth taking the time to see.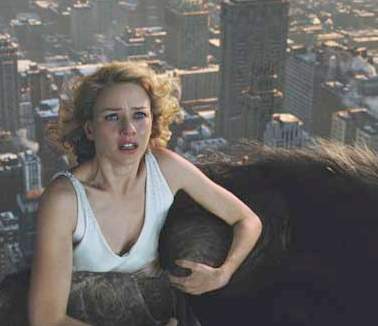 As a bonus the special effects are absolutely spot on and the action sequences have you on the edge of your seat. I doubt if you'll be disappointed, but don't forget the Kleenex for the finale and only take in a small drink as the film is 3 hours long.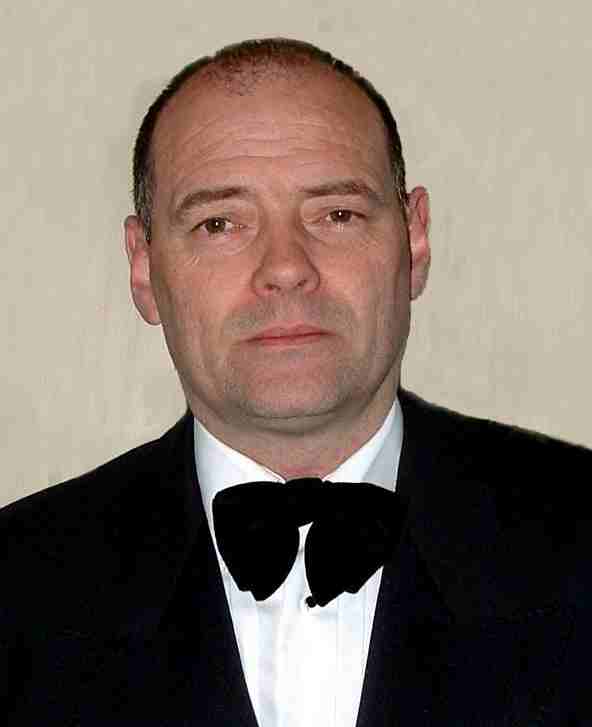 Peter Jackson

(WGA)
Fran Walsh (screenplay) &
Philippa Boyens (screenplay)
Naomi Watts was born in Shoreham, England on September 28, 1968.
Genre: Action / Adventure / Drama / Fantasy / Sci-Fi / Thriller (more)

Tagline: The eighth wonder of the world.

Plot Outline: A film crew filming a movie on an uncharted island stumble upon many strange, dangerous creatures, including 'Kong', a giant ape who captures the lead actress.

User Comments: Amazing Effects

User Rating: ********* 8.3/10 (14,511 votes)

MPAA: Rated PG-13 for frightening adventure violence and some disturbing images.
Runtime: 187 min
Country: New Zealand / USA
Language: English
Color: Color
Sound Mix: DTS / Dolby Digital EX / SDDS
Certification: UK:12A / Czech Republic:12 / Singapore:PG / Japan:PG-12 / New Zealand:M / Switzerland:12 (canton of Vaud) / Norway:11 / Australia:M / Switzerland:12 (canton of Geneva) / Canada:14A / Germany:12 / Denmark:11 / Finland:K-11 (re-rating on appeal) / Ireland:12A / Netherlands:12 / USA:PG-13

Trivia: The tyrannosaurus has hands with three fingers (instead of the scientifically correct two) as an homage to the original King Kong (1933) in which the tyrannosaurus also had an extra digit, and is explained by the idea that the dinosaurs on Skull Island have evolved in the 65 million years since the two-fingered tyrannosaurus went extinct elsewhere in the world.

Quotes: Carl Denham: I'm someone you can trust, I'm a film producer.

Awards: Nominated for 2 Golden Globes. Another 1 win
270 out of 484 people found the following comment useful:- Amazing Effects, 30 November 2005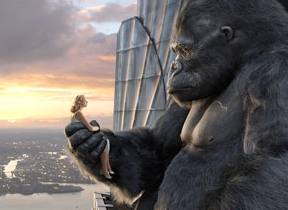 Ann Darrow and Kong - Empire State Building
---
Probably one of the greatest and most famous classic adventure-fantasy (part-horror) film of all time is King Kong (1933). Co-producers and directors Merian C. Cooper and Ernest B. Schoedsack (both real-life adventurers and film documentarians) conceived of the low-budget story of a beautiful, plucky blonde woman (Fay Wray) and a frightening, gigantic, 50 foot ape-monster as a metaphoric re-telling of the archetypal Beauty and the Beast fable. Fay Wray mistakenly believed that her RKO film co-star, 'the tallest, darkest leading man in Hollywood,' would be Cary Grant rather than the beast. Later in her life, she titled her autobiography "On the Other Hand" in memory of her squirming in Kong's grip.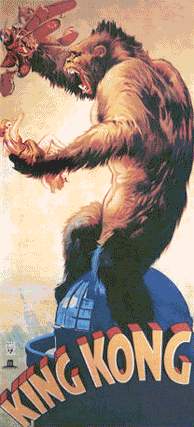 The major themes of the film include the struggle for survival on the primitive, fog-enshrouded, tropical Skull Island between the ardent and energetic filmmakers (led by Robert Armstrong), the hero (Bruce Cabot in a part originally offered to Joel McCrea), the voodoo natives, and the forces of nature (the unique Beast creature); unrequited love and the frustration of repressed sexual desires. However, the primitive, giant ape must also struggle against the forces of urban civilization and technology when he is exploited for profit and taken for display in New York City during a time of economic depression.
From the start of the picture, its clever screenplay by James Ashmore Creelman and Ruth Rose (based on a story by Merian C. Cooper and Edgar Wallace) suggested the coming terror. The film was shot during the spring and summer of 1932 in the confines of the studio. Due to their limited budget for sets, Cooper and Schoedsack used the jungle locale from the latter's previous film The Most Dangerous Game (1932) - an adventure film that also starred Fay Wray. When released, it broke all previous box-office records. Its massive, money-making success helped to save RKO Studios from bankruptcy.
The following scenes for the 1938 re-release, that were excised by censors after the Production Code took effect in 1934, were restored in recent editions of the film:
the Brontosaurus' killing of three victims (instead of five in the original)

the giant spider scene

Kong's stripping/peeling of Fay Wray's clothing while holding her unconscious in his palm

Kong's chewing of a New York victim and his drop of a woman from the Empire State Building
This remarkable film received no Academy Awards nominations - it would have won in the Special Effects category if there had been such a category. The film contained many revolutionary technical innovations for its time (rear projection, miniature models about 18 inches in height, and trick photography, etc.), and some of the most phenomenal stop-motion animation sequences and special effects ever filmed (by chief technician Willis O'Brien, famed for his first feature film The Lost World (1925)). A wildly dramatic musical score by Max Steiner enhanced the action of the story. The 2005 re-make takes off where the original started and is no less spectacular.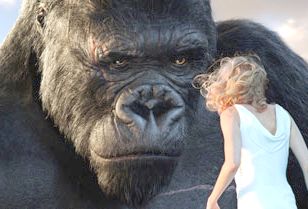 King Kong eyes Ann Darrow
The film has numerous memorable moments, including Kong's battle with a giant snake in a misty cavern, his struggle against a flying pterodactyl, the screaming beauty (Fay Wray, known as the "Queen of Scream") held captive in Kong's giant clenched palm, and the finale with the defiant Kong atop the Empire State Building while circling aircraft shoot him down. In director John Guillermin's less remarkable remake King Kong (1976), starring Jessica Lange, the great ape takes his last stand atop one of the towers of the World Trade Center.
King Kong launched the "giant beast" subgenre of science-fiction, inspiring the 1950's atomic mutant creature features and the Japanese giant movie monsters like Godzilla, Gamera, Rodan, etc. Godzilla and King Kong actually faced off in the Japanese film King Kong Vs. Godzilla (1962, Jp.) (aka Godzilla vs. King Kong in Japan). Various other Kong-related films are summarized in the following list:
Son of Kong (1933)

Mighty Joe Young (1949)

Konga (1961)

King Kong Vs. Godzilla (1962, Jp.)

King Kong Escapes (1967, Jp.)

King of Kong Island (1968)

King Kong (1976)

A*P*E (1976, Kor.)

Queen Kong (1976, UK)

King Kong Lives (1986)

The Mighty Kong (1998, animated)

Mighty Joe Young (1998)
---
The film begins with the title card from an Old Arabian Proverb:
And the Prophet said, 'And lo, the beast looked upon the face of beauty. And it stayed its hand from killing. And from that day, it was as one dead.'
The scene is 1932 at the Hoboken docks in New Jersey during a cold winter. A dock night watchman is approached and asked about the nearby moored steamer: "Say, is this the moving picture ship?" The watchman confirms that the ship is going on a "crazy" voyage, and knows of the brash reputation of Carl Denham (Robert Armstrong), a fearless and arrogant adventure filmmaker and movie producer, who is preparing for a film expedition: "...that crazy fella that's a runnin' it....They say he ain't scared of nothing. If he wants a picture of a lion, he just goes up to him and tells him to look pleasant." Everybody around the dock is talking about the unusually large cargo and number of crew members - "three times more than the ship needs." The well-dressed man, Charles Weston (Sam Hardy), a theatrical agent, is invited on board the vessel by First Mate Jack (John) Driscoll (Bruce Cabot) and is told: "Come on board. Denham's gettin' wild. I hope you got some good news for him."
In the captain's cabin, trusted skipper-Captain Englehorn (Frank Reicher) confers with Denham and suggests that he sail immediately by the next day's light, before the fire marshal can discover his illegal cargo of ammunition, explosives and gas bombs, one of which is strong enough "to knock out an elephant." They must also get to their destination to finish filming before the monsoon season starts. Weston and Driscoll enter and Denham demands to know if the agent has located an actress to star in his top-secret film: "Somebody's interfered with every girl I've tried to hire. And now all the agents in town have shut down on me. All but you, you know I'm square." Weston believes Denham has a "reputation for recklessness that can't be glossed over." Weston also objects to Denham's secretiveness - not even the skipper and first mate know where they are going. The agent hasn't found a girl because his conscience won't let him ask a young girl to take on such an unknown project:
I can't send a young pretty girl such as you ask on a job like this without telling her what to expect...To go off on a trip for no one knows how long, to some spot you don't even hint at, the only woman on the ship with the toughest mugs I ever looked at.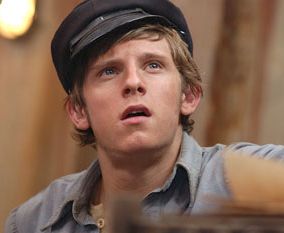 Jamie Bell
No ingenue actress will commit to a long sea voyage to an unknown destination, with an all-male crew. Denham argues that there's more danger in New York for most women: "Listen, there are dozens of girls in this town tonight that are in more danger than they'll ever see with me." "Yeah, but they know that kind of danger," thick-headed Jack pipes up. Denham complains that he needs to have a heroine in his picture to provide romance and a love interest:
Holy Mackerel. Do you think I want to haul a woman around? Because the Public, bless 'em, must have a pretty face to look at. Well, isn't there any romance or adventure in the world without having a flapper in it?. Makes me sore. I go out and sweat blood to make a swell picture and then the critics and the exhibitors all say, 'If this picture had love interest it would gross twice as much.' All right. The Public Wants a Girl, and this time, I'm gonna give 'em what they want.
Undaunted but frustrated, the entrepreneurial, jungle filmmaker promises them he will make the "greatest picture in the world, something that nobody's ever seen or heard of. They'll have to think up a lot of new adjectives when I come back." He leaves to find a girl for his picture by himself, vowing: "even if I have to marry one." A cab drops him off outside the Woman's Home Mission where women are in a breadline, but he doesn't see any potential prospects. Nearby, he notices a hungry, out-of-work, and broke girl reaching for an apple from a fruit market on the streets of New York. The street vendor catches the girl and threatens to call the police. After paying off the irate proprietor with a buck to rescue her, she swoons into his arms. When he takes a good look at her, he impulsively decides that she has the kind of beauty that he is looking for - perfect for the starring role in his documentary movie.
Denham takes the starving young girl by taxi to a Bowery restaurant, buys her a meal, and over a cup of coffee asks her about herself. She is orphaned with no family, although she says: "I'm supposed to have an uncle someplace." She also worked as a film extra at a studio on Long Island before it closed. She identifies herself as Ann Darrow (Fay Wray) and he enthusiastically offers the down-and-out, destitute woman a job: "I've got a job for you. Costumes on the ship won't fit you. Broadway shops are still open. I can get some clothes for you there." To encourage the beautiful girl to go along, he entices her with a promise of lifting her out of obscurity:
It's money and adventure and fame. It's the thrill of a lifetime and a long sea voyage that starts at six o'clock tomorrow morning.
Ann hesitates with fear in her voice, fearing that she will be made Denham's mistress: "No wait. I - I don't understand. You must tell me. I do want the job so, but I can't..." Denham chivalrously reassures her by explaining his position: "Oh, I see. No, you've got me wrong. This is strictly business....Listen, I'm Carl Denham. Ever hear of me?" His fearless, courageous, daredevil reputation is even known by Ann: "Yes. Yes! You make moving pictures in jungles and places." Ann is told that she has been picked to be the leading lady in his new film, and their voyage leaves at 6 am to a place "a long way off." Ann agrees to the voyage, after Denham offers final assurances that sex isn't involved: "I'm on the level. No funny business...Just trust me and keep your chin up." They shake on it.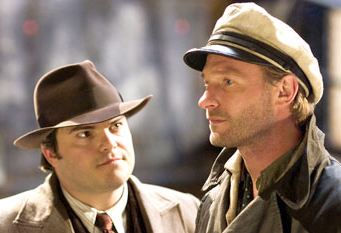 Jack Black and Thomas Kretschmann
The next day, the all-male crew sets sail on a long six-week journey on the S. S. Venture bound for the South Pacific. The good-looking and brawny, but disgruntled First Mate Driscoll meets Ann on deck and unpleasantly marks her as "that girl Denham picked up last night." The males on board are angry and distrustful at the prospect of having such a tempting, attractive, and charming woman along on such a dangerous voyage: "I've never been on one with a woman before." Women are a "nuisance" on board ships, according to him.
During the voyage, Ann prepares to practice and rehearse a scene for the film director on the deck, "to see which side of my face looks best and all that." Driscoll really believes her life is in jeopardy and is feeling protective of her safety: "This is no place for a girl," he tells her. The First Mate is chauvinistic, but apologetic: "You're all right, but, but, but women, women just can't help being a bother. Made that way, I guess."
Denham strolls into their company, and sees Ann fondly petting the ship's pet monkey - a miniature foreshadowing of the regal Beast in the film. He comments, sardonically: "Beauty and the Beast, eh?" Ann excuses herself to put on one of her costumes for the film test to be directed by Denham. While waiting for Ann to reappear, Driscoll confronts Denham and asks what lies ahead: "When do we find out where we're going?...And you going to tell us what happens when we get there?"
Possibly feeling threatened by Driscoll's growing crush on his actress-heroine, Denham suspects that the crew member has been emasculated and gone "soft" and "sappy" over Ann's Beauty. Denham equates the first mate to the Beast in his Hollywood script - already robbed of his virile masculinity due to his concern for Ann's vulnerable presence:
Denham: Oh, you have gone soft on her, eh? I've got enough troubles without a love affair to complicate things. Better cut it out, Jack.
Driscoll: Love affair! You think I'm gonna fall for any dame?
Denham: I've never known it to fail: some big, hard-boiled egg gets a look at a pretty face and bang, he cracks up and goes sappy.
Driscoll: Now who's goin' sappy? Listen, I haven't run out on ya, have I?
Denham: No, you're a pretty tough guy, but if Beauty gets you, ya...(He breaks his train of thought and turns away with a self-deprecating smile.) Huh, I'm going right into a theme song here.
Driscoll: Say, what are you talkin' about?
Denham: It's the idea of my picture. The Beast was a tough guy too. He could lick the world. But when he saw Beauty, she got him. He went soft. He forgot his wisdom and the little fellas licked him. Think it over, Jack.
As they reach a pre-determined point in the middle of the ocean, somewhere in the Indian Ocean "way west of Sumatra," Denham has promised more information about the voyage. He explains to the Skipper-Captain and his First Mate their destination to the southwest. Englehorn protests: "Well there's nothing...nothing for thousands of miles!" Denham unfolds and reveals a secret, primitive map of an uncharted island in the East Indies. "You won't find that island on any chart," Denham explains about the map's history:
That was made by the skipper of a Norwegian barque...A canoe full of natives from this island was blown out to sea. When the barque picked them up, there was only one alive. He died before they reached port, but not before the skipper had pieced together a description of the island and got a fairly good idea of where it lies.
Denham describes the island from the drawing. The main island has a long sandy peninsula, the only possible landing site or entrance through a reef. The rest of the island's shoreline has sheer, steep precipices, hundreds of feet high. A wall cuts off the base of the peninsula from the rest of the island. Denham explains that there's an ancient, monstrous wonder "that no white man has ever seen" on the mysterious island:
Denham: A wall...built so long ago that the people who live there have slipped back, forgotten the higher civilization that built it. That wall is as strong today as it was centuries ago. The natives keep that wall in repair. They need it.
Driscoll: Why?
Denham: There's something on the other side of it, something they fear.
Captain: A hostile tribe.
Denham: Did you ever hear of...Kong?
Captain: Why, yes. Some native superstition isn't it? A god or a spirit or something?
Denham: Well anyway, neither Beast nor man. Something monstrous. All powerful. Still living. Still holding that island in a grip of deadly fear. Well, every legend has a basis of truth. I tell you, there's something on that island that no white man has ever seen.
Captain: And you expect to photograph it?
Denham: If it's there, you bet I'll photograph it.
Driscoll: Suppose it doesn't like having its picture taken?
Denham: Well, now you know why I brought along those cases of gas bombs.
On the deck, Denham prepares for Ann's preliminary costume and lighting test, noticing: "Oh, you've put on the Beauty and Beast costume, eh?" Ann thinks it's the "prettiest," but is nervous about not photographing well. Denham is confident of his unknown actress in her alluring costume: "If I hadn't been sure, I wouldn't have brought you half way around the world." Denham directs her film test, shooting the film himself from behind the camera:
Well, we'll start with a profile. When I start cranking, I hold it a minute and then turn slowly toward me. You see me. You smile a little. Then you listen. And then you laugh. All right? Camera.
During the test, Denham explains why he now does the filming behind the camera after an unfortunate filming trip to Africa:
I'd have got a swell picture of a charging rhino but the cameraman got scared. The darned fool, I was right there with a rifle. Seems he didn't trust me to get the rhino before it got him. I haven't fooled with cameramen since, I do it myself.
To set the scene, Denham describes the island's mysterious presence and asks Ann to react to it:
Now Ann, in this one, you're looking down. When I start to crank, you look up slowly. You're quite calm. You don't expect to see a thing. Then you just follow my directions. All right? Camera. (Denham starts cranking.) Look up slowly, Ann. That's it. You don't see anything. Now look higher. Still higher. Now you see it. You're amazed. You can't believe it. Your eyes open wider. It's horrible, Ann, but you can't look away. There's no chance for you, Ann. No escape. You're helpless, Ann, helpless. There's just one chance, if you can scream. But your throat's paralyzed. Try to scream, Ann. Try. Perhaps if you didn't see it, you could scream. Throw your arms across your eyes and scream Ann, scream for your life.
Ann lets loose a blood-curtling, ear-piercing shrieking scream into the wind. Jack ominously comments on the ship's impending, mysterious voyage: "What's he think she's really gonna see?"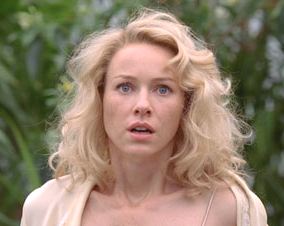 Naomi Watts
They reach the vicinity of the uncharted, fog-enshrouded island after making their way through the unmapped territory in the high seas. Ann wonders how they will know if it's the right one. Denham says the island will have a formation called Skull Mountain: "A mountain that looks like a skull" - a forbidding landmark for a place. A lookout reports breakers ahead. Anchor is dropped in a cove. Driscoll says grimly, "that's not breakers. It's drums!" They hear the muffled sound of drums and chanting in the distance. When the fog clears during daybreak, Skull Mountain and the wall come clearly into view exactly as described, "just like on my funny little map," Denham says.
Taking a small party of about a dozen ashore, along with ammunition, guns, bombs, and Denham's camera, they approach the native village. The first thing they notice is the imposing wall. [This same wall was burned six years later during the filming of the scene of the evacuation of Atlanta in Gone with The Wind (1939).] In the captain's words, the stone wall is "Colossal! It might almost be Egyptian." The village seems deserted, but then, they hear the drums again and see a strange, tribal ceremony in progress, with natives chanting "Kong, Kong." In the direction of the wall, the heathen natives are costumed as gorilla-apes while circling a naked, nubile young girl garlanded with marital regalia (flowers, shells, and feathers) and crouched on the altar. She is a human tribal offering to a behemoth killer gorilla, "the bride of Kong," draped by white-costumed attendants. Behind them up stone stairs are grotesquely-painted witch doctors and the tribal chief. Louder and louder they chant: "Kong, Kong."
While the crew hides behind a large native hut, Denham exclaims upon first seeing the sight: "Holy Mackerel. What a show!" He sets up his movie camera out in the open to film the spectacular ceremony, in which the natives both respect and fear their god. But the tribal chief notices them and quickly and angrily halts the festive ceremony. Denham's crew moves into the open as a show of force. The fierce, dark-skinned native chief, with his restless retinue of witch doctors, approach the intruders.
The ship's captain, who knows the native language, explains that they have come in peace, but the tribal chief motions them to leave immediately. One of the witch doctors cries that the ceremony is spoiled because the white men have witnessed it, and demands their destruction. Denham steadies his men with their rifles ready to shoot. Then, the chief sees and points out the blonde-haired Ann, the "golden woman," who holds onto Driscoll for security. Obviously, he has never seen a white woman before and is intrigued and struck by her beauty. Under his breath, Denham comments: "Yeah, blondes are scarce around here." The tribal chief demands that she be purchased and offers six of his native women in exchange for the white woman. Denham refuses the offer, thinking they might substitute her for the sacrifice. The crew slowly backs up and makes an orderly retreat to the safety of their moored ship.
Aboard ship that night, Driscoll, who has been fighting an attraction to Ann, now expresses his anger at Denham for bringing her along: "I think Denham's off his nut taking you ashore today...Denham's such a fool for risks, there's no telling what he might ask you to do for this picture....He's crazy enough to try anything." No longer inhibited, Jack uses his protective concern for Ann as a way to express, with clumsy stammering, his growing love for her:
When I think what might have happened today. If anything had happened to you...I'm scared for you. I'm sort of, well I'm scared of you too. Ann, uh, I, uh, uh, say, I guess I love you...Say, Ann, I don't suppose, uh, I mean, well you don't feel anything like that about me, do you?
Ann expresses her feelings for Jack by letting him kiss her. While she is still on deck, basking in the glow of her love for Jack, he is called to the bridge. The determined natives row out to the ship in an outrigger canoe and silently sneak on board. They seize her and carry her away in an outrigger to the shore. They prepare her for the marital sacrifice - a beautiful girl to placate their god, Kong. From the ship, Denham notices torches on shore and the continuation of the drums. When Ann can't be located on deck, the ship's cook finds a native bracelet that has been dropped by one of the natives during their struggle to kidnap her. They suspect the worst, that she has been abducted, and a rescue party heads for the island to rescue her.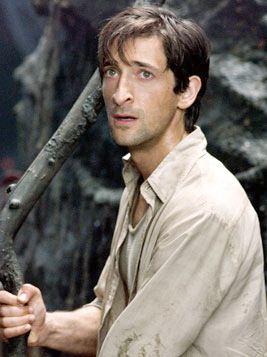 Adrien Brody as Jack Driscol
In a frenzy of excitement, the natives have prepared Ann as the new sacrificial bride - in a scene filled with rape imagery. The witch doctors open the tall gate (by drawing back the huge, phallic-like bolt) in the enormous wall and drag her to the top of a high stone altar at the edge of the jungle. Her wrists are spread and bound to two great pillars or altar stakes (each decorated with a human skull) as a sacrificial gift - the "bride of Kong." After the witch doctors hurry back, the gates are closed and re-sealed with a huge wooden bolt. All the natives then climb to the top of the wall or gate where they gather to watch, torches lighting the sky. The chief halts the dancing, raises his staff, offers prayers, and then two half-naked assistants strike a giant brass gong above the gates to signal Kong. Left invitingly open to attack, Ann sobs helplessly on the altar.
The brutish Kong makes an extremely memorable first appearance. The mighty ape is first heard as he comes angrily thrashing through the jungle, bending nearby trees. Horrible roars, growls, and sounds are heard from an indistinct shape. When he comes into view, he is tremendous - a thirty-foot tall giant ape, much bigger than a gorilla. As she sees the demonic, strong Beast-lover approach the altar, Ann struggles to free herself. She lets out shrill screams in absolute terror, just like in the practice session. Her eyes signify complete fear and helplessness. With raw sexual impulses that have been incited and aroused by a rolling-eye view of the white girl, Kong flares his teeth and snarls, beats his chest and lets go mighty roars. As he comes closer to leer at her, he releases her from the stakes, and she slumps into a faint. Kong picks her up with his giant paw, as the natives cheer enthusiastically at Kong's acceptance of the valued sacrifice (worth six black native girls). She succumbs to the naked Beast's dark libido. Rather than devouring her, the hairy colossus carries her off into the jungle as she continues to scream. Denham's practice session on shipboard is fully realized.
Denham and the crew, with Driscoll in the lead of the rescue party, go in pursuit into the village but arrive too late to save her from Kong's grasp. [Both Denham and Driscoll are competing to win Ann back from the Beast, and to rescue her from Kong.] The captain and half of the sailors remain to guard the gate, while the others enter the open gate of the wall and start their trek into the thick jungle. The rescuers are quickly no match for the primitive, long-lost world of the island. As dawn breaks, they view and follow Kong's huge footprint track, Denham exclaiming: "Look at the size of the thing. He must be as big as a house." Skull Island's strange landscape is marked by foggy swamps, tangled growth, twisted vines and prehistoric dinosaurs. In a clearing, they encounter a prehistoric creature - a Stegosaurus. The armor-hide of the reptile reflects their rifle bullets as it charges toward the men. The beast has to be brought down with a knock-out gas bomb. As they approach the gigantic dinosaur on the ground, it rises up again and lashes around with its spiked tail. After more gun shots, it falls again, and Denham puts a fatal bullet into its brain.
Then, the crew reaches the edge of a fog-covered swamp, and they hear Kong splashing across ahead of them. To keep in close pursuit, they perilously cross on a hastily-constructed makeshift raft. Suddenly, a rampaging long-necked Brontosaurus [technically an Apatosaurus] emerges from the water. Its ugly face glares down at the men, and then submerges to escape a volley of rifle fire. The dinosaur rises again directly under the raft, throwing the men into the water. It snatches, chews up, and hurls away a number of sailors - one hapless man in the water is seized head-first. The survivors who have struggled to the shore race ahead of the creature. A sailor who has fallen behind in the chase through the swamp climbs a tree to escape, but is viciously grabbed from the tree branches by the menacing jaws. This scene is scientifically dubious, since the Brontosaurus didn't have chewing teeth - it was a plant-eating herbivore with grinding stones in its gut to break up food.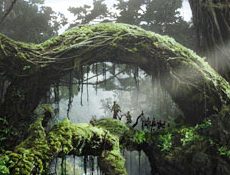 Skull Island
Kong, carrying Ann, crosses a log bridge over a deep chasm. In a clearing, he hears the approaching pursuit so he places Ann high in the fork of an upright dead tree. He returns to the location of the pursuing search party to do battle, finding Driscoll and seven of the surviving sailors crossing the deep ravine. (Denham has dropped back and hasn't reached the bridge yet.)
In the frighteningly horrific log sequence, Kong picks up, shakes, and overturns the chasm-bridging log as the men cling for their lives. All the sailors on the log roll off and are sent screaming to their deaths deep into the gorge. Driscoll has managed to cross the bridge and has climbed down a large plant vine to hide in the small hollow of a cave under the side of the cliff wall. Kong reaches over to grope and grab for Driscoll, but the sailor, in a deadly game of cat and mouse, defends himself with his knife, and Kong withdraws his paw, angry and puzzled. Below the cave, Driscoll is nearly seized by a lizard-like reptile that has crawled up from the ravine on a vine. But he cuts the vine on which the creature is crawling.
The giant ape tries to reach for the annoying Driscoll one more time but he is interrupted by Ann's screams of terror. She has just seen a vicious, flesh-eating dinosaur approaching in the glade in the background. As she delivers a piercing scream, the Rex scratches its ear. Kong leaves his prey, hastily leaps over a fallen log, and returns to his golden-haired Ann just as the huge, monstrous creature is ready to put his large jaws on her. It is one of many rescues that Kong performs for his new beloved.
In the next spectacular sequence - one of the most exciting bits of stop-motion animation in the film - the primordial Kong and Tyrannosaurus Rex battle to the death, as Ann in horrible fascination watches the combatants from her treetop perch. To start the furious, titanic battle, the two first face off and measure each other. Then, Kong leaps onto the dinosaur's back and the creature viciously struggles and frees itself by shaking the ape off. The Rex affixes its huge, sharp-toothed jaws around Kong's protecting forearm. When they separate, Kong boxes and swings punches at the Rex's head. Like two collegiate wrestlers, the ape grabs the monster's tree-sized leg and crashes it to the jungle floor. As Kong pummels the creature's head, it furiously kicks its tail and legs, flinging Kong off.
In the wrestling melee, Kong reels backward against the tree where Ann is sitting. The camera follows the tree as it crashes down to the ground, pinning Ann there - miraculously, she is uninjured. From the ground-level perspective, the two creatures are even more frightening and awesome. At the end of their struggle, Kong leaps onto the back of the Tyrannosaurus and tears apart the gigantic, razor-sharp jaws of the dinosaur. Blood oozes realistically from its cracked-open mouth - Kong inspects to make sure his opponent is truly dead by moving the lifeless mandibles. With the Rex silent, Kong beats his massive breast in triumph.
Tenderly, the Beast frees Ann from the tree and carries her deeper into the jungle. By this time, Driscoll has emerged from the cave and reached the top of the gorge. He finds Denham, the only other survivor, on the other side of the ravine. He tells Denham to go for help, gas bombs and reinforcements back at the village and ship while he follows Kong's trail. Driscoll hopes to signal his friends somehow when he finds Ann. During his pursuit, Driscoll runs past the dying Tyrannosaurus, bleeding and already a feast for giant vultures. Back at the village, Denham tells the remaining crew: "Keep your eyes peeled. We leave at dawn, whether we get a signal from Driscoll or not."
Kong reaches his rocky, mountaintop lair, a cave atop Skull Mountain, with Driscoll following closely behind. Inside, he walks by a pool (a ripple in the pool foreshadows a coming attack) and puts Ann down on a ledge. When he leaves her for a moment, an Elasmosaurus, a snake-like lizard, slithers up from below and threatens to eat Ann. Kong is alerted once again by Ann's screams and he grabs the aquatic reptile. As steam rises in the background during the struggle, the creature coils its body around Kong's neck in a choking stranglehold. The convincing stop-motion animation captures the desperation in Kong's face as he gasps for air. Kong finally manages to dash its head against the rocks, breaking its neck.
King Kong roar
Retrieving Ann, Kong takes her to the upper part of his cave, emerging on a ledge that overlooks the island. He announces himself with more chest-thumping, causing Ann to swoon into a faint. Sitting down, the Beast is fascinated and mystified by his bride's Beauty and doesn't intend to harm her. Fumbling with her like an adolescent teen, he holds Ann in his hand and examines her carefully, slowly peeling off some of her outer clothes and scrutinizing the flimsy material. When she awakens in his paw and struggles to get free, he strokes and teases her affectionately and then sniffs his fingers. Possibly he has fallen in love with her.
Kong rushes inside the cave after hearing a boulder crash, dislodged by Driscoll climbing up from the cave. Ann crawls to the edge of the ledge, looking for a way to escape. Suddenly, a giant winged Pteranodon (a type of Pterodactyl) swoops down and tries to snatch Ann into the air. Kong rushes back to rescue her, grabbing the flying reptile just as it starts lifting Ann. Ann falls back to the ground, while Kong struggles with the creature. Jack emerges from hiding and reaches Ann to save her. While Kong is distracted, Driscoll starts a descent down the face of the cliff wall on a large vine, with Ann clinging to his back. Kong has succeeded in killing the Pteranodon and disposes it over the ledge. There, he discovers their escape, and he grabs the makeshift rope and begins hauling them back to the top of the balcony. They kick helplessly at the end of the vine, both lose their grip and fall into the water far below at the base of the mountain.
wept down the river to the jungle, an exhausted Jack and Ann return through the jungle with a much-angered Kong in quick pursuit. Night has come back at the wall in the native village, where Denham waits for a signal from Driscoll. Excitedly, sailor guards see the two running toward the gate, and everyone greets them, grateful that they are alive. They all start back for the safety of the ship:
Denham: Wait a minute. What about Kong?
Driscoll: Well, what about him?
Denham: We came here to get a moving picture, and we've found something worth more than all the movies in the world.
Captain: What!
Denham: We've got those gas bombs. If we can capture him alive.
Driscoll: Why you're crazy! Besides that, he's on a cliff where a whole army couldn't get at him.
Denham: Yeah, if he stays there. But we've got something he wants (looking at Ann.)
Driscoll: Yep, something he won't get again.
Just then, a lookout up on the gate next to the giant gong cries out: "Hey, look out. It's Kong. Kong's coming!" Ann screams again. They try to keep the huge gate closed, bolted and blocked - the gate that has kept Kong trapped inside the island for so long. At the sound of the gong, the natives swarm from their huts and join them to hold the gate against the giant ape. Kong pounds repeatedly on it, and pushes with his entire weight thrown against the door. As last, he breaks it down, and the doors swing open to reveal the awesome brute. An enraged Kong attacks the village searching for his blond beauty. He hurls an entire hut at the fleeing natives and crushes everything in his path. A screaming baby is rescued just before Kong would have crushed him with his gargantuan foot. On a raised scaffolding, a small group of villagers hurl their spears at him. In retaliation, Kong uproots a small tree and clubs the leader from the platform. He grabs the native on the ground with his hairy hand and chews on him in his gaping mouth, biting him to death (one of a number of horrific scenes removed by censors in the 1930s). Kong then smashes the platform with three swift punches from his fist. More native huts are crushed, and a few of the natives are trampled.
At the beach, Denham tosses one of his gas bombs that explodes at the feet of the charging Kong. The Beast is staggered. Exhibiting anthropomorphic mannerisms, Kong rubs his eyes, grasps at his throat, struggles to crawl forward and then collapses unconscious onto the ground. Denham enthusiastically orders his men to go to the ship for anchor chains and tools "to build a raft and float him to the ship." An opportunist, Denham explains their good fortune, believing that they will become rich by charging audiences to see their giant gorilla on New York's Broadway. Victoriously, he proclaims:
Denham: Well, the whole world will pay to see this.
Captain: No chains will ever hold that.
Denham: We'll give him more than chains. He's always been King of his world. But we'll teach him fear! We're millionaires, boys, I'll share it with all of you. Why, in a few months, it'll be up in lights on Broadway: 'Kong - the Eighth Wonder of the World!'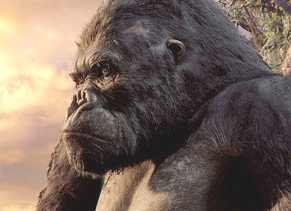 Kong - thoughtful
Kong is brought back to "Jazz Age" New York on the S. S. Venture to be put on display in a crowded Broadway theater, shown in marquee lights: "KING KONG EIGHTH WONDER OF THE WORLD, Carl Denham's Giant Monster." Kong is a victim in civilization, far removed and transported away from his familiar jungle environment. The curious crowds of the first-night audience push into the huge auditorium, mentioning that tickets are $20 apiece to see the prized trophy, and freak show attraction. One of the audience members has misunderstood and believes a movie screening is about to take place. But she is told that it is more of a "personal appearance." Another individual speculates: "I hear it's a kind of a gorilla." A female quips: "Gee, ain't we got enough of them in New York?"
Just before unveiling Kong to his audience, a top-hatted, tuxedoed Denham tells press reporters backstage to play up the Beauty and the Beast angle on the story, because it was Ann that led the beast back to the village. He also requests that they take their first flash photos of Kong on stage after the curtain goes up. He walks on stage in front of the curtain and with much showmanship, addresses the audience about his "Eighth Wonder of the World" in its world premiere:
Ladies and gentlemen, I'm here tonight to tell you a very strange story - a story so strange that no one will believe it - but, ladies and gentlemen, seeing is believing. And we - my partners and I - have brought back the living proof of our adventure, an adventure in which twelve of our party met horrible death. And now, ladies and gentlemen, before I tell you any more, I'm going to show you the greatest thing your eyes have ever beheld. He was a King and a God in the world he knew, but now he comes to civilization, merely a captive, on show to gratify your curiosity. Ladies and gentlemen, look at Kong - the Eighth Wonder of the World!
The curtain rises to the amazed, black-tie audience, and there is the giant Kong exhibited, standing chained to a large steel-platformed structure. The metal structure's resemblance to a crucifix is symbolically striking. Denham invites Jack and Ann, now obviously in love, to come onstage. Denham introduces first Ann and then Driscoll - they're now engaged to be married:
The bravest girl I have ever known...There the Beast. And here the Beauty. She has lived through an experience no other woman ever dreamed of. And she was saved from the very grasp of Kong by her future husband. I want you to meet a very brave gentleman, Mr. John Driscoll.
Denham then brings the press reporters on stage, to give the audience the privilege of seeing the first photographs taken of Kong and his captors. Kong struggles when he is startled and then angered by a flood of flashbulb photographs. He also is stirred and jealous of the sight of his beautiful prize - Ann, standing next to Denham. Denham assures his panicking audience: "Don't be alarmed ladies and gentlemen. Those chains are made of chrome steel." With a second flurry of photographs and bursts of light from the flashes, Denham warns them to stop: "Wait a minute. Hold on. He thinks you're attacking the girl." Furious and anguished, Kong believes the popping lights are guns being fired at his female love.
Kong roars in fury and breaks free of his chains to protect and rescue Ann - first freeing his right arm and then the rest of the manacles binding his other arm, waist, and ankles. Driscoll grabs Ann's hand and helps her escape into the alley where they flee into a nearby hotel, while the panic-stricken audience hysterically stampedes and races for the exits. Kong smashes his way out of the theatre, causing mass havoc. Crashing through the stage door, Kong sees Ann and Driscoll enter the revolving doors of the hotel building across the way. After a car crashes into the hotel entrance where Ann and Driscoll have fled, the frustrated Kong kills the driver of the car in his mouth. In his violent rampage and assault on Manhattan [a symbolic, Depression-era attack by the impoverished victim on Wall Street and its bankers and stock dealers?], he rips the marquee from the hotel entrance and throws it into the crowds on the street.
After hearing a scream and seeing a woman peering down from a window, he scales the tall hotel building. Kong's great eyes peer through a window searching for Ann. He reaches into the window of the room and grabs a sleeping woman from her bed. When he discovers she isn't the object of his affection, he opens the fingers of his hand and drops her headlong to her death on the street far below. Then he peeps through another window and glimpses Ann and Driscoll in another room higher up in the hotel skyscraper. He crashes through the window with his giant arm and Driscoll is knocked out defending Ann. Then Kong plucks her from the bed in the bedroom and recaptures her. He carries her to the roof, but then descends soon after, before Denham and Driscoll can stop him.
On his way, after being startled by the sight of a passing elevated train on Third Avenue - thinking it is some gigantic snake - he tears up the track as a second train approaches, causing the second train to turn over and crash. Kong further damages the train (killing and injuring more passengers) by destroying one of its cars with his fists. A radio report details Kong's progress - he carries her across New York City in his giant hand and makes his way for the city's tallest point or "tree", the Empire State Building, possibly because it reminds him of his mountaintop lair on Skull Island. Denham thinks they're defeated:
Denham: That licks us.
Driscoll: There's one thing we haven't thought of.
Police Officer: What?
Driscoll: Airplanes. If he should put Ann down, and they could fly close enough to pick him off without hitting her...
Police Officer: You're right, planes...
Four Navy biplanes are dispatched, each with fore and aft machine guns mounted on them. They approach the Empire State Building at sunrise, just as Kong is nearing the domed summit for a tryst with his Beauty.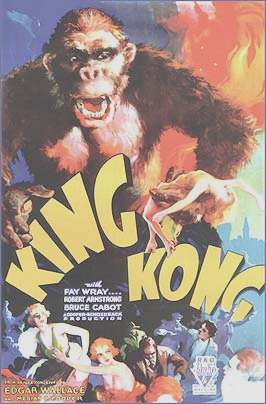 Original King Kong poster 1933
The film's final moments contain some of the most familiar and memorable of all images and sequences in film history. Atop the building, Kong clutches the girl whose blonde beauty touched his heart. He places Ann on a ledge and then roars in defiance at the planes. A squadron of fighter biplanes swirl around him in an attack to shoot him down, as he swats at them like irritating mosquitoes or bees, but he cannot reach them. His battle against the biplanes is futile. [Note: The film's producers and directors, Cooper and Schoedsack, played the roles of pilot and gunner in this plane-attack scene.] Kong flinches as machine gun bullets rip into his body. Kong sends one careless pilot to a fiery death. After a vicious attack into his throat and body, he is weakened and knows that he is dying. He touches his chest, and then looks at the blood on his fingers from a chest wound. He wipes his forehead with the back of his hand. He gently picks Ann up one last time to gaze at her with tender affection and love. Then, he returns her to the ledge and strokes her gently with his fingertips. After another volley of bullets into his throat, his head droops and his body sways and staggers - he is barely able to hold on. When he loosens his hold from the building, he silently plunges to his death on the street below. Tragically, Kong is no longer an object of terror and fear, but of pity. Moments later, Ann is rescued by Jack Driscoll on the Empire State Dome. He embraces his fiancee tightly in his arms: "Ann, Ann, hang on, dear."
In the final scene on the street's pavement below, next to Kong's lifeless body that is sprawled there with blood trickling from his mouth, Denham pushes his way through the police cordon to examine the massive, crushed body of the fallen monster: "Let me through, officer, my name's Denham...Lieutenant, I'm Carl Denham." He corrects the police officer lieutenant who claims he knows what killed Kong. Rather than the 'airplanes' - a symbol of civilization, Denham states what finally 'killed the Beast.' He shakes his head and replies with relish, in a classic line, the final line of the film:
Police Officer Lieutenant: Well, Denham, the airplanes got him.
Denham: Oh, no. It wasn't the airplanes. It was Beauty killed the Beast.
A - Z FILMS INDEX
A - Z ACTORS INDEX
A heartwarming action adventure: Pirate whalers V Conservationists,
introducing John Storm and his solar powered robot ship
as they fight to save a wounded whale from the sushi bars.