RACE THE SUN 1996
This movie is a fictionalized account of the exploits of an Hawaii high school tram (Konawaena Intermediate and High School on the Big Island of Hawaii) in the 1990 World Solar Challenge in Australia.
Halle Berry and James Belushi star in this adventure in which a group of low-income, under-achieving Hawaiian students are inspired by their new science teacher to design a solar powered car for a local competition. Their determination ultimately lands them in Australia in a 2,000 mile race across the Outback. A must see for any Solar Car Team and one of my personal inspirational favourites NK. See also, The Worlds fastest Indian for a true story of determination against all odds.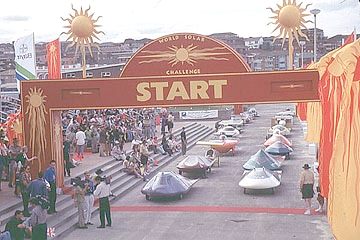 World Solar Challenge - Start Line
Charles T. Kanganis

(WGA) Barry Morrow (written by)
Race the Sun is a nice little movie which captures the feel of the Australian outback and gives a brief insight into the challenges faced by real life competitors, although very much superficial and glossy, but this is of course just a film. Race the Sun is undoubtedly inspirational to other would be solar racers, and a timeless family movie, based around the true story of a group of allegedly under-achieving Hawaiian school kids who set out to win a solar car race in Australia.
Genre: Drama / Adventure / Comedy

Tagline: A dream can make all the difference under the sun.

User Comments: A sweet little flick

User Rating: ***** 5.1/10 (606 votes)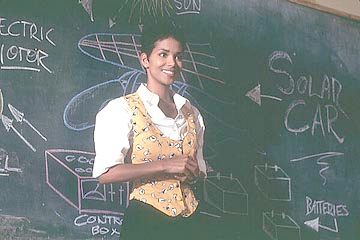 Halle Berry as Miss Sandra Beecher
Miss Sandra Beecher

Daniel Webster

Cindy Johnson

Jack Fryman

Eduardo Braz

Hans Kooiman

Marco Kito

Gilbert Tutu

Oni Nagano

Luana Kanahele

Uni Kakamura

Commissioner Hawkes

Frank Machi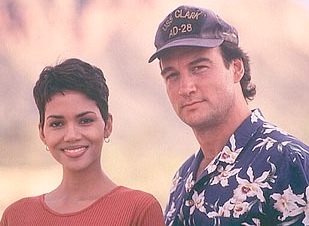 Halle Berry and James Belushi
MPAA: Rated PG for mild language and a brief incident of teen drinking.
Runtime: 82 min
Country: USA
Language: English
Color: Color
Sound Mix: SDDS (8 channels)
Certification: Spain:T / USA:PG / Singapore:PG

Goofs: Continuity: When introducing herself to the students, Ms. Beecher prints her name on the blackboard. It repeatedly changes between printed and cursive throughout the scene.
Race the Sun info

Cast :
Halle Berry, James Belushi
Director :
Charles T. Kanganis
Studio :
Columbia Tristar Hom
Format :
Color, Closed-captioned
Released Date :
March 22, 1996
DVD Released Date :
April 30, 2002
Language :
English (Dubbed), English (Subtitled), Spanish (Subtitled), French (Subtitled)
Audience Rating :
PG (Parental Guidance Suggested)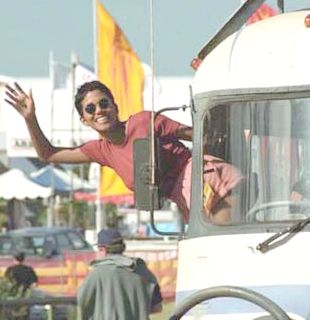 Halle Berry on location
HALLE BERRY
Halle Berry was born on August 14, 1968, in Cleveland, Ohio. The youngest daughter born to African American father Jerome Berry, a former hospital attendant, and Caucasian mother Judith Berry, a retired psychiatric nurse. Halle, and her older sister Heidi, spent the first few years of their childhood living in an inner-city neighborhood. In the early 1970s, Jerome Berry abandoned his wife and children, after which Judith moved her family to the predominantly white Cleveland suburb of Bedford.
Berry attended a nearly all-white public school, and as a result was subjected to discrimination at an early age. Her early bouts with racism greatly influenced her desire to excel. Throughout high school, the determined teen participated in a dizzying array of extracurricular activities, holding positions of newspaper editor, class president, and head cheerleader.
Race the Sun in South Africa 2010
A natural performer, Berry earned a handful of beauty pageant titles during the early 1980s, including Miss Teen Ohio and Miss Teen America. She was eventually awarded first runner-up in the 1985 Miss U.S.A. competition. For a short time she attended Cleveland's Cuyahoga Community College, where she studied broadcast journalism. However, Berry abandoned her idea of a career in news reporting before receiving her degree. Choosing to wholeheartedly devote her time to a career in entertainment, Berry moved to Chicago then New York City, where she found work as a catalog model.
As the '80s turned into the '90s, the aspiring actress began a career in television with a role on the short-lived sitcom Living Dolls (1989), followed by a year-long run on the CBS prime-time drama Knot's Landing, in 1991. Berry's first big-screen break came later that year when she was cast as Samuel L. Jackson's drug-addicted girlfriend in Spike Lee's Jungle Fever. More substantial supporting roles followed, including that of a stripper in the action-thriller The Last Boy Scout (1991), starring Bruce Willis; and as the woman who finally wins Eddie Murphy's heart in the romantic comedy Boomerang (1992).
With a few films under her belt, Berry accepted more offbeat roles, making cameos in the rockumentary CB4 (1993), which traced the rise and fall of the titled rap group. 1994's live-action version of The Flintstones featured Berry as a Stone Age seductress.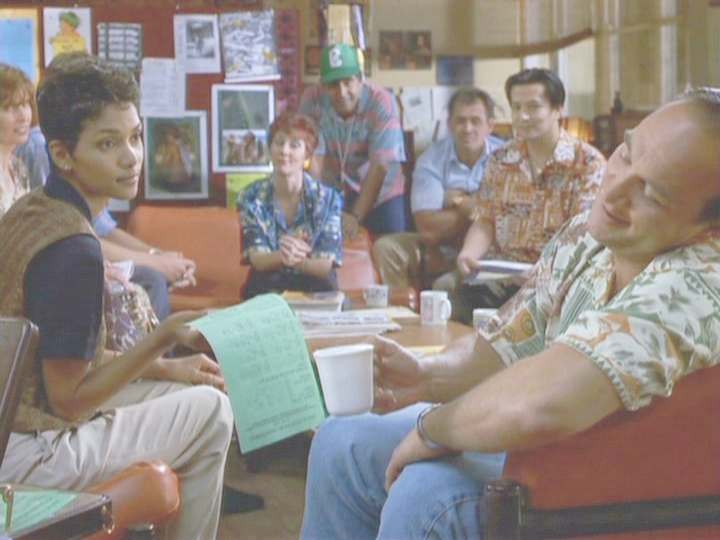 Teachers meeting - Halle Berry and James Belushi
JAMES BELUSHI - 5' 11" (1.80 m)
James Belushi was born June 15, 1954, in Chicago. The third of four children - his brother was John Belushi - he grew up in Wheaton, Illinois. A high school teacher, impressed by his improvisational skills while giving speeches, convinced him to to be in a school play. After that he joined the school's drama club. Today if asked why he got involved in acting, he will jokingly say, "Because of girls. In the drama club, there were about 20 girls and six guys. And the same thing with choir - more girls!". He attended the College of Dupage and Southern Illinois University, where he graduated with a degree in Speech and Theater Arts.

In 1977 he joined Chicago's Second City improv troupe and remained for three years. In 1979 Garry Marshall saw Jim performing for Second City and arranged for him to come to Hollywood and co-star in the TV pilot "Who's Watching the Kids" (1978) for Paramount, and then for a role in the series "Working Stiffs" (1979) (co-starring Michael Keaton). Later, in 1983, he joined the cast of "Saturday Night Live" (1975) for two years. Jim came to national attention in About Last Night... (1986), playing the role he originated in the Chicago Apollo Theatre's production of David Mamet's Obie-award winning play "Sexual Perversity in Chicago". He currently resides in Los Angeles with his wife Jennifer, their daughter Jamison and a son, Robert, from Belushi's first marriage.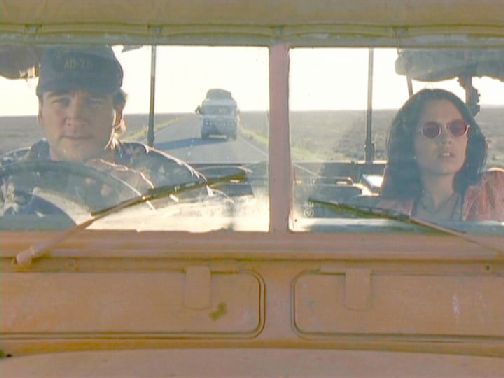 James Belushi as Frank Machi and Eliza Dushku as Cindy Johnson
SOLAR CAR RACING EVENT A - Z
Race the Sun in Australia 2011
Race the Sun (Sub Dts) (1996)

Starring: Halle Berry, Casey Affleck Director: Charles T. Kanganis Rating PG
A dream can make all the difference under the sun - when a bunch of high school misfits in Hawaii, introduced by their new teacher (Halle Berry), attend a science fair in which they draw up inspiration to build their own solar car and win a trip to compete in the 1990 World Solar Challenge in Australia. One of my favourites NK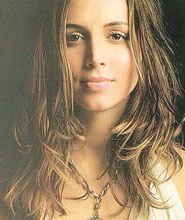 Eliza Dushku
---
SOLAR CAR RACING TEAMS DIRECTORY: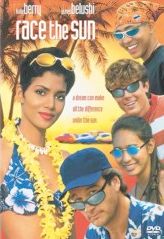 A - Z FILMS INDEX
A - Z ACTORS INDEX
Healthier tastes for adventure capitalists