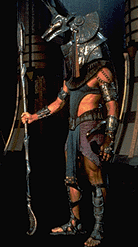 Summary: Hit movie about the discovery of an ancient portal capable of zipping travellers to "the other side of the known universe." James Spader plays the Egyptologist who successfully translates the Stargate's hieroglyphic code, and then joins a hawkish military unit (led by Kurt Russell) on a reconnaissance mission to see what's on the other side. They arrive on a desert world with cultural (and apparently supernatural) ties to Earth's ancient Egypt, where the sun god Ra (played by Jaye Davidson from The Crying Game) rules a population of slaves with armoured minions and startlingly advanced technology. After being warmly welcomed into the slave camp, the earthlings encourage and support a rebellion, and while Russell threatens to blow up the Stargate to prevent its use by enemy forces, — Amazon.com
The unexpected box office takings of this sleeper sci-fi hit no doubt gave other sci-fi projects the green light and so 1995 saw more than the usual number of SF flicks. For that alone it must be thanked by special effects aficionados. Post-Stargate sci-fi movies seem to offer little else - witness the team behind this film, Roland Emmerich and Dean Devlin's next effort: Independence Day .
The plot? A mixture between Erich von Daniken, Dune and Aliens as a marine platoon enters a mysterious dimensional portal activated thanks to the ingenuity of an Egyptologist (James Spader) to find a desert planet ruled by an advanced and vicious alien who uses humans as his slaves. The concept is inconsistent, where a high-tech production process would first require unskilled human labour. But then, perhaps the humans provide more than just labour.
Action follows á la Dune gigantic battle scenes in the desert. The effects are well-done and both Spader and Kurt Russell (as the tough-as-nails platoon leader) give likeable performances.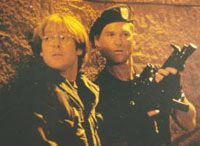 James Spader & Kurt Russell
However, this remains a matinee movie for the kids and little else. Actually this rather derivative film made me long for other movies: the opening shot with the "stargate" being discovered in Egypt made me want to see Raiders of the Lost Ark again: the film from which the scene was no doubt inspired. No sequels were made, but it did spawn a TV series that proved to be quite popular with SF aficionados.
STARRING:
Kurt Russell, James Spader, Viveca Lindfors, Jaye Davidson, Alexis Cruz, Mili Aveital, Leon Rippy, John Diehl, Carlos Lauchu, Djimon, Erick Avari, French Stewart, Gianin Loffler, Cecil Hoffman, Raw Allen, Richard Kind

1994, 119 Minutes

Genre: Fantasy / Action / Adventure / Sci-Fi

Tagline: It Will Take You A Million Light Years From Home

Plot Outline: An interstellar teleportation device, found in Egypt, leads to a planet with humans resembling ancient Egyptians who worship the god Ra.

User Comments: a new classic

User Rating: ***


Col. Jonathan 'Jack' O'Neil

Dr. Daniel Jackson

Catherine Langford, PhD

Skaara

Sha'uri

Gen. West

Lt. Col. Kawalsky

Anubis

Horus (as Djimon)

'Good Father' Kasuf

Lt Ferretti

Nabeh

Ra

Freeman

Brown

Also Known As:

Stargate, la porte des étoiles (France)
Runtime: 121 min / USA:128 min (special edition) / USA:130 min (director's cut)
Country: France / USA
Language: English / Swedish
Color: Color (DeLuxe)
Sound Mix: DTS / Dolby Digital (Europe) / Dolby SR (USA)
Certification: Argentina:13 / Australia:PG / Chile:TE / Finland:K-12 / Germany:12 / Netherlands:12 / Singapore:PG / Spain:7 / Sweden:11 / UK:PG / USA:PG-13

Trivia:
Roland Emmerich and Dean Devlin were sued for stealing the storyline from someone who submitted the story to them about ten years before the movie was made (they "rejected" the story at the time). The person that sued the men (a student of Egyptology) even had a well- respected Egyptologist from Johns Hopkins University vouch for him, since he put his own theories into the story. The only differences between the story and the movie are slight name variations. The issue was finally settled out of court.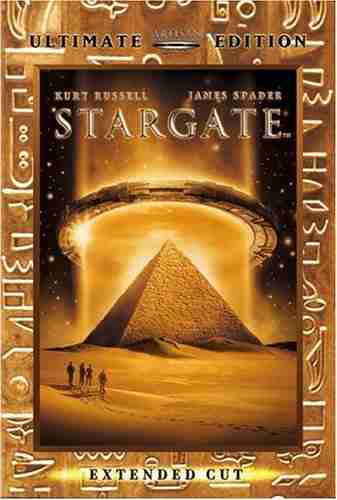 Description :
The story combines traditional popular science fiction themes with a heavy dose of Egyptological mumbo-jumbo. Occasional, mostly-halfhearted attempts at character development are ignored whenever they don't impact directly on the plot. As has frequently become the case with movies of this genre, the visual effects and breathtaking cinematography far outstrip everything else offered by Stargate.
James Spader plays nerdish Egyptologist Daniel Jackson, whose linguistic expertise is called upon for decoding inscriptions on tiles discovered in an Egyptian archeological site. These turn out to be the key that turns the lock in something called the "stargate", an intergalactic portal (that looks like a giant donut) to some Earth-like world on the "far side of the known universe."
Kurt Russell is Colonel Jack O'Neil, the borderline-suicidal military commander of a mission to the other side of the stargate. Accompanied by his crack troops and Jackson, O'Neil enters the gate and emerges in what looks suspiciously like Egypt. It's not, however, as the three moons in the sky soon prove. This is the land of the Egyptian Sun God Ra (Jaye Davidson) and his people.
Ra, it seems, created human society on Earth and on this world as well as the stargates, and was displeased when the ancient Egyptians closed their side of the space/time corridor, confining him to one planet. Now that the way is again open, Ra has decided to prepare a little surprise for those waiting at the far end.
What begins as an enjoyable romp degenerates into a tired retread of the age-old good-versus evil battle pitting a group of overachieving mortals against a ruthless god-like being. It's Luke against the Emperor from Return of the Jedi without the malevolent, charismatic presence of Darth Vader. Ultimately, the final battle, aside from being inexplicably rushed, is dull and lacking in genuine suspense.
The first half of the film, which includes the setup, Jackson's intense struggle to break the stargate's code, the expedition to Ra's world, and humankind's first contact with an alien culture, is handled reasonably well. Things only start to fall apart with Ra's appearance. Then it's all shoot-outs and fight scenes, with action taking precedence over intelligence.
The cast members do their best with sketchy roles. Kurt Russell makes an effective no-nonsense military man who doesn't overplay his grief at a recent personal tragedy. Not for the first time, James Spader is believable as a dweeb forced into a heroic act or two. And Jaye Davidson, despite never speaking a word of English, has a commanding presence as the androgynous Ra.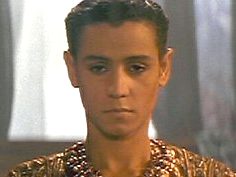 a new classic, 25 October 2004


Stargate the movie :- superb atmosphreric music, great special effects, excellent cast, intriguing story but - not surprised it launched a successful TV series which has run and run. I cant believe there are so called sci fi fans out there who didn't like it - must be intellectuals!!! I still enjoy the film now 10 years later although disappointed they never made a sequel as it was set up for one. Never really liked the ending - should have included the return to earth. The TV series has moved the story along nicely - even changes to the cast have worked well and I particularly enjoy the dry humour of the TV series.
March 18, 2004 - Stax here with a special tribute to Kurt Russell. The former Disney child star-turned-tough guy actor turned 53 yesterday. Kurt has been one of my favorite stars since I first saw him play Elvis Presley and Snake Plissken (I've only seen a few of his Disney vehicles and that was ages ago).


Here then are some of my favorites starring Kurt Russell. (For the films of Kurt and director John Carpenter):

Backdraft, 1991, dir. Ron Howard. This salute to firefighters is also an underrated thriller. Backdraft, which features jaw-dropping visual effects, focuses on two estranged Chicago firefighter siblings: Stephen "Bull" McCaffrey (Kurt Russell) and ne'er-do-well kid brother Brian (William Baldwin). Like his late firefighter dad, Bull is a legend within the department. Brian, on the other hand, is a perpetual screw-up who seeks his brother's approval. Bull and Brian end up working together when a series of deadly arsons transpire. It soon becomes apparent that the arsonist is a disgruntled fireman. Could it be Bull? Scott Glenn, Jennifer Jason Leigh, Donald Sutherland, and Robert De Niro co-star.

Dark Blue, 2002, dir. Ron Shelton. This flawed but noteworthy cop flick takes place in the days leading up to the April 1992 riots in Los Angeles. Eldon Perry, Jr. (Kurt Russell) and his new young partner, Bobby Keough (Scott Speedman), belong to the elite LAPD unit dubbed SIS (Special Investigations Squad). After shooting a suspect, Eldon – a racist, grizzled ex-Marine who hails from a long line of L.A. cops – becomes the target of an investigation led by the politically ambitious Asst. Chief Arthur Holland (Ving Rhames). Meanwhile Eldon and Bobby investigate a liquor store robbery gone bad. Naturally, there's far more to this crime than meets the eye. As with nearly every tale plotted by James Ellroy, characters are never quite what they seem, everybody's dirty, and anyone can be killed.

Silkwood, 1983, dir. Mike Nichols. This fact-based drama follows Oklahoma nuclear plant worker Karen Silkwood (Meryl Streep) who becomes targeted after trying to expose the plant's unsafe practices. Silkwood died under mysterious circumstances while driving to meet with a reporter from The New York Times. Kurt Russell co-stars as Karen's boyfriend Drew and Cher plays her pal Dolly.

The Mean Season, 1985, dir. Phillip Borsos. Kurt Russell plays Miami reporter Malcolm Anderson in this adaptation of John Katzenbach's novel. Malcolm and his grilfriend Christine (Mariel Hemingway) are planning on moving away when they're pulled into a sick game of wits played by a serial killer (Richard Jordan). After he pens a series of news articles on the slayings, the killer contacts Malcolm, transforming the reporter from a passive observer into an unwilling participant. When the killer kidnaps Christine from work, Malcolm and the police (including a young Andy Garcia) venture into the creepy Florida Everglades to rescue her.

Stargate, 1994, dir. Roland Emmerich. Kurt Russell stars as brooding Col. Jack O'Neill and James Spader as Dr. Daniel Jackson, an Egyptologist. The government has come into the possession of a mysterious Egyptian artifact that acts as a portal to a faraway planet. O'Neill, Jackson, and a squad of soldiers are sent through the portal, encountering an alien civilization (led by Jaye Davidson) that is capable of space travel yet steeped in ancient Egyptian culture. Although hokey at times, Stargate is charming because it never pretends to be anything but an old fashioned "popcorn flick."


Tombstone, 1993, dir. George Pan Cosmastos. This fun but flawed hit recreates the feud between the Earp brothers and the Clanton-McLaury cowboy faction that led to the October 26, 1881 gunfight at the O.K. Corral. Kevin Jarre (Glory) scripted this film and was its original director before he was replaced by Cosmastos (Rambo: First Blood Part II). As with almost every other O.K. Corral flick, Doc Holliday steals the show. Val Kilmer delivered an Oscar-caliber performance as the sweaty, consumptive Southern dentist-turned-gunslinger. Kilmer's effete manners and rich drawl made Doc an audience favorite.

Equally good is Kurt Russell as Wyatt, sporting the biggest and most authentic mustache of any movie Earp yet. Tombstone's all-star cast includes Dana Delaney as Wyatt's future wife Josie, Sam Elliott as big brother Virgil Earp, Bill Paxton as kid brother Morgan, Joanna Pacula as "Big Nose" Kate, Powers Boothe as Curly Bill, Michael Biehn as Johnny Ringo, Stephen Lang as Ike Clanton, and Charlton Heston in a cameo.

Tequila Sunrise, 1988, wr/dir. Robert Towne. Slick, dapper Nick Frescia (Kurt Russell), who has just become head of narcotics for L.A. county, investigates his boyhood pal Dale McKussic (Mel Gibson) who may be in cahoots with a fabled Mexican drug lord known only as "Carlos." Dale, however, insists that he's gone straight. Complicating matters further for Nick is his new love interest, beautiful restauranteur Jo Ann Vallenari (Michelle Pfeiffer), who is also seeing none other than Dale McKussic. Will Nick use his new lover in order to trap his one-time best friend?

Miracle, 2004, dir. Gavin O'Connor. Kurt Russell gives a bravura performance as the late hockey coach Herb Brooks in this winning true story. Miracle recounts how the taciturn Brooks – who was cut from the Olympic hockey team in his youth – led the U.S. team to its 1980 underdog victory against the indomitable Soviets. The cast members portraying the U.S. team are mostly unknowns and first-time actors but you'd never know it. The hockey scenes are recreated with great detail and energy, and the story would move even the most dour filmgoer.
---
Kurt Russell
Kurt Vogel Russell was born March 17, 1951 in Springfield, MA to Bing Russell, a baseball player who would later play the deputy on Bonanza for 14 seasons. Kurt's first role was in a movie starring musician/actor Elvis Presley called It Happened at the World's Fair. Russell was the untamable scamp who kicked The King in the shins. Kurt was only 10 years old, but he signed to Disney and made numerous Disney films, including The Computer Wore Tennis Shoes. Kurt also starred in the TV series The Travels of Jamie McPheeters.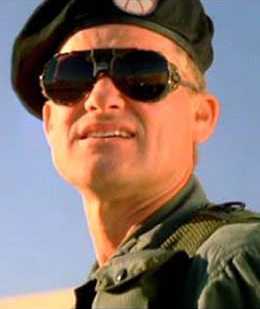 Kurt Russell
Kurt would tire of acting and followed his love, America's Pastime. Kurt played for the San Diego Padres and later for the California Angels. While playing for the AA Angels in El Paso, TX, Kurt Russel tore his rotator cuff while turning a double play. The injury caused Kurt to retire from baseball and pursue his initial career as an actor. Kurt's first performance back was to play as The King in a TV movie for ABC, directed by John Carpenter. Kurt would portray Elvis, or atleast his voice, in the Tom Hanks classic Forrest Gump.
Kurt would proceed to keep close ties with John Carpenter and the two would work together on several projects together including Escape from New York, The Thing (no not Ben Grimm]), and the comedy "Used Cars," written by Bob Gale and Robert Zemekis.
In 1984, Kurt met his hetero lifemate Goldy Hawn on the set of Swing Shift which did not perform well in the box office, however their partnership flourished. Not quite married, but not single by any means, Goldie and Kurt have a son named Wyatt and remain together living alongside fellow family members.
Would then go on to make one of the best movies of all time, Big Trouble in Little China. Containing everything from Chewbacca's retarded younger brother to 3 magical bad ass ninja's, one of whom cam make himself blow up like Rosie O'Donnell at an all you can eat buffett. Kurt plays your sterotypical American tough guy and chases after a girl with green eyes before the scary long haired old guy could force her to watch pokeman episodes!. Maybe not exactly right, but still a good cult movie anyway.
In the early 90's Kurt starred in a series of movie that would dominate in the box office. In Backdraft he played fire-fighter Lieutenant Stephen 'Bull' McCaffrey and spent time riding along with Chicago Fire Dept's Squad 5 in preparation of the role.
Following this suspenseful thriller was a classic retelling fo a western classic. Although I think Kurt looks a bit silly in that mustache, the movie was excellent, par for director Ron Howard, not to mention the uber excellence of one Doc Holliday. And after the west, came the really far west, the egyptian sci-fi action flick Stargate. A meld of Indiana Jones, science fiction, and a proto-matrix. In Stargate, acheologists find a large ancient gateway/archway type object, then the US Government figures out how to use it and sends Colonel Jonathan 'Jack' O'Neil, as well as Dr. Daniel Jackson to a futuristic Egyptian culture chilling on a nearby planet. Hilarity ensues, alongside a love story and crazy scifi-Egyptian stuff and gunfights.
In between Backdraft and Tombstone Kurt would make the randomness that is Captain Ron. A family, headed by Martin Short get a yacht, which Captain Ron captains. Here, hilarity actually ensues.
Kurt co-produced and co-wrote Escape from L.A. the hipped up quasi-remake of Escape from New York, featuring the return of Snake Plissken the 98 degrees of action stars. In his next movie, Kurt would play a husband who's wife is kidnapped by some nogoodnicks, and sets out to find her. No hilarity, but no tears either. In 1998 Kurt "starred" in Soldier. I put it in quotes because Kurt's dialogue was rather limited. Not only was the dialogue small but so was the earnings at the box office. ouch.
His most recent movie was the Tom Cruise driven Vanilla Sky. The movie, an adaptian of the 1997 Spanish film Abre los Ojos, also starred Cameron Diaz. *scwhing*.
Height: 5' 11"
Spouse: Season Hubley (1979 - 1984)
Partner: Goldie Hawn (1983 - Present)
Film Debut: "It Happened At The World's Fair" (1963 Uncredited)
1979 Emmy Award Nomination: Outstanding Lead Actor for "Elvis".
1984 Golden Globe Award Nomination: Best Supporting Actor for "Silkwood".
1. Dark Blue (2002) .... Sgt. Eldon Perry Jr.
2. Interstate 60 (2002) (uncredited) .... Libertarian Sheriff
3. Vanilla Sky (2001) .... Dr. Curtis McCabe
4. America: A Tribute to Heroes (2001) (TV) .... Himself
5. 3000 Miles to Graceland (2001) .... Michael Zane
6. Intimate Portrait: Halle Berry (1998) (TV) .... Himself
7. Soldier (1998) .... Sergeant Todd
8. Breakdown (1997) .... Jeff Taylor
9. Escape from L.A. (1996) .... Snake Plissken
... aka John Carpenter's Escape from L.A. (1996) (USA: complete title)
10. Executive Decision (1996) .... Dr. David Grant
... aka Critical Decision (1996)
11. Stargate (1994) .... Colonel Jonathan 'Jack' O'Neil
... aka Stargate, la porte des étoiles (1995) (France)
12. 100 Years of the Hollywood Western (1994) (TV) .... Himself
13. Forrest Gump (1994) (uncredited) (voice) .... Elvis Presley
14. Tombstone (1993) .... Wyatt Earp
15. Captain Ron (1992) .... Captain Ron
16. Unlawful Entry (1992) .... Michael Carr
17. Backdraft (1991) .... Lieutenant Stephen 'Bull' McCaffrey & Dennis McCaffrey
18. Tango & Cash (1989) .... Gabriel 'Gabe' Cash
19. Winter People (1989) .... Wayland Jackson
20. Tequila Sunrise (1988) .... Detective Lt. Nick Frescia, Head of Narco Div. L.A. County Sheriff
21. Overboard (1987) .... Dean Proffitt
22. Big Trouble in Little China (1986) .... Jack Burton
... aka John Carpenter's Big Trouble in Little China (1986) (USA: complete title)
23. The Best of Times (1986) .... Reno Hightower
24. The Mean Season (1985) .... Malcolm Anderson
25. Making of 'The Mean Season', The (1985) (TV) .... Himself
26. Terror in the Aisles (1984) (archive footage) .... MacReady (segment "The Thing")
... aka Time for Terror (1984) (Europe: English title: video title)
27. Swing Shift (1984) .... Lucky/Mike
28. Silkwood (1983) .... Drew Stephens
29. The Thing (1982) .... R.J. MacReady
... aka John Carpenter's The Thing (1982) (USA: complete title)
30. Escape from New York (1981) .... Snake Plissken
... aka John Carpenter's Escape from New York (1981) (USA: complete title)
31. The Fox and the Hound (1981) (voice) .... Adult Copper
32. Used Cars (1980) .... Rudolph 'Rudy' Russo
33. Amber Waves (1980) (TV) .... Laurence Kendall
34. Elvis (1979) (TV) .... Elvis Presley
35. Christmas Miracle in Caufield, U.S.A. (1977) (TV) .... Johnny
... aka Christmas Coal Mine Miracle, The (1977) (TV)
36. Battle of the Network Stars II (1977) (TV) .... NBC Team Contestant
37. The Captive: The Longest Drive 2 (1976) .... Morgan 'Two Persons' Bodeen
38. "Quest, The" (1976) TV Series .... Morgan Beaudine
39. The Quest (1976) (TV) .... Morgan 'Two Persons' Bodeen
... aka Longest Drive, The (1976) (TV) (USA: video title)
40. Strongest Man in the World, The (1975) .... Dexter Riley
41. The Deadly Tower (1975) (TV) .... Charles Joseph Whitman ... aka Sniper (1975) (TV)
42. Search for the Gods (1975) (TV) .... Shan Mullins
43. Superdad (1974) .... Bart
44. "New Land, The" (1974) TV Series .... Bo Larsen
45. Charley and the Angel (1973) .... Ray Ferris
46. Now You See Him, Now You Don't (1972) .... Dexter Riley
47. Fools' Parade (1971) .... Johnny Jesus
... aka Dynamite Man from Glory Jail (1971) (UK)
48. The Barefoot Executive (1971) .... Steven Post
49. Dad, Can I Borrow the Car? (1970) (TV) .... Narrator
50. The Computer Wore Tennis Shoes (1969) .... Dexter Riley
51. Guns in the Heather (1968) .... Rich
... aka Secret of Boyne Castle, The (1968)
... aka Spy Busters (1968)
52. Horse in the Gray Flannel Suit (1968) .... Ronnie Gardner
53. One and Only, Genuine, Original Family Band, The (1968) .... Sidney Bower
54. Mosby's Marauders (1966) .... Willie Prentiss
... aka Willie and the Yank (1966)
55. Follow Me, Boys! (1966) .... Whitey
56. Guns of Diablo (1964) (TV) .... Jamie McPheeters
57. "Travels of Jaimie McPheeters, The" (1963) TV Series .... Jaimie McPheeters (1963-64)
58. It Happened at the World's Fair (1963) (uncredited) .... Boy Who Kicks Mike
59. the Absent-Minded Professor (1961) (uncredited) .... Bit part
60. "Sugarfoot" (1957) TV Series
... aka "Tenderfoot" (1957) (UK)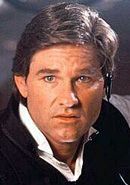 WASHINGTON, DC -- Another famous movie star has acknowledged his libertarian political beliefs. Kurt Russell, star of such motion picture blockbusters as Escape from New York, Stargate, and Executive Decision, used the Cato Institute's gala 20th anniversary celebration in Washington, DC, last week as an opportunity to go public with his support for libertarianism.

"I'm a libertarian," Russell said in a May 2nd Washington Post article about the Cato bash. Surrounded by 2,000 libertarian-leaning Cato supporters, Russell continued, "It's fun to be in a room of people who think like you do. I think a lot of people are libertarians and are afraid to admit it -- or don't know."

But support for libertarianism doesn't stop with Kurt Russell -- it has also spread to the next generation of the Russell family, according to Harry Browne, who attended the Cato event. Browne, the 1996 Libertarian Party candidate for president, said he was introduced to Kurt Russell -- but got an especially warm reception from Russell's 17-year-old son, Boston. "He said that he had seen me several times on television and liked what I said," reported Browne. "He was very complimentary."

Kurt Russell's comments -- which follow similar endorsements of libertarianism from movie star Clint Eastwood, TV star John Laroquette, and 20/20 correspondent Hugh Downs -- were greeted with delight by the Libertarian Party. "Increasingly, the road to liberty seems to lead through Hollywood," said the party's national director Perry Willis. "The more celebrities and high-profile Americans who voice support for libertarianism, the easier our job becomes. Yes, libertarian ideas are so good they sell themselves -- but celebrity endorsements sure can't hurt."

Russell, 46, has been an actor for 35 years. After becoming a child star in such Disney classics as The Computer Wore Tennis Shoes, he grew up to star in a wide range of popular action classics, dramas, and comedies. Highlights of his career include Silkwood (with Meryl Streep), Tango and Cash (with Sylvester Stallone), and Backdraft (with Robert DiNiro). Russell's three biggest motion picture hits -- Tombstone, Stargate, and Executive Decision -- grossed a total of $200 million in the United States. And his latest movie, Breakdown, opened at the top of the box office chart this month.
A - Z FILMS INDEX
A - Z ACTORS INDEX