Punch was a British weekly magazine of humour and satire published from 1841 to 1992 and from 1996 to 2002.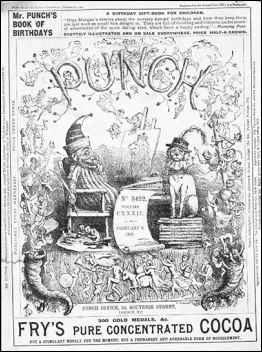 History
Punch was founded in July 17, 1841 by Henry Mayhew and engraver Ebenezer Landells. At its founding it was jointly edited by Mayhew and Mark Lemon. Initially it was subtitled The London Charivari, this being a reference to a satirical humour magazine published in France under the title Le Charivari. Reflecting their satiric and humorous intent, the two editors took for their name and masthead the anarchic glove puppet, Mr. Punch; the name also referred to a joke made early on about one of the magazine's first editors, Lemon, that "punch is nothing without lemon." Mayhew ceased to be joint editor in 1842 and became 'suggestor in chief' until he severed his connection in 1845. Punch was responsible for the modern use of the word 'cartoon' to refer to a comic drawing. The illustrator Archibald Henning designed the cover of the magazine's first issues. The cover design varied in the early years, though Richard Doyle designed what became the magazine's masthead in 1849. In the 1860s and 1870s, conservative Punch faced competition from upstart liberal journal Fun, but after about 1874, Fun's fortunes faded. At Evans's café in London, the two journals had 'Round tables' in competition with each other.
After months of financial difficulty and a relative lack of initial market success, Punch became a staple for British drawing rooms because of its sophisticated humor and absence of offensive material, especially when viewed against the satirical press of the time. The Times of London used small pieces from Punch as column fillers, giving the magazine free publicity and indirectly granting a degree of respectability, a privilege not enjoyed by any other comic publication. Punch would share a friendly relationship with not only The Times but also journals aimed at intellectual audiences such as the Westminster Review, which published a fifty-three page illustrated article on Punch's first two volumes. Historian Richard Altick writes that "To judge from the number of references to it in the private letters and memoirs of the 1840s...Punch had become a household word within a year or two of its founding, beginning in the middle class and soon reaching the pinnacle of society, royalty itself." Increasing in readership and popularity throughout the remainder of the 1840s and 1850s, Punch was the success story of a threepenny weekly paper that had become one of the most talked-about and enjoyed periodicals of its time. Punch enjoyed an audience on both sides of the Atlantic, including: Elizabeth Barrett, Robert Browning, Thomas Carlyle, Edward Fitzgerald, Charlotte Brontë, Queen Victoria, Prince Albert, Ralph Waldo Emerson, Emily Dickinson, Herman Melville, Henry Longfellow, and James Russell Lowell.
During the late 19th century Punch became notorious for regularly publishing anti-Irish jokes.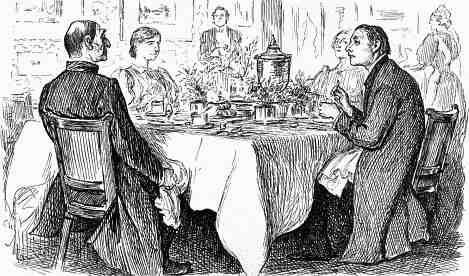 "True Humility" by George du Maurier, originally published in Punch, 1895
The magazine made a contribution to the English Language with the "Curate's egg" cartoon of 1895.
Circulation peaked during the 1940s when it reached 175,000, but slowly declined over the years, until the magazine was forced to close in 1992 after 150 years of publication.
1996 resurrection
In early 1996, the Egyptian businessman Mohamed Fayed bought the rights to the name, and it was re-launched later that year. It was reported that the magazine was intended to be a spoiler aimed at Private Eye, which had published many items critical of Fayed and showing him in a bad light. The magazine never became profitable in its new incarnation, and at the end of May 2002, it was announced that Punch would once more cease publication. Press reports at the time quoted a total loss to its owner of some £16 million (about $28 million U.S.) over the six years of publication, with only 6,000 subscribers at the end.
Whereas the earlier version of Punch had prominently featured the clownish character Punchinello (a.k.a. Punch of Punch and Judy) performing various antics on each issue's front cover (in a manner later copied by Mad magazine's character Alfred E. Neuman), the resurrected Punch magazine did not use this character at all, but prominently featured on its weekly covers a photograph of a boxing glove ... thus informing its (very few) readers that the new magazine intended its name to mean "Punch" in the sense of a punch in the eye.
In 2004, much of the archive, including the famous Punch table, was sold to the British Library.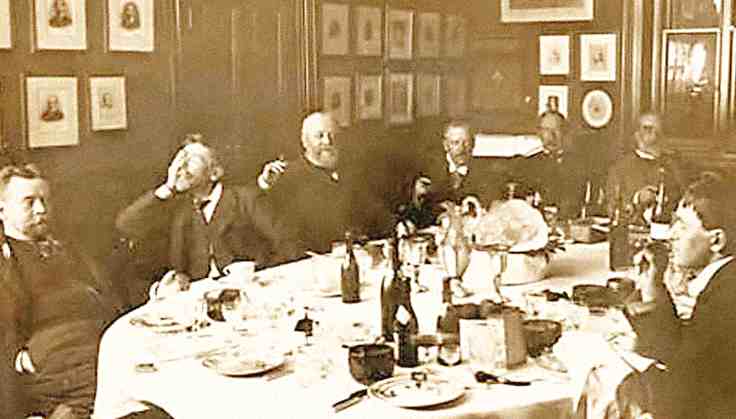 Editorial meeting of Punch magazine in the late 19th century
Contributors
Editors of Punch were:
Trivia
LINKS and REFERENCE
---
A - Z of Sussex officer investigations
The above is just a few of a number of persons likely to be investigated in respect of certain cases brought against Wealden Action Group members, on the instigation or encouragement of known Masons, councillors, or planning officers, many of which are themselves Masons.
Full details of this case will be available for publishing in newspapers from 25 April 2008 subject to confirmation. This will include full disclosure of all factors relied on photographs of the officers concerned, the CPS staff, expert witnesses, teachers and the subjects of the allegations, the defendant, alleged victim and family and others, video footage, transcripts and an exclusive from the defendant. The case is to be heard in September 2007 at a Crown Court in Sussex, which we will advise of closer to the time.
Newspapers are warned that interim, they should be exceptionally careful about reporting this matter, due to a Section 39 Order. Those in attendance at Court will already know the identity of the girl and that a Not Guilty plea has been entered on all counts.
Armed with the name of the girl, newspaper reporters will be able to investigate the matter for themselves, for the purposes of balanced reporting at the appropriate time, but should take special care where allegations are already on the table with the police investigating the possibility that such reporting is likely to reveal the identity of the girl concerned to the general public.
This case looks set to be every bit as exciting as the BBC 'The Verdict' drama. It is bound to raise a whole raft of questions as to social issues, how the system works, who it protects, who it doesn't protect and what might have gone wrong within the family concerned. Just who the victim is in these cases is sometimes hard to define.
As for the players, what will happen to them? How will this affect their lives, their family and future, and what are the lesson to be learned? See below for details.
---
CONVICTION QUASHED OVER 'MADE UP' VAMPIRE CLAIM


Paul Lewis - Friday May 19, 2006
The Guardian

A man who was sentenced to eight years in prison in 2004 after a teenager falsely alleged he repeatedly raped her in "vampire" rituals had his conviction quashed yesterday.
Leon Benjamin Forde, 21, of Lincoln, was jailed 18 months ago after the girl claimed he subjected her to a sex ordeal two years previously, when she was 13. But he won his freedom at the appeal court after the prosecution accepted the girl's testimony was undermined by evidence uncovered from a computer diary which suggested she had "made it all up".
Mr Forde later said his time in prison had been "hell".
---
TEACHER CLEARED OF RAPE TOO LATE

Graeme Paton - Published: 21 April 2006

A teacher who died in prison after being convicted of raping one of his pupils has been posthumously cleared by the Court of Appeal.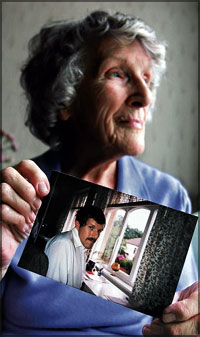 Molly Gee, 88, who has been awarded £62,493 by the appeal court
after battling to clear her son Darryl's name


Darryl Gee was jailed in 2001 despite scant evidence to corroborate his accuser's claims, which related to alleged incidents more than a decade earlier.
The music teacher, who protested his innocence, died in his cell from an undiagnosed blood cancer. He had served 18 months of an eight-year sentence.
This week, campaigners described the case as one of the worst miscarriages of justice they had seen after the Court of Appeal in London quashed his conviction.

It comes as government guidance designed to speed up investigations into alleged abuse of pupils is introduced in schools. Unions say this will reduce the risk of innocent teachers being smeared by false allegations.
Chris Keates, general secretary of the NASUWT, said: "This is an extreme and tragic illustration of the consequences of malicious allegations and underlines the need for these new procedures."
Mr Gee's 88-year-old mother, Molly, awarded £62,493 costs by the court, said the case should be a warning to other teachers.
"It all boiled down to one girl's word against his, and the jury believed her," she said. "That's all it took to send my son to prison and it has left me very angry and grief stricken. I don't think anyone should have to work alone with a child – it is just too easy for an allegation like this to be made."
Mr Gee, a supply teacher who taught brass instruments, was found guilty at Leeds crown court in January 2001 after being accused of raping and indecently assaulting a pupil in a Huddersfield school in 1989. He died aged 55 in August 2002, a month after a second appeal failed.
His conviction was eventually quashed when his mother alerted the Criminal Cases Review Commission, which asked a leading psychiatrist to report on his accuser. The study cast doubt on her mental state. It also emerged that the girl, now 26, made similar allegations against another man, whose conviction was quashed earlier this year.

Read more in the TES including the story of Charlie King. A jury took just half an hour to find him not guilty of sexually assaulting three of his pupils. So why did it take 13 months for the case to reach court?
---
SEX ATTACK LIAR NAMED BY PEER
19th October 2006
A woman with a long history of crying rape who sent an innocent man to jail was named in Parliament amid calls for a change in the law.
Shannon Taylor was unmasked by a peer who told the House of Lords her lies had put father-of-two Warren Blackwell behind bars for more than three years.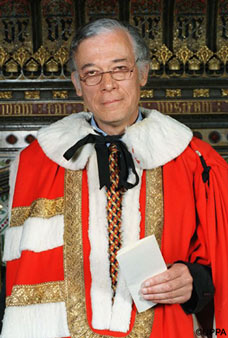 Lord Campbell-Savours
Lord Campbell-Savours used Parliamentary privilege to expose her identity and lambast the 'shabby' police investigation that saw Mr Blackwell imprisoned.
Legal experts praised his decision to speak out to prevent other men falling victim to fake sex attack allegations.
Mr Blackwell, 36, whose loyal wife Tanya never doubted his innocence, was dramatically cleared at the Appeal Court last month after Miss Taylor's background as a serial fantasist was exposed by a Criminal Cases Review Commission investigation.
But although his name was blackened, anonymity laws meant his accuser's was automatically protected, and she became known only as Miss A.
Even the appeal judges wanted to name her - but were powerless to do so - to warn other blameless members of the public.
The Daily Mail led calls for her identity to be revealed before she put another innocent man through torment.
Yesterday, Lord Campbell-Savours - said to be motivated by 'outrage' at the case - stood up and publicly did so.
He asked fellow peers: "Is not the inevitable consequence of the workings of the law, as currently framed, that we will carry on imprisoning innocent people like Warren Blackwell, who was falsely accused by a serial and repeated liar, Shannon Taylor, with a history of false accusations and multiple identities?
"As a result of her accusations, he spent three and a half years in prison following a shabby and inadequate police investigation, and was only exonerated when the Criminal Cases Review Commission inquiry cleared him and exposed her history."
The Labour peer added: "Shouldn't mature accusers who perjure themselves in rape trials be named and prosecuted for perjury?"
Miss Taylor's own daughter backed the decision to disclose her name, saying: "She is a danger and the public needs to be warned. She needs prosecuting for what she did. She is every man's worst nightmare."
Mr Blackwell's ordeal began when his accuser, now 38, claimed she had been seized with a knife outside a village club early on New Year's Day 1999, taken to an alley and indecently assaulted.
She later picked him out of an identity parade and a jury found him guilty, even though there was no forensic evidence against him and he had no previous convictions.
Eventually, the case was investigated by the Criminal Cases Review Commission which found that the woman had made up at least seven other fake allegations of sexual and physical assault, including against her own father. She frequently changed her name and police forces did not realise they were dealing with the same woman.
Her own mother has described her as "a persistent liar, very manipulative and a bully" who frequently claimed to have been beaten, sexually attacked and raped - all of which were untrue. She has a history of mental illness and self-harm.
The original investigation by Northamptonshire Police was exposed as shoddy, with Mr Blackwell's lawyers claiming that normal safeguards and procedures were completely ignored. He plans to sue.
Yesterday, a friend of 63-year-old Lord Campbell-Savours explained why he decided to speak out. He said: "He named her because he was outraged. He doesn't think it's got anything to do with the issue of rape, he thinks it's an issue of perjury.
"This woman made up the story and told lies and he can't see why a person who has perjured themselves should be protected, irrespective of the type of offence.
"Sometimes people have to stick their heads above the parapet in cases where the law is clearly an ass and needs to be reformed.
"He thinks the law around anonymity, particularly where false accusations have been made, needs to be changed."
Welcoming the development, Mr Blackwell, from Woodford Halse, Northamptonshire, said: "It's absolutely fantastic. I didn't think anybody would have the guts to name her.
"This woman needs to be stopped. The fact is, she remains free to carry on crying rape and up till now has been enjoying the full protection of the law. It's absolutely crazy that she could not be named and shamed, because innocent men need to be warned to avoid her like the plague.
"Now I hope she will go on to be prosecuted." But she is unlikely to face charges for perjury or perverting justice.
Northamptonshire Police yesterday claimed there was "insufficient evidence", while Crown Prosecution sources have cited her mental illness as a barrier.
But Mr Blackwell's barrister Anne Johnson said: "There is a clear public interest in her being prosecuted for perjury or the very least wasting police time.
"It's fantastic that somebody of authority has finally come out and named this woman. The issue needs to be aired otherwise nothing will be done."
At Mr Blackwell's appeal last month, Mr Justice Tugendhat admitted that similar tragic cases could follow because of the lies of the 'Miss A', adding that Parliament had not seemed to have considered this possibility when framing the law. Last night the judge said he did not wish to comment on yesterday's twist.
In the 1970s, the Daily Mail campaigned for women in sex cases to be granted automatic anonymity, to protect genuine victims of genuine crimes. Although Miss Taylor has now been publicly named, there is nothing to stop her changing her identity yet again.
Callers to her most recent address were told by her boyfriend that she no longer lived there.
Here's what readers have had to say so far. Why not add your thoughts below?
It is unfortunate that in my opinion women seem to be able to make allegations and men are treated as guilty unless proven innocent. This spills over into family law where this happens all the time. It is time for laws to be changed and the system to be exposed for what it is. I take my hat of to the judge for naming this women. It is about time that more professional people i.e. judges and lawyers started looking at what is right and wrong instead of either following there own political agenda or lining their own pockets.


- Lisa Lipscombe, Burlington, Canada
The sentencing for false accusations of rape should be as harsh, and enforced as harshly, as rape itself.


The USA also needs to wake up to the many false allegations of rape that are putting innocent men in jail.


- Denis, Boston, MA USA
Warren Blackwell and wife Tanya - Guilty until Proven Innocent
Man freed but serial rape accuser remains anonymous
12th September 2006
Warren Blackwell and his wife Tanya outside the Court of Appeal
An innocent man jailed for a sex attack was dramatically cleared after it emerged that his 'victim' is a serial liar with a long history of crying rape.
But because of laws that protect her anonymity, judges are powerless to name and shame her, leaving her free to make more false accusations against blameless members of the public.
Mr Blackwell, 36, hugged his loyal wife Tanya and wept as the Appeal Court quashed his conviction.
He described his accuser as "every man's worst nightmare".
Mr Justice Tugendhat admitted, however, that similar tragic cases could follow because of the lies of the woman, Miss A.
"Parliament does not seem to have contemplated this situation.
"There appears to be no means of displacing her entitlement to anonymity."
In the 1970s, the Daily Mail campaigned for women in sex cases to be granted automatic anonymity, but now there are questions about whether the law has gone too far.
Warren Blackwell's nightmare began when Miss A, now 38, claimed she had been seized with a knife outside a village club early on New Year's Day 1999, taken to an alley and indecently assaulted.
She later picked Mr Blackwell out at an identity parade.
There was no forensic evidence against him and he had no previous convictions.
'She needs to be stopped'
Yet Mr Blackwell, from Woodford Halse, Northamptonshire, was found guilty and spent three years and four months behind bars.
Eventually the case was referred to the Criminal Cases Review Commission (CCRC) which assigned Detective Chief Inspector Steve Glover, to investigate. He discovered that the woman:
• Has made at least five other fake allegations of sexual and physical assault to police in three separate forces.
• Was married twice and made false allegations against both husbands - one of whom was a policeman.
• Once accused her own father of sexual assault, but police concluded she had made it up.
• Accused a boy of rape when she was a teenager, only for a doctor to discover she was still a virgin.
• The CCRC concluded that in the case of Mr Blackwell, she had "lied about the assault and was not attacked at all, her injuries being self-inflicted".
The Crown Prosecution Service did not oppose the appeal.
David Farrell QC, for the Crown, said: "This conviction is unsafe. What has come out of the woodwork paints a picture of a woman with immense personal problems with serious difficulties in distinguishing between truth and lies."
If this information had been known at the time of the trial, he added, "this case would not have made it off the ground".
Mr Blackwell said: "Clearly something has to be done about this woman. She needs to be stopped. The prosecution say she is psychiatrically disturbed, but insane people who murder are tried and if found guilty put away."
Mr Blackwell, who plans to sue police over his ordeal, will now have his name removed from the Sex Offender Register.
His accuser has a history of mental illness and self-harm - once inscribing the word 'HATE' on her body with scissors.
However, because she has changed her name at least eight times, and moved between addresses in at least three counties, it seems police never realised they were dealing with the same woman.
For Mr Blackwell, her accusations meant he missed more than three years of family life. His son Liam, ten, and stepdaughter Holly, 16, were three and nine when his ordeal began.
His 36-year-old wife said: "I never doubted him for a second. We were together six years before it happened, and ever since."
By SAM GREENHILL
---
F.A.C.T. (Falsely Accused Carers and Teachers)
PO Box 3074
Cardiff CF3 3WZ
Tel: 029 2077 7499
E-mail: info@factuk.org
Website: www.factuk.org
Campaigning organisation and support group which provides help and advice to falsely accused and wrongly convicted carers and teachers throughout the UK. The website contains a range of information, leaflets, books and links.
Guidance for education staff and volunteers in schools
Website: www.lg-employers.gov.uk/conditions/education/allegations
This website has guidance on: 1) staff facing an allegation of abuse; 2) preventing 'abuse of trust' for education staff; and 3) the conduct of education staff working with young people.
News A to Z directory, please click on the links below to find your favourite news or to contact the media to tell your story:
WE ACCEPT NO RESPONSIBILITY FOR THE ACCURACY OF ANY FEATURED LINKS