Birth name Madonna Louise Veronica Ciccone
Nicknames
Nonnie
Maddy
Mo
The Material Girl
Madge
Esther
Height 5' 4½" (1.64 m)
Born at 7:05 AM MST.
Spouse
| | |
| --- | --- |
| | (22 December 2000 - present) 1 child |
| | (16 August 1985 - 14 September 1989) (divorced) |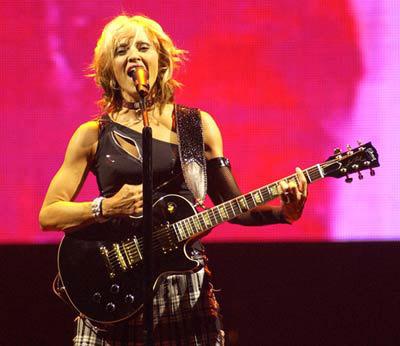 Madonna rocketed to stardom so quickly in 1984 that it obscured most of her musical virtues. Appreciating her music became even more difficult as the decade wore on, as discussing her lifestyle became more common than discussing her music. However, one of Madonna's greatest achievements is how she manipulated the media and the public with her music, her videos, her publicity, and her sexuality. Arguably, Madonna was the first female pop star to have complete control of her music and image.
Madonna moved from her native Michigan to New York in 1977, with dreams of becoming a ballet dancer. She studied with choreographer Alvin Ailey and modeled. In 1979, she became part of the Patrick Hernandez Revue, a disco outfit who had the hit "Born to Be Alive." She traveled to Paris with Hernandez; it was there that she met Dan Gilroy, who would soon become her boyfriend. Upon returning to New York, the pair formed the Breakfast Club, a pop/dance group. Madonna originally played drums for the band, but she soon became the lead singer. In 1980, she left the band and formed Emmy with her former boyfriend, drummer Stephen Bray. Soon, Bray and Madonna broke off from the group and began working on some dance/disco-oriented tracks. A demo tape of these tracks worked its way to Mark Kamins, a New York-based DJ/producer. Kamins directed the tape to Sire Records, who signed the singer during 1982.
Kamins produced Madonna's first single, "Everybody," which became a club and dance hit at the end of 1982; her second single, 1983's "Physical Attraction," was another club hit. In June of 1983, she had her third club hit with the bubbly "Holiday," which was written by Jellybean Benitez. Madonna's self-titled debut album was released in September of 1983; "Holiday" became her first Top 40 hit the following month. "Borderline" became her first Top Ten hit in March of 1984, beginning a remarkable string of 17 consecutive Top Ten hits. While "Lucky Star" was climbing to number four, Madonna began working on her first starring role in a feature film, Susan Seidelman's Desperately Seeking Susan.
Madonna's second album, the Niles Rodgers-produced Like a Virgin, was released at the end of 1984. The title track hit number one in December, staying at the top of the charts for six weeks; it was the start of a whirlwind year for the singer. During 1985, Madonna became an international celebrity, selling millions of records on the strength of her stylish, sexy videos, and forceful personality. After "Material Girl" became a number two hit in March, Madonna began her first tour, supported by the Beastie Boys. "Crazy for You" became her second number one single in May. Desperately Seeking Susan was released in July, becoming a box-office hit; it also prompted a planned video release of A Certain Sacrifice, a low-budget erotic drama she filmed in 1979. A Certain Sacrifice wasn't the only embarrassing skeleton in the closet dragged into the light during the summer of 1985 -- both Playboy and Penthouse published nude photos of Madonna that she posed for in 1977. Nevertheless, her popularity continued unabated, with thousands of teenage girls adopting her sexy appearance, being dubbed "Madonna Wannabes." In August, she married actor Sean Penn; the couple had a rocky marriage that ended in 1989.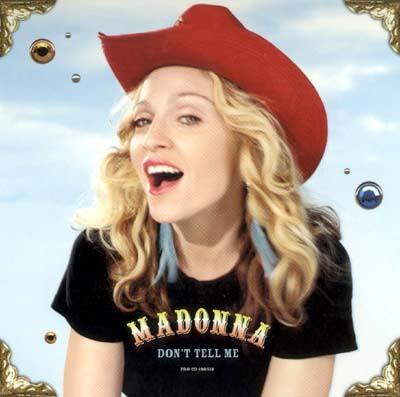 Madonna Water Bottle video, films and links
Madonna began collaborating with Patrick Leonard at the beginning of 1986; Leonard would co-write most of her biggest hits in the '80s, including "Live to Tell," which hit number one in June of 1986. A more ambitious and accomplished record than her two previous albums, True Blue was released the following month, to both more massive commercial success (it was a number one in both the U.S. and the U.K., selling over five million copies in America alone) and critical acclaim. "Papa Don't Preach" became her fourth number one hit in the U.S. While her musical career was thriving, her film career took a savage hit with the November release of Shanghai Surprise. Starring Madonna and Sean Penn, the comedy received terrible reviews, which translated into disastrous box-office returns.
At the beginning of 1987, she had her fifth number one single with "Open Your Heart," the third number one from True Blue alone. The title cut from the soundtrack of her third feature film, Who's That Girl?, was another chart-topping hit, although the film itself was another box-office bomb. 1988 was a relatively quiet year for Madonna, as she spent the first half of the year acting in David Mamet's Speed the Plow on Broadway. In the meantime, she released the remix album You Can Dance. After withdrawing the divorce papers she filed at the beginning of 1988, she divorced Penn at the beginning of 1989.
Like a Prayer, released in the spring of 1989, was her most ambitious and far-reaching album, incorporating elements of pop, rock, and dance. It was another number one hit and launched the number-one title track, and "Express Yourself," "Cherish," and "Keep It Together," three more Top Ten hits. In April 1990, she began her massive Blonde Ambition tour, which ran throughout the entire year. "Vogue" became a number one hit in May, setting the stage for her co-starring role in Warren Beatty's Dick Tracy; it was her most successful film appearance since Desperately Seeking Susan. Madonna released a greatest-hits album, The Immaculate Collection, at the end of the year. It featured two new songs, including the number one single "Justify My Love," which sparked another controversy with its sexy video; the second new song, "Rescue Me," became the highest-debuting single by a female artist in U.S. chart history, entering the charts at number 15. Truth or Dare, a documentary of the Blonde Ambition tour, was released to positive reviews and strong ticket sales during the spring of 1991.
Madonna returned to the charts in the summer of 1992 with the number one "This Used to Be My Playground," a single featured in the film A League of Their Own, which featured the singer in a small part. Later that year, Madonna released Sex, an expensive, steel-bound soft-core pornographic book that featured hundreds of erotic photographs of herself, several models, and other celebrities -- including Isabella Rossellini, Big Daddy Kane, Naomi Campbell, and Vanilla Ice -- as well as selected prose. Sex received scathing reviews and enormous negative publicity, yet that didn't stop the accompanying album, Erotica, from selling over two million copies. Bedtime Stories, released two years later, was a more subdued affair than Erotica. Initially, it didn't chart as impressively, prompting some critics to label her a has-been, yet the album spawned her biggest hit, "Take a Bow," which spent seven weeks at number one. It also featured the Björk-penned "Bedtime Stories," which became her first single not to make the Top 40; its follow-up, "Human Nature," also failed to crack the Top 40. Nevertheless, Bedtime Stories, marked her seventh album to go multi-platinum.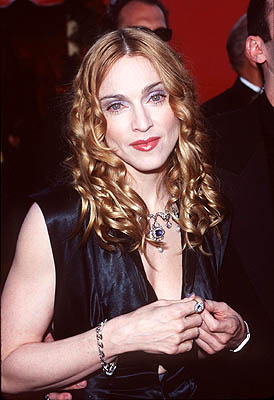 Beginning in 1995, Madonna began one of her most subtle image makeovers as she lobbied for the title role in the film adaptation of Andrew Lloyd Webber's Evita. Backing away from the overt sexuality of Erotica and Bedtime Stories, Madonna recast herself as an upscale sophisticate, and the compilation Something to Remember fit into the plan nicely. Released in the fall of 1995, around the same time she won the coveted role of Evita Peron, the album was comprised entirely of ballads, designed to appeal to the mature audience that would also be the target of Evita. As the filming completed, Madonna announced she was pregnant and her daughter, Lourdes, was born late in 1996, just as Evita was scheduled for release. The movie was greeted with generally positive reviews and Madonna began a campaign for an Oscar nomination that resulted in her winning the Golden Globe for Best Actress (Musical or Comedy), but not the coveted Academy Award nomination. The soundtrack for Evita, however, was a modest hit, with a dance remix of "Don't Cry for Me Argentina" and the newly written "You Must Love Me" both becoming hits.
During 1997, she worked with producer William Orbit on her first album of new material since 1994's Bedtime Stories. The resulting record, Ray of Light, was heavily influenced by electronica, techno, and trip-hop, thereby updating her classic dance-pop sound for the late '90s. Ray of Light received uniformly excellent reviews upon its March 1998 release and debuted at number two on the charts. Within a month, the record was shaping up to be her biggest album since Like a Prayer. Two years later she returned with Music, which reunited her with Orbit and also featured production work from Mark "Spike" Stent and Mirwais, a French electro-pop producer/musician in the vein of Daft Punk and Air. The year 2000 also saw the birth of Madonna's second child, Rocco, who she had with filmmaker Guy Richie; the two married at the very end of the year.
---
TRIVIA
Brother Christopher Ciccone designs restaurant interiors. Renovated a mansion overlooking Hudson River north of New York City in the same West Nyack community that's home to Rosie O'Donnell and director Jonathan Demme.
Her videos "Justify My Love" and "What It Feels Like For A Girl" were banned from VH1 & MTV. "Erotica" (1992), though not banned, was only played after midnight on MTV.
Her record company Maverick Records signed a distribution deal with A Band Apart Records, a record company founded by Quentin Tarantino and Lawrence Bender. A Band Apart Records will focus on film soundtracks. [30 July 1997]
Gave birth to baby daughter. The baby is named Lourdes Maria Ciccone Leon. The father is actor/fitness instructor Carlos Leon. [14 October 1996]
Chosen by People magazine as one of the 50 Most Beautiful People in the world. [1991]
Studied with the Alvin Ailey dance troupe and Pearl Lang's Dance Company in Manhattan. [1978]
Unanimously condemned by the Puerto Rican House of Representatives for pulling a Puerto Rican flag between her legs in an October 26, 1993 concert.
Her song, "Vogue", is a tribute to the glamour of classic Hollywood. Celebrities mentioned in the song are Greta Garbo, Marilyn Monroe, Marlene Dietrich, Joe DiMaggio, Marlon Brando, James Dean, Grace Kelly, Jean Harlow, Gene Kelly, Fred Astaire, Ginger Rogers, Rita Hayworth, Lauren Bacall, Katharine Hepburn, Lana Turner, and Bette Davis.
Was supposed to play the lead in Music of the Heart (1999) but dropped out two weeks before filming was set to begin.
HIGH SCHOOL CHEERLEADER
Marched with the Bridgemen Drum and Bugle Corps. Her daughter Lourdes was named as a tribute to Madonna's mother, who wanted to visit Lourdes, France, where the Virgin Mary, the Madonna, appeared in 1858, but died before doing so.
Gave birth to a baby boy, Rocco John Ritchie, 3 weeks prematurely. [11 August 2000]. Was considered for the role in Casino (1995) that eventually went to Sharon Stone. Turned down the lead in The Fabulous Baker Boys (1989).
Turned down a role in Showgirls (1995). Was good friends with Gwyneth Paltrow before she declined her invitation to join her Kabbalah study group in London.
In his 38th annual Worst Dressed List published in January 1998, Mr. Blackwell wrote about her questionable taste in clothing the previous year, "Let's be blunt, yesterday's Evita is today's Velveeta."
Owner of Maverick Records label (1992-2004). Graduated from Rochester Adams High School in 1976. Studied at the North Carolina School of the Arts, and won a scholarship to study modern dance and drama for 3 semesters at the University of Michigan.
One of 7 siblings. Her mother died of breast cancer on December 1st, 1963. Her infamous 1994 appearance on "Late Show with David Letterman" (1993) had her saying the "f" word 13 times.
Has an IQ of 140. Her birthday is also the anniversary of Elvis Presley's death. Bought mansion in the Hollywood Hills originally built for Rudolph Valentino.
Named one of People Magazine's '50 Most Beautiful People of 1991', and '25 Most Intriguing People of 2001'.
In 1989, she had a multi-million dollar contract with Pepsi to promote their product as well as cross-promote her new album, "Like a Prayer". However, when the video for the first single, "Like a Prayer", was released, it caused international controversy, with images of burning crosses, murder, and racism, and Pepsi soon retracted their contract, and the 13-minute commercial was only viewed once, at the Superbowl. The single later soared to Number 1 on the charts and stayed there for 3 weeks. She later thanked Pepsi for creating such controversy.
Appeared in a 1988 stage play with Ron Silver and Joe Mantegna called "Speed-The-Plow".
Did a Japanese commercial for Panasonic in 1987.
Her film Shanghai Surprise (1986) was a box-office disaster, costing $17 million and grossing only $2.
Appeared in a filmed stage play in 1980 called "In Artificial Light", in which she wrote her own part.
Appeared in a stage play in 1986 called "Goose And Tom-Tom" with then-husband Sean Penn.
Her first film, A Certain Sacrifice (1985), was released in 1985, after she became a star, but was actually shot in two parts, the first in 1979, and the other, in 1981.
A September 2000 Rolling Stone article estimated her worth as $650 million. Since then, she has released the album "Music", which sold 12 million copies, has had a 47-date sold-out worldwide tour, completed a movie, and released a greatest hits compilation.
As of 2001, her albums have sold 153 million copies worldwide.
As of early 2002, has had 15 solo albums: "Madonna" (1983); "Like a Virgin" (1984); "True Blue" (1986); "Who's That Girl" (1987); "You Can Dance" (1987); "Like a Prayer" (1989); "I'm Breathless" (1990); "The Immaculate Collection" (1990); "Erotica" (1992); "Bedtime Stories" (1994); "Something to Remember" (1995); "Evita" (1996); "Ray of Light" (1998); "Music" (2000); "GHV2: Greatest Hits Volume 2" (2001).
Turned down the role of Frida Kahlo in the movie Frida (2002), which was later given to Salma Hayek.
Named one of E!'s "top 20 entertainers of 2001".
Sister of Christopher Ciccone
Gwyneth Paltrow was the Maid of Honor at her wedding to Guy Ritchie.
Her grandparents are Michelina and Gaetano Ciccone.
Her father is Italian, her mother was French-Canadian.
Sister-in-law of Joe Henry
Measurements: 34C-23-33 (Source: Celebrity Sleuth magazine)
In October 2000, Madonna won her fight against a cybersquatter using the domain name madonna.com to operate a pornography website. The UN World Intellectual Property Organization found that site operator Dan Parisi "lacks rights or legitimate interests in the domain name." Parisi claims that he was in the process of handing over the rights to the domain name to a US hospital, Madonna Rehabilitation, which has the domain name madonna.org, when the case started.
She started fashion trends in 1984 with her unique look using rosaries and crosses as jewelry and black rubber typewriter bands as bracelets. Legions of adolescent girls mimicked her look and a Madonna clothing store was opened in New York. Again in 2001, another huge fashion trend was set off by the "Material Mom", this time with western wear - cowboy hats and mud-splattered jeans.
In November 2000, Madonna held a live concert at the Brixton Academy in London which was broadcast over the Internet. A record nine million people watched the event, making it the largest live webcast of all time.
Her mother was born on July 11, 1932.
Madonna's song 'Little star' is dedicated to her daughter Lourdes
Madonna is featured on the sleeve of the album "Vigil in a Wilderness of Mirrors" by former Marillion singer Fish. She is also mentioned in his song "Big Wedge".
Madonna and Céline Dion share the same French-Canadian heritage through a common ancestor named Zacharie Cloutier.
Madonna is mentioned in the lyrics of the song "You Were Right" by Damon Gough, aka Badly Drawn Boy.
Attended St. Andrews Patrick Catholic school.
Attended West Junior High for the 8th grade.
Her parents were married at Visitation Catholic Church in Bay City, Michigan on July 2, 1955.
Her mother and her two uncles were buried at Calvary Cemetery in Bay City, Michigan.
Purchased a mini mansion for daughter Lourdes in 2003. Produced by Posh Tots, a mini-mansion ranges in price from US$6,500 to US$125,000, and can even be installed with cable TV and running water.
December 2003 - announced she was starting a merchandising line of dolls, apparel, home decor, etc. as a tie-in to her best-selling children's book, "The English Roses".
Her first children's book, "The English Roses", was published in September, 2003.
Ranked #8 on VH1's 100 Greatest Women of Rock N Roll
Her wedding dress for her 2000 wedding to director Guy Ritchie was designed by her friend Stella McCartney.
Received a career award at the 2004 French NRJ Awards (January 2004).
"Madonna - Drowned World Tour 2001" home video release certified platinum in the U.S. (video sales of over 100,000 copies) (March 2002)
#6 in Life's 100 Greatest Rockers List (March 2002)
Won Best Solo Dance Artist at the 17th International Dance Music Awards held at the Winter Music Conference in Miami. (March 2002)
Voted #3 on the reader-voted Favorite Female List for Rolling Stone Magazine's 2001 Music Awards list, following Britney Spears and Jennifer Lopez (January 2002).
"The Immaculate Collection" voted #1 on Blender magazine's 100 Greatest American Albums of All Time List. (January 2002)
"Nothing Fails" hits #1 on Billboard's Hot Dance/Club Play chart, making it her 32nd Dance/Club play chart #1 and her 14th Top Five consecutive hit on that chart (all but three of her entries have been top ten singles on this chart). (Week ending 7th February 2004)
Her 1985 hit "Into The Groove" was ranked #40 on
VH1's 100 Greatest Dance Songs, while "Vogue" placed in the top 10 at #4.
Won Best Chart Act at the 2004 Dancestar USA Awards, in Bayfront Park, Miami. (9th March 2004)
Is good friends with Björk, who also wrote the song 'Bedtime Story' for her 1994 album, Bedtime Stories. Parodied by Amy Poehler on "Saturday Night Live" (1975).
In 2003, three different action figures were made of her likeness based on her character, Susan, from the movie Desperately Seeking Susan (1985).
Fifth single from album "Madonna", "Lucky Star" becomes Madonna's 1st US Top 5 hit peaking at #4 on the Billboard Hot 100, and also the 1st in a string of 17 US Top 5 singles. In total "Lucky Star" spent 16 weeks on the US Hot 100 and 2 weeks at #2 on the Japan charts. The single was initially released in the UK in 1983, instead of "Burning Up / Physical Attraction", where it did not chart. Reissued in the UK in 1984, it would peak at #14. Other chart activity includes: #16 in Canada. #29 in Europe. #36 in Australia. The single did not chart in France or Germany, and it was not released in Japan. (August 1984)
Fourth single from album "Madonna", "Borderline" peaked at #10 on the Billboard Hot 100, giving Madonna her first US top 10 single, as well as her 1st US Gold single. The song remained in the Billboard Top 100 for 30 weeks. The only other Madonna to match this is "Take A Bow" in 1994. The songs video was nominated for Best New Artist in a Video at the MTV Music video Awards. Other chart activity includes: #12 in Australia. #22 in Canada. #26 in Japan. #56 in Europe. (February 1984)
Produced by Mark Kamins, her debut single "Everybody" peaks at #3 on the Billboard Dance Charts. The single unfortunately failed to chart on the US Billboard Top 100 Chart, Canada, Europe, the UK, Germany, France & Japan. The single was not released in Australia. (October 1982)
Second single from the album "Madonna", the double-sided 12" single "Burning Up / Physcial Attraction" peaks at #3 on the Billboard Dance Chart. Madonna's debut single in Australia, peaking at #13 on the Australian AMR chart. The single failed to chart on the US Billboard Hot 100, Europe, Germany, France & Japan. The single was not released in the UK. (March 1983)
Third single from the album "Madonna", "Holiday" peaks at #16 on the Billboard Hot 100 giving Madonna's her first Top 40 & Top 20 single. On the Billboard Dance Chart it became Madonna's first #1. The single also stayed at #13 on the European charts for 2 weeks. Certified Silver in the UK & France. Other chart activity includes: #4 in Australia. #6 in the UK. #9 in Germany. #10 in Japan. #24 in France. #34 in Canada. (July 1983)
Her debut album Madonna peaked at #8 on the Billboard Top 200, where it spent 168 weeks. 5 of the 8 tracks were written by Madonna. Peaking at #8 for 3 weeks, the album as of October 2000 has now sold over 5 million copies in the US alone. US Billboard Chart figures include: 5 weeks in the Top 10, 36 weeks in Top 40, 99 weeks in Top 100 & 168 weeks in Top 200. 5 million units shipped in the US, 3.3 million shipped internationally, totalling 8.3 million all up. Singles from this album include: Everybody, Burning Up/Physical Attraction, Holiday, Borderline & Lucky Star. Originally peaking at #44 in Germany, it would later be re-issued as Madonna: The First Album and peak at #28. Certified 5xPlatinum in the US, 3xPlatinum in the UK & Australia, 1xPlatinum in France, and Gold in Germany Other chart activity includes: #6 in the UK. #8 in France. #10 in Australia. #19 in Canada. (July 1983) She is a fan of Katharine Hepburn.
Born on the same day as actress Angela Bassett. July 1984: Produced by Chic's Nile Rodgers, the first single from the album "Like A Virgin", "Like A Virgin" stayed at #1 for 6 weeks in the US, becoming Madonna's 2nd longest stay at #1, where it was certified Gold. It would stay in the US charts for 19 weeks. Other chart activity includes: #1 in Australia for 5 weeks, Japan for 4 weeks, Canada for 3 weeks and Europe for 5 weeks. Other chart placings include #3 in the UK, #4 in Germany and #8 in France. It would be certified Gold in the US & UK, and Silver in Germany. Directed by Mary Lambert, the video would be nominated for 3 MTV Video Music Awards: Best choreography, Best art direction and Best cinematography.
December 1984: Album Like A Virgin peaks at #1 on the US charts, where it stayed for 3 weeks. Produced by Chic's Nile Rodgers, the album remains her highest selling studio album in the US, with over 10 million units sold (certified 10xPlatinum). It would stay in the Billboard Top 10 for 33 weeks, Top 40 for 52 weeks, Top 100 for 70 weeks and 200 for 108 weeks (More than 2 years). The album would spin 4 US Top 5 singles: "Like A Virgin", "Material Girl", "Angel" & "Dress You Up". The song "Love Don't Live Here Anymore" would be released as a single in 1995. Other chart activioty includes: #1 in the UK for 6 weeks (where it was certified 6xPlatinum), #1 in Germany for a week (certified Platinum), #2 in Australia (certified 7xPlatinum), #2 in France (certified 2xPlatinum) & #3 in Canada for 5 weeks (certified 10xPlatinum).
January 1985: Second single from the album "Like A Virgin", "Material Girl" peaks at #2 on the US Billboard Top 100, and it remained in US chart for 17 weeks. It hit #1 in Japan for 2 weeks and peaked at #3 in the UK for 2 weeks. Other chart placings include: #4 in Australia. #5 in Canada & Europe. #13 in Germany. #47 in France.
April 1985: Third single from the album "Like A Virgin", "Angel" was released as a double A-side single in the US (where it peaked at #5 on the Billboard Hot 100 & was certified Gold), Canada (where it hit #19) & #1 in Australia for 4 weeks. In other territories the singles were released separately. "Angel" peaked at #5 in the UK (where it was certified Silver), #3 in Japan, #13 in Europe, #31 in Germany and didn't chart in France. "Into The Groove" hit #1 in the UK (her first UK #1 for 4 weeks, where it was certified Gold), #1 in Japan for 3 weeks and #1 in Europe for a week. Other chart activity includes #2 in France & #3 in Germany (where it was certified Silver).
February 1985: From the soundtrack "Vision Quest", "Crazy For You" peaked at #1 on the US Billboard Hot 100 for a week, #1 in Australia for 3 weeks and #1 in Japan for 4 weeks. It would stay on the US charts for 21 weeks. Other chart activity includes: #2 in the UK. #4 in Canada. #6 in Europe for 6 weeks. #36 in Germany. #47 in France. It was certified Gold in both the US and UK. It also marked her first Grammy nomination. It was re-released as a single in the UK in 1991 and again peaked at #2.
She has posed nude at least three times in her career: briefly in A Certain Sacrifice (1985), in some nude photos taken before she became famous in the late 1970s which eventually ran in Penthouse magazine and in the 1990 photo and interview book "Sex" which became a worldwide best seller. Siblings: Martin (1957), Anthony (1956), Christopher (1960), Paula (1959), Melanie (1962), Mario (1969) and Jennifer (1968).
1985: "Holiday" re-issed in the UK just before the release of "Angel" where it peaked at #2 (4 places higher than its original release).
1985: Second single from the soundtrack "Vision Quest", "Gambler" peaked at #4 in the UK where it would be certified Silver. Although this was not released as a single in the US or Canada, the video was played constantly on MTV. Other chart activity includes: #8 in Europe, #10 in Australia, #12 in Japan, #25 in Germany, #35 in France.
11th January 1985: The home video release of her first concert tour "The Virgin Tour: Live" peaked at #1 on the Billboard home video chart, where it stayed for 49 weeks. The release includes 10 of the 13 songs performed at the show. It unfortunately leaves out "Angel", "Burning Up" and "Borderline".
1986: "Borderline" re-issued as a single in the UK where it peaked at #2 (54 places higher than its original release) and be certified Silver. It also peaked at #21 on Europe charts for two weeks.
24th July 1985: The fourth and final single from the album "Like A Virgin", "Dress You Up" peaked at #5 on the Billboard Hot 100. It remained on the chart for 16 weeks. It also hit #5 in Australia, Canada and the UK. It was certified silver in the UK. Other chart activity includes: #6 in Europe and Japan. #18 in France. #20 in Germany.
Her song "La Isla Bonita" (1986) was inspired by a visit she made to San Pedro, Ambergris Cay, Belize, with her then-husband Sean Penn. She was voted the 36th Greatest Artist of all time in Rock 'n' Roll by Rolling Stone. A fan of the film Grey Gardens (1975). Had lived in Pontiac, Michigan before living in Rochester Hills from 6th grade until she moved away to college.
Has a great-aunt named Bambina De Giulio. Her grandparents are named Elsie Fortin and Willard Fortin (1904-1959). Once had two pets named Chiquita (chichuahua) and Pepito (bull terrier).
Was born at Bay City Mercy Hospital in Bay City, Michigan. Her son with Guy Ritchie, Rocco John Richie, was born by emergency C-section - 3 weeks early. [11 August 2000]
Re-Invention Tour was the #1 world tour of 2004 grossing over $125 million. 55 of 56 shows were sold-out. (Billboard Boxscore). Turned down the role of Selina Kyle/Catwoman in Batman Returns (1992).
Was Prince's first choice for the role of the Kid's angelic muse Aura in his movie musical Graffiti Bridge (1990). She turned it down, brazenly telling him "the screenplay was awful." When it was finally released in theaters, the movie was a critical and commercial bomb.
Is the only person to "win" the awards for Worst Actress, Worst Supporting Actress and Worst Screen Couple at the Razzie Awards all in the same year. She "won" Worst Supporting Actress in the film Die Another Day (2002). She shared the Worst Screen Couple award with Adriano Giannini in Swept Away (2002). And she tied for Worst Actress in Swept Away (2002) with Britney Spears in Crossroads (2002).
Nude pictures of her taken years earlier, when she was a starving dancer, ran in Penthouse magazine. Due to the success of that issue, she posed nude again in the coffee table book "Sex" which became an instant best seller.
Voted #35 on Playboy's "100 sexiest women" of the 20th Century (jan/2000). One of the very few friends she has kept from the old days is her former makeup artist, Debi Mazar, who is now an actress.
Good friends with singer Britney Spears. Her friendship with best friend Gwyneth Paltrow ended, because Paltrow couldn't get along with Madonna's extravagant lifestyle. Is spoofed in Eminem's music video "Just lose it". Is a big fan of Kylie Minogue. Shares her birthday with Vanessa Carlton.
---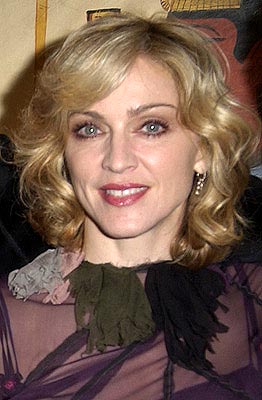 Personal quotes
"When I'm hungry, I eat. When I'm thirsty, I drink. When I feel like saying something, I say it."
"Children always understand. They have open minds. They have built-in shit detectors."
"I think that everyone should get married at least once, so you can see what a silly, outdated institution it is."
"A lot of people are afraid to say what they want. That's why they don't get what they want." (From her book "Sex")
(To David Letterman) "Listen, all you do is talk about my sex life on your show, so now you don't want to talk about my sex life when I'm on your show?!"
"Can I just say that I find it really irritating that everyone beats up on Britney Spears? I want to do nothing but support her and praise her and wish her the best. I mean, she's 18 years old! It's just shocking. I was so gawky and geeky and awkward and unsure of myself." - Elle, February 2001
"I sometimes think I was born to live up to my name. How could I be anything else but what I am having been named Madonna? I would either have ended up a nun or this."
"I feel just as hungry today as I did the day I left home."
"Better to live one year as a tiger, then a hundred as sheep."
"I am my own experiment. I am my own work of art."
"I live for meeting with men in suits. I love them because I know they had a really boring week and I walk in there with my orange velvet leggings and drop popcorn in my cleavage and then fish it out and eat it. I like that. I know I'm entertaining them, and I know that they know."
"I'm like a cockroach - you just can't get rid of me!"
"People who have nothing better to do than talk about my hair color have no lives."
"I'm a gay man trapped in a woman's body!"
"Not only do we suffer from racism and sexism, but we also suffer from ageism. Once you reach a certain age you're not allowed to be adventurous, you're not allowed to be sexual, I mean is there a rule? Are you supposed to just die when you're 40?"
"Without the heart, there can be no understanding between the hand and the mind."
"I'm tough, ambitious and I know exactly what I want... if that makes me a bitch - okay!"
"Fame can be very disruptive. It can be like a drug. It gives you the feeling that you're happy, it gives you the feeling of self-importance, it gives you the feeling of fullfilment... but it can distract you from what is really important."
"There is nothing rebellious about today's sounds, and music needs to be rebellious!"
"My ambition may be American, and I may have married a Brit, but my heart belongs to France." (on winning a French NRJ Career Award, January 2004)
I wouldn't live here cause it's too conservative, aside for the fact that Oprah Winfrey lives here.
I know I'm not the greatest singer or dancer, but that doesn't interest me, I'm interested in being provocative and pushing people's buttons.
I have two beautiful children and a brilliant, gorgeous husband. I have my work and my faith...If that's boring to some people, I can't tell you how much I don't care.
"I think that Kabbahlah is very punk rock."
"A lot of people thought that I was a black artist before they saw my videos, because a lot of my music is more R&B oriented, and I think that I'm a white artist doing R&B music, getting played on pop stations. And I think that the kind of records I make are really changing peoples ideas of splitting up and categorizing artists and I think that's opening ways for Black and white artists as well." (August 1984)
"Videos might have a limited audience in one sense. But on the other hand you could be reaching a lot of people that would never be able to come see you live. So I think they're definitely an advantage. Kids today worship the television, so I think it's a great way to reach them. When you perform on stage you're acting. That's a performance. If someone sticks a camera on you what's the difference?" (August 1984)
"I would like to ultimately achieve. I already told Dick Clark once on 'American Bandstand'. So I repeat it again and annoy everyone who was annoyed before when I said it. I want to conquer the world." (September 1984)
"Everybody in our family studied a musical instrument. My father was really big on that. Somehow I only took a year or two of piano lessons and I convinced my father to let me take dancing lessons." (June 1989)
"When I first came to New York I was a dancer, and a French record label offered me a recording contract and I had to go to Paris to do it. So I went there and that's how I really got into the music business. But I didn't like what I was doing when I got there, so I left, and I never did a record there. (May 1984)
"So then I'm playing drums and were getting gigs in certain downtown clubs like CBGB and the Mud Club, and Max's Kansas City. And I'm starting to write music for the band too, like some songs but they already had two singers in the band, so they would never let me get up and sing a song because what's the point? One day I finally convinced them. I'll just play guitar and sing one song. Please, please, please. And they finally said OK. So then I got up to sing one song and the other guy went back to play the drums. And like I got a standing ovation." (December 1985)
"I befriended one DJ in particular and he worked at a club called Danceteria, which was one of my favorite clubs. And we talked a lot about music. I knew a lot about singers, and I knew a lot about different groups and stuff like that. And he said: `How come you know so much about this.' And I said: `I'm really interested in music.' And he said: `Well, in what way?' And I said: `I'm a singer'. He said: `No kidding'. And I said: `Yeah, and I just happen to have this tape right here'. I mean I was carrying this tape with me everywhere, at every club, waiting for the moment to pop it on somebody. So I said: `Would you play it?'. And he said `Well I can't play it in the middle of the night. I haven't heard it. What if it's terrible? What if everyone stops dancing?' And I said `Alright well you listen to it, take it home with you tonight, and listen to it. And I'll come back here tomorrow, and if you like it then you play it again. So that was a Friday night, so he went home. On Saturday night I met him again, and I came back before the club opened and he said he really loved it. So he played it. He played two songs. One of them was `Everybody'." (December 1985)
"I like them. I know I am not supposed to. Every time someone says something bad about them, I say, 'Hey, wait a minute, I was a Spice Girl once!'" - on the Spice Girls.
"Even if I feel like shit they still love me!"
"You have to be patient... I'm not!"
"I hate people who hate women. Actually I hate people who hate!"
"I do think that the birth of my daughter was sort of a rebirth for me. It made me look at life in a completely new way. And that made me appreciate life in a way I don't think I ever had before."
"When I was growing up I was religious in a passionate adolescent way. Jesus Christ was like a movie star, my favorite idol of all."
"I feel really protective of her. Don't even ask me why. there's something about her. Even though she's terribly successful, for some reason I think of her as an underdog." - on Britney Spears
"I see her as my little sister. She asks me (for) career advice. For the most part I try to make her understand this isn't real life and she can't take everything people say seriously. I can understand some of the stuff she's going through. I help her with that." - on her relationship with Britney Spears
"I don't want people to dress like me anymore. Now I want them to think like me. Dress like Britney Spears and think like me, and everything will be fine."
"I've learned from studying Kabbalah that if your happiness is based on people approving of everything you do, you're doomed to fail... Kabbalah helped me stand up and take responsibility for everything to do with me."
"I can be arrogant sometimes, but I never mean it intentionally. I can be really snotty to people but that's not anything new really. I always acted like a star long before I was one. If people don't see my sense of humor then I come off as being expensive, but I always endear myself to people when I find their weaknesses and they acknowledge it. It's the people who try to hide everything and try to make you think they're so cool that I can't stand."
SALARY
| | |
| --- | --- |
| Evita (1996) | $1,000,000 |
| Body of Evidence (1993) | $2,500,000 (plus percentage of gross and wardrobe) |
| Dick Tracy (1990) | $35,000 |
| Desperately Seeking Susan (1985) | $80,000 |
| A Certain Sacrifice (1985) | $100 |
Where are they now
(September 2004) Ending her sold out Re-Invention Tour; and launching dolls, tea sets and umbrellas based on her book "The English Roses".

It's little wonder that the best-reviewed film starring this mega-successful pop diva is the candid musical documentary Truth or Dare (1991). Recording artists often have a difficult time translating their appeal to the big screen, and only occasionally demonstrate the ability to command an entire motion picture. Madonna commands the screen in Truth or Dare but can't seem to deliver a competent performance elsewhere. Early in her career, in Desperately Seeking Susan (1985), this platinum-blond siren found a hip romantic comedy tailormade for her tough and sexy "downtown" persona. But despite her attempts to reincarnate the image of Marilyn Monroe (which she has frequently played up in her music videos), she has not yet mastered the art of screwball comedy, as evidenced by her work in the execrable Shanghai Surprise (1986), which costarred thenhusband Sean Penn, and Who's That Girl? (1987).

Madonna seems to fare best when she's not required to carry a movie, as was the case when she played femme fatale Breathless Mahoney in Dick Tracy (1990); she also had a highly publicized fling with director and star, Warren Beatty. Her work in A League of Their Own (1992), which starred Tom Hanks and Geena Davis, was also relaxed and amusing. But Body of Evidence (1993), which cast her as a sexaddicted femme fatale, put the burden of its patently ridiculous (and undernourished) script on her slender shoulders, which weren't quite up to the challenge; it was a classically bad movie that enjoyed little box-office success despite all the attendent publicity. Later that same year she costarred with Harvey Keitel in Abel Ferrara's Dangerous Game (1993).

In 1985 she unsuccessfully tried to block the video release of A Certain Sacrifice a tawdry, ultra-low-budget film (and her debut), which she made as a desperate newcomer to New York. She occasionally contributes songs to her and others' movies (including Sean Penn's 1986 vehicle At Close Range.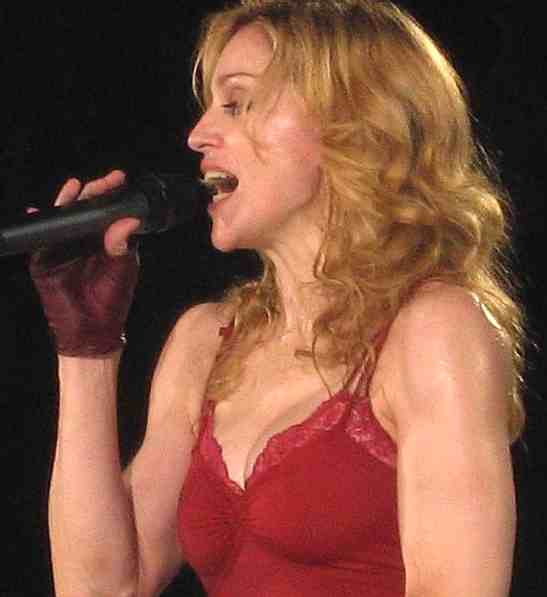 Madonna singing at Wembley, England
FILMOGRAPHY

---

APPLE RECORDS | BMG | CBS COLUMBIA | CHRYSALIS | EMI | MOTOWN | PARLOPHONE

RCA | SONY | UNIVERSAL MUSIC GROUP | VIRGIN MUSIC GROUP

WARNER MUSIC GROUP (AOL TIME WARNER)




New energy drinks for adventure capitalists

Solar Red | Solar Crush | Solar Cola | Solar Citrus | Solar Spice