Born 17th March 1939, in Putney, London. The eldest of 4 brothers. School at Berkhamsted in Hertfordshire, the same school as Bill Tilman and Graham Greene. A term mate of Michael Meacher MP. Main interests long running, swimming and boxing. Not very good at team sports, indeed, chose tennis as opposed to cricket, but usually slipped away to Grandparents house to work on a 1927 Austin 7 car instead of either. Went to sea in the Merchant Navy in 1957 as a Deck officer. In 1962 married childhood sweetheart, Suzanne, who passed away in November 2003 as a result of ovarian cancer. One daughter, Sara, born in Bombay 1963, and now 5 grandchildren. Interests:- Sailing, Exploring by boat, Maritime History, the marine environment, youth development, shooting.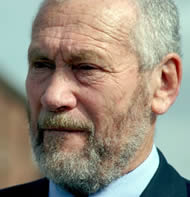 Sir Robin Knox Johnston
In 1992 RKJ was invited to become President of the Sail Training Association, a youth development organisation which operated two topsail schooners "Sir Winston Churchill" and "Malcolm Miller" and also organised the annual Tall Ships races. Before he retired in 2001 £11 million had been raised to replace these two vessels with two larger brigs "Prince William" and "Stavros Niarchos" respectively left and right below.
Also in 1992 he became a Trustee of the National Maritime Museum at Greenwich, London, serving as Chairman of the Friends for 3 years, before being appointed a Greenwich representative for the projected Maritime Museum in Falmouth, Cornwall. His ten years at Greenwich expired in 2002, but he remains a Trustee of the National Maritime Museum – Cornwall, at Falmouth which opened in 2003.
Skipperd by RKJ and Peter Blake, 'ENZA' attempted to beat 80 days around the world in 1993 but struck an object in the Southern Ocean and withdrew. In 1994 with the same skippers she got around the world in 74 days 22 hours 18 minutes, thus setting a new world record and gaining the Jules Verne Trophy. Sold on to Tracy Edwards and re-named Maiden, with an all girl crew she was dismasted in the Southern pacific when trying to better this time. She was subsequently sold to Tony Bullimore. (Originally the Nigel Irens designed catamaran "Tag" built in Canada in 1984)
RKJ was appointed to the Sports Lottery Panel at its inception in 1995, initially distributing £250 million a year, and from 1999 until 2002 served as a member of the English Sports Council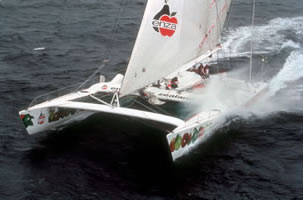 ENZA 1994 - Jules Verne Trophy

CHRONOLOGY

1969 Awarded the CBE (Commander of the Order of the British Empire)
1970 UK Yachtsman of the Year
1970 Royal Cruising Club Seamanship Medal.
1972 Elected a Younger Brother of Trinity House.
1972 Member of the RNLI Committee of Management
1990 Silk Cut Nautical award Seamanship Trophy
1990 Honorary Doctorate – Maine Maritime Academy
1991 Royal Cruising Club Challenge Cup
1991 Cruising World Magazine (USA) Medal of honour
1992 Royal Institute of Navigation - Gold Medal for experiments with renaissance navigation.
1992 Freeman of the City of London
1992 Awarded Honorary Doctor of Technology – Southampton University
1994 Elected Fellow of the Royal Institute of Navigation.
1994 The Maritime Trust's Cutty Sark Medal
1994 IYRU World Sailor of the year.
1994 UK Yachtsman of the Year (2nd time)
1995 Hon Acadamecian, The Maritime Institute (Portugal)
1995 The Institute of Navigation (USA) Superior Achievement Award
1995 Elected President of the Little Ship Club
1995 Knighted
MEMBERHSIPS

Honorary Member – Royal Yacht Squadron
President – Little Ship Club
Hon Rear Commodore – Royal Naval Sailing Association
Hon Member – Royal Irish Yacht Club
Hon Member – Royal Harwich Yacht Club
Hon Member – Royal Western Yacht Club
Hon Member – Royal Southampton Yacht Club
Hon Member – Benfleet Yacht Club
Hon Member – Howth Yacht Club
Hon Member – County Wicklow Yacht Club
Suhaili 32 foot Bermudan Ketch (44 feet including bowsprit and to end of Mizzen boom)
Built of teak. Designed by William Atkins as "Eric" in 1923, her design is based on the Norwegian sailing lifeboat designs of Colin Archer. Thames Tonnage 14. Net Tonnage 6.29. Official Number 306242 of London. Signal Letters MHYU. Began as a concept whilst serving as 2nd Officer on a deck passenger ship trading between Bombay and Basra with two 3rd Officers Peter Jordan and Mike Ledingham. Building started on a slipway in Bombay Docks in 1963 using teak throughout. The keelson is 1' 2" x 1' 102 22 feet long, planking 1 ¼ " teak. She is the first boat to ever sail non-stop around the world.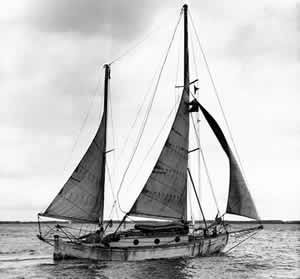 In 1997 Suhaili went to the National Maritime Museum at Greenwich as an exhibit, but the controlled atmosphere began to shrink her planking, and, unwilling to see her die this way, RKJ removed her in 2002 and re-fitted her again. She still belongs to RKJ and is now berthed, afloat, on the pontoon of the new National Maritime Museum-Cornwall, in Falmouth, and still sailed.
Healthier alternative tastes for adventure capitalists
Solar Red | Solar Crush + | Solar Cola | Solar Citrus + | Solar +