The Coca-Cola formula is The Coca-Cola Company's secret recipe for Coca-Cola. As a publicity marketing strategy started by Robert W. Woodruff, the company presents the formula as one of the most closely held trade secrets in modern business that only a few employees know or have access to. In reality, experienced perfumers and food scientists - today aided by modern analytical methods - can easily identify the composition of food products.
The basic, generic "cola" taste of both Coca-Cola and other competing cola drinks results from a blend of vanilla and cinnamon flavoring. The small differences in taste that distinguish one cola-flavored drink from another result from the inclusion of small amounts of other flavoring ingredients. Contrary to popular misconception, kola nut extract is not a prominent ingredient in cola-flavored drinks.
Published accounts say it contains or once contained sugar, caramel, caffeine, phosphoric acid, coca leaf and kola nut extract, lime extract, flavoring mixture, vanilla and glycerin. Merchandise 7X is the "secret ingredient" in Coca-Cola and has remained a secret since its invention in 1886. The description of the ingredient is kept in a security vault in a bank in Atlanta, Georgia. Alleged syrup recipes vary greatly, and Coca-Cola reluctantly admits the formula has changed over the decades. The formula was changed in 1935 with the help of Rabbi Tobias Geffen of Atlanta to allow it to be certified kosher.
In a much-publicized corporate disaster, Coca-Cola introduced New Coke in 1985. After public outcry, the recipe was restored to the original "classic" formula.
Recipes for other soft drinks and products - Pepsi-Cola, KFC chicken and McDonald's special sauce - are also closely-guarded trade secrets, but the Coke formula certainly attracts the most attention.
Amateur sleuths have tried to reverse-engineer the production process and ingredients. The secret formula is the subject of books, speculation and marketing lore. The company consistently claims that all published recipes are incorrect.
Purported secret recipes
Recipe 1
This recipe is attributed to a sheet of paper found in an old formulary book owned by Coca-Cola inventor, John S. Pemberton, just before his death (U.S. measures):
This recipe does not specify when sugar, coca, caramel or the rest of the water are added.
Source: Mark Pendergrast. For God, Country, and Coca-Cola: The Definitive History of the Great American Soft Drink and the Company That Makes It. New York: Basic Books, 2000. ISBN 0-465-05468-4.
Recipe 2
This recipe is attributed to pharmacist John Reed.
30 pounds (14 kg) of sugar

2 US gallons of water

1 quart of lime juice

4 ounces of citrate of caffeine

2 US fluid ounces of citric acid

1 ounce of extract of vanilla

6 grams (3/4 US fluid ounce) of fluid extract of coca
Recipe 3
This recipe is from Food Flavorings: Composition, Manufacture and Use (2nd Ed.) 1968 by Joseph Merory (AVI Publishing Company, Inc., Westport, CT). Makes one U.S. gallon (3.8 L) of syrup. Yield (used to flavor carbonated water at 1 fl oz per bottle): 128 bottles, 6.5 fl oz (192 ml).
Mix 2,400 grams of sugar with just enough water to dissolve (high-fructose corn syrup may be substituted for half the sugar).

Add 37 grams of caramel, 3.1 grams of caffeine, and 11 grams of phosphoric acid.

Extract the cocaine from 1.1 grams of coca leaf (Truxillo growth of coca preferred) with toluol;dry the cocaine extract.

Soak the coca leaves and kola nuts (both finely powdered; 0.37 gram of kola nuts) in 22 grams of 20 percent alcohol.

California white wine fortified to 20 percent strength was used as the soaking solution circa 1909, but Coca-Cola may have switched to a simple water/alcohol mixture.

After soaking, discard the coca and kola and add the liquid to the syrup.

Add 30 grams of lime juice (a former ingredient, evidently, that Coca-Cola now denies) or a substitute such as a water solution of citric acid and sodium citrate at lime-juice strength.

Mix together 0.88 gram of lemon oil, 0.47 gram of orange oil, 0.20 gram of cassia (Chinese cinnamon) oil. 0.07 gram of nutmeg oil, and, if desired, traces of coriander, lavender, and neroli oils, and add to 4.9 grams of 95 percent alcohol.

Shake.

Add 2.7 grams of water to the alcohol/oil mixture and let stand for twenty-four hours at about 60 °F (15.5 °C). A cloudy layer will separate.

Take off the clear part of the liquid only and add the syrup.

Add 19 grams of glycerine (from vegetable source, not hog fat, so the drink can be sold to Jews and Muslims who observe their respective religion's dietary restrictions) and 1.5 grams of vanilla extract.

Add water (treated with chlorine) to make 1 gallon of syrup.
One should be aware that today, Coca-Cola production employees do not dry the cocaine extract as listed above. Quoting from Early Years of Coca-Cola: "... the coca leaves used today are "spent" leaves - the leftovers of the cocaine-extraction process - and therefore the drink contains no trace of the stimulant." However, it is impossible to completely remove all traces of the coca stimulant and small amounts still exist in the drink today.
---
JULY 5 2006
NEW YORK - Federal prosecutors charged three people on Wednesday with stealing confidential information from Coca-Cola Co. - including a sample of a secret new drink - and trying to sell it to rival PepsiCo Inc.
The three, who include an executive administrative assistant at Coke, were charged with wire fraud along with stealing and selling trade secrets. Federal prosecutors in Atlanta say the trio sought to sell the information in deals worth as much as $1.5 million.
Federal prosecutors said Coke learned of the theft from Pepsi, which provided the company with a letter from an individual claiming to be a high-level Coca-Cola employee offering "very detailed and confidential information."
"We just did what any responsible company would do. Competition can be fierce, but it also needs to be fair," Pepsi spokesman Dave DeCecco said.
On hearing from Pepsi, Coke alerted the Federal Bureau of Investigation, which began an undercover operation.
"While this breach of trust is difficult for all of us to accept, it underscores the responsibility we each have to be vigilant in protecting our trade secrets," Neville Isdell, chairman and chief executive of Coke, the world's largest soft drink company, said in a memo to employees.
Isdell said in the memo that no personal employee information was at risk and said he has ordered a review of Coke's information protection policies. He also expressed his "sincere appreciation" to PepsiCo, the No.2 soft drink maker, for alerting Coke about this security breach.
Coke spokesman Ben Deutsch said the closely guarded formula of Coca-Cola Classic was safe. He added that he wasn't aware of any similar security breach in the company that involved an investigation by federal prosecutors.
Following the undercover investigation, prosecutors named Ibrahim Dimson, 30, of Bronx, New York, Edmund Duhaney, 43, of Decatur, Georgia, and Joya Williams, 41, of Norcross, Georgia in the criminal complaint filed by the U.S. District Attorney for the Northern District of Georgia.
They said phone records and further investigation showed Williams, an executive administrative assistant at Coke, was the source of the information. Coke's Deutsch confirmed that Williams was an executive assistant to a senior manager but didn't reveal the manager's name.
Video surveillance showed Williams at her desk going through files in search of documents and stuffing them in her bags, prosecutors said.
She was also observed holding a liquid container with a white label, which resembled the description of a new Coca-Cola product sample before placing it into her personal bag, authorities said. The company later verified the sample was genuine.
"Coke is a highly ethical company with a culture of deep decency but every apple has a bad seed," said John Sicher, editor of trade magazine Beverage Digest. "This is about one relatively low-level employee who, if the allegations are true, acted stupidly."
According to prosecutors, on May 19 PepsiCo provided to Coke a copy of a letter in an official Coca-Cola business envelope postmarked from the Bronx. The letter was from an individual who called himself "Dirk" claiming to be a high-level Coke employee with confidential information.
During the investigation, "Dirk" provided an undercover FBI agent with 14 pages of Coca-Cola documents the company later identified as valid and highly confidential, prosecutors said.
"Dirk" asked for $10,000 for the documents and later agreed to be paid $75,000 for the purchase of a highly confidential new product sample, prosecutors said.
The three were arrested the day a $1.5 million deal to sell other trade secrets was scheduled to take place, prosecutors said.
LINKS and REFERENCE
Green Party USA (2004). "A Green Party USA Perspective on the Coca-Cola Boycott".

Mark Pendergrast (2000). For God, Country and Coca-Cola, 41–45, Basic Books. ISBN 0465054684.

Pendergrast, pp. 45–47.

Jones, Eleanor & Ritzmann, Florian. "Coca-Cola at Home".

Bricker, Mike (1999). "Collecting Coca-Cola Bottles, Part 1: The First Coca-Cola Bottles".

Mikkelson, Barbara (1999). "Design Err Shape".

"Robert Woodruff". Retrieved June 17, 2006.

Reiskind, Michael (1995). "Moxie Soda Outsold Coca-Cola".

Mikkelson, Barbara (1999). "Knew Coke".

Shannon, Caitlin. "R.L. Puffer, via e-mail, asks, 'Whatever happened to ...?' New Coke".

Mikkelson, Barbara (2001). "Slam at Islam?".

Murphy, Verity (Jan. 8, 2003). "Mecca Cola challenges US rival". BBC.

"Coca-Cola Buys Half of Peru Soft Drink, Rights to Global Distribution...And Unveils Its Own Bottled Water in the United States". AllBusiness.

Murden, Terry (Jan. 30, 2005). Coke adds life to health drinks sector. Scotland on Sunday.

Mikkelson, Barbara (1999). "Have a Cloak and a Smile".

Mikkelson, Barbara (1999). "Design Err Shape".

Barbara Mikkelson and David P. Mikkelson, "The Claus That Refreshes," snopes.com,

Jones, Eleanor & Ritzmann, Florian. "The Coca-Cola Company Under the Nazis".

Seeley, Bill. "Anodizing". May 1, 1997 (accessed January 15, 2006).

Rielly, Edward J (2003). Baseball and American Culture: Across the Diamond, 133, Haworth Press. ISBN 0789014858.

Miller, M. "Quality Stuff: Firm is Peddling Cocaine, and Deals are legit" Wall Street Journal

Jacobson, Michael F. (2005). "Liquid Candy: How Soft Drinks are Harming Americans' Health".

Center for Science in the Public Interest (1997). "Label Caffeine Content of Foods, Scientists Tell FDA."

Mikkelson, Barbara & Mikkelson, David P. (2004). "Acid Slip".

Forristal, Linda Joyce (2003). "The Murky World of High Fructose Corn Syrup".

"Single food ingredient the cause of obesity ? New study has industry up in arms". FoodNavigator.com.

PTF (2003). "Pepsi, Coke contain pesticides: CSE".

Coca-Cola website (2006). "THE COCA-COLA COMPANY ADDRESSES ALLEGATIONS MADE ABOUT OUR BUSINESS IN INDIA".
---
A taste for adventure capitalists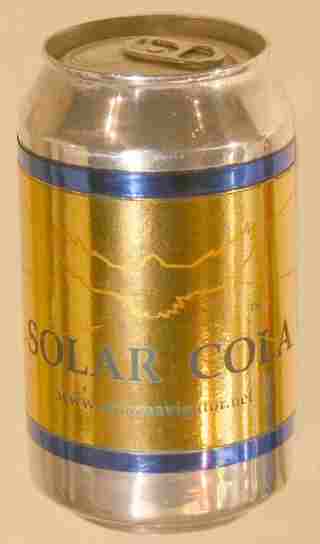 Solar Cola - a healthier alternative
We are seeking venture (seed) capital to develop our supply chain and begin a world marketing campaign. We are offering shares in our company by way of equity funding. Although, this product has potential for good growth, the value of shares in any company, private or public, can go down as well as up.
Prospective investors in our company should consult their own independent investment advisers, and please note this information is provided for general guidance only. It is not a prospectus, but is provided in response to the number of requests we have received asking for more information.
For all Investor and Trade enquiries contact: Nelson Kruschandl
Solar Cola UK or Solar Cola Exports
United Kingdom
+ 44 (0) 1323 831727
+44 (0) 7905 147709
---