Panasonic is an international brand name for Japanese electric products manufacturer Matsushita Electric Industrial Co., Ltd. Under this brand Matsushita sells both consumer electronics and electronics components.
The Panasonic name was created in 1955 and was first used as a brand for audio speakers. In more recent history, Matsushita Electric has begun manufacturing more expensive television and audio/video equipment in addition to their entry-level offerings, and is using the Panasonic brand name worldwide. They manufacture LCD, plasma and CRT television sets, DVD players, telephones, VCRs, digital cameras, laptop computers under the sub-brand Toughbook, portable CD and analog tape decks and home stereo equipment, all of which is marketed under their slogan "Ideas for Life". Through the Panasonic nameplate, Matsushita was one of the first companies to manufacture Laserdisc players in the early 1980s and was among the group of companies that first conceived the DVD format.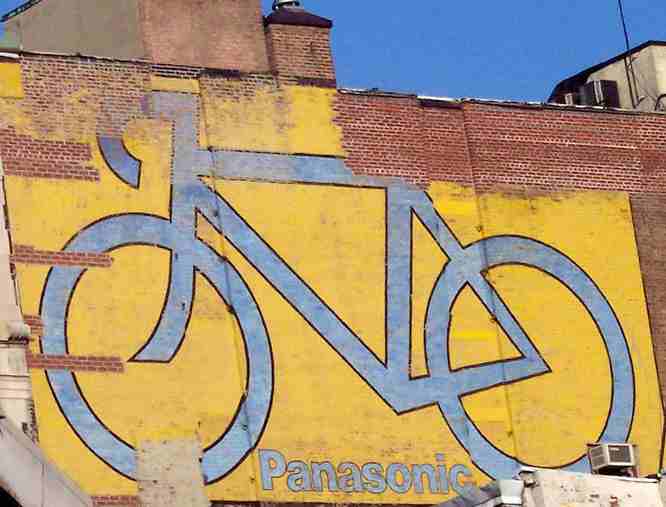 Panasonic ad in New York City. The company sponsored a cycling team through 1991, this photo was taken in 2006.
Panasonic is a primary sponsor of Toyota's Formula 1 program (Toyota F1), also known as Panasonic-Toyota Racing. Hiro Matsushita, grandson of the company founder, is a former race car driver who stays actively involved in racing. Panasonic are sponsors of the Australian World Solar Challenge for 2006.
Introduction
The brand Panasonic was created by Matsushita in 1961 for the US market because the National brand was already registered by others [1]. As its original use was for audio equipment, the Panasonic brand was created from the elements "pan-" for "all" and "sonic" for "sound".
Based on 2004 annual sales of electronics, Matsushita is the largest Japanese electronics maker ahead of Hitachi. If we consider only whitegoods, then Matsushita would be the world's largest maker of all electric products. In the past, due to its imitation tactics Matsushita has been ridiculed in Japan as "Maneshita" ("mane" means imitation), but in actuality Matsushita does vast amounts of its own product planning, research and development.
Including its related companies, Matsushita has developed a wide variety of enterprises, centering on home electronics, industrial equipment, and telecommunications equipment. Though not widely advertised before, in recent years its notebook computer line (Toughbook) has gained popularity and commercials for it are being aired on television. Other brand names associated with Panasonic include its Viera televisions and Lumix digital cameras.
The company's management style and corporate culture have been often compared to that of competitor Sony. When Sony is doing well, the number of books that praise Sony management increases, when conditions reverse, then more books that praise Panasonic management style are displayed in bookstores. Regardless of favorable sales and conditions, Sony and Panasonic are often viewed as rivals. This view probably arose from the videotape format wars between VHS (supported by Panasonic) and Betamax (supported by Sony). The largest direct competition between Sony and Panasonic is currently in the segment of audio products; Panasonic is also considered as Sony's rival in sales of flat panel TVs, digital cameras and DVD recorders – areas where Panasonic is focusing its production, marketing and sales efforts. In contrast, Sony has recently diversified into the cinema, video game, and financial areas, whereas Panasonic's whitegoods have no competition from Sony.
Matsushita's current corporate strategy is to seek cooperation and joint ventures in the development of certain technologies (such as LCD displays), while continuing to compete against other companies such as Toshiba, Hitachi and Minebea to become the benchmark for Japanese electronics.
Panasonic Corporation of North America
Panasonic Corporation of North America is the full name for the American branch of the company more commonly called Panasonic. It was formerly known as Matsushita Electric Corporation of America prior to the use of the Panasonic name in North American countries.
Panasonic Avionics Corporation
Panasonic Avionics Corporation (PAC) is the world's leading supplier of in-flight entertainment (IFE) and communication systems. Headquartered in Bothell, WA - with its engineering, development and test facilities located in Lake Forest, CA - Panasonic Avionics Corporation employs approximately 2,800 employees based in over 70 locations worldwide, with major facilities in London, Toulouse, Hamburg, Dallas, and Singapore.
The company provides airline passengers with a wide array of interactive applications at their seats, combining entertainment (digital music and movies on demand, games, interactive moving maps, satellite TV, and online shopping) with business tools (E-mail, live flight schedules, and in-flight internet access). PAC is also one of the chief suppliers to both Boeing and Airbus and their IFE systems will be featured on both the Boeing 787 and the Airbus A380 aircraft.
Panasonic Avionics Corporation is a subsidiary of Panasonic Corporation of North America (PNA).
Timeline of Matsushita
1918 – Matsushita Electric Factory was founded

1927 – National brand name was introduced

1931 – Production of radios began

1932 – Purchased patents crucial for building radios, and disclosed the information freely to other radio makers as a contribution to the development of the electronics industry in Japan

1933 – Adopted a system of enterprise divisions. Constructed a large-scale factory at Kadoma, Osaka, and moved production facilities there

1935 – Restructuring of Matsushita Electric Industrial Company, establishment of the branch company Matsushita Electric Works

1941 – Joined military production, manufacturing wooden boats and wooden airplanes

1946 – Designated a restricted company by the Allied Powers General Headquarters

1952 – With technical cooperation provided by the Netherlands' Philips Electronics, Matsushita Electric Industrial Company was established. New factory construction and expansion followed

1954 – Began cooperation with Victor Company

1957 – Began the National Shop system – a sales distribution network solely for National products. It was a very effective sales network during Japan's high economic growth period

1965 – Began enforcing weekly two-day worker breaks. Adopted a new sales system that decreased the number of channels involved in the sales process

1977 – Began sales of VHS video

1986 – Begin using Panasonic as a brand name in Japan

1989 August 1 – Began large scale reform of technology departments

1990 - Consumer electronics products in Japan switched from the National to the Panasonic brand

1993 - Panasonic attempted to profit in the video game market with the 3DO Interactive Multiplayer. However, stiff competition from Sony's PlayStation forced the system to be discontinued by the end of 1995

1993 – Cancelled the joint venture agreement with Philips, and changed their contract to closed license

1997 - A group consolidation policy was introduced, reducing the number of subsidiary companies

2001 - Panasonic releases a DVD-capable Nintendo GameCube called the "Q" (Japan only)

2003 – Introduced the global brand and slogan, "Panasonic. Ideas for life."
Panasonic in pop culture
It is said that in "Kachou Shima Kosaku", a popular comic series written by Kensi Hirokane, the main character works at Hatsushiba Electric, which is modeled on the author's work experience at Panasonic. The Osaka office which appeared in the comic is supposed to be the Matsushita Twin Tower at Kyobashi in Osaka, and when Kosaku is sent to work in China, the view from the Shanghai office is the same as the actual view from the Panasonic office in Shanghai.
In the popular Japanese Asahi Broadcasting Corporation program Panel Quiz Attack 25, the panel used in the stage setup was developed by Matsushita Electric. During the early days of the show, the technical staff of Matsushita Electric was stationed at the recording studio, in case of any unexpected occurrences.

We specialise in the design and manufacture of electronic assemblies, a few examples of which are:
Qtronics can be contacted at the telephone numbers or email addresses below:
Office: +44 (0) 161 408 0917
Mob.: +44 (0) 7725615079 FAX: 0033321817086
Emaill: sales@qtronics.net or tech@qtronics.net
LINKS:
---
A taste for adventure capitalists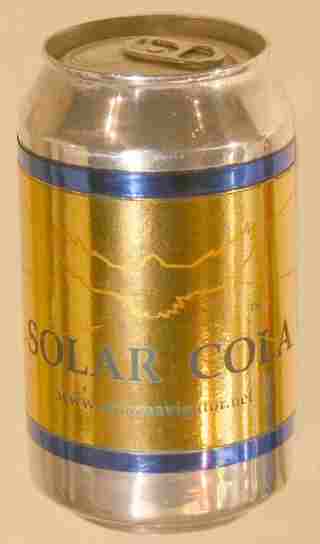 Solar Cola - a healthier alternative