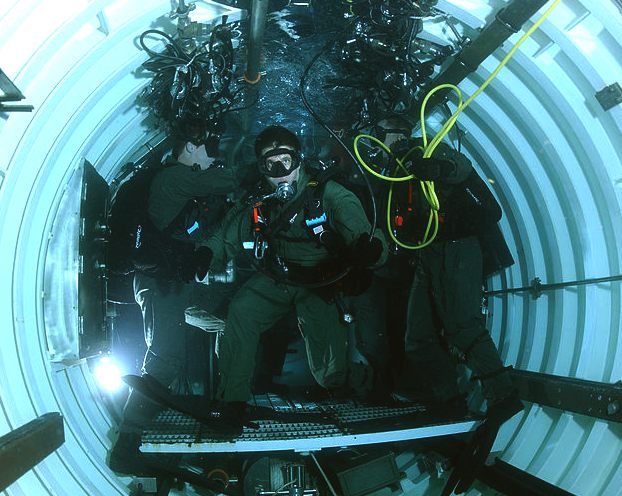 The United States Navy's Sea, Air, Land Teams, commonly known as the U.S. Navy SEALs, are the U.S. Navy's principal special operations force and a part of the Naval Special Warfare Command (NSWC) and SOCOM.

"SEAL" is always capitalized in reference to members of the Naval Special Warfare community. The acronym is derived from their capacity to operate at sea, in the air, and on land. In the War on Terror, SEALs have been utilized almost exclusively for land-based operations, including Direct Action, Hostage Rescue, Counter Terrorism, Special Reconnaissance, Unconventional Warfare, manhunts and Foreign internal defense operations. SEALs are male members of the United States Navy. An exchange program with the Coast Guard, which graduated three Coast Guardsmen as SEALs, was suspended in 2011.

The CIA's highly secretive Special Activities Division (SAD) and more specifically its elite Special Operations Group (SOG) recruits operators from the SEAL Teams. Joint Navy SEALs and CIA operations go back to the famed MACV-SOG during the Vietnam War. This cooperation still exists today and is seen in the wars in Iraq and Afghanistan, and in the finding and killing of Osama bin Laden in Pakistan.


SEAL LINKS
US Navy SEAL & SWCC official website
United States Navy Parachute Team official website
Navy Fact File: Navy SEALsNaval Special Warfare Command – Public Affairs Office USN
The Strategic Utility of U.S. Navy SEALs Master thesis (dtic.mil) http://www.dtic.mil/cgi-bin/GetTRDoc?AD=ADA501950 Testing Newton's Law All Hands Magazine
How the Navy SEALs Work How Stuff Works 14 June 2006.
Commemorating the 50th Anniversary of the Establishment of the U.S. Navy SEALs
---