NBC (formerly an acronym for National Broadcasting Company, the former legal name of the network) is an American television and radio network based in New York City's Rockefeller Center. It is sometimes referred to as the Peacock Network due to its stylized peacock logo. The network is now part of the media conglomerate NBC Universal and supplies programming to more than 200 affiliated U.S. stations. NBC Universal is a unit of General Electric (GE).

Formed in 1926 by RCA, control of NBC passed to GE in 1986 following the purchase of the network's original parent. Since this acquisition, the President and CEO of NBC has been Bob Wright.
NBC became the last U.S. network holding company to legally abandon the name behind its acronym; the corporate name was shrunk from "National Broadcasting Company, Inc." to "NBC Universal, Inc." following the merger with French Vivendi Universal's Entertainment division in 2004. NBC still uses the full name during occasional broadcasts, such as its coverage of the Macy's Thanksgiving Day Parade. (ABC still occasionally uses American Broadcasting Company or Companies for some copyrights and on-air branding.)
History
Radio
The National Broadcasting Company (NBC) radio network went on the air with twenty-four affiliated stations on November 15, 1926. It was owned by Radio Corporation of America (RCA), itself set up in 1919 to control Guglielmo Marconi's American patents; RCA in turn was owned by General Electric Company (GE), the Westinghouse Electric Corporation, the United Fruit Company and American Telephone & Telegraph (AT&T).
Earliest Stations: WEAF & WJZ
During a period of early consolidation in the broadcasting business, RCA had acquired New York radio station WEAF from AT&T. RCA shareholder Westinghouse had a competing facility in Newark, pioneer station WJZ, which also served as the originating station for a loosely-structured network. This station was transferred from Westinghouse to RCA in 1923, and moved to New York. [1]
WEAF had been a laboratory for AT&T's Western Electric, which manufactured transmitters and antennas. AT&T's long-distance and local Bell operating divisions were developing technologies for transmitting voice- and music-grade audio over short and long distances, via both wireless and wired methods. So AT&T's creation of station WEAF in 1922 offered a research-and-development center for these activities. WEAF put together a regular schedule of programs of all types, and created some of the first broadcasts to incorporate commercial endorsements or sponsorships. It was an immediate success, and created links with other stations to offer coverage of sports or political events. WEAF's first efforts in what would become known first as "chain broadcasting" and later as "networking" tied together Outlet Company's WJAR in Providence, Rhode Island with AT&T's WCAP in Washington, D.C. (named for the Chesapeake and Potomac Telephone Company division of AT&T).
RCA also saw an advantage in sharing programming, and after getting a license for station WRC in Washington, D.C. in 1923, attempted to transmit audio between cities via low-quality telegraph lines (since AT&T refused outside companies access to their high-quality phone lines.) The effort was poor at best, with the uninsulated telegraph lines incapable of good audio transmission quality and very susceptible to both atmospheric and man-made electrical interference.
In 1925 the management of AT&T decided that WEAF and its network was not compatible with AT&T's goal of providing a phone service, and offered to sell the station to RCA, whose business was set manufacturing. When RCA bought WEAF, it gained rights to rent AT&T's phone lines for network transmission.
The NBC Red & Blue Networks Are Born
For $1 million, RCA acquired radio station WEAF and a Washington sister-station, WCAP, which it shut down. This transaction accompanied the announcement, in the late summer of 1926, of a new wholly-owned division of RCA called The National Broadcasting Company. [2] It was actually owned 50% by RCA, 30% by General Electric, and 20% by Westinghouse. The network officially was launched on November 15 of that year. WEAF and RCA's WJZ already were the flagship stations of two radio networks, and they operated side-by-side for about a year as part of the new NBC. In 1927 NBC formally divided their respective marketing strategies: the NBC Red Network offered entertainment and music programming from their flagship, WEAF New York (660kHz as of 1928); the NBC Blue Network carried many of the "sustaining" or non-sponsored broadcasts, especially news and cultural programs, and originated from WJZ New York (760 hHz in 1928, 770kHz in 1941) [3]. Legend has it that the color designations originated from the color of the push-pins early engineers used to designate affiliates of WEAF (red pins) and WJZ (blue pins). A similar two-part/two-color strategy appeared in the recording industry, dividing the market between classical and popular offerings. At various times in the 1930s NBC developed additional color designations, with the NBC White, Gold, and Orange networks operating in various configurations in the South, the Midwest and on the West Coast.
NBC became the primary tenant in the brand new Rockefeller Center project in 1936. It would serve as the home of radio operations, some RCA corporate operations, and RCA-owned RKO Pictures.
The Chimes
The famous three-note NBC chimes came about after several years of development. The three note sequence G-E-C may have been first heard over WSB in Atlanta which used it for its own purposes until one day someone at NBC in New York heard the WSB version of the notes during a networked broadcast of a Georgia Tech football game and asked permission to use it on the national network. NBC started to use the three notes in 1931, and it was the first ever audio trademark to be accepted by the U.S. Patent and Trademark Office. A variant sequence was also used that went G-E-C-C, known as "the fourth chime" and used during wartime (especially in the wake of the Pearl Harbor bombing), on D-Day, and other disasters. The NBC chimes were mechanized in 1932 by Richard H. Ranger of the Rangertone company; their purpose was to send a low level signal of constant amplitude that would be heard by the various switching stations manned by NBC and AT&T engineers, and thus used as a system cue for switching different stations between the Red and Blue network feeds. Legend has it that the three musical notes, G-E-C, stand for NBC's then-and-now parent corporation, the General Electric Company.
New Beginnings: The Blue Network Becomes ABC
From its creation in 1934, the Federal Communications Commission (FCC) had studied the monopolistic effects of network broadcasting on the industry, and found that NBC's two networks and their owned-and-operated stations dominated audiences, affiliates and advertising dollars in American radio. In 1939 the FCC ordered RCA to divest itself of one of the two networks; RCA fought the divestiture order, but divided NBC into two companies in 1940 in case an appeal was lost. The Blue network became the "NBC Blue Network, Inc." (now as ABC) and the NBC Red became "NBC Red Network, Inc."
With the loss of the final appeal before the United States Supreme Court, RCA sold the NBC Blue Network, Inc. for $8 million to Lifesavers magnate Edward J. Noble in 1943. For his money Noble got the network name, leases on land-lines and the New York studios, two-and-a half stations (WJZ in Newark/New York, KGO in San Francisco and WENR in Chicago which shared a frequency with "Prairie Farmer" station WLS) and about 60 affiliates. Noble renamed the company "The Blue Network, Inc." but wanted something more memorable. In 1944 he acquired rights to the name "American Broadcasting Company" from George Storer and the Blue Network became ABC. "NBC Red" reverted to being simply "NBC" when Blue was sold.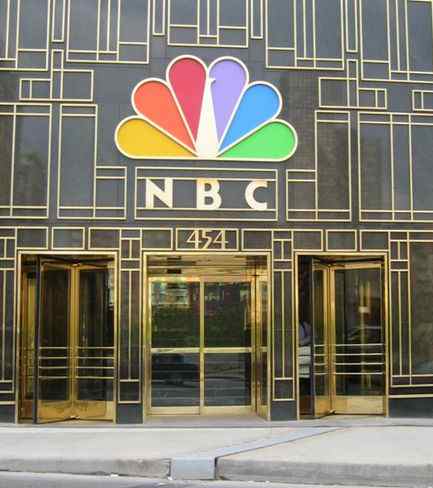 Defining Radio's Golden Age
In the golden days of network broadcasting, 1930 to 1950, NBC was the pinnacle of American radio. Home to many of the most popular stars and programs, NBC stations were often the most powerful, or occupied clear-channel frequencies so that they were heard nation-wide. Such well-known stars as Al Jolson, Bob Hope, Jack Benny, Edgar Bergen and Fred Allen called NBC home, as did Arturo Toscanini's NBC Symphony. As television became more popular in the 1950s, many NBC radio stars gravitated there. NBC Radio's last major programming push, in 1955, was Monitor, a continuous, all-weekend mixture of music, news, interviews and features with a variety of hosts including such well-known television personalities as Dave Garroway, Hugh Downs, Ed McMahon, Joe Garagiola and Gene Rayburn. Monitor was a success for a number of years, but after the mid-1960s local stations, especially in larger markets, became increasingly reluctant to break from their established formats to run non-conforming network programming. After Monitor went off the air in early 1975, there was little left of NBC Radio beyond hourly newscasts and news-related features.
Later in 1975 NBC launched the NBC News and Information Service, which provided up to 55 minutes of news per hour around the clock to local stations that wanted to adopt an all-news format. The service attracted several dozen subscribers, but not enough to allow NBC to project that it would ever become profitable, and it was discontinued after two years. Near the end of the 1970s NBC started "The Source," a modestly successful secondary network that provided news and short features to FM rock stations.
After their 1986 acquisition of NBC, GE decided that the radio business did not fit their strategic objectives. NBC Radio's network operations were sold to Westwood One, and the NBC-owned stations were sold to various buyers. While the chimes and an hourly newscast still appear on radio at certain times on weekdays, the NBC Radio Network as a programming service ceased to exist in 1989, and became a brand-name on material produced by Westwood One.
Television
For many years NBC was closely identified with David Sarnoff, who used it as a vehicle to sell consumer electronics. It was Sarnoff who ruthlessly stole innovative ideas from competitors, using RCA's muscle to prevail in the courts. RCA and Sarnoff had dictated the broadcasting standards put in place by the FCC in 1938, and stole the spotlight by introducing television to the public at the 1939-40 New York World's Fair. While rivals CBS and DuMont also offered color broadcasting plans, RCA convinced a waffling FCC that its color system should prevail, and in 1953 the FCC agreed; the NBC network was to begin offering color programming within days of the FCC's decision. NBC began broadcasting certain shows in color during the 1950's. In 1956 during a National Association meeting in Chicago, NBC announced that their Chicago TV station - WNBQ (channel 5), was the first color TV station in the nation (a least six hours of color broadcasts a day). The first NBC show to air all episodes in color, Bonanza, began in the fall of 1959. In 1961 and 1962, NBC-TV offered "Color Weeks" where most of the primetime schedule would be broadcast in color. The event was marked by promotional pushes for RCA Color TV. By 1963, most of NBC's schedule was in color; without television sets to sell, rival networks followed more slowly, CBS in 1965 and ABC in 1966.
In 1983, NBC began its new fall season with nine new series. These nine series were: Bay City Blues, Boone, For Love and Honor, Jennifer Slept Here, Manimal, The Rousters, Mr. Smith, We Got it Made, and The Yellow Rose. All nine of them were eventually cancelled before completing a year. This is the only time that a network's entire line of new series has failed to be renewed.
During the 1980s, NBC produced several hit television shows and became a leader in comedy. Shows such as Cheers, The Cosby Show, Seinfeld and many other comedies went on to become some of the most popular shows ever.
In 1994, NBC unleashed one of its biggest hit shows, Friends. It quickly became the studio's crown jewel, and its finale drew an audience of nearly 60 million people. The show about 20 somethings (eventually 30 somethings) became very popular.
It was estimated in 2003 that NBC is viewable by 97.17% of all households, reaching 103,624,370 houses in the United States. NBC has 207 VHF and UHF affiliated stations in the U.S. and U.S. possessions. It is also seen throughout Latin America and the Caribbean via cable and satellite via the WNBC feed. With the loss of Friends in 2004 NBC was faced with several moderately-rated shows and few true ratings hits. This combined with CBS' popular CSI franchise, FOX's American Idol, and ABC hits like Lost and Desperate Housewives has led to NBC being currently ranked as the fourth most watched television network in the United States, after CBS, a resurgent ABC and FOX.
During the 2004-2005 season, NBC became the first major television station to start producing any of its programming in widescreen, in hopes of attracting new viewers. Though NBC did see a slight boost in viewers, NBC didn't get any real ratings rise, for widescreen television is yet to catch on in popular culture.
In December 2005, NBC unleashed its first-ever week-long event, Deal or No Deal. The game show, hosted by actor-comedian Howie Mandel stormed to big ratings by the end of its first week-long run and returned for another week in February 2006 before moving into a multi-night shift in March 2006. Having enjoyed sustained success, Deal or No Deal will return in the fall of 2006 on Monday and Friday nights.
Children's programming
Children's programming has always played a part in NBC's programming since its initial roots in television. In 1947, NBC's first major children's series was Howdy Doody, one of the era's first breakthrough television shows. The series, which ran for 13 years, featured a frecklefaced marionette and a myriad of other characters and hosted by "Buffalo" Bob Smith. Howdy Doody spent most of its run on weekday afternoons.
In 1956, NBC abandoned the children's programming lineup on weekday afternoons, relegating the lineup to Saturdays only with Howdy Doody as their marquee franchise for the series' remaining four years. Throughout the 1960s until 1992, the bulk of NBC's children's programming were derived from theatrical shorts like Pink Panther and Bugs Bunny, reruns of popular television series like The Flintstones and The Jetsons, foreign acquisitions like Astro Boy and Kimba the White Lion, original animated series (most notably The Smurfs in the 1980s), popular stars and franchises like Mr. T. and ALF, and original live-action series.
In 1989, NBC premiered Saved by the Bell, which originated at The Disney Channel as Good Morning, Miss Bliss. Saved by the Bell would become one of the most popular teen series in television history as well as the number one series on Saturday mornings, dethroning The Bugs Bunny and Tweety Show in its first season.
NBC abandoned the animated series in August 1992 in favor of a Saturday edition of Today and more live-action series under the name TNBC (Teen NBC). Most of the series on the TNBC lineup were series produced by Peter Engel such as City Guys, Hang Time, California Dreams and One World. Though there were exceptions, the short-lived Just Deal, one of only two series without a studio audience and/or laugh track and the only "filmed" series was co-created and executive produced by Thomas W. Lynch. NBA Inside Stuff was also a part of the TNBC lineup during the duration of the NBA season.
In 2002, NBC began a deal with Discovery Communications' Discovery Kids channel to air their original FCC-mandated educational programming under the banner Discovery Kids on NBC. The schedule originally consisted of only live-action series, including a kid-themed version of Trading Spaces and J.D. Roth's Emmy-nominated reality game show Endurance, but has expanded to include some animated series such as Kenny the Shark, Tutenstein, and Time Warp Trio. In 2006, the Discovery Kids deal was allowed to lapse. [4]
In May 2006, in order to replace the Discovery Kids Saturday Morning block, NBC announced plans to launch a new children's block on Saturday mornings starting in September 2006 as part of the Smart Place for Kids endeavor teaming parent company NBC Universal with Ion Media Networks, Scholastic Press, Corus Entertainment and Classic Media/Big Idea. "Smart Place" will include blocks to air on NBC, Telemundo (the Spanish-language network owned by NBC Universal), and ion Media Networks's i channel, as well as a 24/7 digital broadcast kids channel, video on demand services and a branded website.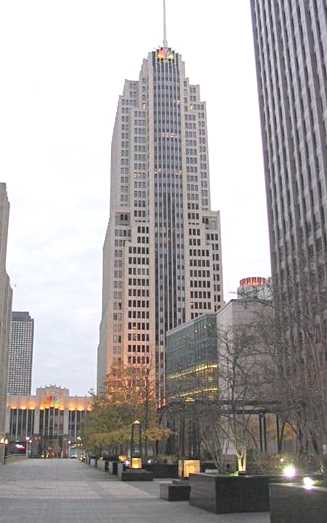 NBC Tower in Chicago, Illinois
Evolution of the NBC logo
NBC has used a number of logos throughout its history, early logos were similar to the logo of its then parent company, RCA, but later logos included stylized peacock images.
NBC News
NBC News currently has the highest rated evening news program (NBC Nightly News) and the highest rated morning show program (The Today Show). NBC News has a deal with BBC News (The British Broadcasting Corparation's News), they exchange sources and put eachother's 'daily' news on at night.
LINKS
A - Z FILMS INDEX
A - Z ACTORS INDEX
---
A taste for adventure capitalists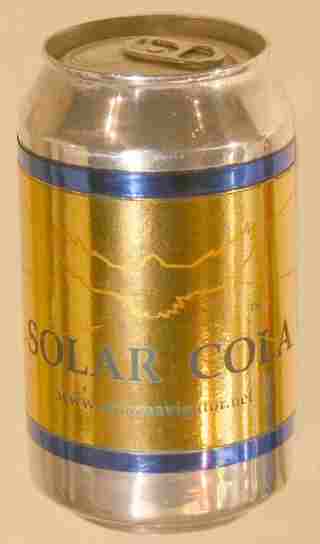 Solar Cola - a healthier alternative