NineSigma claims to be the most experienced and advanced Open Innovation service provider in the world, operating from 2000.

They engage companies across all industry sectors within the global innovation community and quite often enable other organizations to access their open innovation network of external resources to solve immediate challenges and integrate new knowledge and capabilities into those organizations.

NineSigma sya that the demand for building sustainable products and practices with fewer resources has never been greater, and companies worldwide recognize the value of Open Innovation and sustainability.

During NineSigma's early years, sustainability periodically arose as the focus of their clients' technology searches. Today, nearly every client who goes to them to enhance their innovation capabilities has a sustainability objective clearly defined as part of their strategic innovation goals. More than 90% of NineSigma's Intelligence programs are focused around major open innovation sustainability issues.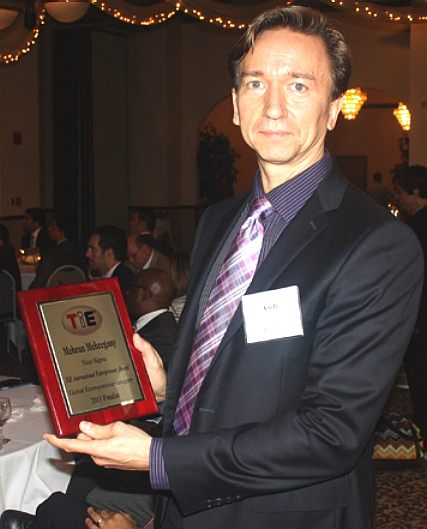 Andy Zynga CEO NineSigma Inc.
INTERVIEW 13 December 2011 - Andy Zynga CEO NineSigma Inc. and Troy Sympson
In what ways is your company an innovator in its industry, and how does your organization employ innovation to be on the leading edge?

Founded in 2000, NineSigma helped to pioneer the strategy of Open Innovation (OI), where organizations "connect with the world" for knowledge and solution providers who will accelerate their innovation cycle — whether to achieve a competitive advantage with a breakthrough product, or to solve a pressing global challenge, such as the demand for renewable energy or an effective AIDS vaccine. NineSigma was at the forefront, and continues to be at the forefront, as open innovation is no longer just a strategy, but a standard management discipline. New clients from around the world continue to choose our services, as they recognize that innovation is critical to their long-term growth.

How does your organization make a significant impact on the community and regional economy, either through charitable contributions, volunteerism or setting an example for other organizations & leaders to follow?
NineSigma Gives Back is a program designed to support social and environmental responsibility and corporate philanthropy. By leveraging our search and intelligence capabilities, along with our unparalleled access to the global innovation community, we can help address global social and environmental issues that non-profit and for-profit organizations are committed to solving. Our open innovation and sustainability services can effectively be applied to help identify critical technologies and expertise that will accelerate the potential for solutions.
Give us an example of a business challenge your organization faced during its growth, as well as how you overcame it.
Like so many companies, NineSigma was impacted by the 2008/2009 recession. Many of our clients were forced to cut back on spending and re-evaluate business priorities, which in some cases meant freezing external innovation budgets. By tightly managing the sales process and shifting our focus to higher-demand services, we were able to overcome the market downturn. As demand for our services continues to rise, NineSigma is establishing a physical presence in closer proximity to its worldwide client base in the following areas: U.K., Australia, Canada and Germany.
What is the greatest lesson you've learned as a business leader, an entrepreneur, or as an organization, and how have you applied this lesson toward fostering growth?
I have found value in the "fail early, fail often" mentality. With that mindset, I have created an environment where employees feel it is OK to make mistakes and try new things. This approach fosters innovative thinking and a fearless attitude within the company, placing the focus on growth, rather than avoiding risk and missing potentially rewarding opportunities. As a result, we have expanded our core set of offerings into end-to-end capabilities, enabling us to increase the number of companies we serve worldwide.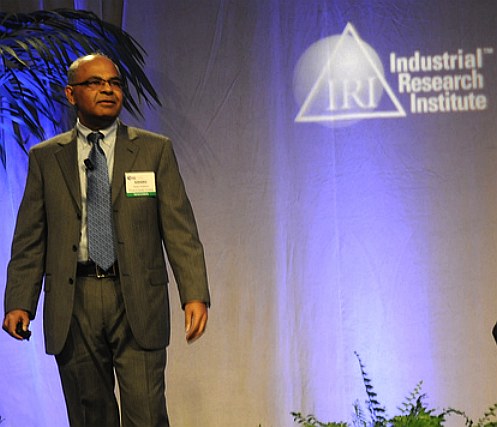 Ashish Chatterjee (P&G) speaking at the Industrial Research Institute
NineSigma work with companies on a variety of leading open innovation and sustainability issues, including:

•Water quality and use
•Waste minimization
•Reduction of materials in product testing and manufacturing
•Renewable materials / sustainable packaging
•Environmental footprint reduction methods
•Alternative energy sources
•Green construction
•Energy efficient materials
•Energy use, harvesting, storage and conversion
•Product labeling
•Product life cycle management
•Procurement

In 2008 NineSigma launched its Planet Earth open innovation sustainability initiative. Through this initiative, NineSigma works with a client to identify common goals around high-level social and environmental issues. Working together, we leverage open innovation to address these issues, which may range from developing functional foods for chronic diseases, to harvesting energy through new technologies, to improving access to clean water. To learn more about NineSigma's Planet Earth open innovation and sustainability initiative CLICK HERE
Headquarters:
NineSigma, Inc.
23611 Chagrin Blvd. Suite 320
Cleveland, OH 44122-5540
United States
Tel (216) 295-4800
Fax (216) 295-4825
Hotel Info
European Headquarters:
NineSigma Europe BVBA
Koning Leopold I straat 3
B-3000 Leuven
Belgium
Tel +32 16 24 42 80
Fax +32 16 24 42 89

Asian Headquarters:
NineSigma Japan, Inc.
Davinci Uchikanda 5F
1-3-3 Uchikanda, Chiyoda-ku,
Tokyo, 101-0047 Japan
Tel +81 (3) 3219 2001
Fax +81 (3) 3219 2008

Australian Headquarters:
NineSigma Australia Pty Ltd.
P.O. Box 252
Flinders Lane
Melbourne VIC 8009
Australia
Tel: +61 438 205 347

Mid-size companies to Fortune 500 companies have engaged NineSigma to solve their most difficult innovation challenges. The following Case Studies illustrate recent successes.
View Solution Provider Insights to learn what their network members are saying about the NineSigma process.
OPEN INNOVATION
Although the idea and discussion about some consequences (especially the interfirm cooperation in R&D) date back at least to the 60s, open innovation is a term promoted by Henry Chesbrough, a professor and executive director at the Center for Open Innovation at the University of California, Berkeley, in his book Open Innovation: The new imperative for creating and profiting from technology. The concept is related to user innovation, cumulative innovation, know-how trading, mass innovation and distributed innovation.

"Open innovation is a paradigm that assumes that firms can and should use external ideas as well as internal ideas, and internal and external paths to market, as the firms look to advance their technology" or "Innovating with partners by sharing risk and sharing reward." The boundaries between a firm and its environment have become more permeable; innovations can easily transfer inward and outward. The central idea behind open innovation is that in a world of widely distributed knowledge, companies cannot afford to rely entirely on their own research, but should instead buy or license processes or inventions (i.e. patents) from other companies. In addition, internal inventions not being used in a firm's business should be taken outside the company (e.g. through licensing, joint ventures or spin-offs).


Closed versus open innovation

The paradigm of closed innovation says that successful innovation requires control. A company should control (the generating of) their own ideas, as well as production, marketing, distribution, servicing, financing, and supporting. The main cause behind this idea is that, in the beginning of the twentieth century, universities and government were not involved in the commercial application of science. Some companies therefore decided to do it all on their own. They created their own research and development departments to be able to control the whole new product development (NPD) cycle inside the company. There just was not the time to wait for the scientific community to become more involved in the practical application of science. There also was not enough time to wait for other companies to start producing some of the components that were required in their final product. These companies became relatively self-sufficient 'castles', with little communication directed outwards to other companies or universities.

Throughout the years several factors emerged that paved the way for open innovation paradigms:

The increasing availability and mobility of skilled workers

The growth of the venture capital market

External options for ideas sitting on the shelf

The increasing capability of external suppliers

These four factors have resulted in a new market of knowledge. Knowledge is not anymore proprietary to the company. It resides in employees, suppliers, customers, competitors and universities. If companies do not use the knowledge they have inside, someone else will. Innovation can be generated either by means of closed innovation or by open innovation paradigms. There is an ongoing debate on which paradigm will dominate in the future.
Open source versus open innovation

Open source and open innovation might conflict on patent issues. This is most stark when looking at technologies that may save lives or other open source appropriate technologies that may assist in poverty reduction or sustainable development. However, open source and open innovation are not mutually exclusive, as participating companies can donate their patents to an independent organization, put them in a common pool or grant unlimited license use to anybody. Hence some open source initiatives can merge the two concepts, this is the case for instance for IBM with its Eclipse platform which IBM is advocating as a case of open innovation, where competing companies are invited to co-operate inside an open innovation network.

In 1997, Eric Raymond, writing about the open source software movement, coined the term the cathedral and the bazaar. The cathedral represented the conventional method of employing a group of experts to design and develop software (though it could apply to any large-scale creative or innovative work). The bazaar represented the open source approach. This idea has been amplified by a lot of people, notably Don Tapscott and Anthony D. Williams in their book Wikinomics. Eric Raymond himself is also quoted as saying that 'one cannot code from the ground up in bazaar style. One can test, debug, and improve in bazaar style, but it would be very hard to originate a project in bazaar mode.' In the same vein, Raymond is also quoted as saying, 'The individual wizard is where successful bazaar projects generally start'.

Open Source specialist François Letellier advocates that open source (or free software) is a natural way of innovation in the software industry and that it is an exemplary and very effective form of open innovation – as open-source projects/communities act as innovation intermediaries.
OPEN INNOVATION EU 2012
Being and entrepreneur in 2030 will be very different. That may be twenty years away, but remember that twenty years ago almost nobody had a PC and the laptop was just a pipe dream, as was the application packed cell phone. Five years ago we were trying the first forms of WAP and two and a half years ago Facebook was founded. With these facts in mind it is possible to say that innovation will move very fast in the future out of necessity.
it is reasonable to assume that In 20 years innovation will be at a quadratic rate to that today. Innovators will no longer be strange characters, but will become a commodity. Thus, in the year 2030 it is predicted that we won't talk about innovation anymore, because what is currently a challenge for approximately 90% of organisations (the other 10% not even thinking about innovation), will be standard operating procedure in 2030.
Without innovation a company will not exist. Just like health and safety on the shop floor 20 years ago. In 20 years a company will not be proud of the claim that they are innovative, because if you don't think ahead you simply wont see it past the next round of change.
EUROPEAN COMMUNITY - MARKKU MARKKULA INTERVIEW 20 July 2012
Markku Markkula (FI/EPP), Member of the Espoo City Council, is the Committee of the Regions (CoR) rapporteur on the "Horizon 2020" opinion, which was adopted at the CoR Plenary Session on 19 July. Mr Markkula made recommendations to increase the regional impact of the new EU framework for research, development and innovation proposed by the European Commission for 2014-2020. He also stressed the need for the local and regional level to be actively involved in the design and implementation of the programme for the benefit of the Europe 2020 Strategy targets. In this interview Mr. Markkula shares with us the main points he defended during the CoR Plenary.
What are the main recommendations put forward in your Opinion, especially with regards to the involvement of regions and cities in the implementation of the Programme?
A strong regional component is a must in order to achieve synergy between cohesion policy and research policy. The CoR therefore calls for the retention of the successful regional instruments from the current Framework Programmes, such as the Regions of Knowledge and Living Labs. Regions not only establish the strategies that drive forward research excellence and industrial activity but are key players in finding solutions to societal challenges. The research activities under Horizon 2020 therefore need to be multidisciplinary, multisectorial, multidimensional and multicultural by nature, requiring strong real-life participation.
Experience shows that the new laboratories for innovation are no longer traditional university facilities, but regional innovation ecosystems operating as test-beds for rapid prototyping of many types of user-driven innovations. New products, services, processes, structures and systems all need to be transformative and scalable in nature.
To reach this development throughout Europe, Horizon 2020 needs to include funding for pioneering universities and regions, which are able to bridge the research and innovation divide in Europe. Through cooperation between excellent research institutes and less-developed regions recognising excellence in less-developed regions and facilitating innovation policy learning at the regional level, Horizon 2020 could make an important contribution to research and innovation.
You emphasised in your opinion that regions and cities need to increase their preparedness to benefit from research and that they should include research, development and innovation as an essential part of their policy agenda. What does this mean in practice?
The new generation of innovation activities is socially motivated, open and exists thanks to the participation of all the online community, which is complex and global by nature. The CoR encourages regions to move towards open innovation, within a human-centred vision of partnerships between public and private sector actors, with universities playing a crucial role. This means modernising the traditional Triple Helix model of academia, industry and government
At the core of research lie experimentation and piloting. A good example within the "Smart City" operating field is the finish research programme entitled "Energizing Urban Ecosystems" with funding worth 20 million Euros from industry and public bodies, including Tekes, Espoo City and Aalto University.
The essential dimension in this is the full use of digitalisation. Through Horizon 2020 we are looking for excellence in European regions, Joint bench-learning is therefore an important process for collaborative learning and scalability of results in different conditions throughout Europe.
How do you think that the new Horizon 2020 plans can help European regions and cities recover from the financial crisis?
New business opportunities are ever more anchored into social and societal circumstances. Thus the nature of innovation has moved from technology towards societal renewal demand.
We need pioneering regions to form European consortiums integrating different capabilities to create ground-breaking societal innovations for Europe-wide use.
We also need changes in the role of the Joint Research Centre to assist the regional and local decision-making with the latest research, development and innovation outcomes. Instead of reports, the outcomes should revolve around funding of experimentations and rapid prototyping, applying research knowledge to practical change processes, thus increasing the renewal capital on regional and local levels.
On 22 June, you took part in the Digital Agenda Assembly debate on the role of Horizon 2020 in delivering Internet-based innovation as a way out of the crisis. What was the main outcome of the discussions?
A huge potential exists throughout Europe. We need to take brave steps towards European open innovation culture. The main barriers defined during the Digital Agenda Assembly debates were related to mindset and structures at the political decision making level, i.e. the decision making process is too slow in the Digital Single Market to achieve flourishing entrepreneurship and fast reacting venture capital business markets.
My conclusion is that we should foster innovation with the help of virtual reality investments and make a culture shift to web-entrepreneurship mentality for all stakeholders. This means going local, i.e. speeding bottom-up transformation processes, through which system-changing innovations in urban contexts can be developed, piloted, and scaled-up.
Well, thanks for that Mr Markkula. All that may be all well and good, but what if you are an individual with a sound idea and the skill to see it through, but long ago left university or other learning establishments. Indeed, real innovators are less likely to come from conformist organisations and those that conform.
LINKS: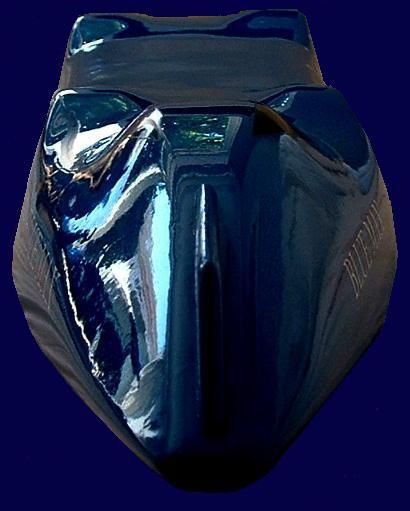 Project: Blueplanet Ecostar. Not just a pretty face,
but a low cost energy distribution system for electric road vehicles
(click on the picture to read this proposal)
An electric land speed record car that refuels itself instantly by changing battery packs between each run - charged by solar power. Not a service forecourt in sight.
SolarNavigator is an extremely innovative ship that harvests energy from nature to travel at speeds of 7-8 knots continuously using an extremely efficient active hull. The vessel is capable of running fully autonomously as an ocean going robot, using intelligent algorithms to navigate in compliance with the International Collision at Sea Regulations. A group of companies and academics are working collaboratively with the aim of developing this navigation system (SNAV) for retro fitting to cargo ships for improved course keeping, safety and fuel reductions. The system is dependent on high speed low latency blue water satellite communications, which is also part of the development program.
Email:

or phone UK:
+ 44 (0) 1323 831727 +44 (0) 7842 607865
Max Energy Limited, Solar House, BN27 1RF, United Kingdom