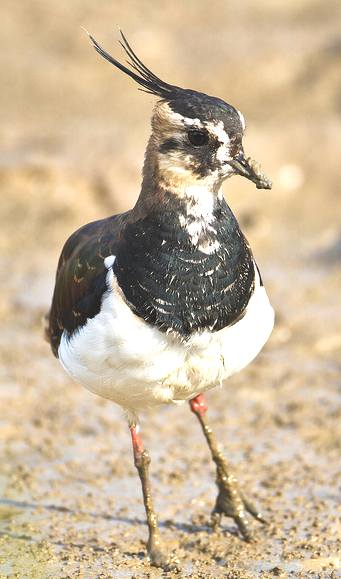 A bespectacled ornithologist took the stand at Brighton Magistrates Court on Monday the 23rd of September 2013 and told District Judge Stephen Nicholls that lapwings were plentiful at Pevensey Levels in East Sussex.
On examination by Judge Nicholls Allan Drewitt admitted a decline in numbers from 6,000 in 1990 to 3,500 in 2008. Mr Drewitt, a short man of slight build, said there were no up to date figures that he could give the court. But, it appeared to our operative that Mr Drewitt may have known more than he was letting on, because he had visited the site within the last month of so.
Our operative uses the road through this site almost daily. He confirmed to us that magpies are in plentiful supply, and foxes, but that lapwings are not to be seen today, as they might have been seen 10 years ago. There has also been a huge increase in the fox population. Both magpies and foxes eat the eggs and chicks of lapwings - an easy target because they nest out in the open.
If that is so and Natural England knew it, then the evidence that was tendered in Court, was not accurate, which may fall to be considered as a 'failure to advise', or in the case of a criminal persecution, er, prosecution; perjury or even fraud - as per Section 2,3 and 4 of the Fraud Act 2006.
Another reason for such decline in numbers, is that Natural England is flooding the wrong end of the marsh, an area that is not open as lapwings prefer. We are continuing to investigate these matters, where Natural England are not operating in transparent fashion as one might expect, but rather, it appears doing everything to prevent members of the public obtaining data, so that the truth may be seen by all.
Transparency in local government is essential to build trust with the electorate. If that is so, then Natural England are the enemy of the common man; and, that just about sums it up. Those that work for Natural England are biology specialists that seem to class themselves above the ordinary member of the public. They do not want their cozy little number challenged, so they hide any information that might reveal the inconvenient truth.
ABOUT LAPWINGS
Familiar birds of farmlands and wetlands, lapwings can often be seen wheeling through winter skies in large, black and white flocks. As spring approaches, these flocks get smaller; some birds head back to their continental breeding grounds and others disperse to breed in the UK. Males put on dramatic aerial displays, tumbling through the air, accompanied by their piercing 'peewit' call, which gives them their other, common name. Females can be spotted on nests which are simple scrapes in the mud or sand and, by late spring, cute, fluffy lapwing chicks can be seen venturing out to forage. If the nest is threatened at all, lapwings will 'mob' predators - attacking them in an effort to distract them from the eggs and chicks.
Lapwings are found on farmland throughout the UK particularly in lowland areas of northern England, the Borders and eastern Scotland. In the breeding season prefer spring sown cereals, root crops, permanent unimproved pasture, meadows and fallow fields. They can also be found on wetlands with short vegetation. In winter they flock on pasture and ploughed fields. The highest known winter concentrations of lapwings are found at the Somerset Levels, Humber and Ribble estuaries, Breydon Water/Berney Marshes, the Wash, and Morecambe Bay.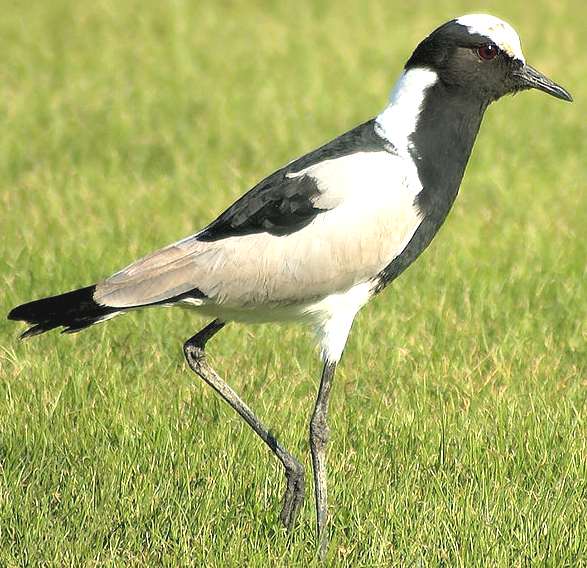 BIRD INDEX:
Bishop, Orange

Canary

Chaffinch

Chicken
Cockatoo

Cormorant
Crane, African Crowned
Crane
Crow

Cuckoo

Dodo
Dove
Duck

Eagle
Egret, Cattle
Emu

Falcon

Finch
Fishers Lovebird
Flamingo

Grebe
Goose

Hawk
Hornbill

House Martin
Ibis
Kite

Kingfisher

Kiwi

Kookaburra
Lapwings

Loon
Macaw

Mynah

Nightjar

Owl
Parrot

Partridge

Pelican

Penguin

Petrel

Pheasant
Pigeon

Quail

Robin

Seagull

Sparrow
Spoonbill

Starling

Stork

Swan

Swift
Toucan

Turkey
Vultures

Waders
Weaver

Woodcock

Woodpecker
Index to navigate Animal Kingdom:-
| | |
| --- | --- |
| | Such as frogs (class: Amphibia) |
| ANNELIDS | As in Earthworms (phyla: Annelida) |
| | Neanderthals, Homo Erectus (Extinct) |
| | Spiders (class: Arachnida) |
| | Such as Eagles, Albatross (class: Aves) |
| | |
| CRUSTACEANS | such as crabs (subphyla: Crustacea) |
| | Tyranosaurus Rex, Brontosaurus (Extinct) |
| ECHINODERMS | As in Starfish (phyla: Echinodermata) |
| | Sharks, Tuna (group: Pisces) |
| HUMANS - MAN | |
| | Ants, (subphyla: Uniramia class: Insecta) |
| | Which includes PLANTS non- animal life |
| | Warm blooded animals (class: Mammalia) |
| | Such as Kangaroos (order: Marsupialia) Koala Bear |
| MOLLUSKS | Such as octopus (phyla: Mollusca) |
| | Trees - |
| PRIMATES | Gorillas, Chimpanzees (order: Primates) |
| | As in Crocodiles, Snakes (class: Reptilia) |
| RODENTS | |
| SIMPLE LIFE FORMS | As in Amoeba, plankton (phyla: protozoa) |
LINKS
http://en.wikipedia.org/wiki/Lapwing
http://www.wildlifetrusts.org/species/lapwing
http://www.rspb.org.uk/wildlife/birdguide/name/l/lapwing/index.aspx
A heartwarming adventure: Pirate whalers V Conservationists,
with an environmental message.
For release as an e-book in 2013 with hopes for a film in 2015 TBA
(graphic design: Martin House)