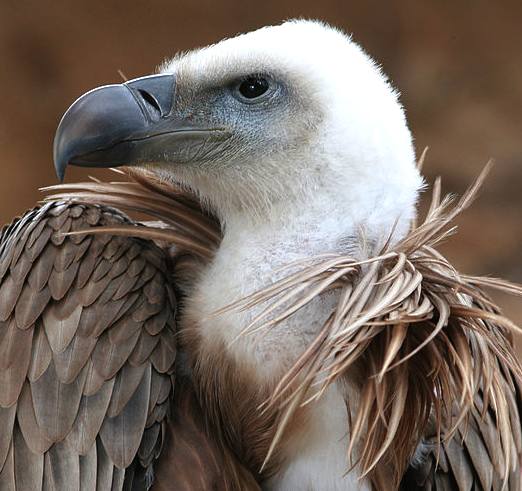 Vulture is the name given to two groups of convergently evolved, usually scavenging birds of prey: the New World vultures, including the Californian and Andean Condors; and the Old World vultures, including the birds that are seen scavenging on carcasses of dead animals on African plains. Research has shown that some traditional Old World Vultures (including the Bearded Vulture) are not closely related to the others, which is why the vultures are to be subdivided into three taxa rather than two. New World vultures are found in North and South America; Old World vultures are found in Europe, Africa and Asia, meaning that between the two groups, vultures are found on every continent except Australia and Antarctica.

A particular characteristic of many vultures is a bald head, devoid of normal feathers. This helps to keep the head clean when feeding. Research has shown that the bare skin may play an important role in thermoregulation.

A group of vultures is called a wake, committee, venue, kettle, or volt. The term kettle refers to vultures in flight, while committee, volt, and venue refer to vultures resting in trees. Wake is reserved for a group of vultures that are feeding. The word Geier (taken from the German language) does not have a precise meaning in ornithology; it is occasionally used to refer to a vulture in English, as in some poetry.

Vultures seldom attack healthy animals, but may kill the wounded or sick. When a carcass has too thick a hide for its beak to open, it waits for a larger scavenger to eat first. Vast numbers have been seen upon battlefields. They gorge themselves when prey is abundant, until their crop bulges, and sit, sleepy or half torpid, to digest their food. They do not carry food to their young in their claws, but disgorge it from the crop. These birds are of great value as scavengers, especially in hot regions. Vulture stomach acid is exceptionally corrosive, allowing them to safely digest putrid carcasses infected with Botulinum toxin, hog cholera, and anthrax bacteria that would be lethal to other scavengers. New World vultures often vomit when threatened or approached. Contrary to some accounts, they don't 'projectile vomit' on their attacker as a deliberate defense, but it does lighten their stomach load to make take-off easier, and the vomited meal residue may distract a predator, allowing the bird to escape. New World vultures also urinate straight down their legs; the uric acid kills bacteria accumulated from walking through carcasses, and also acts as evaporative cooling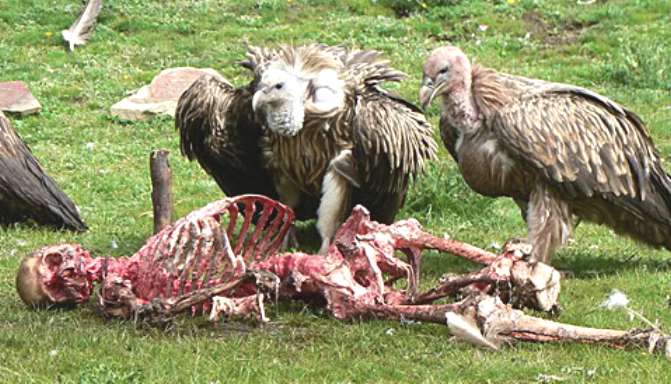 BIRD INDEX:
Bishop, Orange

Canary

Chaffinch

Chicken
Cockatoo

Cormorant
Crane, African Crowned
Crane
Crow

Cuckoo

Dodo
Dove
Duck

Eagle
Egret, Cattle
Emu

Falcon

Finch
Fishers Lovebird
Flamingo

Grebe
Goose

Hawk
Hornbill

House Martin
Ibis
Kite

Kingfisher

Kiwi

Kookaburra
Lapwings

Loon
Macaw

Mynah

Nightjar

Owl
Parrot

Partridge

Pelican

Penguin

Petrel

Pheasant
Pigeon

Quail

Robin

Seagull

Sparrow
Spoonbill

Starling

Stork

Swan

Swift
Toucan

Turkey
Vultures

Waders
Weaver

Woodcock

Woodpecker
Index to navigate Animal Kingdom:-
| | |
| --- | --- |
| | Such as frogs (class: Amphibia) |
| ANNELIDS | As in Earthworms (phyla: Annelida) |
| | Neanderthals, Homo Erectus (Extinct) |
| | Spiders (class: Arachnida) |
| | Such as Eagles, Albatross (class: Aves) |
| | |
| CRUSTACEANS | such as crabs (subphyla: Crustacea) |
| | Tyranosaurus Rex, Brontosaurus (Extinct) |
| ECHINODERMS | As in Starfish (phyla: Echinodermata) |
| | Sharks, Tuna (group: Pisces) |
| HUMANS - MAN | |
| | Ants, (subphyla: Uniramia class: Insecta) |
| | Which includes PLANTS non- animal life |
| | Warm blooded animals (class: Mammalia) |
| | Such as Kangaroos (order: Marsupialia) Koala Bear |
| MOLLUSKS | Such as octopus (phyla: Mollusca) |
| | Trees - |
| PRIMATES | Gorillas, Chimpanzees (order: Primates) |
| | As in Crocodiles, Snakes (class: Reptilia) |
| RODENTS | |
| SIMPLE LIFE FORMS | As in Amoeba, plankton (phyla: protozoa) |
A heartwarming adventure: Pirate whalers V Conservationists,
with an environmental message.
For release as an e-book in 2013 with hopes for a film in 2015 TBA
(graphic design: Martin House)