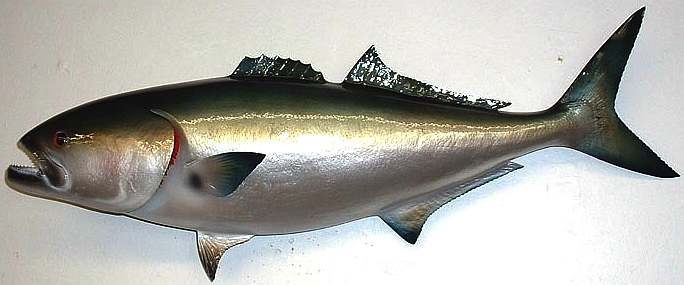 The bluefish (Pomatomus saltatrix) is the only extant species of the family Pomatomidae. It is a marine pelagic fish found around the world in temperate and sub-tropical waters, except for the Northern Pacific Ocean. Bluefish are known as tailor in Australia, shad on the east coast of South Africa, elf on the west coast, γοφάρι (gofari) or λουφάρι (loufari) in Modern Greek, and similarly, lüfer in Turkish and луфарь/lufar in Russian. Other common names are blue, chopper, and anchoa. It is good eating and a popular gamefish.

The bluefish is a moderately proportioned fish, with a broad, forked tail. The spiny first dorsal fin is normally folded back in a groove, as are its pectoral fins. Coloration is a grayish blue-green dorsally, fading to white on the lower sides and belly. Its single row of teeth in each jaw are uniform in size, knife-edged and sharp. Bluefish commonly range in size from seven-inch (18-cm) "snappers" to much larger, sometimes weighing as much as 40 pounds (18 kg), though fish heavier than 20 pounds (9 kg) are exceptional.


GEOGRAPHY

Bluefish are widely distributed around the world in tropical and subtropical waters. They are found in pelagic waters on much of the continental shelves along eastern America (though not between south Florida and northern South America), Africa, the Mediterranean and Black Seas (and during migration in between), Southeast Asia and Australia. They are found in a variety of coastal habitats: above the continental shelf, in energetic waters near surf beaches or by rock headlands. They also enter estuaries and inhabit brackish waters. Periodically, they leave the coasts and migrate in schools through open waters.

Along the U.S. east coast, bluefish are found off Florida in the winter months. By April, they have disappeared, heading north. By June, they may be found off Massachusetts; in years of high abundance, stragglers may be found as far north as Nova Scotia. By October, they leave New England waters, heading south (whereas some Bluefish, perhaps less migratory, are present in the Gulf of Mexico throughout the year). In a similar pattern overall, the economically significant population that spawns in Europe's Black Sea migrates South through Istanbul (Bosphorus, Sea of Marmara, Dardanelles, Aegean Sea) and on toward Turkey's Mediterranean coast in the autumn for the cold season. Along the South African coast and environs, movement patterns are roughly in parallel.



CONSERVATION

Bluefish is a highly sought-after sportfish (and restaurant fish in some places) that had been widely overfished across the world's fisheries of this species. Restrictions set forth by management organizations have somewhat helped the species' population stabilize. In the U.S., specifically along the seaboard of the middle Atlantic states, bluefish were at unhealthy levels in the late 1990s, but management resulted in this stocks being fully rebuilt by 2007 In other parts of the world, public awareness efforts like Bluefish festivals, combined with catch limits, may be having positive effects in reducing the stress on the regional stocks. Some of these efforts are regionally controversial.
POPULAR FISH:
Carp

Cealacanth

Cod

Dogfish

Flounder

Goldfish

Guppy

Haddock

Herring

Mackeral

Minnow

Monkfish

Pike

Puffer

Salmon

Sardine

Sea Angler

Skate

Sole

Sprat

Trout
Please use the Index below to navigate the Animal Kingdom:-
| | |
| --- | --- |
| AMPHIBIANS | Such as frogs (class: Amphibia) |
| ANNELIDS | As in Earthworms (phyla: Annelida) |
| | Neanderthals, Homo Erectus (Extinct) |
| | Spiders (class: Arachnida) |
| BIRDS | Such as Eagles, Albatross (class: Aves) |
| | |
| CRUSTACEANS | such as crabs (subphyla: Crustacea) |
| | Tyranosaurus Rex, Brontosaurus (Extinct) |
| ECHINODERMS | As in Starfish (phyla: Echinodermata) |
| | Sharks, Tuna (group: Pisces) |
| HUMANS - MAN | Homo Sapiens THE BRAIN |
| INSECTS | Ants, (subphyla: Uniramia class: Insecta) |
| | Which includes PLANTS non- animal life |
| | Warm blooded animals (class: Mammalia) |
| MARSUPIALS | Such as Kangaroos (order: Marsupialia) |
| MOLLUSKS | Such as octopus (phyla: Mollusca) |
| | Trees - |
| PRIMATES | Gorillas, Chimpanzees (order: Primates) |
| | As in Crocodiles, Snakes (class: Reptilia) |
| RODENTS | such as Rats, Mice (order: Rodentia) |
| SIMPLE LIFE FORMS | As in Amoeba, plankton (phyla: protozoa) |
LINKS
http://en.wikipedia.org/wiki/Piranha
http://en.wikipedia.org/wiki/Flying_fish
http://en.wikipedia.org/wiki/Barracuda
https://en.wikipedia.org/wiki/Manta_ray
http://en.wikipedia.org/wiki/Bluefish
http://en.wikipedia.org/wiki/Tuna