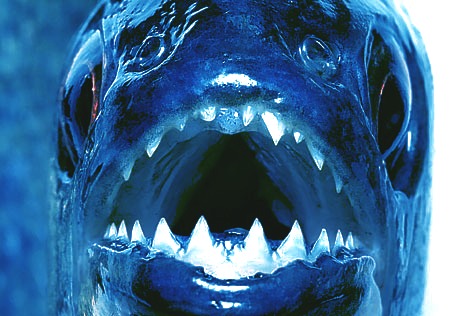 Piranhas are normally about 14 to 26 cm long (5.5 to 10.25 inches), although some specimens have been reported to be up to 43 cm (17.0 inches) in length.

Serrasalmus, Pristobrycon, Pygocentrus and Pygopristis are most easily recognized by their unique dentition. All piranhas have a single row of sharp teeth in both jaws; the teeth are tightly packed and interlocking (via small cusps) and are used for rapid puncture and shearing. Individual teeth are typically broadly triangular, pointed and blade-like (flat in profile). There is minor variation in the number of cusps; in most species, the teeth are tricuspid with a larger middle cusp which makes the individual teeth appear markedly triangular. The exception is Pygopristis, which has pentacuspid teeth and a middle cusp usually only slightly larger than the other cusps. In the scale-eating Catoprion, the shape of their teeth is markedly different and the premaxillary teeth are in two rows, as in most other serrasalmines.
The piranha or piraña is a member of family Characidae in order Characiformes, an omnivorous freshwater fish that inhabits South American rivers. In Venezuela, they are called caribes. They are known for their sharp teeth and a voracious appetite for meat.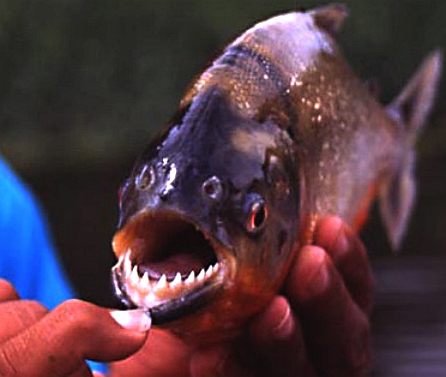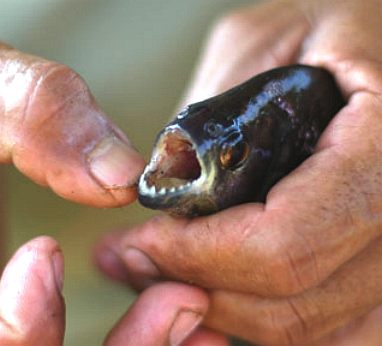 REPUTATION
There are various myths about piranhas such as how they can dilacerate a human body or cattle in seconds. These myths refer specifically to Pygocentrus nattereri, the red-bellied piranha. A recurrent myth is that they can be attracted by blood and are exclusive carnivores. A Brazilian myth called "piranha cattle" states that they sweep the rivers at high speed and attack the first of the cattle entering the water allowing the rest of the group to traverse the river. These myths were dismissed through research by Helder Queiroz and Anne Magurran and published on Biology Letters. Nevertheless, a study in Suriname found that piranhas may occasionally attack humans, particularly when water levels are low.
Attacks resulting in deaths are recurring in the Amazon basin. In 2011 a drunk eighteen-year-old man was attacked and killed in Rosario del Yata, Bolivia. In 2012, a five-year-old Brazilian girl was attacked and killed by a shoal of Pygocentrus nattereri. Some Brazilian rivers have warning signs about lethal piranhas. In 2011, in the Brazilian state of Piauí, there were brutal and recurring attacks resulting in one hundred people being injured. In the State of São Paulo another attack in the Tietê river resulted in 15 injured people. In the city of Palmas, Tocantins, 190 piranha attacks were reported in the first half of 2007. Biologists and experts warn that entering unknown rivers can be dangerous and fatal. Contrary to what many think, piranhas can be found in all regions of Brazil, including rivers, lakes, and coastal areas.
Films have often painted piranhas as aggressive, insatiable predators. An example of this perception in media appears in the 1967 James Bond film You Only Live Twice, where a piece of meat is shown being fed to pet piranhas owned by the film's main antagonist, Blofeld, then only a bone is raised from the water. Later on, a woman is thrown into the piranha pool, although all that is seen is water bubbling vigorously.

Piranha (1978) and Piranha II: The Spawning (1981) perpetuated the piranha's sinister image by showing murderous piranha fish biting and eating humans.

Piranha 3D (2010) is another Hollywood film, this time portraying the incident as starting with an under-water fault opening and allowing prehistoric piranha into a lake (versus an accidental addition as in the 1978 film).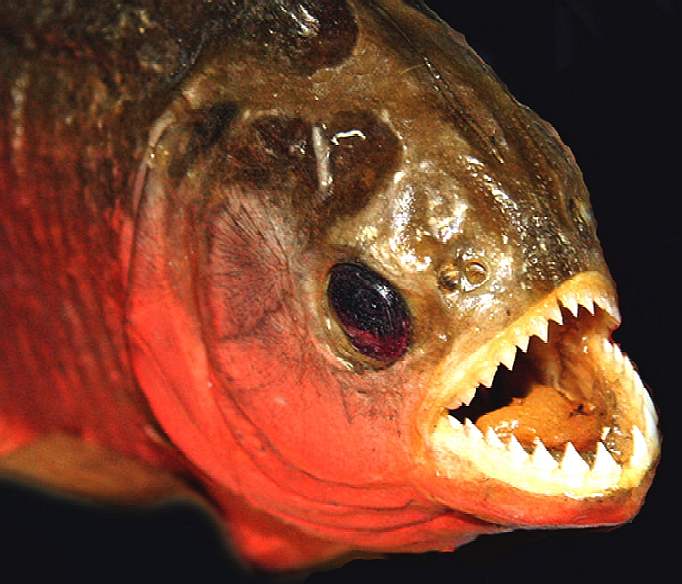 ECOLOGY
Piranhas are important ecological components of their native environments. Although largely restricted to lowland drainages, these fish are widespread and inhabit diverse habitats within both lotic and lentic environments. Some piranha species are abundant locally, and multiple species often occur together. As both predators and scavengers, piranhas influence the local distribution and composition of fish assemblages. Certain piranha species consume large quantities of seeds, but unlike the related Colossoma and Piaractus, herbivorous piranhas thoroughly masticate and entirely devour all seeds eaten and consequently do not function as dispersers.

Piranha have a reputation as ferocious predators that hunt their prey in schools. Recent research, however, which "started off with the premise that they school as a means of cooperative hunting", discovered that they are timid fish that schooled for protection from their own predators, such as cormorants, caimans, and dolphins. Piranhas are "basically like regular fish with large teeth".

Research on the species Serrasalmus aff. brandtii and Pygocentrus nattereri in Viana Lake, which is formed during the wet season when the Rio Pindare (a tributary of the Rio Mearim) floods, has shown that these species eat vegetable matter at some stages in their life; they are not strictly carnivorous fish.

Piranhas lay their eggs in pits dug during the breeding and swim around to protect them. Newly hatched young feed on zooplankton, and eventually move on to small fish once large enough.

POPULAR FISH:
Carp

Cealacanth

Cod

Dogfish

Flounder

Goldfish

Guppy

Haddock

Herring

Mackeral

Minnow

Monkfish

Pike

Puffer

Salmon

Sardine

Sea Angler

Skate

Sole

Sprat

Trout
Please use the Index below to navigate the Animal Kingdom:-
| | |
| --- | --- |
| AMPHIBIANS | Such as frogs (class: Amphibia) |
| ANNELIDS | As in Earthworms (phyla: Annelida) |
| | Neanderthals, Homo Erectus (Extinct) |
| | Spiders (class: Arachnida) |
| BIRDS | Such as Eagles, Albatross (class: Aves) |
| | |
| CRUSTACEANS | such as crabs (subphyla: Crustacea) |
| | Tyranosaurus Rex, Brontosaurus (Extinct) |
| ECHINODERMS | As in Starfish (phyla: Echinodermata) |
| | Sharks, Tuna (group: Pisces) |
| HUMANS - MAN | Homo Sapiens THE BRAIN |
| INSECTS | Ants, (subphyla: Uniramia class: Insecta) |
| | Which includes PLANTS non- animal life |
| | Warm blooded animals (class: Mammalia) |
| MARSUPIALS | Such as Kangaroos (order: Marsupialia) |
| MOLLUSKS | Such as octopus (phyla: Mollusca) |
| | Trees - |
| PRIMATES | Gorillas, Chimpanzees (order: Primates) |
| | As in Crocodiles, Snakes (class: Reptilia) |
| RODENTS | such as Rats, Mice (order: Rodentia) |
| SIMPLE LIFE FORMS | As in Amoeba, plankton (phyla: protozoa) |
LINKS
http://en.wikipedia.org/wiki/Piranha
http://en.wikipedia.org/wiki/Flying_fish
http://en.wikipedia.org/wiki/Barracuda
https://en.wikipedia.org/wiki/Manta_ray
http://en.wikipedia.org/wiki/Bluefish
http://en.wikipedia.org/wiki/Tuna