Donald Campbell died on Coniston Water in 1967 leaving behind a legacy hard to rival, to include this historic waterjet propelled 13ft (4m) fast runabout.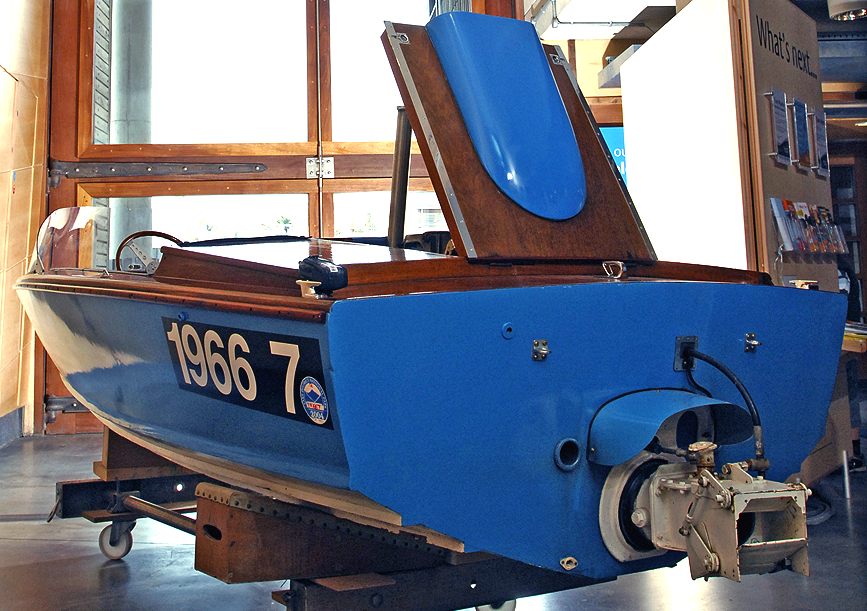 The wooden prototype Jetstar boat

HISTORY
The prototype craft Jetstar was conceived by Donald Campbell as a means of producing a pleasure boat that would reduce the risk of injury from normal propeller driven craft, by using water jet power.

During the 1966/67 world water speed record attempt, Campbell used the Jetstar as a personal runabout on Lake Coniston. He would take journalists for promotional trips, and entertain the crowds on days when Bluebird could not run. The team also used the boat to evaluate Bluebird at close quarters whilst under way.

Campbell had planned to promote the Jetstar alongside a world record-beating Bluebird at the 1967 London Boat Show. The show opened on 5th January - but on 4th January Bluebird crashed, and Campbell was killed.

After Donald Campbell's death, a fibreglass version of the Jetstar was produced by the Norris Brothers in moderate numbers, at a selling price of £1200, a much higher cost than an equivalent propeller driven boat.

The Jetstar hull was designed by Peter Milne. It is of cold moulded timber construction, fitted with an 80hp V4 Evinrude power head, installed on its side and linked to a Hamilton Jet-drive intake. From there it leads to the jet outlet, through which the flow of water is directed, with a system of flaps incorporated to control boat speed.
The smart and innovative little Jetstar with a blue hull and mahogany decks was intended to provide Donald Campbell with future financial security. Designed for families it had a top speed of 40mph, and used hydrojet technology rather than a propeller to make it safe for towing water-skiers. Most people think that the Jetstar makes a very appealing small motorboat.

After Campbell's death at Coniston the Norris brothers continued working on his design and a reasonably successful version of the boat reached the market, under the name Bluebird Marine. The original Jetstar remained with the brothers until Andy Stirland acquired her in 2003, and in that year she finally made it to the London Boat Show, being displayed on the Classic Boat Magazine stand. It is ironic that the day after his death Campbell had been due to attend the 1967 London Boat Show promote his new product.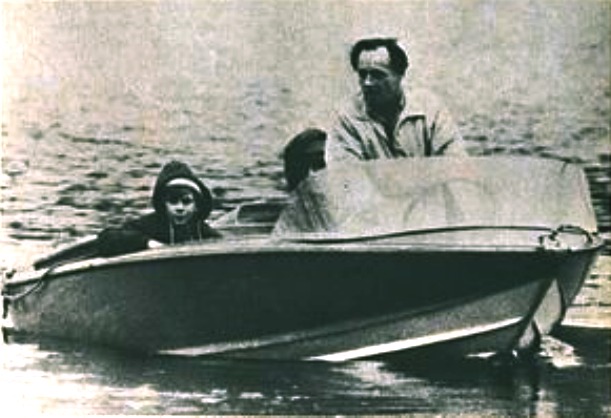 Donald Campbell in a Jetstar on Lake Coniston
ENTHUSIASTS
Leo Villa (his chief engineer and friend) produced a fibreglass version aimed at the family man for around £850, and was filmed being demonstrated on a lake in Essex by Pathe News (you can see and even purchase this clip using the links at the foot of this page).

The Jetstar was put into production by Bluebird Marine Limited between 1970 and 1980 by Gordon Thurkettle (another member of the Campbell team), and about 100 of these boats were built during this time. On demise of the company the moulds were sold on to BW Marine, Southwater, Horsham, Sussex. These moulds are now once again available to Bluebird Marine Limited for limited edition orders.
Alan R says that he worked with Gordon Thurkettle from 1970 to 1984 building the Jetstars. He confirms that the first boat was made of wood and powered by an Evinrude V4 75hp power head driving a dowty hamilton jet through an oil cooled right angle drive gearbox designed by the Norris Brothers who had designed both the Bluebird K7 boat and CN7 car for Donald Campbell with which he set both water and land speed records.

Bluebird Marine was funded by the Norris Brothers and Leo Villa was the general manager until he retired. The first production Jetstar was a 4 seat boat with a flat windscreen and powered by a 1500cc ford as the cross flow 1600 was not at that time available. The first 1600 used a mangoletsi marinisation with an oil cooler pipe through the sump.

1970 saw the deck change to give a wrapround windscreen. This boat became the Jetstar 400.and very little changed from then on. A cheaper 2 seat version mainly just for skiing was called the Jetstar 390. An alternative 2 litre BMW engine was offered giving 130 bhp. Changing the impellor to the coarse version gave 36 knots with an incredible amount of thrust - enough to easily pull up 2 deep water skiiers. Castoldi 04 jets were also used which raised the top speed to over 40 knots but with lower static thrust for pulling up skiiers. We also produced a 17' jetstar 520 which became the 525.This boat used the castoldi 05 jet,the most common being the 3 litre ford V6.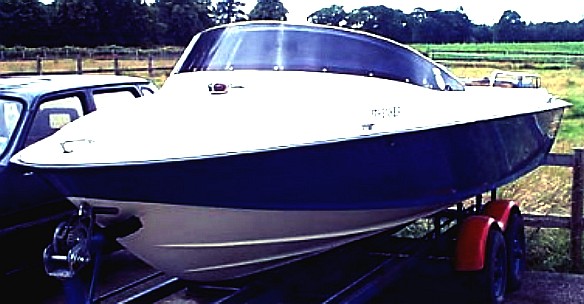 A later Jetstar 520
BLOGGS
Re: Jetstar boats - Reply #3 on: February 17, 2012, 12:32:12 pm by Alan R

Hi Mark. I assume you have the 3 litre V6 engine coupled to the 05 jet. This should give a top speed of 45 mph @ 5000 rpm with 29/37 gears fitted or 4800 rpm with 28/38 gears fitted. The standard nylon impellor is perfectly adequate for power up to 150 bhp so forget the s/s one. Check the impellor housing for wear because if there is a gap between the impellor blades (new) then static thrust is reduced making it harder for the boat to get on the plane. However 32 mph is very low even with a worn impellor and/or housing and I wonder if water has got under the floor sections and is adding a lot of weight to the hull. Try drilling a small hole through the side of the floor to see if any water comes out.

Check the reverse bucket is fully raised when going forward to get full thrust from the jet. Do you have the rack and pinion steering or is it the early cable and pulley system? Ensure the rudders turn easily by removing the tail housing assy and move the rudders by hand. It is possible corrosion has caused the delrin sleeves to tighten on the rudder shafts. The steering was never particularly light on the 05 but it should not be giving you problems.

Do you have any pics you can show me of the boat, engine and 05 jet? I should be able to give a year of manufacture.

Hope this helps.
Single seat helm in the wooden prototype Jetstar boat
BONHAMS AUCTION 2nd June 2007
2 p.m. London, New Bond Street
Sports Competition and Collectors' Motor Cars
Auction 15342 400
Jetstar: Donald Campbell's 'Bluebird K7' tender boat
Type: Bluebird Jetstar prototype runabout.

Length: 12ft.10in.(3.92m)

Beam: 5ft.10in.(1.78m)

Designed by Peter Milne and built at Hamble in 1966 of laminated mahogany ply, hard chine construction. Painted 'Bluebird' blue and white, with varnished decks.

Engine: Evinrude V4 80hp outboard power head & Hamilton jet drive, with modified propulsion head.

General arrangement:

Short foredeck, with curved acrylic windscreen to the open cockpit, central wheel steering with helmsman's bucket seat. Aft upholstered bench seat. Aft deck, with lifting cover to engine compartment. Inventory includes an extensive collection of original spares and archival documentation relating to the history of the vessel. Also includes an all-over cover and road trailer.

Guide Price Estimate:
UK £25,000 - 35,000
US $ 39,000 - 55,000
EU €29,000 - 41,000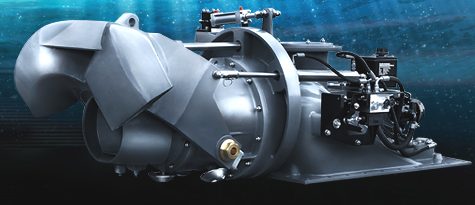 A modern production MJP waterjet - Source: Seawork 2013

Footnotes

During his last attempt in 1966/7 to raise his own water speed record still further, Donald Campbell was also looking to secure his own personal financial future with the production of a family sized runabout speedboat and had adopted the idea of utilising and enhancing water-jet propulsion for domestic pleasure boating. This was while he was the Director of Dowty Marine. Sir George Dowty had thrown in the towel on the concept and had branded the boat unreliable and costly. However, Donald recognized boat's potential over traditional outboard propellers and commissioned close friends and experts to take up the challenge:
* Peter Milne, renowned hull designer and then Editor of Yachts & Yachting magazine,
* Ken Norris, co-designer to K7 & CN7, and
* Leo Villa, life long friend and expert mechanic to Donald and his father, Sir Malcolm Campbell.
Donald's vision was to produce 5,000 boats a year, he was quoted as saying "I wish I could get half as excited over Bluebird and the record attempt as I am over Jetstar -".

Accompanying Donald and the team in order to gain support for the eventual build of the craft, 'Jetstar' clearly proved her worth and subsequently was taken to Coniston for further trials whilst undertaking the WWSR attempt in Bluebird K7. Well documented as having played an important part of the WWSR attempt, Donald took every opportunity to use 'Jetstar' on the lake when the conditions would not allow a record attempt or even just to take lucky visitors and journalists out for 'a spin'. Donald's team also used her to monitor K7 at close quarters whilst underway and as a general tender. The intention was then to take her along with K7 to the London Boat Show at Earls Court where clearly the publicity surrounding a new record of 300mph plus 'in the bag' would have been a remarkable marketing boost for the 'Jetstar' project.

Following Donald's untimely and tragic accident in K7 on Coniston, Ken Norris, Tonia Bern Campbell and Leo Villa went on to create 'Bluebird Marine' and set about continuing Donald's dream, going forward to create a number of further developed 'Jetstar' sports boats. However, these were of fibreglass (GRP) construction and did not carry the original characteristics of this, Donald's personal Jetstar. Apart from being the 'hand made' prototype that he extensively used, it carries the single seat helm position which offers a unique and exhilarating driving experience.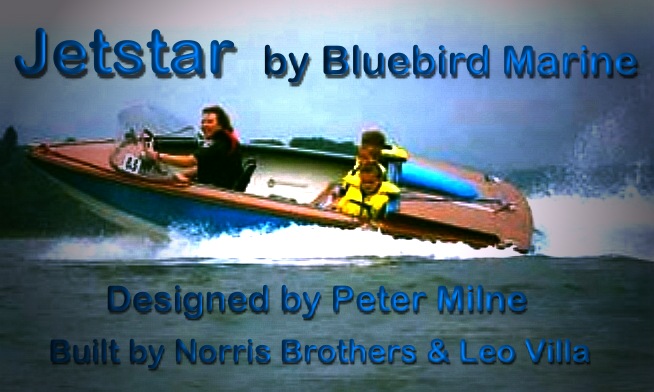 The wooden prototype Jetstar speedboat in action

This, the original and prototype 'Bluebird Jetstar' utilised the proven Hamilton Jet-drive water intake, where an impeller was powered by a V4 80hp Evinrude Outboard power head. Ken Norris produced a transmission to transfer the power to the Hamilton unit (Named by Donald as 'The Camjet Propulsion System') whilst at the stern, the water flow was directed again by a uniquely designed housing with hinged flaps diverting the water flow in the required direction (named by Donald as the BBVT or Bluebird Balanced Vector Thrust). This basic concept of water propulsion remaining very much in extensive use to this day.

At this auction 'Jetstar' was offered in running condition and retains the vast majority of her original features including seating, decks, mechanics, trim etc. having undergone only very basic maintenance and a sympathetic restoration in order to bring her back to her original 1966/7 'set up'. This work was undertaken by the current owner after acquiring the historically important craft direct from Ken Norris.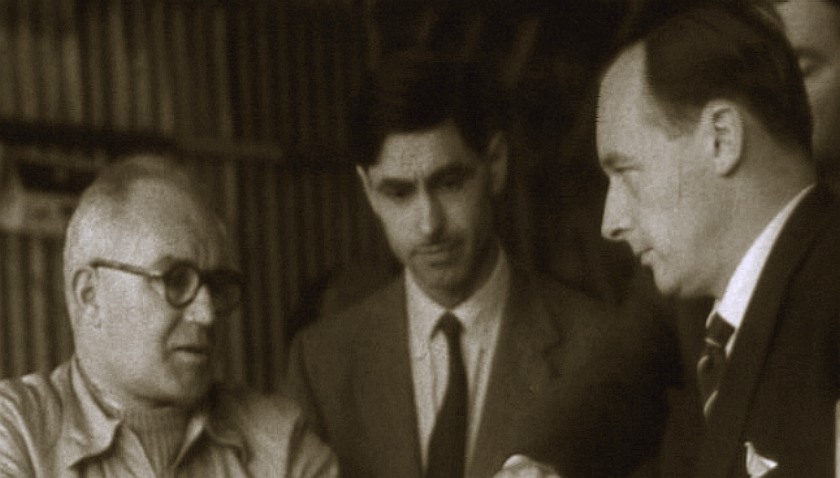 Leo Villa, Ken Norris and Donald Campbell in the boat shed discussing design details
'Jetstar' was last shown running at the Windermere Classic Boat Rally in 2004 and has since been kept in dry storage, then displayed earlier this year at 'The London Boat Show' and finally being placed on view at the National Maritime Museum, Falmouth, Cornwall, in recognition of her importance.
Prior to the current owner, 'Jetstar' was brought back to running condition in the 1980's by John Ackroyd (Team Manager, Thrust II) and then displayed for public view in the foyer of the Daily Express Newspaper HQ, Fleet Street, London on the 20th Anniversary of the tragic loss of Donald Campbell.

The name Donald Campbell is synonymous with the exceptional success in World Speed Record breaking on both Land and Water and his endeavour maintained a very 'British' way of doing things, securing a legendary place in our history.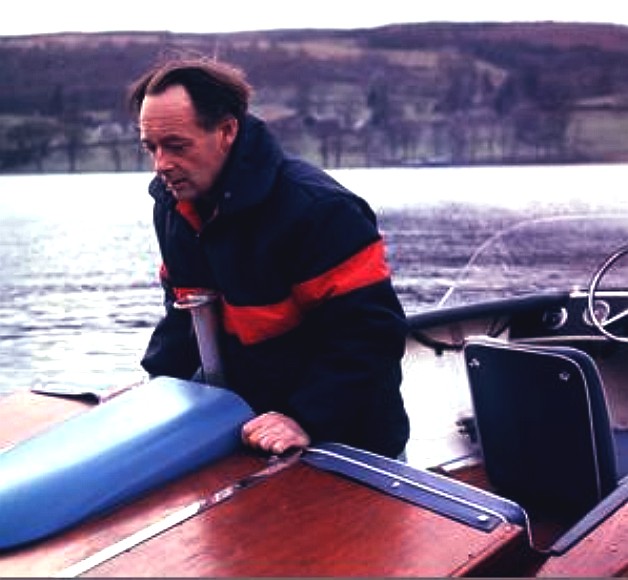 Donald Campbell in the prototype Jetstar
MOTOR BOAT & YACHTING March 2003
AUCTION: Bluebird Jetstar No 1 open to bids

Fri, 14 Mar 2003 Dominic Byers/Motor Boat and Yachting Be the first to comment
If you want a rare boat with an unusual history, then a boat conceived and owned by the late Donald Campbell could be yours - through eBay.co.uk

The first prototype Bluebird Marine Jetstar 1, which has a design speed of 34 knots, was driven by Campbell as his runabout before his untimely death. It was then lovingly restored in the early 1970s by Leo Villa, Campbell's mechanic. The Jetstar 1 had the first Dowty Hamilton drive unit, along with a much-improved steering system and a refinement of the original trim tab configuration.

If you want to join the list of prestigious pilots who have driven the boat including Leo Villa and Ken Norris, co-designer of the Bluebird K7 boat and CN7 car, then the 10-day auction on eBay.co.uk will begin on the 25 April with viewings by appointment.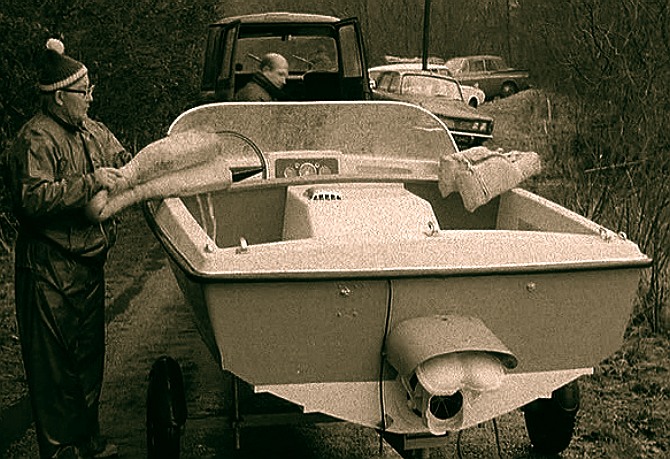 Leo Villa loads up a production Jetstar boat at a lake in Sussex
| | |
| --- | --- |
| Boat design principles - Youtube | Mannequin assembly - Youtube |
| Bordertown boatbuilders - Youtube | Tiki 26 in 180 days - Youtube |
LINKS:
http://www.marineclassics.co.uk/electric-boat.html
http://www.oldspeedboats.co.uk/forum/index.php?topic=1002.0
http://www.bonhams.com/auctions/15342/lot/400/
http://www.nzjetboating.com/yabbse/index.php?action=printpage;topic=7445.0
http://intheboatshed.net/2007/04/02/donald-campbells-jetstar-appears-at-the-nmm-cornwall/
http://www.cmba-uk.com/forum/viewtopic.php?f=6&t=2734
http://www.nmmc.co.uk/index.php?/collections/featured_boats/donald_campbells_bluebird_jetstar_1
http://www.mby.com/news/403537/bluebird-jetstar-no-1-open-to-bids
http://wck2.companieshouse.gov.uk/a5b1d497e0c57ed8ff9fe2b23ebcc7f2/compdetails
http://www.britishpathe.com/video/donald-campbell-speed-boat-aka-water-jet-propelled/query/Campbell