Fly Away Home is a 1996 film, directed by Carroll Ballard, about the daughter (Anna Paquin) of a widower (Jeff Daniels) who, with her father, leads a flock of geese from Canada to a wildlife refuge in the US.
The film was loosely based on the real-life experiences of Bill Lishman, a Canadian inventor, artist, and ultralight aircraft hobbyist. During the late 1980s and early 1990s, Lishman openly wondered if geese and similar birds could be taught new migration patterns by following ultralight aircraft onto which they had been imprinted. In 1993, after several years of logistical and bureaucratic setbacks, Lishman successfully led a flock of Canada Geese on a winter migration from Ontario, Canada to Northern Virginia, U.S.A. Of the sixteen birds that participated in the migration, thirteen returned to Ontario the following year - entirely on their own.
The project was called Operation Migration and was reported in Lishman's book, Father Goose: One Man, a Gaggle of Geese, and Their Real Life Incredible Journey South.
The film was at first titled "Flying Wild" while in production, but was changed to "Fly Away Home" just weeks before it release in movie theaters. The original trailer has the title "Flying Wild" and can be found on Columbia Tri-Star Jumanji VHS Tape.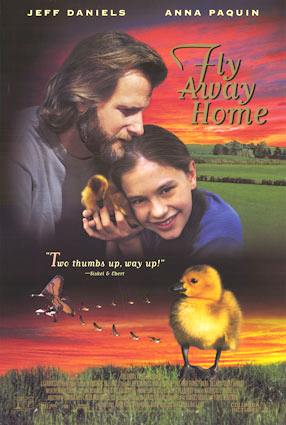 Fly Away Home dvd cover
Synopsis
At the beginning of the film, while riding in a car with her mother, Amy Alden, a young girl who is 13 years old, is in an accident that kills her mother. Her father Thomas Alden comes to New Zealand and brings her back to Canada a month after the accident. Understandably, Amy is still in shock, and is slow to warm to her father and her new life. Amy and her father have not seen or been in touch since Amy had left with her mother to live in New Zealand when she was 3 years old.
Thomas Alden is an artist, an inventor, and a naturalist. His intelligence is evidenced by the complex inventions and works of art and sculpture that lie around his house and property.
Amy sets off to explore her new surroundings on her own and adjust to her new life, stopping only sometimes -when she has to, it would seem- to attend school. Early one morning, a crew of construction vehicles comes along and destroys a place that has been the nesting area for Canadian wild geese. Amy goes out to investigate and finds a bunch of eggs that a nesting mother goose was forced to abandon. Amy rescues the eggs and incubates them. When she comes to check on the eggs,the goslings are hatched. As Amy is the first living thing they see, she is "imprinted" as their mother; thus they follow her everywhere from then on in the story.
Thomas consults with a game warden about how to feed and care for the geese. He does not know that in Canada, one of the game warden's job responsibilities is to clip the wings of any parentless migratory birds so that they can no longer take flight. Being flightless, there are fewer dangers and hazards for the birds themselves and others. The warden is unsuccessful and is thrown off the Alden property.
As the geese grow and mature it becomes obvious to Thomas, Amy, and all their friends that the birds must migrate or the game warden will return to clip their wings to keep them from ever flying. In the mean time, Thomas' brother David knows of an ornithologist in the United States who tells him about land in North Carolina where a bird sanctuary is. There is a catch however: birds have not lived at the sanctuary for a long time, and developers have expressed interest in the land. Unless birds are shown to be nesting in the area by November first of that year, the sanctuary will become the property of the developers.
David and Thomas agree that the land would be prime for the geese, and Thomas proposes a plan to get the Geese to follow him in a plane and he will fly south using an ultralight slow-moving aircraft, showing them the way to migrate. At first, his experiments to get the geese to follow him flying are not successful. Finally, Amy attempts to fly her father's ultralight plane, and the geese take off after her. Thomas gets a second ultralight craft and trains Amy on how to fly it. All is going according to plan until the night before the planned launch, the game warden comes while the Alden family is out, and takes the caged geese.
Thomas, his brother, and a mutual friend, Barry, enact a plan to free the geese, and to launch their flight plan. The geese are freed, and Thomas and Amy, flying in their planes, get the geese to follow them, flying over Lake Ontario and landing at the U.S. Niagara Air Force Base and almost get arrested. A news crew is alerted and Amy and her father become national news. On their journey south over the U.S. eastern seaboard they are supported, encouraged, fed and sheltered by approving citizens.
It is only a matter of time at the bird sanctuary location. A huge crowd of supporters has assembled and they stop the construction crew, which plans to start work so that the developers can claim the land ahead of the deadline. Then, when Amy and her father are nearly there, a piece of the wing on Thomas's plane breaks and he crash-lands in a corn field. Amy lands immediately to come to her father's aid. He is slightly injured and his plane is damaged by the landing, but he tells her that if they wait for help, it might be too late. He tells Amy they are so close to their destination and that she should go on without him there. He then hitches a ride while Amy flies the last leg of the journey on her own.
Thomas arrives at the sanctuary before Amy and requests that the crowd quiet down so they can listen for Amy and her plane. After a short amount of time, Amy's plane and the geese appear over a hill and are greeted enthusiastically by the crowd when she lands. The credits roll as additional footage plays in the background, showing the geese returning to the Alden farm.
| | |
| --- | --- |
| | Thomas "Tom" Alden |
| | Amy Alden |
| | Susan Barnes |
| | David Alden |
| | Barry Stickland |
| | DNR Officer |
| | Amy's Mother |
| | General |
| | Dr. Killian |
| | Developer |
| | Jackie |
| | Laura |
| | Older Girl |
| | Older Girl |
| | Teacher |
Quotes from the film
LINKS and REFERENCE
A - Z FILMS INDEX
A - Z ACTORS INDEX
---
A taste for adventure capitalists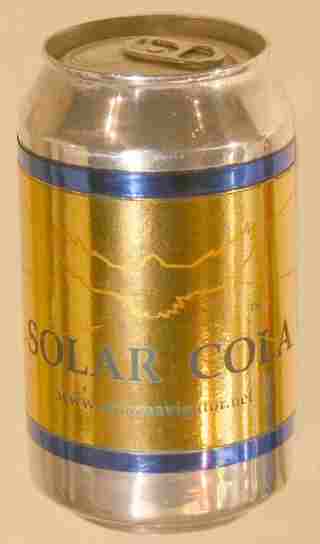 Solar Cola - a healthier alternative