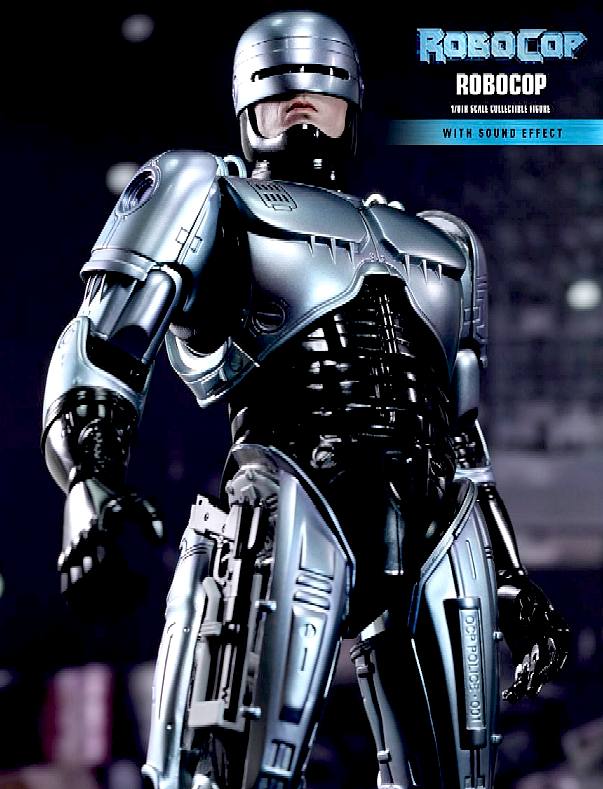 ALEX MURPHY - Robocop 1987 cost a mere $13m dollars to make and took over $53m at the domestic box office. The 2014 reboot did better worldwide than domestically with a total gross of $242m against its £100m budget – but was not particularly well received by the critics or by the audiences. The 2014 film received a 49% rating by Rotten Tomatoes against an 88% rating for the original. Sometimes classics should be left well alone, but in this case we think that the later film is in many respects better than the original, most especially on the technical quality.
The original RoboCop movie was absolutely superb is concept and execution as far as we are concerned. You are taken straight into the action such as to keep you entertained. The models of the robots are good for the time and the acting, mainly from lesser know actors is also of a high standard. It is hardly surprising then that the movie was a great success.
The sequels were not so good and reduced the impact of the original, mush the same as Jaws 2 and 3 were also pretty awful, until the 2014 remake, when finally they cast some A list actors and really got their act together with superb CGI, direction and artistic visualization.
RoboCop is a 1987 American cyberpunk action film directed by Paul Verhoeven and written by Edward Neumeier and Michael Miner. The film stars Peter Weller, Nancy Allen, Dan O'Herlihy, Kurtwood Smith, Miguel Ferrer, and Ronny Cox. Set in a crime-ridden Detroit, Michigan, in the near future, RoboCop centers on police officer Alex Murphy (Weller) who is brutally murdered by a gang of criminals and subsequently revived by the megacorporation Omni Consumer Products (OCP) as a superhuman cyborg law enforcer known as "RoboCop".

Themes that make up the basis of RoboCop include media influence, gentrification, corruption, authoritarianism, greed, privatization, capitalism, identity, dystopia, and human nature. It received positive reviews and was cited as one of the best films of 1987, spawning a franchise that included merchandise, two sequels, a television series, a remake, two animated TV series, a television mini-series, video games, and a number of comic book adaptations/crossovers. The film was produced for a relatively modest $13 million.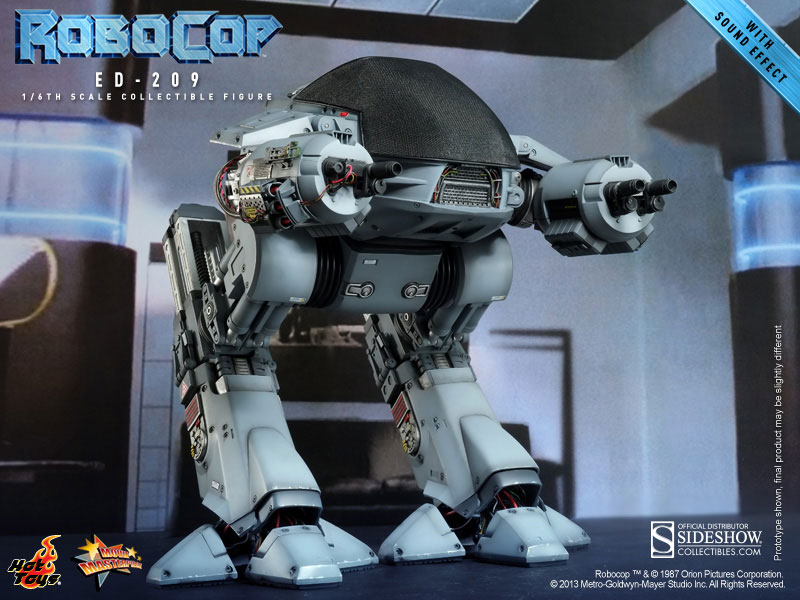 ED 209 - A toy version of the very popular droid that malfunctioned and killed an OCP executive. We think the design is rather good. It looks to us to be based on a bipedal dinosaur with muscular arms from a weight lifter, of course with the lower arms replaced by machine canons and rocket launchers. This stocky special effects art could be made to work. We are not sure about the feet that have more sideways balance than is needed and perhaps not enough fore and aft provision to compensate for the small pivot point area.
ROBOCOP (2) 2014

RoboCop is the 2014 American action film directed by José Padilha. It is a remake of the 1987 film of the same name and reboot of the RoboCop franchise. The film stars Joel Kinnaman in the title role, with Gary Oldman, Michael Keaton, Samuel L. Jackson, Abbie Cornish and Jackie Earle Haley in supporting roles.

Screen Gems first announced a remake in 2005, but it was halted one year later. Darren Aronofsky and David Self were originally assigned to direct and write the film, respectively, for a tentative 2010 release. The film was delayed numerous times, and Padilha signed on in 2011. In March 2012, Metro-Goldwyn-Mayer (successor company to Orion Pictures until September 11, 2014, the studio that released the original film) announced an August 2013 release, but that was then changed to February 2014. The principal characters were cast from March to July 2012. Principal photography began in September 2012 in Toronto and Vancouver in Canada, with additional locations in Hamilton, in Canada, and Detroit in the United States.

The film first premiered in Malaysia, Singapore and Taiwan on January 30, 2014. It was later released in the United States on February 12, 2014. The film received mixed reviews, with praise towards the performances, updates, style and political/media satire, but criticism for its lack of violence, social satire and humour compared to the original film. RoboCop grossed $242 million at the box office worldwide, making it the highest grossing film in the RoboCop franchise.
To our mind the 2014 movie is a masterpiece, made really special by the performances of Gary Oldman, Michael Keaton and Samuel L Jackson. The supporting cast is also well chosen, working together to give us a thrill a minute and really draw us into the action, such that you can almost believe the technology is real. That is of course what the fans want to believe - and this film delivers. The truth is that robots and cybernetics will one day be something like that we see.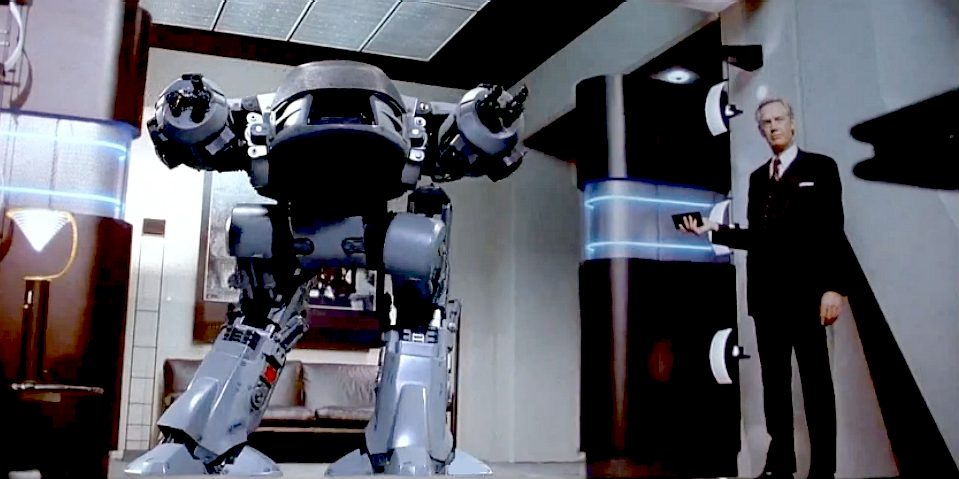 ED 209 - Dick Jones, the ambitious and ruthless head of Omni Consumer Products, who wants his baby to be the money maker for OCP despite the moral and legal implications.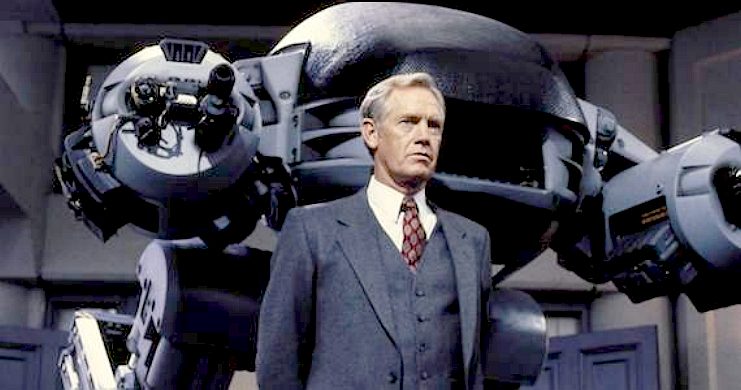 DICK JONES - Presents his robot project to the OCP board. Unfortunately for him the droid malfunctions, leaving the way clear for a rival project to go ahead - enter Alex Murphy and RoboCop.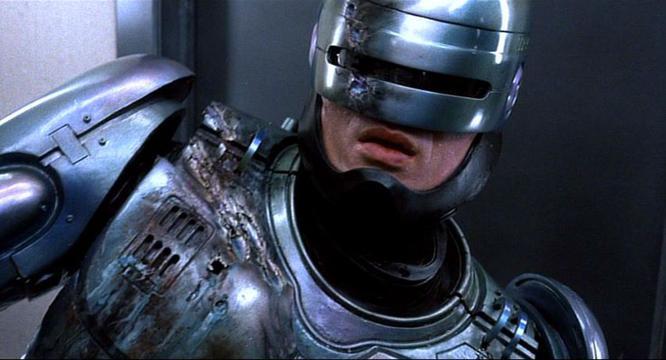 ALEX MURPHY - Robocop 1987 movie scene where Robocop is badly shot to bits by fellow officers and has a bad encounter with one of the ED 209 droids. Dick Jones does his best to eliminate RoboCop to regain his position as too dog in OCP.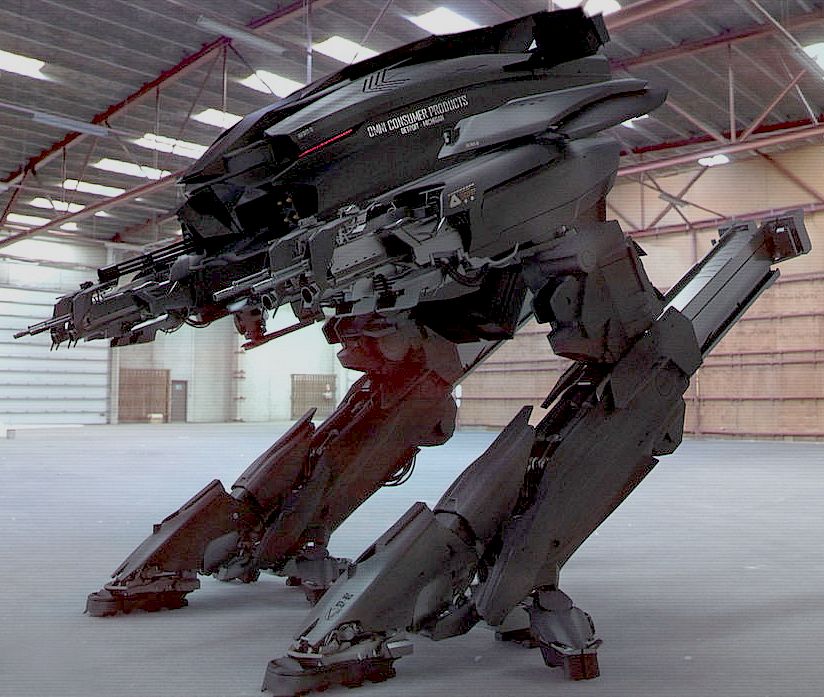 ED 209 - A revised version of the classic law enforcement droid. It looks as though the design brief has been given to an aircraft manufacturer.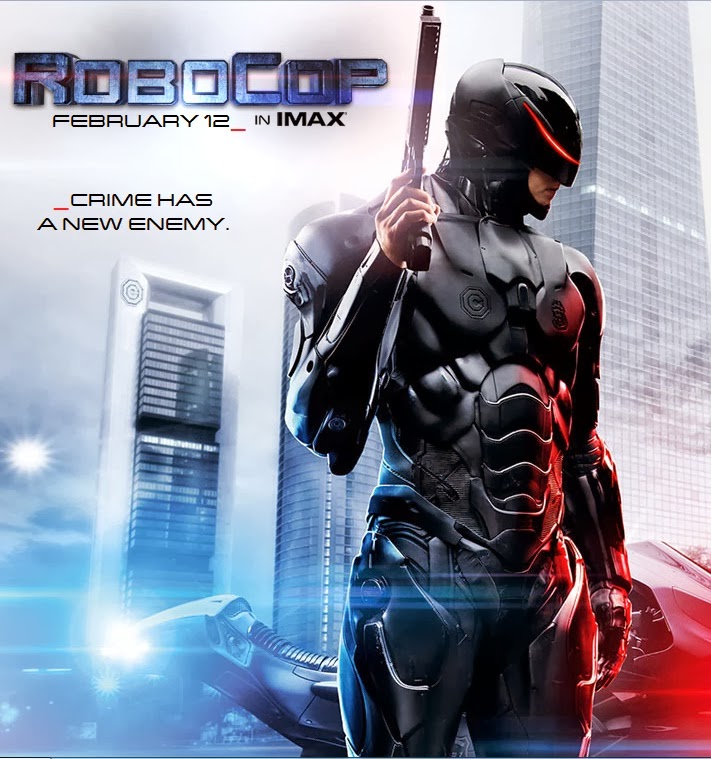 ROBOCOP - A revised version of the classic law enforcement cybernetic dream machine. We love it and we like the robots that Alex Murphy finally outperforms when he software is re-written to take out the thinking time of his human brain.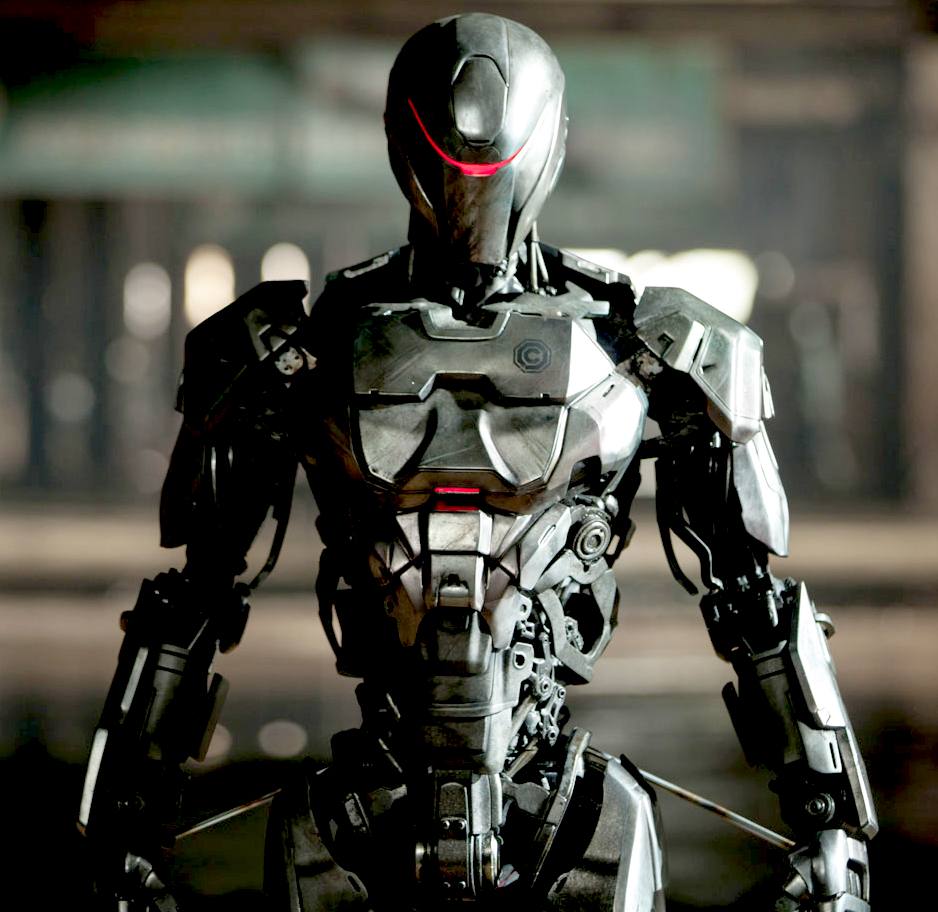 ED 209

The Enforcement Droid Series 209, or ED-209 (pronounced Ed Two O' Nine), is a fictional robot in the RoboCop franchise. The ED-209 serves as a heavily armed obstacle and foil for the series' titular character, as well as a source of comic relief due to its lack of intelligence and tendency towards clumsy malfunctions. For instance, during a boardroom demonstration by Dick Jones of ED-209's "disarm and arrest" procedure with a board executive named Kinney as the test subject, in which Kinney is given a pistol and told to point it at ED-209, ED-209 fails to recognize that Kinney has dropped his weapon and blasts him to death in over-the-top fashion with its automatic cannons. Later, it is shown that ED-209 cannot climb or descend stairs as it tumbles trying to chase RoboCop.

The ED-209 was designed by Craig Davies, who also built the full-size models, and animated by Phil Tippett, a veteran stop-motion animator. Davies and Tippett would go on to collaborate on many more projects. As one of the setpieces of the film, the ED-209's look and animated sequences were under the close supervision of director Paul Verhoeven, who sometimes acted out the robot's movements himself.

The ED-209 is featured in every RoboCop major motion picture, while it is missing from the series' direct-to-video releases and the television series (although an ED with a different model number is present).
LINKS

https://en.wikipedia.org/wiki/RoboCop_%282014_film%29

https://en.wikipedia.org/wiki/RoboCop

A - Z FILMS INDEX

A - Z ACTORS INDEX

Dermot Mulroney

Kristen Bell

Sam Worthington

Ted Danson