INTRODUCTION
Dan Hawk is an electronics guru. His favourite thing in all the world apart from building gadgets, is his Paris-Dakar off road Honda motorcycle upon which he off-roaded the outback of his native Australia, a lot of the time on one wheel, that was until he met John Storm and helped John to piece together the SolarNavigator boat, which he now maintains is the the ultimate in marine architecture and his position as first mate, to be the dream job of all time.
Dan's goal is to keep all the boat's system in peak operating condition and where improvements can be made, to custom develop the control systems, with John (a coded welder) fabricating the mechanicals.
Dan is also a keen sports game fisherman. He never misses an opportunity to tell about the one that got away, even though his catch history is legendary in the angling world, so that he hardly needs to add to folklore.
The pictures on this page are to provide actors an idea of the kind of portrayal film companies are likely to want. If you are an actor interested in playing this part, or if you are an agent representing an actor who may be interested, please contact Blueplanet Productions in confidence.
The part requires travel to exotic geographical locations and time at sea aboard a trimaran, diving in the oceans, etc.
CHARACTER

DESCRIPTION

A

CTOR

–

Adventurer

–

–

Electronics Wizard

–

–

Solicitor based in Sydney

–

–

Marine Biologist

–

–

Freelance Reporter

–

–

Camerawoman

–

–

Solar Racer, Starlight

–

–

BBC Newsnight Presenter

–

–

Sky News Editor

–

–

Editor

–

–

Captain Rainbow Warrior 4

–

–

Captain, Suzy Wong, Japanese whaling Boat

–

–

Captain, Jonah, Japanese whaling Boat

–

–

Japanese Black Market Boss

–

–

Pilot

–

–

Editor the Independent

–
NOVELIST INDEX A - Z
FILM PRODUCTION COMPANIES
Amblin Entertainment | Carolco | Castle Rock Entertainment
Columbia (Sony Entertainment) | DreamWorks | Metro Goldwyn Mayor
Miramax | Paramount (a Viacom company)
Pixar | RKO Pictures | Tristar Pictures | Twentieth Century Fox | United Artists
Universal Pictures | Walt Disney
DIRECTORS
TOP 25 DIRECTORS | GEORGE LUCAS | JAMES CAMERON | JERRY BRUCKHEIMER | STEVEN SPIELBERG
QUENTIN TARANTINO | GORE VERBINSKI | PETER JACKSON | PETER WEIR | MARTIN CAMPBELL
Humpback whale in trouble
A - Z FILMS INDEX
A - Z ACTORS INDEX
We are looking for a scriptwriter and a director to help turn this marine adventure into a 3D film, as part of the John Storm franchise. If you might be interested to come in on such a project at grass roots level please contact Blueplanet Netdirect Productions.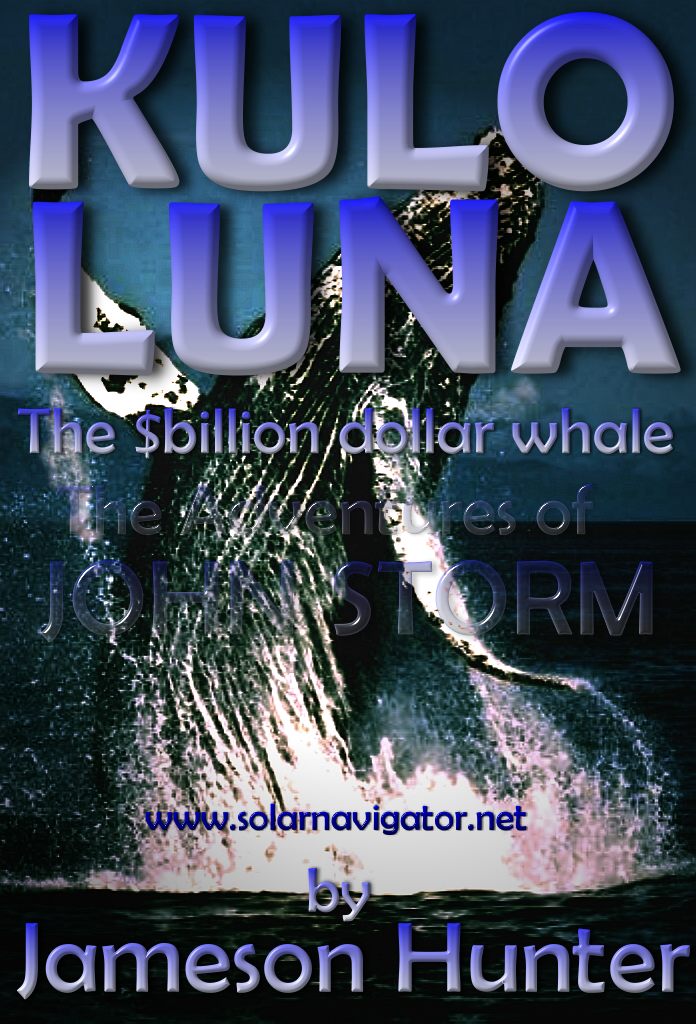 The story blend of fact and fiction is ideal adventure film material of the Moby Dick / Free Willy genre (Moby Dick was based on real whale attacks on whaling boats). FACT: A boat called Planet Solar completed the 1st solar powered circumnavigation in May of 2012 at an average speed of 2.36 knots (3mph) at a power to weight ratio of .99Kw/ton. The 32,100 mile voyage took just over 585 days (=72.63 miles/day). FACT: Solar Navigator (the real craft) has a power to weight ratio significantly more than 2Kw/ton and a superior hull-form such that it can produce turns of speed for film sequences.


Solar Cola - a taste for adventure