LONDON 3 JULY 2006 - PREMIERE
Actors Johnny Depp, Orlando Bloom and Keira Knightley have attended the European premiere of the Pirates of the Caribbean sequel in London.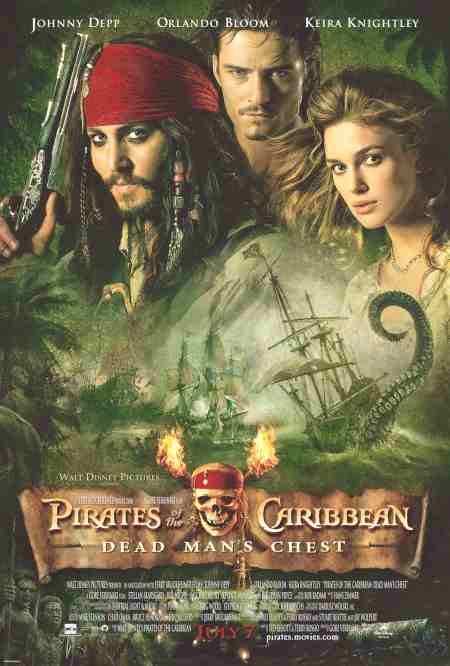 Hundreds of fans, who braved sweltering temperatures in London's Leicester Square, were rewarded with an hour-long walkabout by the film's stars. Dead Man's Chest, which opens in the UK later this week, reunites the cast of the hit 2003 original. It also stars British actors Jack Davenport and Bill Nighy.
Depp, who reprises his role as the Captain Jack Sparrow, wore a cream Fedora and shades to protect him from the sun. He was greeted by lines of screaming fans, some of whom had camped out overnight. Many dressed up as pirates and waved placards, while being sprayed by security guards with water to keep cool. Knightley, 21, who was wearing a bronze Gucci dress slashed to the navel, said it was "lovely" to be in London for the European premiere. "We had such a good response in the US, but I'm a London girl so it's always special to do a premiere here." Knightley said she was thrilled to be reprising the role of the aristocratic Elizabeth Swann - especially the challenge of doing many of her own stunts.
"I was desperate to have swordfights all the way through and they actually gave me one in the second film, but I don't think I was very good. I didn't get as many as I thought I would. "I really do love action and I think if you are doing an action film, you should do as much of the action yourself as possible." Kevin McNally, who plays Gibbs, said it was great fun working on the sequel. "Everyone on the movie was exactly the same as on the first one - it was really like coming back after school holidays," he said. "The camaraderie from the people who make the films comes over in the movies which makes them so sparkling." Dead Man's Chest - which follows on from 2003's Curse of the Black Pearl - sees Captain Jack Sparrow find out that he owes a blood debt to the legendary Davy Jones, Captain of the ghostly Flying Dutchman. Jack must find a way out of his debt or else be doomed to eternal damnation.
'Actor's dream'
Bill Nighy, who stars as the half-squid, half crab Davy Jones, said it was a great character to play. "He's a very seriously spooky guy, his job in the movie is to put the fear of God into everybody, notably Jack Sparrow," he said. "But I don't know why, when they were looking for a half-squid, half crab, my name came to mind. "I'm going to choose to take it as a compliment otherwise I would have to kill myself." The Office star McKenzie Crook, who played Ragetti in the first film, said it took "no convincing at all" for him to return to the part.
"It was great to be in the first one, and the chance to be in the trilogy is just an actor's dream," he said. "It's the sort of film that kids will watch over and over." But Crook refused to be drawn on what audiences can expect from the last film in the trilogy, which is due to be released next year. "My character ends up running off with Keira Knightley so there's a bit of romance... no, of course not. I can't say anything - I'd have to kill you." Producer Jerry Bruckheimer said the film was always designed to be a trilogy. "It's a continuation of a story and if you tell a good story people will come and see it." The third Pirates film, shot at the same time as Dead Man's Chest, will be released next year.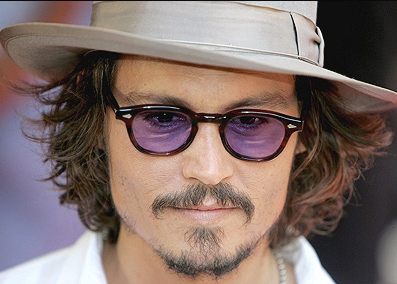 DEPP HAMS UP PIRATES SEQUEL
With the sequel to Pirates of the Caribbean having its London premiere on Monday evening ahead of its UK and US release this week, actor Johnny Depp talks about making the movie.
Talented actor he may be, but punctuality is not something Johnny Depp is famous for. As I, and several other reporters, waited at a posh Beverly Hills hotel to interview the star of Pirates of the Caribbean: Dead Man's Chest, we were told he had gone to lunch and would be back in his own time. More than two hours late, Depp finally burst in, clearly oblivious to the simmering unease in the hotel corridor where we were left to twiddle our thumbs. But the 43-year-old actor is the ultimate charmer.
Humorous
Casually dressed in his familiar grey hat, he smiled, hugged someone and was ushered into the interview room. We were ready for action. Because the day's schedule had gone hopelessly to pot, we were told that each reporter would have only three minutes with Depp. It would not be an in-depth interview. "You've got a big one," he quipped, as I sat down with a rather large 'gun' microphone, to prepare for our brief chat. It broke the ice. We joked for a second or two and then got down to business.
In Dead Man's Chest, Depp returns as captain Jack Sparrow, the lovable rogue of the high seas who sets sail for another rollercoaster of an adventure. The original film, Pirates of the Caribbean: Curse of the Black Pearl, was a huge hit in 2003 - despite what studio executives feared was an overly hammed-up performance by the actor, as the camp pirate with a tendency to mince around the deck. Depp says he never had any doubt over his portrayal of the character. "I don't think it's changed very much from my perspective since the second that he came to life around me. He's pretty much the same guy. This time we get to see a little bit of a slightly different angle on him," he says.
Free reign
The studio's concerns over Depp's unconventional performance melted away as the movie took the box office by storm. "They were nervous and I guess in some way rightfully so, because they had a rather large investment in the film. "And here I came in prancing around, doing the weirdness that I was doing and scared them, but now they're a bit more understanding." Does that feel good?
"It does feel good to be able to win that battle with the studio, because the whole thing was, 'You've hired me to do this job, this is my area of my work and you're meddling in it and it's uncomfortable.'" Bill Nighy, who plays Davy Jones, Jack Sparrow's arch nemesis in Dead Man's Chest, believes Depp deserves high praise for moulding his character's personality. "It wouldn't have occurred to anyone else but Johnny to play this part in this particular way, to deliver it in this fashion, it's so original and so witty," he says. "I think he brings a big-heartedness to it - he's an assassin in terms of comedy. It's a master-class technically speaking and he's imbued it with this wonderfully rascally, scampish, lovable sort of quality which is very generous and deeply funny." Orlando Bloom returns in the sequel as blacksmith Will Turner, still besotted with his childhood friend, Elizabeth Swan, played by Keira Knightley.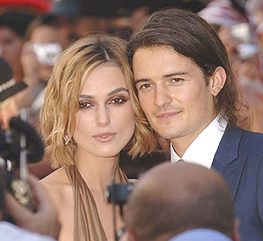 ACADEMY RECOGNITION
"He's really taken the movie to another level," Bloom says of Depp. "It certainly didn't read like that on the page for the first movie and I was wondering how I was going to play opposite him. "They were two swashbuckling pirates but he really created this fantastic character which left me to play the kind of straight guy, heroic pirate-type role which develops more in the second movie than from the first," adds Bloom.
Depp earned an Oscar nomination for his first outing as Jack Sparrow, but he would prefer it if the executives at Disney were still on tenterhooks. "You want to keep pushing and, not that I get any perverse enjoyment out of it, but I think that it's healthy to keep them a little nervous," he says. Early reviews for the film suggest the film-makers have nothing to worry about, with Dead Man's Chest expected to dominate the summer box office. The studio may be resting on its laurels for the time being, but a third Pirates movie is in the works and Depp has a twinkle in his eye. "If the studio's not nervous now, wait till Pirates 3," he says. "We've got some plans." Can you give me any hints? "No," he laughs, heartily.
SEXY SCOUNDREL
Depp scored his first Oscar nomination, as best actor. Despite Jack Sparrow's personal hygiene problems and Depp's own ragged appearance in real life, People magazine named him "the sexiest man alive" that year. For the first time, feral Johnny Depp was a bona fide superstar.
Two Pirates Of The Caribbean sequels promptly set sail. The first, Dead Man's Chest, opens Friday with a cliffhanger ending. The next one is due in summer of 2007. In concert with Dead Man's Chest, Pirates products are filling up store shelves. Jack Sparrow's face, with Depp flashing gold-capped teeth, is yo-ho-ho-ing on the sides of cereal boxes.
"I've still got a couple of failures under my belt," the still boyish-looking Depp, 43, says with a sly grin. His eyes twinkle as they peer out from under the wide brim of his aged Borsalino hat. He wears a funky necklace and wristband adornments. His left knee jumps out of the gaping hole in his distressed blue jeans. He wears a simple white T-shirt. The gold teeth are in place for the next phase of Pirates filming in August. He looks cool. He talks defiantly.
"It would have been nice to do that 20 years ago -- but I didn't," he says of scoring a megahit. "And it would have been nice to do that 10 years ago -- but I didn't." You get the idea quickly that, despite the success of Pirates and then the $475 million generated worldwide by his pal Tim Burton's Charlie And The Chocolate Factory remake, Depp wants to remain a maverick.
"The fact that Pirates did as well as it did and Charlie And The Chocolate Factory did as well as it did is kind of great," Depp says. "But it's not going to make me change my approach to the choices (I make) and to the work. I still do exactly the same thing that I always did. I just do my work." Nor does he really accept that his "career of failure" is actually a problem, or even a true failure. "All those movies that, by Hollywood definition or by industry definition, were failures, to me were great successes," Depp says of his pre-Pirates past. "All of them!"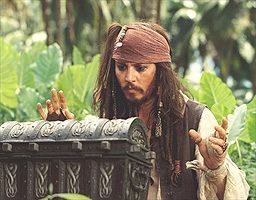 Pirates co-star Orlando Bloom says the most important lesson the veteran Depp taught him is: "It's about the experience." Bloom recounts a key conversation: "He said to me really early on, 'I've made a career out of making movies that are failures, or considered failures.' And, to me, he's had one of the most courageous, exciting, spontaneous careers to date. So, sometimes, you have to take the knock."
The "failed" films Depp is talking about comprise almost everything after his TV show 21 Jump Street, including Edward Scissorhands, Arizona Dream, Benny & Joon, What's Eating Gilbert Grape, Ed Wood, Don Juan DeMarco, Dead Man, Donnie Brasco, his own disastrous directorial debut The Brave, Fear And Loathing In Las Vegas, The Ninth Gate, The Astronaut's Wife, Sleepy Hollow, Before Night Falls, Chocolat, Blow and From Hell.
Some of those did reasonably well at the box office, some bombed. None of that matters to Depp and he does not plan to change his approach just to court more megahits. Nor position himself for more Oscar nominations, following the 2003 nom for Pirates and the 2004 nom for playing Peter Pan author-playwright J.M. Barrie in Finding Neverland. "I think there was a fluke misspelling," he says of having his name pop up in the Academy Award rolls for Pirates. "I think someone somewhere just counted wrong."
Depp flashes a smile. "I was very surprised," he says of the honour. "I'm still surprised. It was never anything I was striving for. It never, ever in the darkest, deepest recesses of my brain or heart (occurred to me) to go for that kind of thing. I never expected it, ever. So I was really surprised. It didn't make sense to me." Depp tries to explain why he has remained outside of the Hollywood mainstream, even though he prefers not to use the term "outsider" to describe himself. The story goes back to 21 Jump Street, when the Kentucky-born, Florida-raised Depp got his break as the sexy star of this youth-oriented series. He was sold as a stud, as a product. "Having been forced into the role of 'product' at that time was a real shocker," Depp says. "It was a very uncomfortable situation and I didn't get a handle on it and it wasn't on my terms at all."
He made a promise to himself that, "once I was out of that contract, this is the direction I'm going: I will only do those things that I feel are right for me and it's no one else's decision. I'm going to do that whether it works or fails miserably. That's why it was really surprising - and still is - that I was able to keep going, that I was able to keep getting jobs doing films and keep trying different things with these characters and stuff."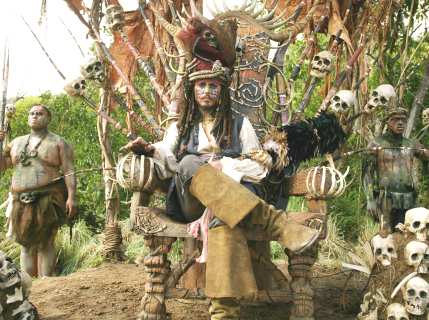 It is well known that, during production on the original Pirates, Disney executives -- including the now deposed Michael Eisner -- were freaked out because of how eccentric Depp chose to play Jack Sparrow. He teetered on land, like a man who spent his life balanced on the rolling deck of a ship. He drank, swore, whored, lied and played the coward if it suited his purposes. Depp says he was loosely inspired by a combination of Rolling Stones guitarist Keith Richards and cartoon character Pepe Le Pew. Eisner thought he was nuts.
Depp kept his job only because producer Jerry Bruckheimer, a man with real power in Hollywood, protected him, supporting the eccentric performance choices. Now, of course, it is not a problem. Critics, the public and the Academy loved what Depp did. Disney executives fell into line. "I think they got used to his performance," Bruckheimer says dryly now. "I think they were much more comfortable with the way we portrayed the characters once they saw success on the first one. So they embraced it."
Director Gore Verbinski figures it was no stretch for Depp to play the role the way he did in The Curse Of The Black Pearl and how he continues to do in Dead Man's Chest, with a little more desperation built in this time because of the story line. "I think this is the closest thing to who Johnny really is. It's the easiest thing for him." Depp, says Verbinski, is obviously not a traditional leading man. In the Pirates movies, "he gets to weave through the story in a Lee Marvin, Cat Ballou sort of style."
Depp says it was surprisingly easy to slide back into Jack Sparrow's skin for the sequel, despite the three years that had passed. Back on location in the Caribbean, when hurricanes did not force the production to evacuate, Depp felt secure. "It was funny, you know. Just simply going through that process again, going through makeup and hair and then buckling myself into the costume, it was like ... it just felt so natural, so normal, so right."
Depp, as he always is, was also generous to his fellow cast and crew members. Depp gives co-stars Bloom, Keira Knightley, Jonathan Pryce et al lots of the credit for the original movie's success, along with director Verbinski, producer Bruckheimer and writers Ted Elliott and Terry Rossio. As a character, Jack Sparrow also gives moments over to others in Dead Man's Chest, even though he could easily steal every scene.
"I don't know if it's me being so generous," Depp says humbly. "It was very important and all-around agreed that it shouldn't be the Captain Jack Sparrow thing. I think that really would have been the wrong way to go."
Gore Verbinski Produced by Jerry Bruckheimer

(WGA) - Ted Elliott (written by) & Terry Rossio (written by)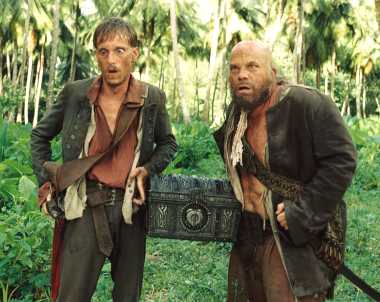 PLOT OUTLINE:
Jack Sparrow endeavors to settle a blood debt to Davey Jones, the infamous captain of the ghostly ship, the Flying Dutchman. Faced with a potential afterlife of servitude and damnation, Captain Sparrow also has the upcoming wedding of Will Turner (Bloom) and Elizabeth Swann (Knightley) to consider.
Legend has it that a tortured soul called Davy Jones lives beneath the sea, his still-beating broken heart locked away in a chest, and a terrible sea beast at his command. Unfortunately for the notorious pirate, Captain Jack Sparrow, this particular legend is very real. Years ago, Jack made a deal with Davy Jones, who is now expecting him to make good on his promise by handing himself over to Jones's servitude.
But Jack will not give in without a fight, which is especially bad news for Will Turner and Elizabeth Swann, who always seem to get caught up in Jack's mishaps. If Jack can't find a way to rid himself of Davy Jones once and for all, it may just spell the end for the three adventurers. Will Turner and Elizabeth Swann are arrested and sentenced to death unless Will can get Lord Beckett Jack's compass, who are then forced to join Jack on yet another misadventure.
Picking up where the first movie left off, Will Turner and Elizabeth Swan are to be married. However this is interrupted when both are arrested for aiding in the notorious Captain Jack Sparrow's escape. The new captain, Beckett, will lift all charges, if Will can hunt down Jack and bring him back to Beckett, along with his magic compass. However, Jack has other problems. Years ago, he made a deal with Davy Jones to raise the Black Pearl.
Time is up. His part of the deal was to give Davy Jones his soul. Once Will finds Jack, unaware of the current situation, Jack coaxes Will into boarding Davy Jones's ship, the Flying Dutchman, and retrieve a mysterious key. This key opens the chest that contains Davy Jones's broken, still-beating heart. With it, you can control Davy Jones and his fearsome beastie, The Kraken. Once Will retrieves said key, Davy Jones is hot on his trail, now hunting down both Jack and Will. It is now, only a matter of time, before something happens. Hopefully the pirates can reach the chest and stop Davy Jones, before he reaches them and sends them all to a watery grave...
Trivia:
For the films release, the Walt Disney Company had the Pirates of the Caribbean rides in Walt Disney World and Disneyland redesigned to feature captain Jack Sparrow, Barbossa, and an appearance by the films' supernatural character Davy Jones as part of the attraction and will be featured beginning on the film's opening day.


Goofs:
Continuity: When watching Will, Jack, and Norrington sword fight on the beach, Elizabeth's nose and cheeks are slightly sunburned. When back on the ship, they're only tanned, and no longer burned.


Quotes:

Elizabeth Swann: Why doesn't your compass work?
Jack Sparrow: ...My compass works just fine.
Jack Sparrow

Will Turner

Elizabeth Swann

Norrington

Davy Jones

Governor Weatherby Swann

Pintel

Ragetti

Gibbs

Cotton

Bootstrap Bill

Cutler Beckett

Tia Dalma

Marty

Captain Bellamy


Also Known As:

Pirates of the Caribbean 2 (USA) (working title)
MPAA: Rated PG-13 for intense sequences of adventure violence, including frightening images.
Runtime: 150 min
Country: USA
Language: Haitian / English / Turkish
Color: Color
Sound Mix: DTS / Dolby Digital / SDDS
Certification: USA:PG-13 (certificate #42793) / Switzerland:12 (canton of Vaud) / Switzerland:12 (canton of Geneva) / Finland:K-11 / Australia:M / Malaysia:U / Singapore:PG / Norway:11 / Philippines:PG-13 / UK:12A / Ireland:12A
LINKS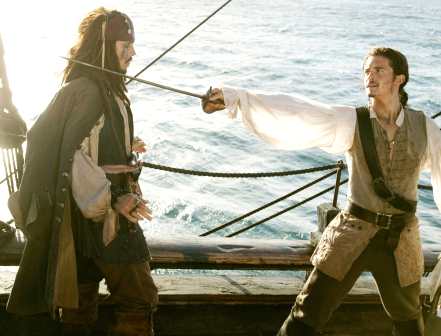 PIRATES OF THE CARIBBEAN | PIRATES OF THE CARIBBEAN LINKS | JOHNNY DEPP
ORLANDO BLOOM | AWARDS | VOLVO OCEAN RACE
DEAD MANS CHEST
A - Z FILMS INDEX

ANTI-PIRACY - See Bluebird Marine Systems at the Innovate UK exhibition in London, Old Billingsgate, between the 9th and 10th of November 2015. BMS will be exhibiting a model of their amazing SeaVax robot and explaining to visitors how the ship works full size.