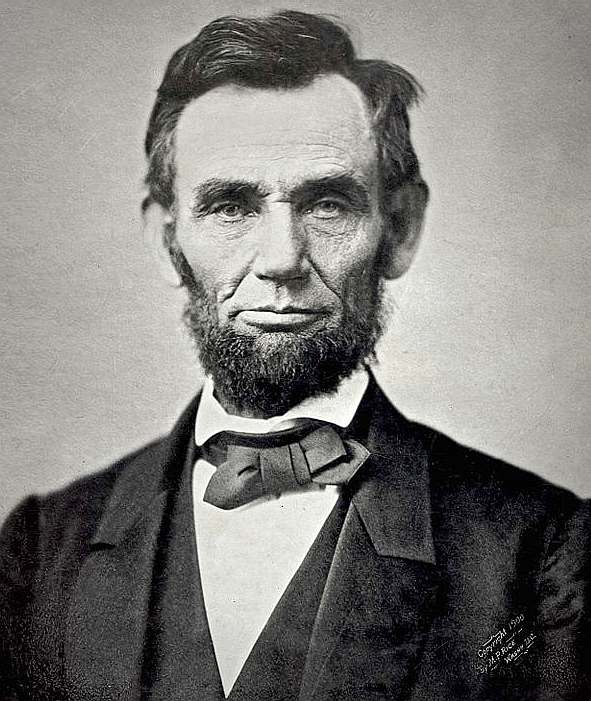 Abraham Lincoln - 16th President of the United State of America
Abraham Lincoln (February 12, 1809 – April 15, 1865) was the 16th president of the United States, serving from March 1861 until his assassination in April 1865. Lincoln led the United States through its Civil War - its bloodiest war and its greatest moral, constitutional and political crisis. In doing so, he preserved the Union, abolished slavery, strengthened the federal government, and modernized the economy. Reared in a poor family on the western frontier, Lincoln was a self-educated lawyer in Illinois, a Whig Party leader, state legislator during the 1830s, and a one-term member of the Congress during the 1840s. He promoted rapid modernization of the economy through banks, canals, railroads and tariffs to encourage the building of factories; he opposed the war with Mexico in 1846. After a series of highly publicized debates in 1858, during which Lincoln spoke out against the expansion of slavery, he lost the U.S. Senate race to his archrival, Democrat Stephen A. Douglas. Lincoln, a moderate from a swing state, secured the Republican Party presidential nomination in 1860. With very little support in the slave states, Lincoln swept the North and was elected president in 1860. His election prompted seven southern slave states to form the Confederacy before he took the office. No compromise or reconciliation was found regarding slavery.

When the North enthusiastically rallied behind the national flag after the Confederate attack on Fort Sumter on April 12, 1861, Lincoln concentrated on the military and political dimensions of the war effort. His goal was to reunite the nation. He suspended habeas corpus, arresting and temporarily detaining thousands of suspected secessionists in the border states without trial. Lincoln averted British intervention by defusing the Trent Affair in late 1861. His numerous complex moves toward ending slavery centered on the Emancipation Proclamation in 1863, using the Army to protect escaped slaves, encouraging the border states to outlaw slavery, and helping push through Congress the Thirteenth Amendment to the United States Constitution, which permanently outlawed slavery. Lincoln closely supervised the war effort, especially the selection of top generals, including commanding general Ulysses S. Grant. He made the major decisions on Union war strategy. Lincoln's Navy set up a naval blockade that shut down the South's normal trade, helped take control of Kentucky and Tennessee, and gained control of the Southern river system using gunboats. Lincoln tried repeatedly to capture the Confederate capital at Richmond; each time a general failed, Lincoln substituted another, until finally Grant succeeded in 1865.

An exceptionally astute politician deeply involved with power issues in each state, Lincoln reached out to "War Democrats" (who supported the North against the South), and managed his own re-election in the 1864 presidential election. As the leader of the moderate faction of the Republican party, Lincoln confronted Radical Republicans who demanded harsher treatment of the South, War Democrats who called for more compromise, antiwar Democratics called Copperheads who despised him, and irreconcilable secessionists who plotted his death. Politically, Lincoln fought back with patronage, by pitting his opponents against each other, and by appealing to the American people with his powers of oratory. His Gettysburg Address of 1863 became an iconic statement of America's dedication to the principles of nationalism, republicanism, equal rights, liberty, and democracy. Lincoln held a moderate view of Reconstruction, seeking to reunite the nation speedily through a policy of generous reconciliation in the face of lingering and bitter divisiveness. Six days after the surrender of Confederate commanding general Robert E. Lee, Lincoln was assassinated by John Wilkes Booth, a noted actor and Confederate sympathizer.

Lincoln has been consistently ranked both by scholars and the public as one of the greatest U.S. presidents.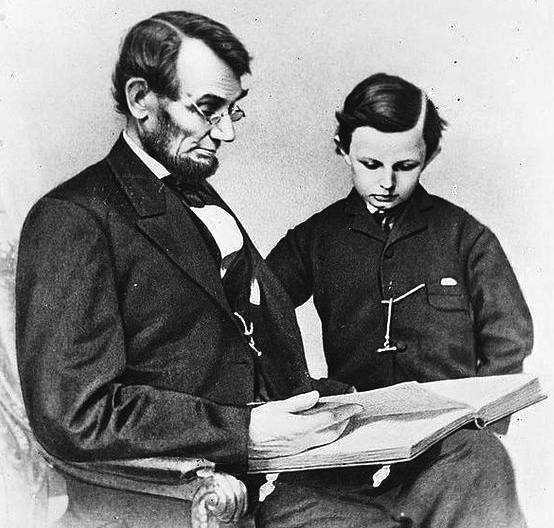 Abraham Lincoln teaching his son
BACKGROUND
The son of a Kentucky frontiersman, Abraham Lincoln had to struggle for a living and for learning. Five months before receiving his party's nomination for President, he sketched his life:

"I was born Feb. 12, 1809, in Hardin County, Kentucky. My parents were both born in Virginia, of undistinguished families--second families, perhaps I should say. My mother, who died in my tenth year, was of a family of the name of Hanks.... My father ... removed from Kentucky to ... Indiana, in my eighth year.... It was a wild region, with many bears and other wild animals still in the woods. There I grew up.... Of course when I came of age I did not know much. Still somehow, I could read, write, and cipher ... but that was all."

Lincoln made extraordinary efforts to attain knowledge while working on a farm, splitting rails for fences, and keeping store at New Salem, Illinois.

Lincoln was born in a log cabin in Hardin County, Kentucky to Thomas Lincoln and Nancy Hanks Lincoln. Thomas was a strong and determined pioneer who found a moderate level of prosperity and was well respected in the community. The couple had two other children: Abraham's older sister Sarah and younger brother Thomas, who died in infancy. Due to a land dispute, the Lincolns were forced to move from Kentucky to Perry County, Indiana in 1817, where the family "squatted" on public land to scrape out a living in a crude shelter, hunting game and farming a small plot. Thomas was eventually able to buy the land.
EARLY CAREER
In 1832, at age 23, Lincoln and a partner bought a small general store on credit in New Salem, Illinois. Although the economy was booming in the region, the business struggled and Lincoln eventually sold his share. That March he began his political career with his first campaign for the Illinois General Assembly. He had attained local popularity and could draw crowds as a natural raconteur in New Salem, though he lacked an education, powerful friends, and money, which may be why he lost. He advocated navigational improvements on the Sangamon River.

Before the election, Lincoln served as a captain in the Illinois Militia during the Black Hawk War. Following his return, Lincoln continued his campaign for the August 6 election for the Illinois General Assembly. At 6 feet 4 inches (193 cm), he was tall and "strong enough to intimidate any rival". At his first speech, when he saw a supporter in the crowd being attacked, Lincoln grabbed the assailant by his "neck and the seat of his trousers" and threw him. Lincoln finished eighth out of 13 candidates (the top four were elected), though he received 277 of the 300 votes cast in the New Salem precinct.

Lincoln served as New Salem's postmaster and later as county surveyor, all the while reading voraciously. He then decided to become a lawyer and began teaching himself law by reading Blackstone's Commentaries on the Laws of England and other law books. Of his learning method, Lincoln stated: "I studied with nobody". His second campaign in 1834 was successful. He won election to the state legislature; though he ran as a Whig, many Democrats favored him over a more powerful Whig opponent.

Admitted to the bar in 1836, he moved to Springfield, Illinois, and began to practice law under John T. Stuart, Mary Todd's cousin. Lincoln became an able and successful lawyer with a reputation as a formidable adversary during cross-examinations and closing arguments. He partnered with Stephen T. Logan from 1841 until 1844, when he began his practice with William Herndon, whom Lincoln thought "a studious young man". He served four successive terms in the Illinois House of Representatives as a Whig representative from Sangamon County.

In the 1835–36 legislative session, he voted to expand suffrage to white males, whether landowners or not. He was known for his "free soil" stance of opposing both slavery and abolitionism. He first articulated this in 1837, saying, "[The] Institution of slavery is founded on both injustice and bad policy, but the promulgation of abolition doctrines tends rather to increase than abate its evils." His stance closely followed Henry Clay in supporting the American Colonization Society program of making the abolition of slavery practical by its advocation and helping the freed slaves to settle in Liberia in Africa.
CONGRESSMAN & LAWYER
In 1846, Lincoln was elected to the U.S. House of Representatives, where he served one two-year term.

Lincoln returned to practicing law in Springfield in 1848, handling "every kind of business that could come before a prairie lawyer". Twice a year for 16 years, 10 weeks at a time, he appeared in county seats in the midstate region when the county courts were in session. Lincoln handled many transportation cases in the midst of the nation's western expansion, particularly the conflicts arising from the operation of river barges under the many new railroad bridges. As a riverboat man, Lincoln initially favored those interests, but ultimately represented whoever hired him. In fact, he later represented a bridge company against a riverboat company in a landmark case involving a canal boat that sank after hitting a bridge.
In 1851, he represented the Alton & Sangamon Railroad in a dispute with one of its shareholders, James A. Barret, who had refused to pay the balance on his pledge to buy shares in the railroad on the grounds that the company had changed its original train route. Lincoln successfully argued that the railroad company was not bound by its original charter in existence at the time of Barret's pledge; the charter was amended in the public interest to provide a newer, superior, and less expensive route, and the corporation retained the right to demand Barret's payment. The decision by the Illinois Supreme Court has been cited by numerous other courts in the nation. Lincoln appeared before the Illinois Supreme Court in 175 cases, in 51 as sole counsel, of which 31 were decided in his favor. From 1853 to 1860, another of Lincoln's largest clients was the Illinois Central Railroad.

Lincoln's most notable criminal trial occurred in 1858 when he defended William "Duff" Armstrong, who was on trial for the murder of James Preston Metzker. The case is famous for Lincoln's use of a fact established by judicial notice in order to challenge the credibility of an eyewitness. After an opposing witness testified seeing the crime in the moonlight, Lincoln produced a Farmers' Almanac showing the moon was at a low angle, drastically reducing visibility. Based on this evidence, Armstrong was acquitted.

Lincoln rarely raised objections in the courtroom; but in an 1859 case, where he defended a cousin, Peachy Harrison, who was accused of stabbing another to death, Lincoln angrily protested the judge's decision to exclude evidence favorable to his client. Instead of holding Lincoln in contempt of court as was expected, the judge, a Democrat, reversed his ruling, allowing the evidence and acquitting Harrison.
PATENT
In 1849, he received a patent for a flotation device for the movement of boats in shallow water. The idea was never commercialized, but Lincoln is the only president to hold a patent.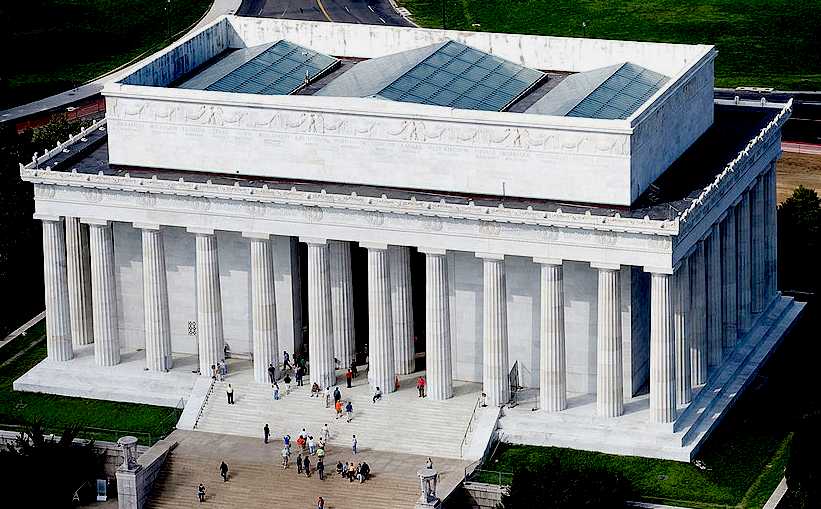 Abraham Lincoln - Memorial building, Washington DC
MEMORIALS

Lincoln's portrait appears on two denominations of United States currency, the penny and the $5 bill. His likeness also appears on many postage stamps and has been memorialized in many town, city, and county names, including the capital of Nebraska.

The most famous and most visited memorials are the Lincoln Memorial in Washington, D.C.; Lincoln's sculpture on Mount Rushmore; Ford's Theatre and Petersen House (where he died) in Washington and the Abraham Lincoln Presidential Library and Museum, located in Springfield, Illinois, not far from Lincoln's home and his tomb.

Barry Schwartz, a sociologist who has examined America's cultural memory, argues that in the 1930s and 1940s, the memory of Abraham Lincoln was practically sacred and provided the nation with "a moral symbol inspiring and guiding American life". During the Great Depression, he argues, Lincoln served "as a means for seeing the world's disappointments, for making its sufferings not so much explicable as meaningful". Franklin D. Roosevelt, preparing America for war, used the words of the Civil War president to clarify the threat posed by Germany and Japan. Americans asked, "What would Lincoln do?" However, he also finds that since World War II, Lincoln's symbolic power has lost relevance, and this "fading hero is symptomatic of fading confidence in national greatness". He suggested that postmodernism and multiculturalism have diluted greatness as a concept.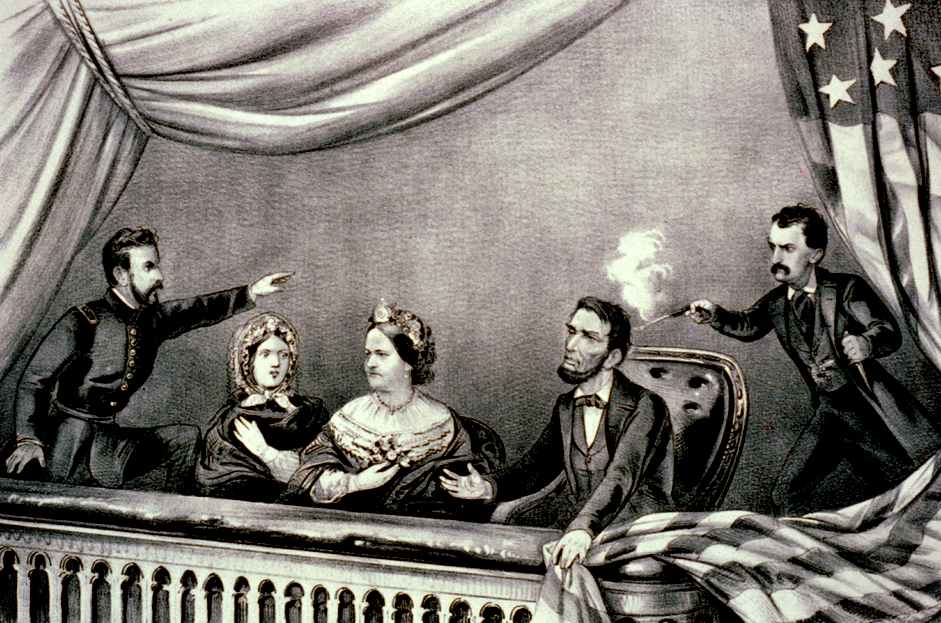 Abraham Lincoln - Assassination by John Wilkes Booth
LINKS
History US presidents Abraham Lincoln
Whitehouse presidents abraham lincoln
Wikipedia United_States_Congress
Wikipedia Republican_Party United_States
http://en.wikipedia.org/wiki/Republican_Party_%28United_States%29
http://www.senate.gov/
http://en.wikipedia.org/wiki/United_States_Congress
http://en.wikipedia.org/wiki/Abraham_Lincoln
http://www.history.com/topics/us-presidents/abraham-lincoln
http://www.historyplace.com/lincoln/
http://www.biography.com/people/abraham-lincoln-9382540
http://www.whitehouse.gov/about/presidents/abrahamlincoln
GENERAL HISTORY a - z