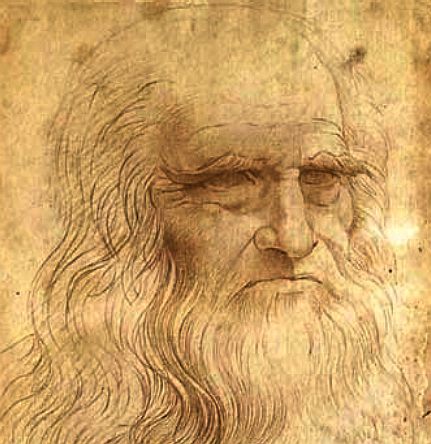 Leonardo da Vinci
Leonardo da Vinci was born on 15. April 1452, during the Renaissance period. It is thought the birth was in Anchiano, which is 3 km away from Vinci. The family of Leonardo had lived in this area since the 13th century.
Leonardo's father, Ser Piero, was a 25 years old public notary. In the same year when Leonardo was born Ser Piero married his first wife. He didn't marry the mother of Leonardo, it is thought this was because she was a daughter of a farmer. Leonardo's mother was called Catarina. Her first name is all that we know today.
Leonardo da Vinci trained as a painter during the Renaissance and became a true master of the craft. His amazing powers of observation and skill as an illustrator enabled him to notice and recreate the effects he saw in nature, and added a special liveliness to his portraits. Curious as well as observant, he constantly tried to explain what he saw, and described many experiments to test his ideas. Because he wrote down and sketched so many of his observations in his notebooks, we know that he was among the very first to take a scientific approach towards understanding how our world works and how we see it.
Mona Lisa del Gioconda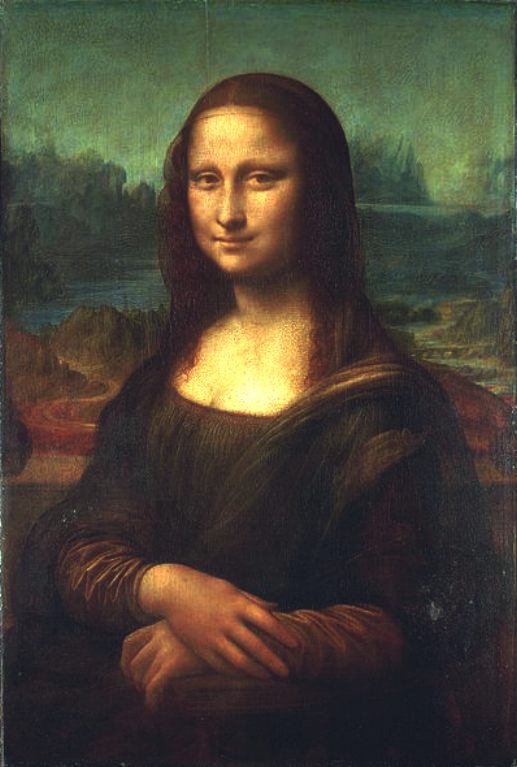 The Mona Lisa
The portrait full of mystery and secrets is painted on poplar wood measuring 77x53 cm. It is the most famous work of Leonardo da Vinci. Originally the painting was larger than today, because two columns, one on the left the other one on the right side of Mona Lisa, have been cut. That is the reason why it is not easy to recognize that Mona Lisa is sitting on a terrace.
It is also mentionable that many details are not visible today, because they are partially damaged and some parts of Mona Lisa are painted over. However the characteristic of the famous painting is still existing.
The characteristic consists in the detailed background which disappears in the misty atmosphere (this is called "sfumato" technique), the perfect portrayed Mona Lisa and of course her hypnotically smile.
It is supposed, that Francesco di Bartolommeo di Zanobi del Giocondo, one of the noblest citizen of Florence, ordered from Leonardo a portrait of his third wife Lisa di Antonio Maria di Noldo Gherardini. Leonardo started to work at this painting in 1503. At this time Mona Lisa was twenty-four years old.
He worked at the portrait for the next four years. When Leonardo left Florence in 1507 he did not sell the painting to the customer but kept it for himself. Several believe, that Leonardo did not hand over the painting, because he did not finish the work, others believe that Leonardo loved the painting, or perhaps the subject too much.
Leonardo da Vinci arrived with the painting in his baggage in France in the year 1516. Leonardo sold the painting in France to King Francis I., who bought it for the castle in Amboise. In the following time Mona Lisa came to Fontainbleau, Paris, Versailles and then to the collection of Ludwig XIV. After the revolution in France the painting got a new home in the Louvre. Napoleon took it away from there and hung it up in his bedroom. When Napoleon was banished Mona Lisa returned into the great Louvre in Paris.
Leonardo's helicopter flying machine, sketch and museum exhibit
Leonardo's fascination with machines probably began during his boyhood. Some of his earliest sketches clearly show how various machine parts worked. As an apprentice in the studio of the artist Verrocchio, Leonardo observed and used a variety of machines. By studying them he gained practical knowledge about their design and structure.

Many ancient machines were in common use in Leonardo's time. For example, water wheels turned millstones to grind grain and Archimedes' screws lifted water from streams providing a ready supply for drinking and washing. Artists and craftsmen in Leonardo's time knew how to build and repair the familiar kinds of machines. The idea of inventing new kinds of machines, however, would not have occurred to them.

Leonardo developed a unique new attitude about machines. He reasoned that by understanding how each separate machine part worked, he could modify them and combine them in different ways to improve existing machines or create inventions no one had ever seen before. Leonardo set out to write the first systematic explanations of how machines work and how the elements of machines can be combined.

His tremendous talents as a illustrator allowed him to draw his mechanical ideas with exceptional clarity. Five hundred years after they were put on paper, many of his sketches can easily be used as blueprints to create perfect working models.
Leonardo's Head of Leda and Bianca Sforza's portrait
RECENT FIND
A portrait sold for just £14,000 is almost certainly a priceless piece by Leonardo Da Vinci, it has been claimed today. Oxford academic and art historian Martin Kemp says he is confident it is not a 19th Century German drawing as stated when it was sold in New York in 1998.

Professor Kemp has discovered a 500-year-old book in Poland with a missing page that he says contained the portrait before it was cut out.

The picture is called Head of a Young Girl in Profile to the Left and was auctioned at Christie's for $21,850. The female subject is believed to be Bianca Sforza, the daughter of Leonardo's patron Ludovico Sforza, the Duke of Milan.

It is now thought the portrait may be from a book specifically made to celebrate her marriage to Galeazzo Sanseverino, in 1496, and a volume has been found in Warsaw's national library. Professor Kemp has long been at the forefront of those who believe it is genuine, previously claiming that there is a fingerprint on the portrait belonging to Da Vinci and also that it is very similar to other work.
Professor Kemp is quoted as saying:-

'We can now be confident that the portrait portrays Bianca, in celebration of her marriage, and that Leonardo was the artist,' 'We knew it came from a book, you have the stitch holes and can see the knife cut. Finding it is a miracle in a way. I was amazed. 'When doing historical research on 500-year-old objects you hardly get the circle completed in this way.'

However, his claims have not been accepted by all. London's National Gallery is hosting a large Da Vinci exhibition next month and say there is 'no general agreement' that it is genuine.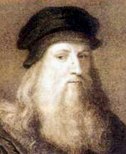 LINKS

http://www.dailymail.co.uk/Leonardo-Da-Vinci-drawing-sold-14k-priceless-expert-claims.html
Leonardo's Mysterious Machinery
Be Inventive!
Looking Through Leonardo's Eyes
Leonardo's Window
Using Leonardo's Window
Exploring Linear Perspective
Playing Around with Size and Distance
How Far? How Small?
Investigating Aerial Perspective
Causes of Aerial Perspective
INVENTORS A - Z
The ultimate Robot Boat. Solarnavigator uses an advanced SWASSH hull as the platform
to mount the world's first autonomous circumnavigation. A successful expedition could pave the way for improved safety at sea.