The 12.5 million euro Tūranor PlanetSolar, had to start somewhere. Below are some photographs of a scale model and computer generated images of the concept at various design stages. You can see that a number of changes took place for practicality. The wings are not curved on the final boat for example and do not tilt as shown by the models.
The conceptual stage, usually involves producing many models. Indeed, the model and concept shown on this page differ considerably in concept from the earlier trimaran design. As a designer myself, I find that I learn a great deal about the handling and sea-keeping qualities of a hull by making a large scale model and floating it in a test tank. From experience I can tell you that it's far better to experiment with models - far cheaper and less time consuming. Start with a small paper or cardboard model. If that works well, build a 1/20th or if you are brave, 1/10th scale model, which I would then take to radio control for open water testing.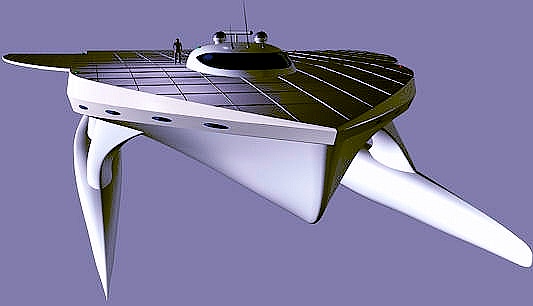 Tūranor PlanetSolar spreads her wings wide to capture the sun
The MS Tūranor PlanetSolar sailed almost 60'000 km across every ocean powered only by energy from nature. The conceptual designers and marine architects deserve praise for daring to take Raphaėl Domjan's dream to the next stage.
This magnificent boat (the full size one) entered the record books as the first electric boat to complete a (585 day) world circumnavigation. She arrived at the Hercule Harbour in Monaco on Friday the 4th of May at 2:15p.m.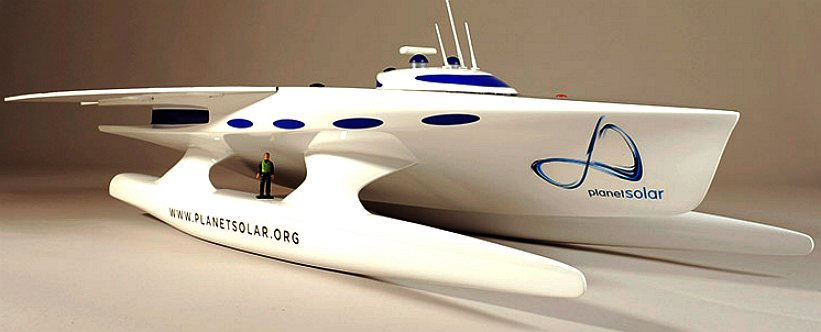 LINKS: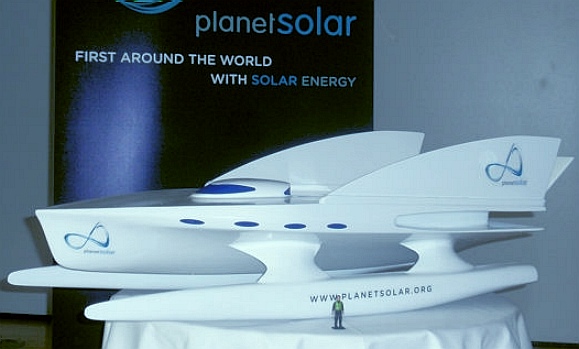 Tūranor PlanetSolar Swiss promotional development model
THE BOATS SPECIFICATIONS:
Switzerland
Name:
Tūranor PlanetSolar
Owner:
PlanetSolar SA
Builder:
Knierim Yachtbau, Kiel, Germany
Cost:
€12.5 million
Launched:
31 March 2010
General characteristics
Class and type:
Yacht
Displacement:
85 metric tons
Length:
31 m (35 m with flaps)
Beam:
15 m (23m with flaps)
Propulsion:
2 Permanent Magnet Synchronous Electrical Motors - 60kW each (max) @ 1600 rpm
2 Permanent Magnet Synchronous Electrical Motors - 10kW each (max) @ 1000 rpm
Speed:
max.: 14 knots (26 km/h)
cruising (est.): 7.5 knots (14 km/h)
Crew:
4
PlanetSolar is currently the biggest solar ship in the world (at 17-4-12). 537 m2 of photovoltaic panel power 6 blocks of lithium-ion batteries. This technology offers maximum power and energy density, thus enabling a navigation time that is unmatched to date!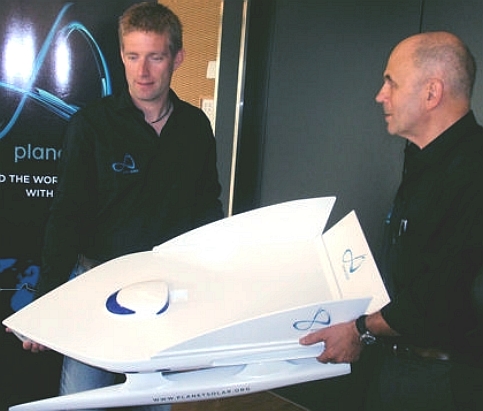 Raphael Domjan and Gerard d Aboville admire the development model of the Tūranor PlanetSolar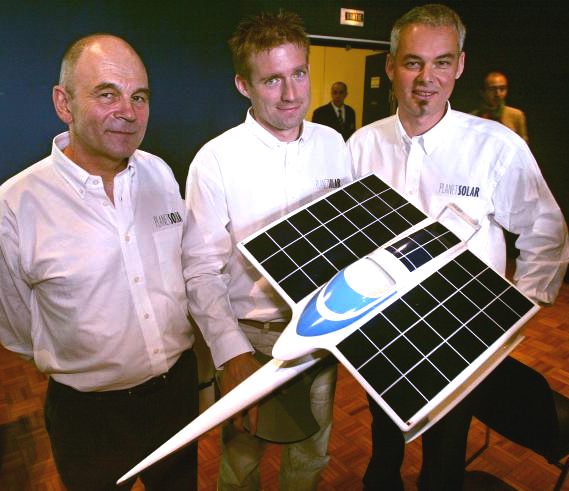 Gerard d Aboville and Raphael Domjan with the original PlanetSolar trimaran model design
Design concept - Construction - Raphael Domjan - PROMOTIONAL TOUR 2012
English - Swiss - French - History - Links - Homecoming
2013 Geneva University Deepwater Gulf Expedition
London - Paris - Rio de Janeiro - Gerard d'Arboville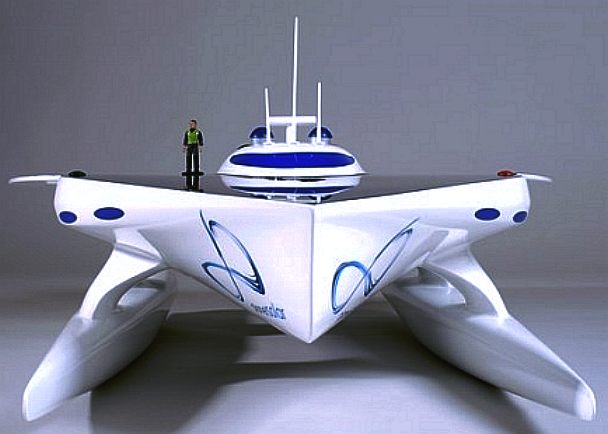 Tūranor PlanetSolar Swiss boat concept drawing of the hull underside & catamaran model topside
---
SOLAR BOAT LINKS -
The Solar Navigator - SWASSH (Small Waterplane Area Stabilized Single Hull) test model 2012
The latest Solarnavigator is designed to be capable of an autonomous world navigation set for an attempt
in 2015 is all goes according to schedule.
A taste for adventure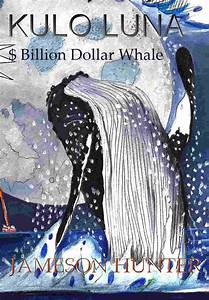 A heartwarming adventure: pirate whalers V conservationists