In our earlier articles on this magnificent vessel, we showed you the conceptual development through several small scale models until finally the team were faced with actually building the full size craft - a mammoth task - as this is the largest solar boat (@ 4-10-12) in the world.
So how does one go about building something this big? The video below gives you the answer to that. With some trepidation, a lot of planning and elbow grease.
The 12.5 million euro Tūranor PlanetSolar now holds four naval records:
the fastest crossing of the Atlantic ocean by solar boat (26 days 19 hours 10 minutes);

the longest distance ever covered by a solar electric vehicle;

the first circumnavigation achieved by solar craft (taking 1 year 7 months and 7 days);

and the fastest crossing of the south china sea by solar power (4 days 23 hours 45 minutes).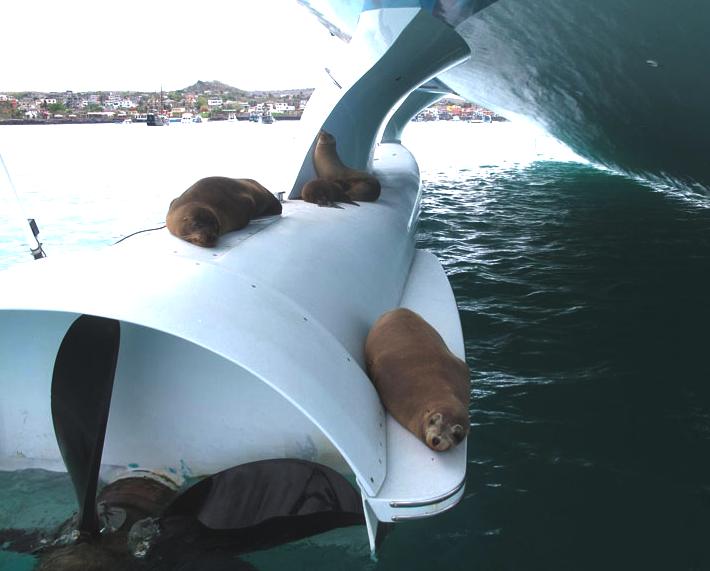 Tūranor PlanetSolar is loved by harbour seals
This magnificent boat (the full size one) entered the record books as the first electric boat to complete a (585 day) world circumnavigation. She arrived at the Hercule Harbour in Monaco on Friday the 4th of May at 2:15p.m.

Environmental heroes - the onboard crew of the PlanetSolar
LINKS:
THE BOATS SPECIFICATIONS:
Switzerland
Name:
Tūranor PlanetSolar
Owner:
PlanetSolar SA
Builder:
Knierim Yachtbau, Kiel, Germany
Cost:
€12.5 million
Launched:
31 March 2010
General characteristics
Class and type:
Yacht
Displacement:
85 metric tons
Length:
31 m (35 m with flaps)
Beam:
15 m (23m with flaps)
Propulsion:
2 Permanent Magnet Synchronous Electrical Motors - 60kW each (max) @ 1600 rpm
2 Permanent Magnet Synchronous Electrical Motors - 10kW each (max) @ 1000 rpm
Speed:
max.: 14 knots (26 km/h)
cruising (est.): 7.5 knots (14 km/h)
Crew:
4
PlanetSolar is currently the biggest solar ship in the world (at 17-4-12). 537 m2 of photovoltaic panel power 6 blocks of lithium-ion batteries. This technology offers maximum power and energy density, thus enabling a navigation time that is unmatched to date!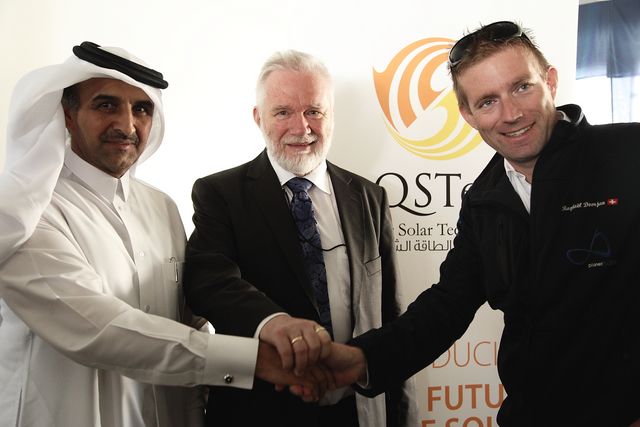 Dr Khalid, Immo Stoher and Raphael Domjan at the QST event in Quatar
Design concept - Raphael Domjan - PROMOTIONAL TOUR 2012
English - Swiss - French - History - Links - Homecoming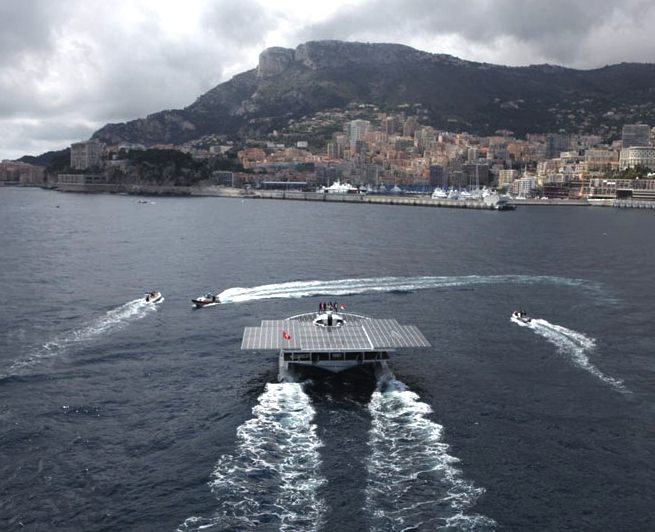 SOLAR BOAT LINKS -
A taste for adventure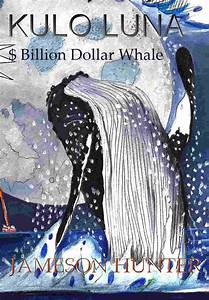 A heartwarming adventure: pirate whalers V conservationists