A supermarket or grocery store is a store that sells a wide variety of food. A supermarket is larger than and more than a grocery store. Most supermarkets also sell a variety of other household products that are consumed regularly, such as alcohol (where permitted), household cleaning products, medicine, clothes, and some sell a much wider range of non-food products. Supermarkets are often part of a chain that owns or controls (sometimes by franchise) other supermarkets located in the same or other towns; this increases the opportunities for economies of scale. In the United States, supermarket chains are often supplied from the distribution centers of a larger business.
Supermarkets usually offer products at low prices and they do this by reducing margins. Certain products (typically staples such as bread, milk and sugar) are often sold as loss leaders, that is, with negative margins. To maintain a profit, supermarkets attempt to make up for the low margins with a high overall volume of sales, and with sales of higher-margin items.
It could be argued that those families on a small budget are being subsidised by those buying luxury items, provided they buy only the staple or basic foods, which would otherwise be much higher.
Customers usually shop by putting their products into shopping carts (trolleys) or baskets (self-service) and pay for the products at the check-out. At present, many supermarket chains are trying to reduce labour costs further by shifting to self-service check-out machines, where a group of four or five machines is supervised by a single assistant.
A larger full-service supermarket combined with a department store is sometimes known as a hypermarket. Other services that supermarkets may have include cafés, creches, photo development, pharmacies, and/or gas stations.
History
Early retailers did not trust their customers. In many stores, all products had to be fetched by an assistant from high shelves on one side of a counter while the customers stood on the other side and pointed to what they wanted. Also, many foods did not come in the individually wrapped consumer-size packages taken for granted today, so a clerk had to measure out the precise amount desired by the consumer. These practices were obviously labor-intensive and therefore quite expensive.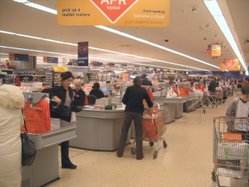 Supermarket check out
The concept of a self-service grocery store was developed by Clarence Saunders and his Piggly Wiggly stores. A&P was the most successful of the early chains in the United States, having become common in American cities in the 1920s. The general trend in retail since then has been to stack shelves at night and let the customers get their own goods and bring them to the front of the store to pay for them. Although there is a higher risk of shoplifting, the costs of appropriate security measures will be ideally outweighed by the economies of scale and reduced labor costs.
According to the Smithsonian Institution, the first true supermarket in the United States was opened by ex-Kroger employee Michael J. Cullen, on August 4, 1930, in a 6,000 square foot (560 m˛) former garage in Jamaica, Queens, New York. The store, King Kullen, following King Kong, operated under the slogan "Pile it high. Sell it low." When Cullen died in 1936, there were seventeen stores in operation.
Supermarkets proliferated in the United States along with suburban areas after World War II. Supermarkets in the USA are now often co-located with department stores in strip malls and are generally regional rather than national. Kroger is probably the closest thing in the U.S. to a national chain but has preserved most of its regional brands like Ralphs.
It was formerly common for supermarkets to give trading stamps. Today, most supermarkets issue store-specific "members cards," "club cards," or "loyalty cards" which are scanned at the register when the customer goes to check-out. Typically, several items are given special discounts if the credit card-like devices are used.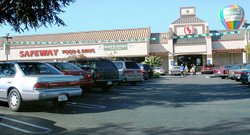 Typical American supermarket (Safeway)
In Britain, France and other European countries, the proliferation of out-of-town supermarkets has been blamed for the disappearance of smaller, local grocery stores and for increased dependency on the motor car (and the consequent traffic). In particular, some critics consider the practice of selling loss leaders to be anti-competitive, and are also wary of the negotiating power large retailers have with suppliers.
Today supermarkets face price competition from discount retailers such as Wal-Mart (non-union labor and greater buying power) and warehouse stores such as Costco (savings in bulk quantities).
Typical supermarket merchandise
Larger supermarkets in the United States typically sell many different types of items, such as:
Alcoholic products (where state and/or local laws allow; individual state control as to beer, wine, hard liquor, etc.)

Electrical items

Personal financial products (mortgages, credit cards, savings accounts, etc.)

Pet foods and products

Car care products

Baby foods and products

Beauty products (cosmetics)

Newspapers, books and magazines, including supermarket tabloids

Luggage

DVDs, CDs and videos

Breakfast cereals

Confectionery

Clothing and footwear

Dairy products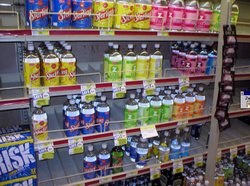 Soda in a Virginia supermarket
In other countries, the range of products is sometimes more narrowly focused on food products, although the ranges sold are broadening in many countries as average store sizes increase.
See also:
List of supermarkets for chains past and present
Self Serving Store Patent:
Further reading
William Greer, America the Bountiful: How the supermarket came to main street, Food Marketing Institute, 1986. ISBN 999925568X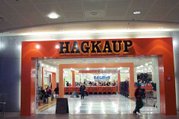 Hagkaup supermarket in Kópavogur, Iceland
A number of supermarket chains produce their own cola drinks which they display with some prominence. They also stock the leading brands. However, do they stock smaller label brands in the spirit of fair competition? Do they have a fair trade policy?
If you fancy trying a different cola, a cola with more in it, more healthy ingredients, a cola company that cares about the environment - that actually supports environmental projects, you're in luck. But does your supermarket stock Solar Cola yet? The finder table below tells you if these supermarkets have ordered Solar Cola and when delivery is due.
SUPERMARKET and RESTAURANT LINKS:
Aldi (discount supermarket chain) This site has links to the Aldi web sites in each country where they operate.
Aldi (UK) (discount supermarket chain) This UK site includes details of current weekly special offers (with an option to subscribe to a free email newsletter), store locations and new additions to the range of regular products. It also has links to Aldi web sites in Australia, Austria, Belgium, Denmark, France, Ireland, Luxembourg, Netherlands and the USA.
Alldays (UK convenience store chain)
Asda (UK supermarket chain) This UK supermarket chain was originally established by Associated Dairies (hence the name) but recently taken over by Wal-Mart.
Auchan (hypermarket chain)
This hypermarket chain based in France but also has a few stores in other countries, including the USA.
Big W (UK hypermarket chain) This chain, part of Woolworths, has a store layout and range of good similar to the US chains KMart, Pamida, ShopKo, Wal-Mart, etc.
Boots or Boots (UK retail chain) Originally a chemists, Boots now also sell a wide range of goods. Both URL's lead to the same content.
British Home Stores (BHS) (UK department store chain)
Budgens (UK supermarket chain)
Burger King (UK) - Includes a restaurant locator current special offers.
Carrefour (supermarket chain) This supermarket chain is based in France but also has a large number of stores in several other European countries and other parts of the world.
Co-Op Stores (UK) (UK retail chain) This site covers the UK Co-op's supermarkets and other shops. There are separate Co-op organisations in some other European countries.
CostCo (UK division of the US membership warehouse retail chain)
Debenhams or Debenhams (UK department store chain)
Both URL's lead to the same content.
Farmfoods (UK supermarket chain) This chain sells mainly but by no means exclusively frozen food.
Iceland (UK supermarket chain)
Harry Ramsden's Fish And Chips Includes details of menu items and locations.
John Lewis Partnership (UK department store chain)
Kaufhof (German department store chain)
Kentucky Fried Chicken (KFC) (UK) This site includes details of menu items.
Kwik Save (UK supermarket chain) A few years ago the Kwik Save chain was purchased by Somerfield.
Lidl (Germany) (European deep discount supermarket chain)
Lidl (UK) (European deep discount supermarket chain) Includes details of store locations, weekly specials, price reductions and a facility to subscribe to a weekly specials email newsletter.
Littlewoods (UK department store chain)
Londis (UK supermarket chain)
Makro (UK hypermarket chain) This chain is part of the German Metro group, a "cash and carry" for trade customers only. However, in practice it is very nearly a normal shop at normal proces.
Marks And Spencer (UK department store chain)
McDonald's (UK) - Fast food chain
Migros (Swiss supermarket/hypermarket chain)
Morrisons or Morrisons(UK supermarket chain)
Netto (UK) (discount supermarket chain) Includes details of locations and current special offers, and links to Netto sites in other countries featuring 'Smart Shopping'. By taking a no frills approach and cutting out all those unnecessary extras, we can offer you premium quality at the lowest prices in Britain. By only paying for what you want and nothing else we can give today's busy customer a different and fresh alternative to grocery shopping. And most importantly of all, save you time and money, every day of every week.
Poundland (UK discount retail chain) All items in Poundland shops cost Ł1.
QD Stores (UK discount retail chain)
Range, The (UK retail chain) This chain has a small number of large stores with a layout similar to K-Mart and Wal-Mart, but UK prices.
Safeway (UK supermarket chain) Most of Safeway's 479 supermarkets in Britain have now been acquired by Morrison's, hence may be re-branded.
Sainsbury's (UK supermarket chain)
Somerfield (UK supermarket chain)
WH Smith (UK retail chain) - WH Smiths sells books, magazines, stationary items.
Spar (UK) (European convenience store chain) - This is Spar's UK site.
Spar (International) - This site covers Spar's operations in all countries.
Subway (UK) - The Subway submarine sandwich chain has 150 locations in UK & Ireland
Superdrug (UK retail chain) Superdrug is primarily a chemist.
Tesco (UK supermarket chain)
Upim (Italian department store chain)
Waitrose (UK supermarket chain) Part of the John Lewis organisation.
Wimpy's (UK fast food restaurant chain) Includes details of menu items and a restaurant locator, but no prices.
groceteria.com - supermarket history and architecture from the 1920s to the 1970s
Scrambling for customers, 4 Aug 2005, San Francisco Chronicle
A taste for adventure capitalists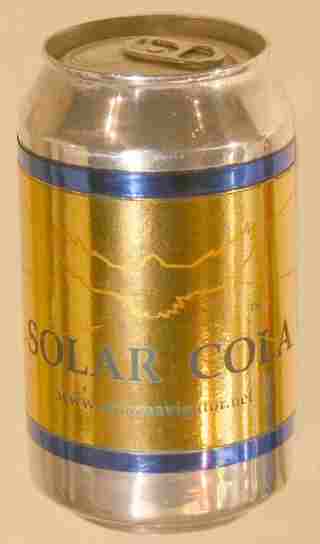 Solar Cola - a healthier alternative