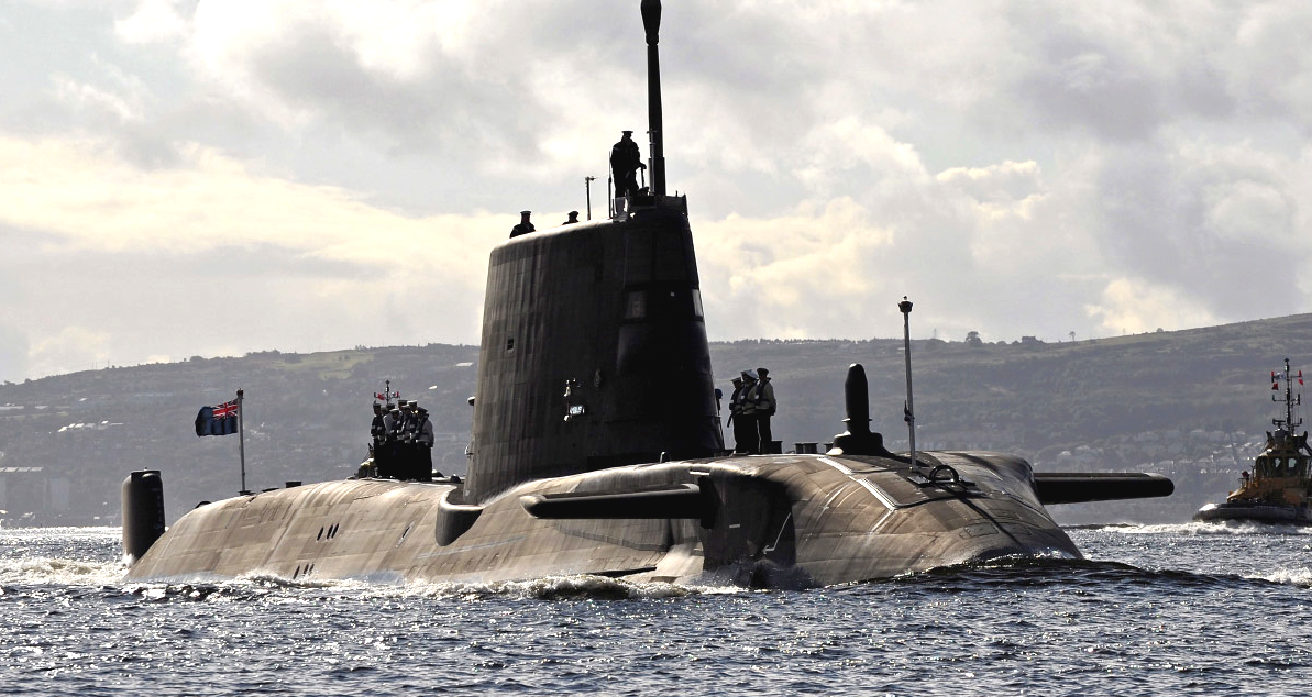 HMS Ambush is the second boat of the Astute-class: a new breed of nuclear-powered fleet submarine for the 21st century. Together with her sister vessels, HMS Ambush is one of the most sophisticated underwater vehicles ever built.
HMS Ambush's role

Armed with Tomahawk land attack missiles and Spearfish heavyweight torpedoes, HMS Ambush represents the cutting edge of the United Kingdom's military power. As an attack submarine, her mission is neatly summed up by her motto: Hide and Seek.

The nuclear reactor onboard HMS Ambush will never need to be refuelled during her 25-year service period, while the ability to purify her own water and air mean that her range is limited only by the amount of food onboard. As a result, HMS Ambush is capable of circumnavigating the globe without resurfacing.


As of May 2023, the British Royal Navy operates six Astute class submarines: HMS Astute, HMS Ambush, HMS Artful,
HMS Audacious, HMS Anson, HMS Agincourt, HMS Agamemnon. In fiction, HMS Neptune is an Astute class submarine that is hijacked by extreme environmentalists.
OPERATION NEPTUNE - ORIGINAL STORY (PLOT) SYNOPSIS:
A group of environmentalists unwittingly reveal the cover up of oil pollution in the North Sea, with a protest, but the culprits, an MP, MI6 operative and Scotland Yard chief, frame them to hide their wrongdoing. Wrongfully imprisoned, with no right of appeal in the UK, the protestors vow to get their revenge with the help of a former smuggler, they meet in prison, who builds them a submersible to hijack a nuclear submarine.

The environmental extremists torpedo rigs in the North Sea to make their point, when the submarine develops reactor leaks from lack of servicing. An oceanographer who is called in to survey the oil pollution, detects the radioactive discharges and chases the sub to warn them, rescuing them from radiation poisoning and death, and rogue MOD factions, who have put a kill order on them to sink evidence of their procurement fraud.

During the chase into the Atlantic, the oceanographer discovers a sunken U-Boat, laden with Nazi WWII gold, under which is the remains of an ancient civilization, possibly Plato's Atlantis.

The ocean adventurer negotiates a finders fee for his crew and Blue Shield, and an amnesty for the environmental extremists, with the MOD and oil fraudsters arrested and charged, thanks to efforts of the First Sealord, a BAE systems whistleblower, and smartphone video that the Metropolitan police failed to prevent being filmed.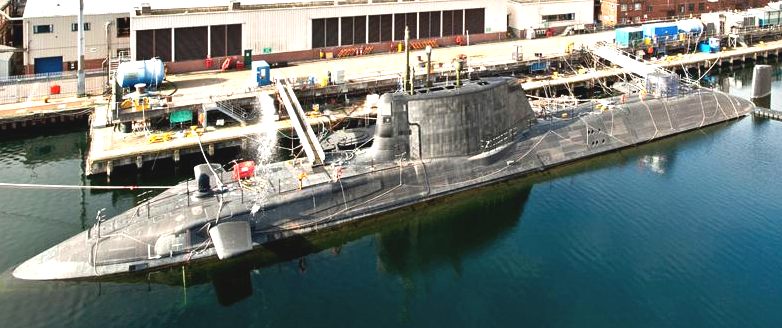 When push comes to shove, the crew of this Astute class submarine will think twice about facing a robotic enemy and sure death. A conventional manned submarine is a steel coffin just waiting to be sunk - in the sinking polluting our oceans. Persistent patrols of drone ships armed with torpedoes and mines will be able to neutralize large nuclear submarines like this in very short order. It is not only madness not to invest in unmanned countermeasures to protect our fleets, it is negligence on a grand scale. The families of Sailors who die as a result, will have a claim against any Government who sends them out to be slaughtered. Nuclear powered vessels of any kind should be banned. The environmental risk is just too great.
NOV 17 2012
The jewel of the Royal British navy, with a price tag of 10 billion pounds, is showing signs it maybe badly flawed, raising concerns about crew safety, performance and the defense of the nation.

HMS Astute, the nuclear-powered submarine which is running 2 billion pounds over budget, has been confirmed by the Ministry of Defense (MoD) to have had flooding problems while undergoing sea trials. The Guardian newspaper has revealed long shopping list of other issues that could potentially impact on the deployment of this supposedly state of the art machine.

The Astute is too slow. The vessel failed to reach its design speed because of a mismatch between the reactor and the turbine. The military is putting a brave face on the issue saying the vessel is capable of "providing outstanding capability for decades to come". But for now, Astute cannot meet the basic requirements of the hunter-killer group of submarines.

The navy has also confirmed the sub, not formally in service, was flooded and forced to surface, revealing its position, apparently the fault of a corroded metal cap on a cooling pipe.

Monitors for the nuclear reactor on the sub have also come under scrutiny as switchboards have been incorrectly fitted. There are further concerns about inaccurate readings due to the wrong type of lead being fitted to certain power circuits. Although officials have dismissed some of those concerns saying tests showed some of the data was faulty but was not critical to the submarine's operation.

However, military analysts are not so sanguine, "these problems are much more significant than the niggles and glitches expected to arise during the work up of a new class of nuclear-powered submarine. Particularly disturbing is the apparent mismatch between the nuclear reactor plant and the steam turbine sets, putting the submarine speed below par and making her susceptible in the anti-submarine warfare theatre," John Large, an independent nuclear safety analyst told the Guardian.

The submarine's builder, BAE Systems, has described her as "the largest and most able attack submarine that the Royal Navy has operated, with a performance to rival any in the world," however independent analysts have serious doubts about that claim.

"The fact the cap failed is bad enough, but the most worrying thing is that there is no way of knowing whether the submarine has other pieces of equipment like this on board," an unnamed source told the Guardian. "The quality assurance tests are there to make sure this kind of thing doesn't happen, but it did. So what else has been installed that we don't know about? It is impossible to know. They fitted the wrong cap but it was still signed off."

Despite the setbacks the Ministry of Defense hopes that Astute "will be the most technologically advanced submarine ever to serve with the Royal Navy," adding "It is normal for first of class trials to identify areas where modifications are required and these are then incorporated into later vessels of the class."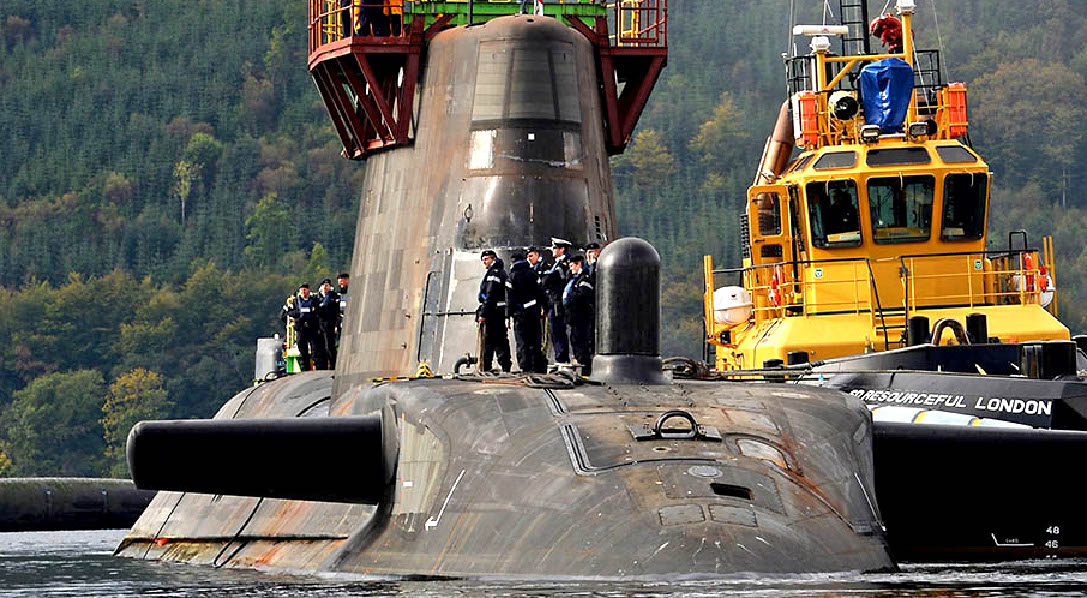 The weakness of any nuclear powered submarine is the reactor core and radiation leaks. The other main issue with such operations is decommissioning and long term storage of radioactive waste - that can never be made safe. All nuclear weapons of war are environmental disasters waiting to happen. The United Nations have outlawed nuclear weapons of war, making all Astute submarines illegal in international terms. The weakness of politicians and their failure to negotiate peace terms, puts everyone on planet earth at risk. And we only have one planet.
NOVEMBER 2012 - THE GUARDIAN
The Royal Navy's new multibillion pound hunter-killer submarine, HMS Astute, has been beset by design and construction flaws that have raised doubts about its performance and potential safety.

The Guardian can reveal that Astute, the first of seven new submarines costing £9.75bn, has been unable to reach its intended top speed.

At the moment, the boat, heralded as the most sophisticated submarine ever built for the navy, cannot sprint to emergencies or away from an attack – an essential requirement for a hunter-killer boat.

It would also be incapable of keeping pace with the Royal Navy's new aircraft carriers, which will be able to travel at more than 30 knots and need the submarines to protect them. One source told the Guardian the boat had a "V8 engine with a Morris Minor gearbox".

Other problems that have affected the boat in recent months include:

• Flooding during a routine dive that led to Astute performing an emergency surfacing.

• Corrosion even though the boat is essentially new.

• The replacement or moving of computer circuit boards because they did not meet safety standards.

• Concern over the instruments monitoring the nuclear reactor because the wrong type of lead was used.

• Questions being raised about the quality and installation of other pieces of equipment.

• Concern reported among some crew members about the Astute's pioneering periscope, that does not allow officers to look at the surface "live".

The MoD confirmed Astute had suffered some "teething problems" during sea trials. "It is normal for first of class trials to identify areas where modifications are required and these are then incorporated into later vessels of the class," a spokesman said.

Though the MoD said it cannot discuss the speed of submarines, the spokesman said Astute would "provide an outstanding capability for decades to come".

However, if the propulsion problems persist, they would represent one of the biggest procurement disasters the MoD has ever had to deal with, and potentially leave the Astute fleet struggling to perform all the duties it was built for.

John Large, an independent nuclear safety analyst and specialist engineer, said: "These problems are much more significant than the niggles and glitches expected to arise during working up of a new class of nuclear-powered submarine. Particularly disturbing is the apparent mismatch between the nuclear reactor plant and the steam turbine sets, putting the submarine speed below par and making her susceptible in the anti-submarine warfare theatre."

The shadow defence secretary, Jim Murphy, said ministers "must be clear over the impact of any problems with this essential programme on timing and cost".

Even though the boat has yet to start formal service, Astute – four years overdue and £2bn over budget – has been surrounded by controversy since it was first commissioned 15 years ago. In 2010, it was marooned off Skye, a calamity that led to its commander being removed from post. Last year a senior officer was shot dead by a junior member of the crew.

The Guardian has learned that during exercises off the east coast of the United States, a cap on one of the pipes that takes seawater from the back of the submarine to the reactor sprang a leak. A compartment began flooding with seawater, forcing the commander to surface immediately. Though nobody was hurt, an investigation revealed a cap was made from the wrong metal, even though construction records said the right metal had been installed.

The cap was supposed to have been "level one quality assurance". This means that BAE, which is responsible for building the boat, is supposed to give it the highest scrutiny.

"The fact the cap failed is bad enough, but the most worrying thing is that there is no way of knowing whether the submarine has other pieces of equipment like this on board," said a source. "The quality assurance tests are there to make sure this kind of thing doesn't happen, but it did. So what else has been installed that we don't know about? It is impossible to know. They fitted the wrong cap but it was still signed off."

The MoD confirmed that the incident had taken place. "During trials last year HMS Astute experienced a leak which was immediately isolated and the submarine returned safely to the surface," a spokesman said. "An investigation found one small part which had not been made of the correct material had corroded. A replacement was fitted at sea and the submarine continued with her programme. BAE Systems have carried out a full assessment which concluded all similar parts were fitted correctly."

Neither the MoD nor BAE was prepared to discuss how a cap made from the wrong metal had been fitted. BAE also declined to explain how it could be sure other parts were installed correctly when the quality assurance inventory system was proved to be flawed.

Some of the instruments which tell commanders about the state of the nuclear reactor were also feared compromised, the Guardian can reveal. The detectors which measure the power coming from the reactor are in a lead-lined water jacket that surrounds the reactor core.

The lead has to be "virgin" metal, mined from great depth, so that it does not carry any electrical charge of its own that could generate a false reading.

However, the lead used in Astute was not of the right quality, which means instruments gave incorrect readings. Using impure lead can also have a knock-on effect during maintenance – the charged metal can create increased and persistent radioactivity within the reactor compartment.

A source said this oversight was "unforgivable". Initially the MoD denied there was a problem with the reactor instruments. However, it then conceded the wrong lead had been used – but insisted tests showed the accuracy of the readings had not been affected. In addition, some of the small computer switchboards on Astute should have been placed six inches apart, but they were only one inch apart.

They did not conform to either naval or Lloyds civilian safety standards and are now having to be moved or replaced. The MoD says this work has been completed.

Of all the difficulties, it is the problems with propulsion which are the most sensitive. The MoD stated Astute would be able to make 29 knots, but the Guardian has been told it cannot do this.

Rather than building a new power plant for Astute, the MoD chose to use the Pressurised Water Reactor 2 (PWR2) from the much bigger Vanguard-class Trident submarines. It was linked to a steam turbine system based on the model used in the aged Trafalgar Class attack submarines.

"This was always likely to be a big problem, and so it has proved," said a source. "The PWR2 was meant for a much bigger boat, and Astute had to be designed around it. That may have cut costs, but it has caused problems. The power from the reactor does not translate into forward movement."

Large added: "So much promise was held out for the Astute class of nuclear powered submarine but these faults occurring during its commissioning into active/service, particularly in the propulsion system and its under-performance, suggest that the whole has been cobbled together from some ill-fitting parts – the real concern here is that these or similar mismatches will compromise nuclear safety at risk to crews and the public generally."

BAE Systems, which is responsible for building the Astute fleet, said: "Safety is of paramount importance to every stage of the design, build, test and trials of a submarine and is at the heart of everything we do. Before entering full service, every submarine is required to complete an exhaustive period of sea trials, which are designed to prove the vessel's capabilities. These trials also present an opportunity to improve performance by resolving any issues that may come to light during this time, which is not uncommon on a first-of-class submarine."
SEPT 2012
'Ambush', the second of the Royal Navy's Astute Class attack submarine, leaves her builder's yard to begin sea trials.

In the next few days, the 7,400-tonne submarine will leave the BAE Systems shipyard in Barrow-in-Furness in Cumbria, where she was built, and sail to Her Majesty's Naval Base Clyde in Scotland.

The seven Astute Class boats planned for the Royal Navy are the most advanced and powerful attack submarines Britain has ever sent to sea.

They feature the latest nuclear-powered technology, which means they never need to be refuelled and can circumnavigate the world submerged, manufacturing the crew's oxygen from seawater as they go.
HISTORY
The Astute-class is the latest class of nuclear-powered Fleet submarines in service with the Royal Navy. The class sets a new standard for the Royal Navy in terms of weapons load, communication facilities and stealth. The boats are being constructed by BAE Systems Submarine Solutions at Barrow-in-Furness. Seven boats will be constructed.
The first of class, Astute, was launched in 2007 and commissioned in 2010, and the second, Ambush, was launched on 6 January 2011, and successfully completed its initial dive test on 30 September 2011. The submarine weighs 7,800 tonnes, equivalent to nearly 1,000 double-decker buses, and is almost 100 metres (328ft) long. Its Spearfish torpedoes and Tomahawk cruise missiles are capable of delivering pinpoint strikes from 2,000km (1,240 miles) with conventional weapons.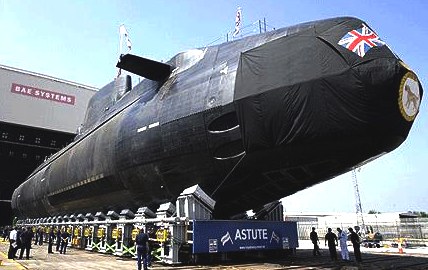 History
Background
The Royal Navy has changed its submarine-employment strategy from the Cold War emphasis on anti-submarine warfare to the concept of "Maritime Contributions to Joint Operations," which can mean tackling just about anything, anywhere.

Approval for studies to define the "Batch 2 Trafalgar class" (what would become the Astute class) was given in June 1991. In July 1994 risk reduction studies were authorised in parallel with the formal bid phase of the project.

On 17 March 1997, the Ministry of Defence announced that it would place a £2 billion order for three submarines and that they would be called the Astute class. On 26 March 1997 the contract was signed with GEC-Marconi for the first three boats: Astute, Ambush and Artful. These names were last given to Amphion-class submarines that entered service towards the end of World War II. GEC would build the submarines at its VSEL subsidiary (now BAE Systems Submarine Solutions).

Original plans were for seven boats of the Astute class to replace five Swiftsure-class submarines (Sovereign, Superb, Sceptre, Spartan, and Splendid) and the two oldest Trafalgar-class boats (Trafalgar and Turbulent). The Swiftsure class entered service between 1973 and 1977 and were entirely decommissioned by 2010, when only the first of the Astute class was coming into service. Trafalgar was decommissioned in December 2009, to be followed by Turbulent in 2011.

An estimated 5,900 people are employed directly as a result of the project; 3,500 BAE Systems staff at Barrow and 2,400 other people around the UK.


The Astute submarine Youtube
Batch 2As of August 2006
BAE Systems was negotiating for a contract to build another four Astute-class submarines (hulls four to seven). The fourth boat was ordered on 21 May 2007, to be called Audacious, and the names of the other hulls have been agreed as Agamemnon, Anson, and Ajax. On 15 September 2011 it was announced that hull 5 would now be named Anson.

Upon the beginning of sea trials of Astute in November 2009, it was reported that long-lead items for hulls five and six have been ordered, including their nuclear reactor cores, and that the stated intention of the MoD was for a total of seven Astute-class submarines.

On 25 March 2010, BAE Systems were given the go-ahead by the government to begin construction on hulls 5 and 6, being given a £300 million contract for the "initial build" of hull five and "long lead procurement activities" for boat six. In the same week the government re-affirmed their commitment to the construction of seven Astute-class submarines.

The order of seven Astute-class boats was confirmed in the Strategic Defence and Security Review of October 2010. In December that year it was confirmed by the MoD that "early work" was under way on boats five and six.

On 13 October 2011, the fifth boat Anson, was laid down at Devonshire Dock Hall and is now under construction like boats three and four.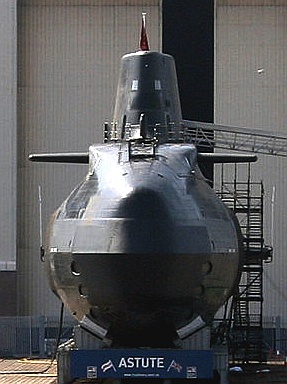 General design characteristics
Astute-class boats are powered by a Rolls-Royce PWR2 (Core H) (a Pressurised water) reactor and fitted with a pump-jet propulsor. The PWR2 reactor was developed for the Vanguard-class ballistic missile submarines. As a result Astute-class boats are about 30 per cent larger than previous British fleet submarines, which were powered by smaller diameter reactors.

Like all Royal Navy submarines, the bridge fin of the Astute-class boats is specially reinforced to allow surfacing through ice caps. The class submarines can also be fitted with a dry deck shelter which allows special forces (e.g. SBS and SAS) to deploy whilst the submarine is submerged.


Sonar signature reduction
More than 39,000 acoustic tiles mask the vessel's sonar signature, giving the Astute class a better stealth quality than any other submarine previously operated by the Royal Navy. Speculation released by the media stated that by using advanced stealth technology Astute "makes less noise than a baby dolphin, making her as good as undetectable by enemy ships." That said, every submarine leaves traces of its passage and must at some stage surface. A hunk of steel that size, with a nuclear power plant cannot pass beneath suitable detection equipment unnoticed.

Weapons and systems
The Astute class has stowage for 38 weapons and would typically carry both Spearfish heavy torpedoes and Tomahawk Block IV cruise missiles, the latter costing £870,000 each. The Tomahawk missiles are capable of hitting a target to within a few meters within a range of 1,240 miles (over 2,000 km). The Astute class will also be able to fire the new "tactical Tomahawk" currently under development.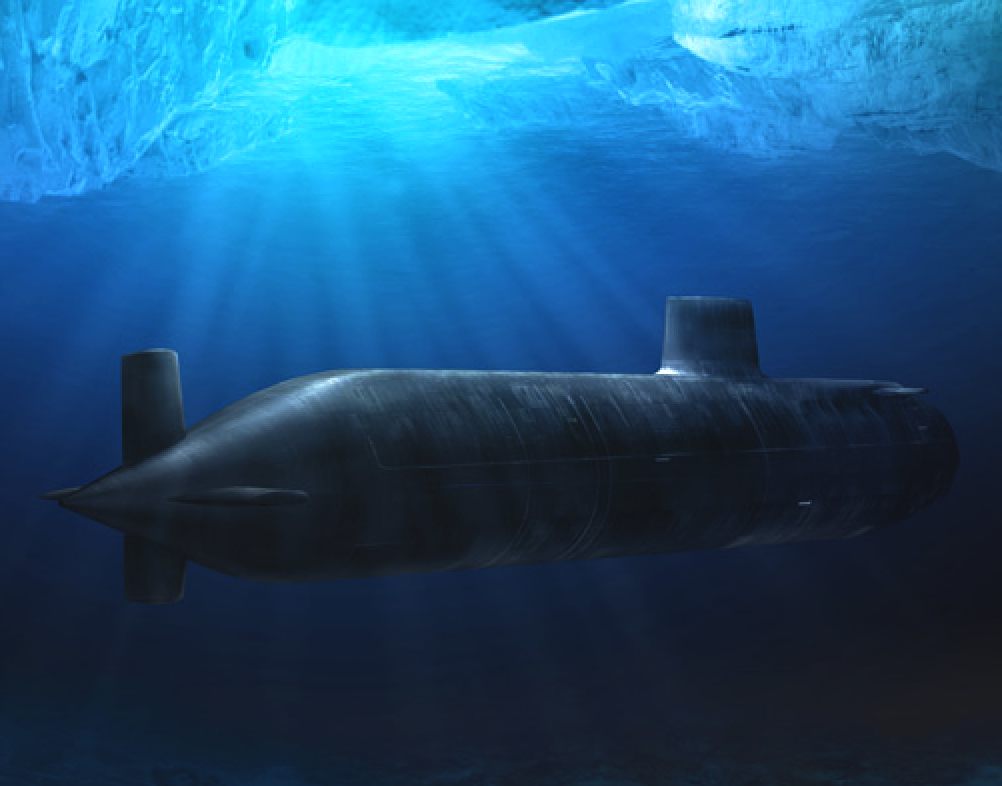 The Astute Combat Management System is an evolved version of the Submarine Command System used on other classes of British submarine. The system receives data from the boat's sensors and displays real time imagery on all command consoles. The submarines also have Atlas Hydrographic DESO 25 high-precision echosounders, two CM010 non-hull-penetrating optronic masts - in place of conventional periscopes - which carry thermal imaging and low-light TV and colour CCD TV sensors.

The vessel is equipped with the advanced Thales Underwater Systems Sonar 2076, which is an integrated passive/active search and attack sonar suite with bow, intercept, flank and towed arrays. BAE claims that the 2076 represents a "step change" over previous sonars and is the world's most advanced and effective sonar system. It also mounts a Raytheon Systems Ltd Successor IFF system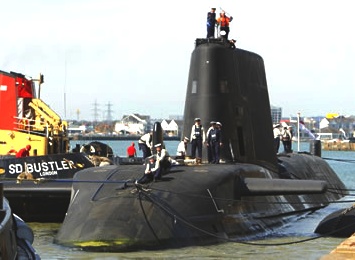 Crew comforts
Astute is the first Royal Navy submarine class to have a bunk for each member of the ship's company, ending the practice of 'hot bunking', whereby two sailors on opposite watches shared the same bunk. However, they have less mess-deck space than the Valiant-class submarine built 45 years earlier.


Boats
Name Hull Pennant number Status Ordered Laid down Launched Date of commission

HMS Astute 1 S119 Commissioned March 1997 31 January 2001 8 June 2007 27 August 2010
HMS Ambush 2 S120 On sea trials March 1997 22 October 2003 6 January 2011 In service 2013
HMS Artful 3 S121 Under construction March 1997 11 March 2005 In service 2015
HMS Audacious 4 S122 Under construction May 2007 24 March 2009 In service 2018
HMS Anson 5 S123 Under construction March 2010 13 October 2011 In service 2020
HMS Agamemnon 6 S124 On order; long-lead items ordered March 2010 In service 2022
HMS Ajax 7 S125 Confirmed, order not yet placed In service 2024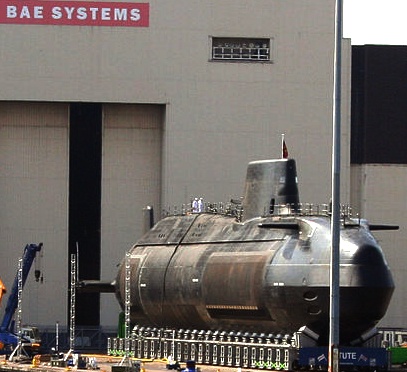 Construction and delays
BAE Systems issued a profit warning on 11 December 2002 as a result of the cost overruns and delays it was experiencing with the Astute class and also the Nimrod MRA4 maritime reconnaissance/attack aircraft. The delay was caused primarily by the problems of using 3D CAD; Armed Forces Minister Adam Ingram said in 2006 that "due to the complexity of the programme, the benefits that CAD was envisaged to provide were more difficult to realise than either MoD or the contractor had assumed." Other issues were the insufficient capabilities within GEC-Marconi which became evident after contract-award and poor programme management. BAE and the Ministry of Defence reached an agreement in February 2003 whereby they would invest £250 million and £430 million respectively to address the programme's difficulties.

A major element of this was the enlisting of advice and expertise from General Dynamics Electric Boat. The MoD also signed a design and production drawing work contract through the U.S. Navy which ran from 2004 to 2007.

Work on the second and third submarines, Ambush and Artful, proceeded well with major milestones such as the closure of Ambush's reactor compartment, demonstrating significant schedule advance compared with Astute. BAE Systems and the MoD have made efforts to reduce costs and achieved significant cost-cutting and productivity gains. A £580 million cost increase was agreed in 2007 due to maturing of the design requiring more materials, inflationary costs, and "some programme throughput assumptions at the Barrow site not being borne out."

First-of-class HMS Astute was launched by Camilla, Duchess of Cornwall on 8 June 2007.

As of March 2008 the programme was 48 per cent (or £1.2 billion) over-budget and 47 months late. Further delays due to a range of technical and programme issues brought the programme to a position of 57 months late and 53 per cent (or £1.35 billion) over-budget by November 2009, with a forecast cost of £3.9 billion for the first three Astute boats.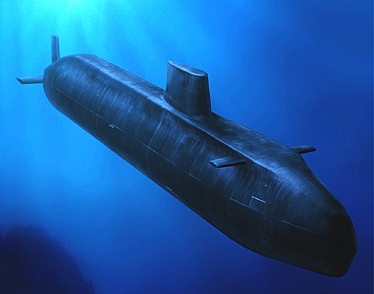 GROUNDING - October 22 2010
HMS Astute was on sea trials when it became stuck near Skye on October 22, 2010 and ended up marooned for several hours. Its commander Andy Coles, 47, was later removed from command of the vessel. He was replaced by Commander Iain Breckenridge.
A service inquiry into the grounding, published today, found there were a variety of causes for the incident. The report said: ''The root causes of the grounding were non-adherence to correct procedures for the planning and execution of the navigation combined with a significant lack of appreciation by the Officer of the Watch (OOW) of the proximity of danger.
'However, a number of additional causal factors were present, including some deficiencies with equipment.''
The head of the submarine service, Rear Admiral Ian Corder, said that the organisation had learnt from the incident. What else could he say and don't they learn from each blunder - that's what life is about. HMS Astute was on sea trials when it became stuck on a shingle bank on the west coast of Scotland on October 22 2010. She looked a sorry sight with steam pouring from a vent. The ship ran aground off the coast of the Isle of Skye but it was freed by the evening of the same day when the tide began to rise. Then later she was damaged in collision with the Coastguard tug the Anglian Prince, which, ironically had been sent to free the marooned deterrent. It is thought a crew transfer from the shore to the submarine was being carried out when the second incident happened.
In June 2007 the mammoth nuclear-powered HMS Astute was named and launched by the Duchess of Cornwall. In August last year, HMS Astute was welcomed into the Royal Navy during a commissioning ceremony at Faslane Naval Base on the Clyde.
The submarine's nuclear reactor means that it will not need refuelling once in its entire 25-year life and it makes its own air and water, enabling it to circumnavigate the globe without needing to surface - probably the safest place for her. The accident happened almost exactly 50 years after the UK's first nuclear submarine was launched. HMS Dreadnought was launched on October 21 1960 by the Queen.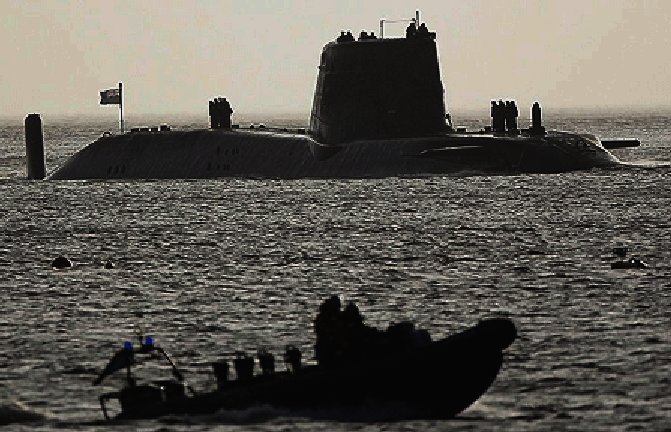 MURDER - 8th April 2011
Civic leaders were on board the fated Royal Navy submarine Astute at the time of a shooting in April 2011, which left one person dead and a second with life-threatening injuries. Southampton City Council's mayor, leader and chief executive were visiting HMS Astute, which was docked in Southampton, at the time of the incident, the local authority confirmed.

Hampshire Police arrested a man over the shooting, which is said not to be terror-related. The Police and the Ministry of Defence would not comment on reports that the person who died in the shooting was a Royal Navy officer. Hampshire Police said in a statement:
"In both cases next of kin have not been notified, but officers are in the process informing the families. No further details about the injured people will be released until this has been done."


A Southampton City Council spokesman is quoted as saying:
"I can confirm that the council leader, Councillor Royston Smith, is on board, as well as Councillor Carol Cunio, our current mayor, and chief executive Alistair Neill. We can confirm they are safe and unharmed and should be coming off and taken away by car soon. They have clearly been through a traumatic experience."


The police added:
"We believe two people have sustained injuries as a result of gunshots which have been discharged aboard the vessel."
HMS Astute had been docked at Southampton's Eastern Docks on a five-day official visit to the city. Police were alerted to the shooting by the Ministry of Defence at 12.12pm. Armed police, firefighters, paramedics and the Hampshire and Isle of Wight Air Ambulance helicopter were sent to the dockside where the submarine was berthed.

The Ministry of Defence said anyone worried about loved ones on HMS Astute could contact its Joint Casualty and Compassionate Centre incident line on 08457 800900.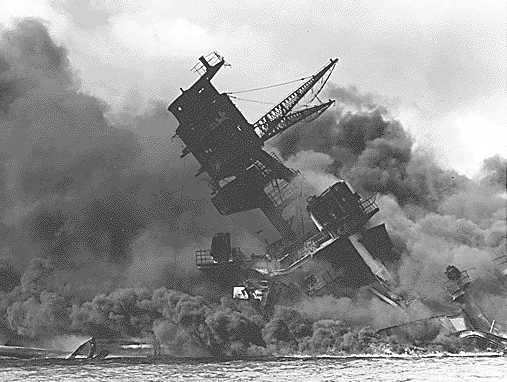 Traditional warfare: USS Arizona burned for two days after being hit during the raid on Pearl Harbour
FICTION - Action/Adventure
The Astute submarine is the target for terrorists in a novel to be released as an E-Book in 2013/4 by Jameson Hunter. The protagonist, John Storm, is called upon by the British secret service to try foil the terrorists plan to unbalance the oil economy. Storm has acquired enhanced thinking skills and with the speed and near silent running of the Solar Navigator, he is thought to stand a good chance of detecting the perpetrators - but things are not always what they seem.
Though crazy the group of extremists are resourceful enough to have captured the Astute, crew her and blow up an oil rig. Just how much damage they manage to do and will the hero John Storm succeed in stopping the conservation mad mariners. The planning for such a crime equals that of the 9-11 hijackers. The obvious intention had to be to show that nothing is safe - not even a £multi-billion pound cold-war show piece.
The rights to this story are being negotiated with a film production company. The intention is to make a 3D blockbuster movie. With the tax incentives removed, their is no reason to try to keep production local, although much of the film, especially the special effects, may be made in the United Kingdom, as the UK is a leader in the field of CGI. This story has a decidedly RN naval feel to the project reminiscent of the Commander Bond created by Ian Flemming.
AUTONOMY
The latest US submarine program to be commissioned by DARPA, is for a semi autonomous ship capable of tracking enemy submarines unmanned for up to 80 days.
U-571 - Film trailer Youtube

The Astute aground near the Isle of Skye, Scotland
LINKS and REFERENCE
HMS Astute Royal Navy website - not as much fun as ours, but it's official
UK's most powerful submarine joins the Navy MoD. 27 Aug 2010
Naval Technology — SSN Astute Class project details naval-technology.com
BAE Systems Barrow submarine Ambush's maiden voyage NW Evening Mail. 7 January 2011
Underwater Tests Mark Ambush Milestone". Northwest Evening Mail. 5 October 2011
The Future of RN - Maritime contribution to Joint Operations Elesme.gr
Ministry of Defence Major Projects Report 2008: Project Summary Sheets p.24
House of Commons Hansard Written Answers for 3 September 2007 Publications.parliament.uk
Mr Astute". Naval Technology.com. 31 August 2007.
New nuclear sub is lifeline for Barrow
National Archive - Royal Navy - Careers - Live Chat National Archive
Navy's newest Astute Class submarine named Ministry of Defence
Britain's £1.3bn new sub Astute sets sail The Independent (17 November 2009)
£300M Order Boost For Shipyard North West Evening Mail.
Defence News &#124 Equipment and Logistics | Second Astute Class submarine officially named
Dr Lee Willett, The ''Astute''-Class Submarine, Capabilities and Challenges
Countdown to launch of first ''Astute'' submarine at Barrow shipyard Shippingtimes.co.uk
Britain launches massive submarine that can hear a ship from across the Atlantic
House of Commons Hansard - Written Answers for Daily Hansard - Written Answers 17 May 2011
Set to launch, our nuclear Leviathan: The enormous scale of the biggest submarine ever built in Britain
A vision of evolving technologies 30 August 2007, 13:06 GMT
Press Release BAE Systems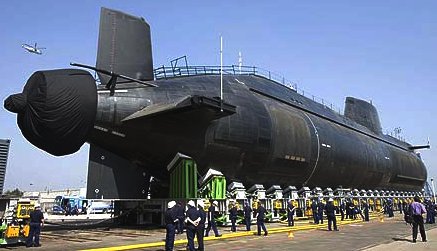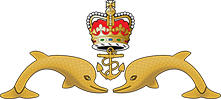 Defence Nuclear Programme Human Resource Study. Ministry of Defence 1 July 2009
Defence Nuclear Programme Human Resources Study Audit by Defence Operational Capability
New UK nuclear submarine launched BBC. 8 June 2007
Royal Navy's Most Powerful Submarine Gets Royal Approval
Commons Hansard Written Answers UK Parliament. 5 September 2011
Naval Ship Building Boat 4 news
Naval Ship Building Boat 5 news
House of Commons Hansard Written Answers for 9 Mar 2006 Publications.parliament.uk
MPs probe £900m overspend on late submarines Silicon.com.
Ministry of Defence Major Projects Report 2008: Project Summary Sheets
US team to work on submarine order news.bbc.co.uk (BBC News)
New UK nuclear submarine launched BBC News. June 8, 2007
Defence Equipment 2010 House of Commons. p. Ev 97. HC 99
BAE Systems: Murray Easton Interview
How to Build a Nuclear Submarine see the Youtube video above, it's great
HMS Astute: the Navy's world-beating nuclear submarine 23 Apr 2012
Sub captain who ran aground relieved of post 27 Nov 2010
Rescue tug hit grounded sub 04 Nov 2010
Grounded submarine 'no danger to public 22 Oct 2010
Nuclear submarine runs aground 22 Oct 2010
Ship Building Tribune 2012 September 2nd astute class submarine begins sea trials
http://www.guardian.co.uk/uk/2012/nov/15/hms-astute-submarine-slow-leaky-rusty
http://rt.com/news/britain-astute-submarine-flawed-920/
Alvin DSV - Woods Hole Oceanographic Institution
Deepsea Challenger - Mariana Trench, James Cameron 2012
HMS Astute 1st of Class
HMS Vanguard- Trident
INS Sindhurakshak - explosion & sinking
Littoral combat vessels
Lusitania - Torpedo attack
Nuclear submarines lost at sea
Predator - Covert submarine hunter/killer
Seawolf - Autonomous wolf pack deployment of Predator mini-subs
Torpedoes - UUV anti submarine weapons
Trieste - World record depth - Mariana Trench 1960
U20 - Kapitan Leutnant Walther Schwieger
USS Bluefish WWI submarine
USS Bluefish - Nuclear submarine
USS Jimmy Carter - Seawolf class fast attack nuclear submarine
USS Nautilus - 1st nuclear submarine & subsea north pole passage
https://www.gov.uk/government/organisations/ministry-of-defence
http://www.royalnavy.mod.uk/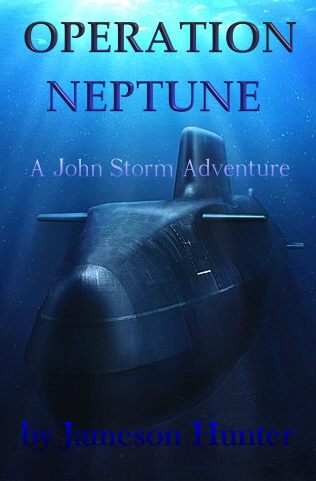 For all their size and cost, submarines are vulnerable
to attack from terrorists. In this marine adventure
an Astute class submarine is captured and used to
cause economic chaos, before John Storm in called
in on the case......
MARITIME HISTORY
DEFCON CODES - The scales of war are equally applicable to the heating of the planet in terms of changing our climate. DefCon 1 is nuclear war imminent, maximum state of readiness. DefCon 5 is the lowest state of readiness, normal conditions.