IN BRIEF

ELLEN MACARTHUR HAS BEEN SELECTED AS ONE OF 'TIME' MAGAZINE'S 2004 EUROPEAN HEROES.

THE B&Q TRIMARAN GOES BACK IN THE WATER ON FRIDAY AT THE FRENCH BASE IN LORIENT AFTER A FOUR WEEK REFIT IN PREPARATION FOR THE ROUND THE WORLD RECORD ATTEMPT.

A NEW 'LIFE-SAVING' MAN OVER BOARD OPERATIONAL SYSTEM IS INSTALLED ON BOARD.

MACARTHUR TO GO ON STANDBY FROM MID-NOVEMBER IN QUEST TO BE FASTEST SOLO SAILOR ON THE PLANET...


Visit teamellen for all the latest information, audio and images

IN DETAIL

TIME MAGAZINE HONOURS ITS HEROES.


Time Magazine has paid "tribute to 29 dazzling people who shine their light on the world..." in their October 11 special issue. Ellen MacArthur was selected for her inspiration in 'Setting Sail for Greatness' and her work with the Ellen MacArthur Trust that takes young children suffering from cancer sailing. Ellen is featured alongside 28 other heroes from all walks of life who have made an impact on the environment they work in. The European Heroes include Anita Roddick, founder of The Body Shop who campaigns for human rights, fair trade and social justice; actress Emma Thompson who is an ambassador for ActionAid since 2001; and Otylia Jedrzejczak of Poland who won a gold medal in Athens in the 200m butterfly finals and has committed to auctioning her medal to help raise money for children suffering from leukemia. The European Heroes were chosen as 'they inspire, create, devote themselves to others, and even risk their lives...'
www.time.com


B&Q UNDERGOES 'ROUND THE WORLD' REFIT.

Since returning to her French base in Lorient in mid-September, the 75-foot trimaran <<B&Q>> has been undergoing an intensive refit to get her in 'round the world' record mode. A team headed up by Project Manager, Oli Allard, have been working round the clock to prepare <<B&Q>> to go back in the water this Friday. "The work list was pretty long," said Ellen. "But, as usual, the guys have been doing a great job and nearly every box is now ticked. Once she is craned back in the water, the rig will go in and then we will back doing some further sea trials and media work before sailing <<B&Q>> to Plymouth in the UK to officially go on standby for our attempt on the solo, round the world record."

The main refit work has focused on a major structural check, overhaul and refit of new deck gear, replacement of rigging and running rigging as well as a full suite of new sails including a new Code 0 (front sail). In addition, the team have installed a new, potentially, life-saving system that allows Ellen to operate a launching mechanism for a single person life raft in a man overboard situation via remote control. "If you fall or get knocked overboard when sailing solo the prospects are pretty grim," said Ellen, "but with this new system that has been pioneered in France, I can launch the life raft away from the boat."

STANDBY FROM MID-NOVEMBER ...

If all goes to plan, Ellen hopes <<B&Q>> will be on standby from mid-November. <<B&Q>> will leave Lorient in France for Plymouth where she will be stationed on standby for her solo, round the world record attempt. In her quest to become the fastest solo sailor on the planet, Ellen will have to beat the existing record set by Joyon on his 90ft trimaran, IDEC, of 72 days, 22 hours, 54 minutes and 22 seconds .


NOTES ON PREVIOUS RECORDS:

MacArthur currently holds four solo sailing race records:

Plymouth (UK) to Newport (US) east-west transatlantic 14 days, 23 hours, 11 minutes (fastest female and winner of Class 1 / Kingfisher monohull).

Fastest female to race solo around the world in the 2000/2001 Vendée Globe in 94 days, 4 hours, 25 minutes, 40 seconds and finishing 2nd overall (Kingfisher monohull).

Route du Rhum race (St Malo, France to Guadeloupe) new course record 13 days, 13 hours, 31 minutes, 47 seconds (Kingfisher monohull).

Fastest female solo to cross the Atlantic west to east in 7 days, 3 hours, 49 minutes, 57 seconds (<<B&Q>> trimaran).

Click here for further information click on Sailing Speed Records and TeamEllen for information on Ellen's campaign

For further information, please contact Offshore Challenges:

Lou Newlands or Lucy Harwood
T: +44 (0)870 063 0210
E: lou@offshorechallenges.com or lucy@offshorechallenges.com
---
Time (officially capitalized TIME) is a weekly American newsmagazine, similar to Newsweek and U.S. News & World Report. A European edition (Time Europe, formerly known as Time Atlantic) is published from London. Time Europe covers the Middle East, Africa and (since 2003) Latin America. An Asian edition (Time Asia) is based in Hong Kong. A Canadian edition (Time Canada) is based in Toronto. The South Pacific edition, covering Australia, New Zealand and the Pacific islands, is based in Sydney. In some advertising campaigns, the magazine has noted that the letters time stand for "Today Information Means Everything."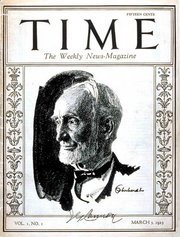 TIME's first cover (March 3, 1923)
History
The first issue of Time was published on March 3, 1923, featuring on its cover Joseph G. Cannon, the retired Speaker of the United States House of Representatives. Preceding both of its major competitors, Time was the first weekly news magazine in the United States. It was co-founded in 1923 by Briton Hadden and Henry Luce. Both had worked together previously at Yale, with Hadden and Luce serving as chairman and managing editor, respectively, of the Yale Daily News. Hadden died in 1929, and Luce became the dominant man at Time and a major figure in the history of 20th-century media. Hadden was a rather carefree figure, who liked to tease Luce and saw Time as something important but also fun. That accounts for its tone, which many people still criticize as too light for serious news and more suited to its heavy coverage of celebrities (including politicians), the entertainment industry, and pop culture. It set out to tell the news through people, and for many decades the magazine's cover was of a single person. People magazine was originally inspired by Time's People page.
Style
Time has always had its own writing style, parodied most famously in 1938 by Wolcott Gibbs in an article in The New Yorker: "Backward ran sentences until reeled the mind … Where it all will end, knows God." The early days of incessantly inverted sentences and "beady-eyed tycoons" and "great and good friends," however, have long since vanished. The magazine has only ever published one official editorial, in 1974, calling for the resignation of Richard Nixon. Time is also known for its signature red border, which only changed once in the magazine's eighty year history—the issue released shortly after the September 11, 2001 attacks on the United States, which featured a black border to show mourning.
Mergers
Time became part of Time Warner in 1989 when Warner Communications and Time, Inc. merged. Since 2000, the magazine has been part of AOL Time Warner, which subsequently reverted to the name Time Warner in 2003.

Person of the Year 2004
Man of the Year
The magazine's most famous feature over its 80 years has been the annual Man of the Year cover story, in which Time recognizes the individual or group of individuals who have had the biggest effect on the year's news. In 1999, this feature was renamed "Person of the Year." Despite the title, the recipient is not necessarily an individual -- in 2003, it was "the American soldier" -- or even a human. In 1982, the home computer was recognized as "machine of the year".
Albert Einstein was Time's person of the century in its last edition of 1999.
Controversy has occasionally arisen due to the designation of hated figures as "Persons of the Year." The distinction is supposed to go to the person who, for good or ill, has most affected the course of the year; it is therefore not an honour or reward. In the past, such figures as Adolf Hitler or Joseph Stalin have been Persons of the Year. The magazine backed down from this policy for its Person of the Year in 2001: the feeling was that the person who had most affected the course of the year was Osama bin Laden, but the editorial board weighed the policy against the risk of inciting outrage, and named Rudolph Giuliani instead.
Time Heroes
Time Magazine has paid "tribute to 29 dazzling people who shine their light on the world..." in their October 11 special issue. Ellen MacArthur was selected for her inspiration in 'Setting Sail for Greatness' and her work with the Ellen MacArthur Trust that takes young children suffering from cancer sailing. Ellen is featured alongside 28 other heroes from all walks of life who have made an impact on the environment they work in. The European Heroes include Anita Roddick, founder of The Body Shop who campaigns for human rights, fair trade and social justice; actress Emma Thompson who is an ambassador for ActionAid since 2001; and Otylia Jedrzejczak of Poland who won a gold medal in Athens in the 200m butterfly finals and has committed to auctioning her medal to help raise money for children suffering from leukemia. The European Heroes were chosen as 'they inspire, create, devote themselves to others, and even risk their lives...' www.time.com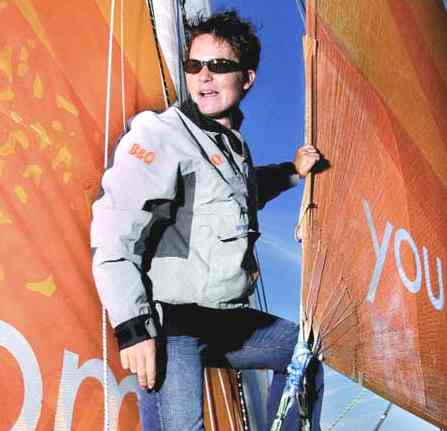 Ellen Macarthur in her element
Time For Kids
Time For Kids is an division magazine of Time Magazine, that's specially published for children and is mainly distributed in classrooms. TFK contains some national news, a "Cartoon of the Week", and a variety of articles concerning popular culture that young ones may be interested in. One annual issue concerning the environment is distributed near the end of the U.S. school term. The publication hardly ever ranges above fifteen pages front and back.
No Time for Charity
It is our experience that Time Magazine is reluctant to share articles it has put together from other research most of which is freely available on the internet. We have a different policy; to share information with others wherever possible and not to make a fuss about it. That said we are a not-for-profit concern, whereas most magazines in print, including Time Magazine are not.
---
ABOUT ELLEN MACARTHUR
Ellen grew up in landlocked Derbyshire, the daughter of two. She became hooked on boats and sailing after her aunt took her on a sailing trip when she was just 4. By the time she'd reached 8, Ellen had her own dinghy, which she used on her local pond. At 18, she was already sailing solo, notably on a trip around Britain. The young Ellen always wanted to go to university, but came down with mononucleosis, which scampered her plans. With time on her hands to contemplate, Ellen decided at this point she wanted to be a professional sailor.
MONONUCLEOSIS


Infectious mononucleosis (pronounced: mah-no-noo-klee-o-sus), sometimes called "mono" or "the kissing disease," is an infection that is usually caused by the Epstein-Barr virus (EBV). EBV is very common, and most people have been exposed to the virus at some time in childhood. Not everyone who is exposed to the virus develops the symptoms of mono, though. As with many viruses, it is possible to be exposed to and infected with EBV without becoming sick.

People who have been infected with EBV will carry the virus for the rest of their lives - even if they never have any signs or symptoms of mono. People who do show symptoms of having mono probably will not get sick, or have symptoms, again.

How Do People Get Mono


One common way to "catch" mono is by kissing someone who has been infected, which is how the illness got its nickname. But what if you haven't kissed anyone? You can also get mononucleosis through other types of direct contact with saliva (spit) from someone infected with the virus, such as by sharing a straw or an eating utensil. Some people who have the virus in their bodies never have any symptoms, but it is still possible to pick up the virus from them. Although experts believe that EBV can spread from people who have the virus but don't have symptoms of mono, people are most contagious while they have a fever.

SYMPTOMS


These begin to appear in 4 to 7 weeks after infection with the virus. The signs are:
constant fatigue

fever

sore throat

loss of appetite

swollen lymph nodes (also commonly known as glands, located in your neck, underarms, and groin)

headaches

sore muscles

larger-than-normal liver and spleen

skin rash

abdominal pain
People who have mono may have different combinations of these symptoms, and some people may have symptoms so mild that they hardly notice them. Other people may have no symptoms at all. Because these symptoms are so general and can be signs of other illnesses, it's possible to mistake mononucleosis for the flu or even strep throat. In fact, occasionally some teens may have mono and strep throat at the same time. When making a diagnosis, the doctor may want to take some blood tests to see if mono is causing your symptoms. But even if the blood tests indicate that you have mono, there isn't much the doctor can do other than advise you to drink lots of fluids and get lots of rest.

THE CURE


There is no cure for mononucleosis, but the good news is that even if you do nothing, the illness will go away by itself, usually in 3 to 4 weeks. Because mono is caused by a virus, antibiotics such as penicillin won't help unless you have an additional infection like strep throat. In fact, certain antibiotics can even cause a rash if you take them while you have mono.
Inevitably, the road ahead was harsh financially. For about 3 years Ellen lived in a 90 square foot shed in a boatyard with only basic facilities. From here she worked and began her sponsorship quest. With only 2 replies to around 2,500 letters, she carried on determinedly. Eventually, after racing solo across the Atlantic, she teamed up with Kingfisher plc. She was just 22. Three years on and she was sailing an 18 footer in one of the hardest ocean challenges; the Vendee Globe non-stop single handed circumnavigation. Ellen finished 2nd after 94 days. She was the youngest, fastest (and smallest) Briton to sail alone around the world non-stop.
Ellen 28, says she is lucky to be doing what she loves. Her French admirers call out her favourite expression: à donf, which means "go for it" and this is what she's been doing all her life. In the grueling world of round the world racing it seems this is what you have to do, in between just getting on with it.

---
Links to other TIME MAGAZINE stories

Atrocity in Beslan [Sept. 13, 2004]
TIME goes inside with the hostages and assesses Russian President Vladimir Putin's handling of the crisis — and the effectiveness of his hard-line policy against the Chechen separatists

It Takes a Little Teamwork [Aug. 22, 2004]
An Olympic scholarship program helped Abdou Alassane Dji Bo chase his dreams

Heroes Ball [May. 23, 2003]
Bono heads the guest list of the great and the good celebrated at a special reception for heroes of our time

AIDS Aid War [Jun. 16, 2003]
Bush and Chirac both promise to fight disease in Africa. Who'll back up the talk with cash?

Can Bono Save the World? [March 4, 2002]
The world's biggest rock star, U2's singer loves the stage. But behind the scenes, he fights a sincere battle for Africa's future

Search all issues of TIME Magazine
SEND A MESSAGE: EMAIL: ELLEN MACARTHUR
MORE TIME MAGAZINE LINKS:
Simona Pari & Simona Torretta :: Sorious Samura :: Nick Hornby :: Sabriye Tenberken :: Jane Goodall :: Fadéla Amara :: Otylia Jedrzejczak :: Jan Pfeiffer :: Vilho Kivikangas :: Carlo Petrini :: Aida Seif El Dawla :: Claude Nobs :: Ilya Lyubimsky :: Emma Thompson Carla del Ponte :: Ngozi Okonjo-Iweala :: Hasan Saltik :: Ellen MacArthur :: Orri Vigfússon :: Hicham El Guerrouj :: Marie Cammal :: Anita Roddick :: Mstislav Rostropovich :: Steffi Graf :: Ervigio Corral Torres :: Sylvie Guillem :: Vika & Olya Kallagova

| | | | | |

| | | |

EDITIONS: | | | | |