F: Computer Graphics (CGI) (not actual names)

.

.

.

.

.

F1

Dreamboat

1,500,000.00

Buyout +

1,500,000.00

F2

Firecan

1,000,000.00

Buyout +

1,000,000.00

F3

Pixelator

650,000.00

Buyout +

650,000.00

F4

Cinematix

500,000.00

Options +

500,000.00

.

.

.

.

.

.

.

.

.

.

Subtotal F.

3,650,000.00

.

.

.

.

.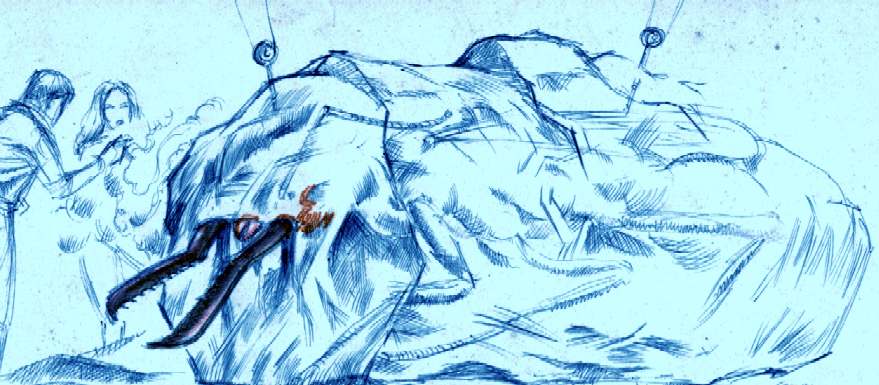 CGI COMPUTER GRAPHICS TODAY
Cinema audiences now expect high definition scenes that include wild animals performing on cue and from a viewpoint that would be impossible to set up with real cameras. The art has moved on to spawn a whole generation of digital artists - fortunately, for film production companies -because their is now a good choice of studio.
Computer animation or CGI animation is the process used for generating animated images by using computer graphics. The more general term computer-generated imagery encompasses both static scenes and dynamic images, while computer animation only refers to moving images.

Modern computer animation usually uses 3D computer graphics, although 2D computer graphics are still used for stylistic, low bandwidth, and faster real-time renderings. Sometimes the target of the animation is the computer itself, but sometimes the target is another medium, such as film.

Computer animation is essentially a digital successor to the stop motion techniques used in traditional cartoon animation as pioneered by Walt Disney, with 3D models and frame-by-frame animation of 2D illustrations. Computer generated animations are more controllable than other more physically based processes, such as constructing miniatures for effects shots or hiring extras for crowd scenes, and because it allows the creation of images that would not be feasible using any other technology. It can also allow a single graphic artist to produce such content without the use of actors, expensive set pieces, or props.

To create the illusion of movement, an image is displayed on the computer monitor and repeatedly replaced by a new image that is similar to it, but advanced slightly in time (usually at a rate of 24 or 30 frames/second). This technique is identical to how the illusion of movement is achieved with television and motion pictures.

For 3D animations, objects (models) are built on the computer monitor (modeled) and 3D figures are rigged with a virtual skeleton. For 2D figure animations, separate objects (illustrations) and separate transparent layers are used, with or without a virtual skeleton. Then the limbs, eyes, mouth, clothes, etc. of the figure are moved by the animator on key frames. The differences in appearance between key frames are automatically calculated by the computer in a process known as tweening or morphing. Finally, the animation is rendered.

For 3D animations, all frames must be rendered after modeling is complete. For 2D vector animations, the rendering process is the key frame illustration process, while tweened frames are rendered as needed. For pre-recorded presentations, the rendered frames are transferred to a different format or medium such as film or digital video. The frames may also be rendered in real time as they are presented to the end-user audience. Low bandwidth animations transmitted via the internet (e.g. 2D Flash, X3D) often use software on the end-users computer to render in real time as an alternative to streaming or pre-loaded high bandwidth animations.

Computer animation is created with a computer and animation software. Some impressive animation can be achieved even with basic programs; however, the rendering can take a lot of time on an ordinary home computer. Because of this, video game animators tend to use low resolution, low polygon count renders, such that the graphics can be rendered in real time on a home computer. Photo-realistic animation would be impractical in this context.

Professional animators of movies, television, and video sequences on computer games make photo-realistic animation with high detail. This level of quality for movie animation would take tens to hundreds of years to create on a home computer. Many powerful workstation computers are used instead. Graphics workstation computers use two to four processors, and thus are a lot more powerful than a home computer, and are specialized for rendering. A large number of workstations (known as a render farm) are networked together to effectively act as a giant computer. The result is a computer-animated movie that can be completed in about one to five years (this process is not comprised solely of rendering, however). A workstation typically costs $2,000 to $16,000, with the more expensive stations being able to render much faster, due to the more technologically advanced hardware that they contain. Professionals also use digital movie cameras, motion capture or performance capture, blue-screens, film editing software, props, and other tools for movie animation.


Modeling human faces

The realistic modeling of human facial features is both one of the most challenging and sought after elements in computer-generated imagery. Computer facial animation is a highly complex field where models typically include a very large number of animation variables. Historically speaking, the first SIGGRAPH tutorials on State of the art in Facial Animation in 1989 and 1990 proved to be a turning point in the field by bringing together and consolidating multiple research elements, and sparked interest among a number of researchers.

The Facial Action Coding System (with 46 action units such as "lip bite" or "squint") which had been developed in 1976 became a popular basis for many systems. As early as 2001 MPEG-4 included 68 facial animation parameters for lips, jaws, etc., and the field has made significant progress since then and the use of facial micro-expression has increased.

In some cases, an affective space such as the PAD emotional state model can be used to assign specific emotions to the faces of avatars. In this approach the PAD model is used as a high level emotional space, and the lower level space is the MPEG-4 Facial Animation Parameters (FAP). A mid-level Partial Expression Parameters (PEP) space is then used to in a two level structure: the PAD-PEP mapping and the PEP-FAP translation model.


Superb cgi generated images, making Avatar
and Life of Pi the top grossing movies @ March 2013

Realism in the future of computer animation

Realism in computer animation can mean making each frame look photorealistic, in the sense that the scene is rendered to resemble a photograph, or to making the animation of characters believable and lifelike. This article focuses on the second definition. Computer animation can be realistic with or without photorealistic rendering.

One of the greatest challenges in computer animation has been creating human characters that look and move with the highest degree of realism. Many animated films instead feature characters that are anthropomorphic animals (Finding Nemo, Ice Age, Bolt, Madagascar, Over the Hedge, Rio, Kung Fu Panda, Fantastic Mr. Fox, Alpha and Omega (film)) machines (Cars, WALL-E, Robots), insects (Antz, A Bug's Life, The Ant Bully, Bee Movie) fantasy creatures and characters (Monsters, Inc., Shrek, TMNT, Brave, Epic), or humans with nonrealistic, cartoon-like proportions (The Incredibles, Despicable Me, Up, Megamind, Jimmy Neutron: Boy Genius, Planet 51,Hotel Transylvania).

Part of the difficulty in making pleasing, realistic human characters is the uncanny valley: a concept where, up to a point, people have an increasingly negative emotional response as a human replica looks and acts more and more human. Also, some materials that commonly appear in a scene like cloth, foliage, fluids, and hair have proven more difficult to faithfully recreate and animate than others. Consequently, special software and techniques have been developed to better simulate these specific elements.

In theory, realistic computer animation can reach a point where it is indistinguishable from real action captured on film. Where computer animation achieves this level of realism, it may have major repercussions for the film industry.

The goal of computer animation is not always to emulate live action as closely as possible. Computer animation can also be tailored to mimic or substitute for other types of animation, such as traditional stop motion animation (Flushed Away). Some of the long-standing basic principles of animation, like squash & stretch, call for movement that is not strictly realistic, and such principles still see widespread application in computer animation.


Creating characters and objects on a computer

3D computer animation combines 3D models of objects and programmed or hand "keyframed" movement. Models are constructed out of geometrical vertices, faces, and edges in a 3D coordinate system. Objects are sculpted much like real clay or plaster, working from general forms to specific details with various sculpting tools. A bone/joint animation system is set up to deform the CGI model (e.g., to make a humanoid model walk). In a process called rigging, the virtual marionette is given various controllers and handles for controlling movement. Animation data can be created using motion capture, or keyframing by a human animator, or a combination of the two.

3D models rigged for animation may contain thousands of control points - for example, the character "Woody" in Pixar's movie Toy Story, uses 700 specialized animation controllers. Rhythm and Hues Studios labored for two years to create Aslan in the movie The Chronicles of Narnia: The Lion, the Witch and the Wardrobe which had about 1851 controllers, 742 in just the face alone. In the 2004 film The Day After Tomorrow, designers had to design forces of extreme weather with the help of video references and accurate meteorological facts. For the 2005 remake of King Kong, actor Andy Serkis was used to help designers pinpoint the gorilla's prime location in the shots and used his expressions to model "human" characteristics onto the creature. Serkis had earlier provided the voice and performance for Gollum in J. R. R. Tolkien's The Lord of the Rings trilogy.


HISTORY

Early digital computer animation was developed at Bell Telephone Laboratories in the 1960s by Edward E. Zajac, Frank W. Sinden, Kenneth C. Knowlton, and A. Michael Noll. Other digital animation was also practiced at the Lawrence Livermore National Laboratory.

An early step in the history of computer animation was the sequel to the 1973 movie Westworld, a science-fiction film about a society in which robots live and work among humans. The sequel, Futureworld (1976), used 3D Wire-frame imagery which featured a computer-generated hand and face created by University of Utah graduates Edwin Catmull and Fred Parke.

Developments in CGI technologies are reported each year at SIGGRAPH, an annual conference on computer graphics and interactive techniques which is attended each year by tens of thousands of computer professionals. Developers of computer games and 3D video cards strive to achieve the same visual quality on personal computers in real-time as is possible for CGI films and animation. With rapid advancement of real-time rendering quality, artists began to use game engines to render non-interactive movies, leading to the art form Machinima.

The first feature-length computer animated film was the 1995 movie Toy Story by Pixar. It followed an adventure centered around toys and their owners. This groundbreaking film was the first of many fully computer animated films.

Computer animation created blockbuster films such as Toy Story 3 (2010), Avatar (2009), Shrek 2 (2004), Cars 2 (2011), and Life of Pi (2012).
SECTASAUR
As you can see from the costing projections, Kulo Luna will be using up roughly 36% of the project budget on CGI. This is necessary to achieve the target budget and still maintain high quality, where special effects on a film such as this would normally be more than the total allocated budget.
VISION - The rights to this story now vest in the Cleaner Ocean Foundation. The Foundation are looking to produce scripts and graphic novels based on the stories of Jameson Hunter - in turn inspired by generations of cult classics such as: Them, Phase5, Dr Who and Empire of the Ants. The same special effects artwork, doubles up for Jimmy Watson's Magic Dinobot.