Finding Nemo is an Academy Award-winning computer-animated film produced by Pixar Animation Studios and released to theaters by Walt Disney Pictures and Buena Vista Distribution. It was released in the United States/Canada on May 30, 2003, in Australia on August 27, 2003, and in the UK on October 10, 2003. The movie is the fifth Disney/Pixar feature film and the first to be released during the summer season.
The movie was released on a 2-disc DVD on November 4, 2003 in the United States and Canada, in Australia on January 16, 2004, and the UK on February 27, 2004. It went on to become the best selling DVD of all time, with 28 million copies sold.
Finding Nemo Walt Disney's fish tale masterpiece
Plot summary
Nemo (voiced by Alexander Gould), is a young clownfish who is smothered by his overprotective father, a widower named Marlin (Albert Brooks). When Nemo tries to prove that he doesn't need all this protection, he is captured by a human diver at the edge of the Great Barrier Reef. Marlin desperately swims after the diver's boat into the open ocean but he quickly falls behind. Afraid that he is about to lose his son forever, Marlin asks for help from a number of fish before finally finding one who knows where the boat went: Dory (Ellen DeGeneres), a palette surgeonfish who is suffering from short-term memory loss.
Cast
| | |
| --- | --- |
| | Marlin (voice) |
| | Dory (voice) |
| | Nemo (voice) |
| | Gill (voice) |
| | Bloat (voice) |
| | Peach (voice) |
| | Gurgle (voice) |
| | Bubbles (voice) |
| | Deb/Flo (voice) |
| | Jacques (voice) |
| | Nigel (voice) |
| | Crush (voice) |
| | Coral (voice) |
| | Squirt (voice) |
| | Mr. Ray (voice) |
Don't be fooled by the title of this film, it may be called Finding Nemo but his overprotective father Marlin, and ever forgetful blue tang Dory are the real stars. This comic duo steal the show.
The intrepid pair embark on an epic journey across the Benthic Zone of the Great Barrier Reef in a quest to rescue Nemo after a diver took him off the reef back to a tank in his Sydney dental surgery. Whist on their quest Dory and Marlin meet a group of vegetarian sharks, one called Bruce, who is also quite a character. They then dice with death in a sea of jellyfish and ride the EAC (that's the East Australian Current) with a group of majorly chilled out sea turtles. Hey dude!
Meanwhile Nemo is making attempts to escape, aided by his tank buddies and a pelican called Nigel. They have to get Nemo out of the tank and back into the big blue before he is given to Darla, the dentist's fish-killing niece.
As with all good Disney movies there is a lesson to be learned, all the major characters grow a little bit along the way and for those who like happy endings, it all works out in the end.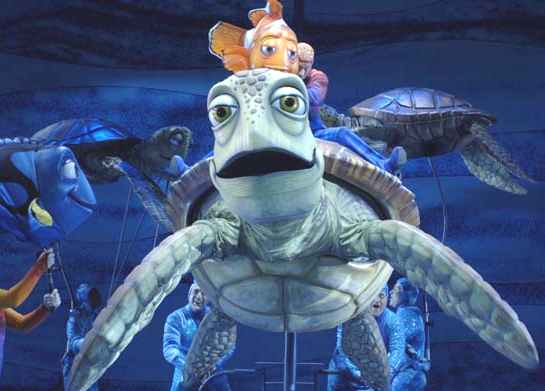 Dory, Marlin and a chilled sea turtle puppets in a scene from the
stage adaptation of Finding Nemo at Disney's Animal Kingdom
Release and influence
Finding Nemo set a record as the highest grossing opening weekend for an animated feature, making $70 million (surpassed in 2004 by Shrek 2). With a total domestic gross of $339.7 million, Nemo was, for a time, the highest grossing animated film of all time, eclipsing the record set by The Lion King. However, about a year later, Shrek 2 surpassed Finding Nemo's domestic gross. By March 2004, Finding Nemo was one of the top ten highest-grossing films ever, having earned over $850 million worldwide.
The film's prominent use of clownfish prompted mass purchase of the animals for children's pets in the United States, even though the movie portrayed the use of fish as pets negatively and saltwater aquariums are notably tricky and expensive to maintain. As of 2004, in Vanuatu, clownfish were being caught on a large scale for sale as pets, motivated by the demand.
At the same time, the film had a central theme that "all drains lead back to the ocean" (A main character escapes from imprisonment by going down a sink drain, ending up in the sea.) Since water typically undergoes treatment before leading to the ocean, the JWC Environmental company quipped that a more realistic title for the movie might be Grinding Nemo. However, in Sydney, much of the sewer system does pass directly to outfall pipes deep offshore, without a high level of treatment (although pumping and some filtering occurs.)
Tourism in Australia strongly increased during the summer and autumn of 2003, with many tourists wanting to swim off the coast of Eastern Australia to "find Nemo." The Australian Tourism Commission (ATC) launched several marketing campaigns in China and the USA in order to improve tourism in Australia many of them using Finding Nemo movie clips. Queensland, Australia also used Finding Nemo to draw tourists to promote its state for vacationers.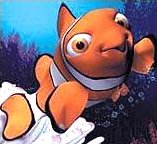 The similarities between the two creations sparked a
long and expensive lawsuit between Pierrot author
Franck Le Calvez and Walt Disney Pictures
In late 2003, the French children's book author Franck Le Calvez was angerd by Disney, claiming that the story and the characters were stolen from his book Pierrot Le Poisson-Clown (Pierrot the Clownfish). The idea of Pierrot was protected in 1995 and the book was released in France in November 2002. Franck Le Calvez and his lawyer, Pascal Kamina, demanded from Disney a share of the profits from merchandising articles sold in France. In March 2004, Le Calvez and Kamina lost the lawsuit. Two years later, in February 2005, a New Jersey dentist named Dennis G. Sternberg filed suit against Disney/Pixar, alleging they had plagiarised his concept for a film entitled Peanut Butter the Jelly Fish, which he had discussed with Andrew Stanton in the 1990s. Sternberg soon dropped the lawsuit, saying he could not afford to lose.
Not only does Nemo of 'Finding Nemo' and Pierrot of 'Pierrot la Poisson Clown' look like one another, but the plot sequence of both stories are similar, however, Pierrot was created in 1995, where as Nemo was created in 2003, although Disney still deny borrowing the idea from Pierrot author Franck Le Calvez, and have given him 0% of Nemo's profit.
Awards
The film received many awards, including:
Finding Nemo was also nominated for: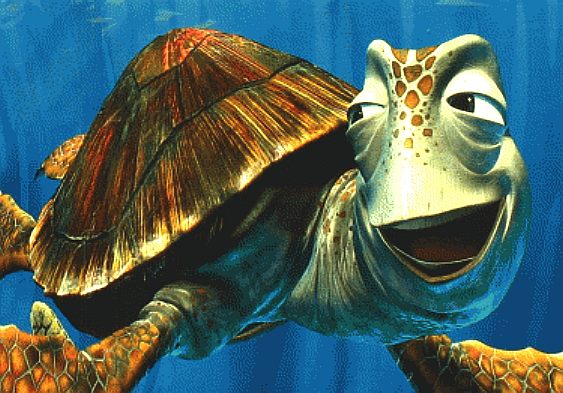 Sequel
Since the great box office response to Finding Nemo in 2003, there have been rumors about a sequel. Now that Disney has purchased Pixar, there will likely be additional pressure from Disney for a Finding Nemo 2; however, one aspect of this merger agreement was that Pixar would be given back the rights to determine which of the Disney/Pixar films released to date would be made into a sequel. Pixar would also be tasked with creative responsibility and control for the making of any and all sequels.
Circle 7 Animation, an in-house CGI production house started at Disney largely to create Disney sequels to Pixar movies, was disbanded shortly after the merger was announced.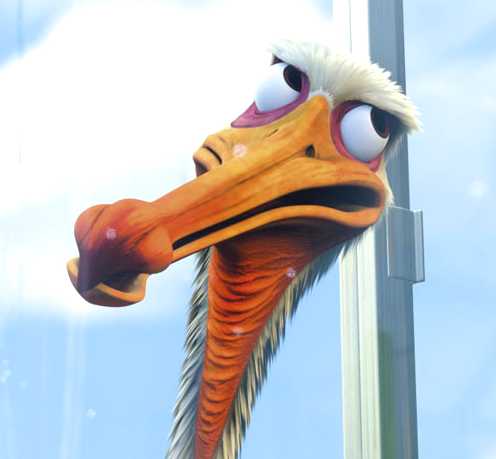 The Pelican in Finding Nemo
Finding Nemo - The Musical
The stage musical Tarzan Rocks! occupied the Theater in the Wild at Disney's Animal Kingdom in Orlando, Florida from 1999 to 2006. When, in January 2006, it closed, it was rumored that a musical adaptation of Finding Nemo would replace it. This was confirmed in April 2006, when Disney announced that the adaptation, with new songs written by Tony Award-winning Avenue Q composer Robert Lopez and his wife, Kristen Anderson-Lopez, would "combine puppets, dancers, acrobats and animated backdrops" and open in late 2006. Tony Award-winning director Peter Brosius signed on to direct the show, with Michael Curry, who designed puppets for Disney's phenomenally successful stage version of The Lion King, serving as leading puppet and production designer.
Anderson-Lopez said that the couple agreed to write the adaptation of "one of their favorite movies of all time" after considering "[T]he idea of people coming in [to see the musical] at 4, 5 or 6 and saying, 'I want to do that'....So we want to take it as seriously as we would a Broadway show." To condense the feature-length film to thirty minutes, she said she and Lopez focused on a single theme from the movie, the idea that "The world's dangerous and beautiful."
The half-hour show (which is performed four times daily) went into previews at the Theater in the Wild on November 5, 2006, and opened on January 24, 2007. Several musical numbers took direct inspiration from lines in the film, including "(In The) Big Blue World," "Fish Are Friends, Not Food," "Just Keep Swimming," and "Go With the Flow." In January 2007, a New York studio recording of the show was released on iTunes, with Lopez and Anderson-Lopez providing the voices for Marlin and Dory, respectively. Avenue Q star Stephanie D'Abruzzo also appeared on the recording, as Sheldon/Deb.
It is unknown whether the show will be expanded and transfer to Broadway, though Walt Disney Parks & Resorts executive Ann Hamburger has said that "she would love for that to happen." Nemo is notable for being the first non-musical animated film to which Disney has added songs to produce a stage musical.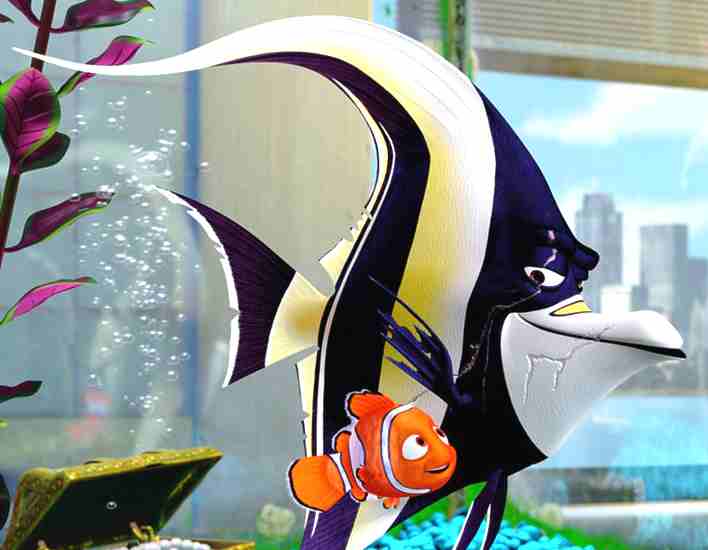 Cultural references
In Finding Nemo
As usual with Pixar movies, Finding Nemo has many subtle references and sight gags.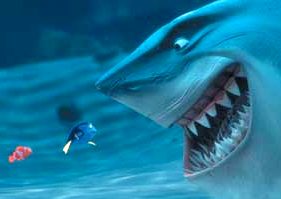 Finding Nemo - Dory and Marlin "tasty bites" talk to Bruce the shark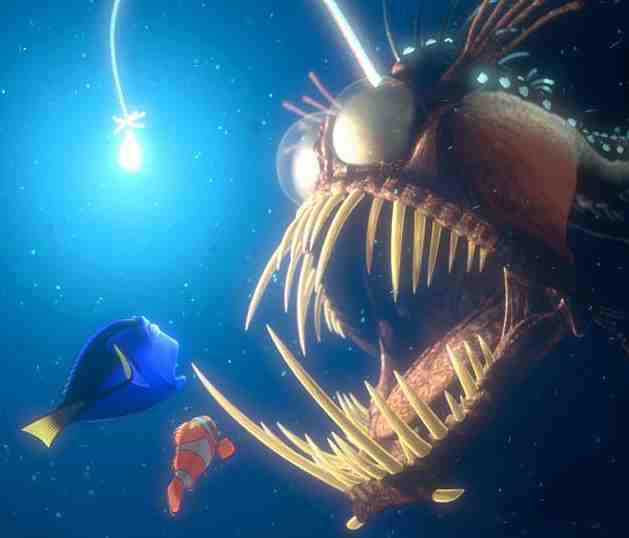 Finding Nemo - Dory and Marlin dodge an Angler fish
Trivia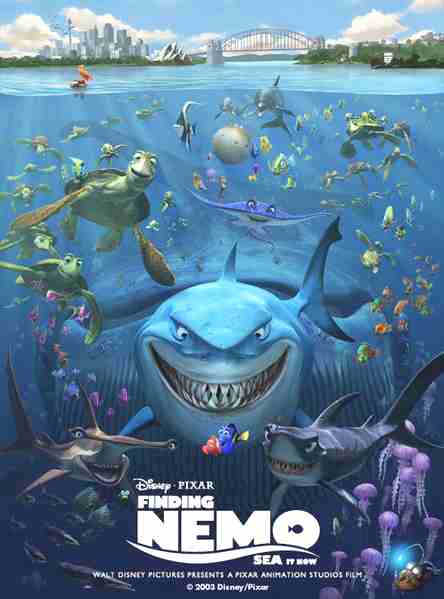 LINKS and REFERENCE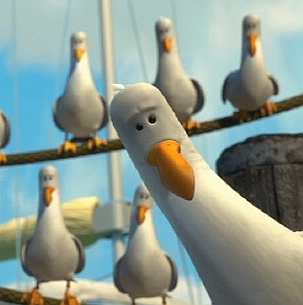 CARTOONS OF NOTE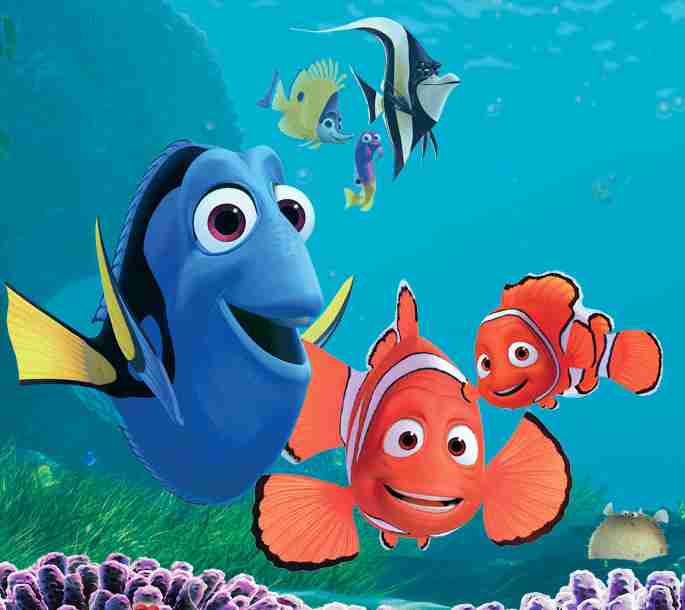 Dory, Marlin and Nemo
A - Z FILMS INDEX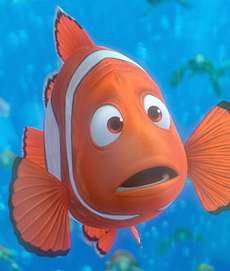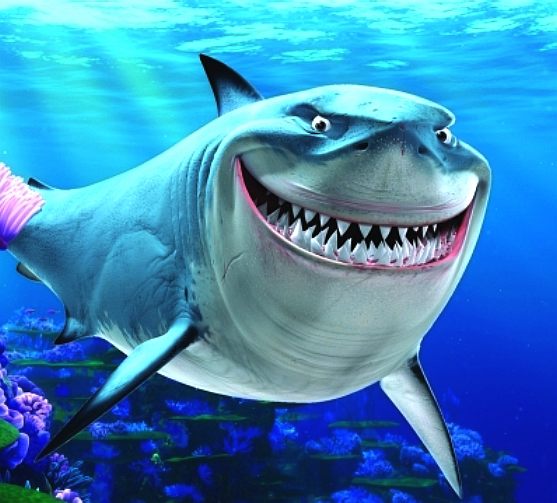 Finding Nemo, Marlin the clown fish telling a joke & Bruce the friendly shark
A - Z ACTORS INDEX
Dermot Mulroney

Kristen Bell

Sam Worthington

Ted Danson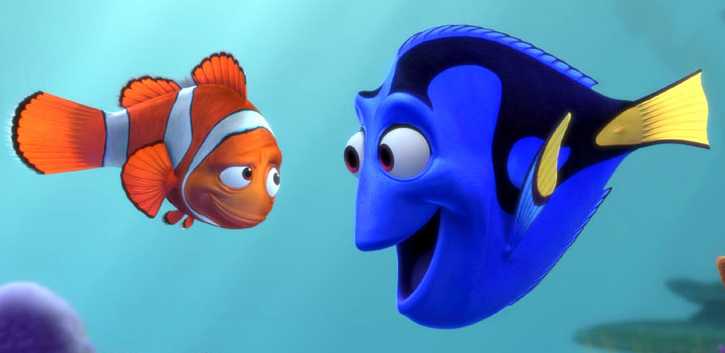 Nemo and Dory
---