A Sussex student helped make this multi-coloured windmill while attending Hailsham Community College. It is great fun watching the children learn as they played with the wooden garden ornament, then added a small electric motor, so that it was driven by the windmill blades via an elastic band, rather than see it sitting idle.
Although more interested in horses than science, the girl soon joined in once she saw the old windmill spinning in the wind again. This particular windmill ornament had been sitting rotting away at her grandparents house, long ago seized-up and forgotten. But here it was working busily again, after very little effort.
It didn't take long before new blades were bolted to a 6mm steel shaft and a plywood drive pulley wheel fitted to the rear of the roof assembly, which her brother helped to make. When turned fast this generated enough electricity to power a small light emitting diode (LED). Obviously, the next thing to do was celebrate the partial success by painting the model. As reward for all that effort, brother and sister were awarded Blue Peter badges for their hard work.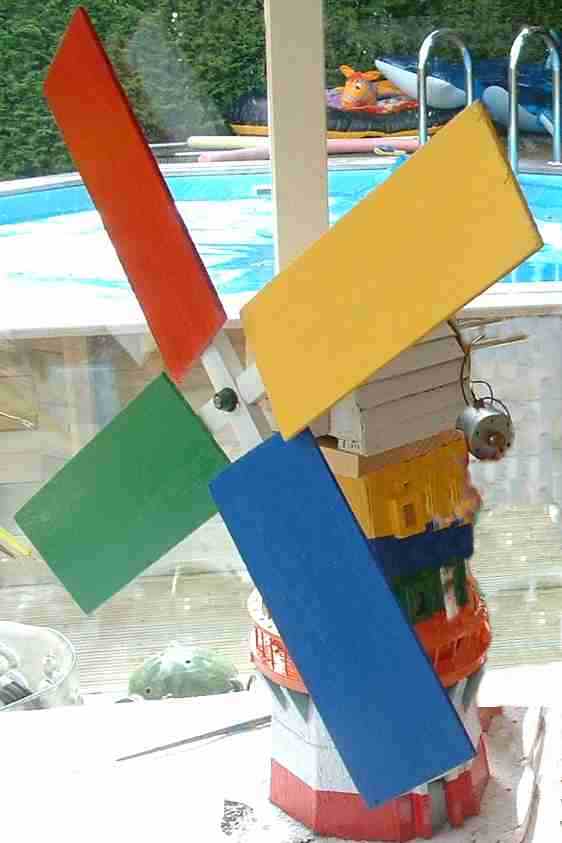 With a more efficient generator, such as that used in one of Trevor Bayliss' wind up radios, this windmill could produce quite a few watts - maybe light up the garden at night! Don't forget a generator is basically a motor in reverse - a series of magnets (or electro magnets) are used to induce a current into a coil of wire. Windmills not much bigger than this are used by boat owners to charge batteries that would otherwise go flat. Solar Navigator is to use four wind generators to power radios and computers onboard.
A windmill or turbine captures (converts) the energy in moving air to a rotary motion, which then turns the generator shaft - usually via a gearbox to speed up the revolutions per minute (rpm). A windmill blade may be seen as the reverse of an airplane propeller. Instead of moving the air with a petrol engine driven propeller - to create thrust, the windmill blades capture the moving air (the wind) to move a shaft. The moving shaft can be use to pump water; grind wheat into flour, or drive a generator for electricity.
To make your own working windmill you will need some: plywood, chipboard screws, panels pins, pva adhesive, an old dc motor, an elastic band, some tin plate, a brass or steel rod (for a shaft) and some paint & brushes. You will also need some drills 3-8mm, an electric drill, screwdrivers, a hammer, tin snips, pliers, ruler and a pencil.
IMPORTANT: Please get an adult to cut the tin and maybe the plywood for you. Tin is very sharp and will cut you. Also, be careful with small drills - they break easily.
If you want to learn more about Windmills in Sussex, Europe or the USA, use these links:
WINDMILL LINKS | WIND TURBINES | SUSSEX WINDMILL RESTORATION
New energy drinks for performers
.. Thirst for Life
330ml Earth can - the World in Your Hands