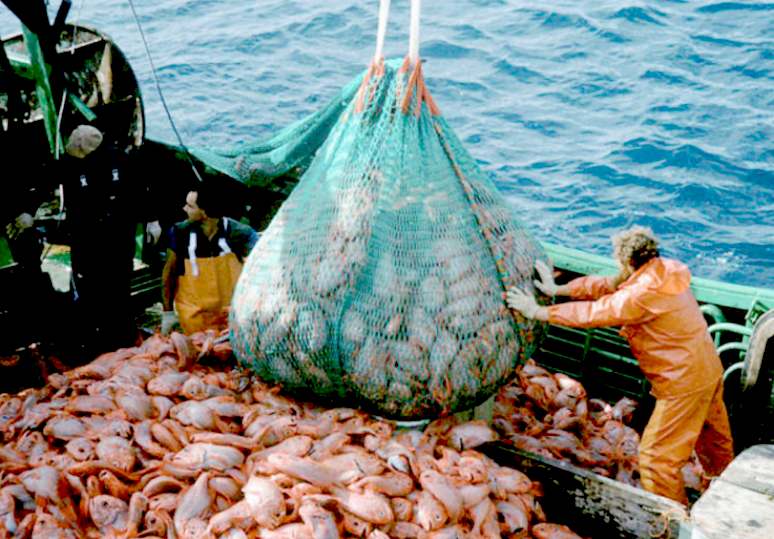 OVERFISHING - According to the WWF, the United States is one of the largest markets for imported seafood in the world, with more than 5.3 billion pounds passing through the border each year, worth almost $18 billion annually. Unfortunately, right now we simply cannot tell if the seafood we eat is legally caught from the ocean because our current laws are not strong enough to trace from bait to plate. For this reason we are suggesting that imports and exports of fish should be limited and tracked.
SUSTAINABLE - A truly circular economy revolves around fishing methods that may be sustained for hundreds, if not thousands of years. Beach launched boats offer a way of ensuring that local people benefit from local produce without trawling the seafloor and wiping out supporting ecosystems.
BLUE GROWTH
If we value our planet and the ocean that is unique in our galaxy, we must respect it. At the moment we treat our oceans and seas like giant garbage dumps where we might dispose of just about anything to create a carcinogenic soup:
1. Atomic waste
2. Oil spillages
3. Plastic waste
This is contrary to sustainable practices and the circular economy that we should all be aiming for and is something that Europe, via European Maritime Day and other initiatives is seeking to address.
Blue growth is about using our largest natural resource wisely, and yet still creating jobs and exploring the unexplored for ways of helping mankind.
Provided that fish farming is carried on without feeding high value fish such as salmon with other species that are palatable to people; wastefully.
In general make sure that farmed or fattened fish or shellfish are not be fed with endangered wild fish and that the farm does not present as an ecological hazard via pollution or the risk of fish escaping to the surrounding environment to contaminate or decimate wild fish populations.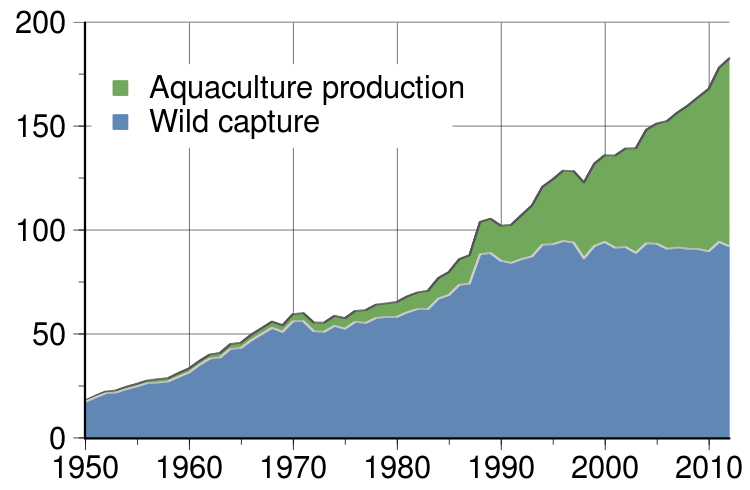 RISE IN AQUACULTURE PRODUCTION - Global harvest of aquatic organisms in million tonnes, 1950–2010, as reported by the FAO. Clearly, as wild fish stocks are declining farmed fish production is rising to fill the void. Current fishing methods need to be revised to reduce bycatch using more selective means.
Climate change is also a killer for blue growth because it is killing many species just as surely as if we were bombing the oceans. We must continue to reduce our carbon footprint, to reduce acid rains and the chemical makeup of our oceans.
POPULAR FISH:
Carp

Cealacanth

Cod

Dogfish

Flounder

Goldfish

Guppy

Haddock

Herring

Mackeral

Minnow

Monkfish

Pike

Puffer

Salmon

Sardine

Sea Angler

Skate

Sole

Sprat

Trout

THE GLOBAL OCEAN COMMISSIONERS
The Global Ocean Commissioners could offer no solution for ocean pollution, but at least recommended some form of action in respect of overfishing.
| | | | | | | |
| --- | --- | --- | --- | --- | --- | --- |
| | | | | | | |
| Carol Browner | Victor Chu | Obiageli Ezekwesili | Luiz Furlan | Vladimir Golitsyn | Robert Hill | Yoriko Kawaguchi |
| . | . | . | . | . | . | . |
| | | | | | | |
| Pascal Lamy | Paul Martin | Sri Mulyani Indrawati | Cristina Narbona | Ratan Tata | Foua Toloa | Andrés Velasco |
GOC's SECRETARIAT
The European Union established a Commission to act as their executive and to promote its general interests. The Commission is composed of the College of Commissioners comprised of 28 members, including the President and Vice-Presidents. The Commissioners, one from each EU country, are the Commission's political leadership during a 5-year term. Each Commissioner is assigned responsibility for specific policy areas by the President.
| | | | |
| --- | --- | --- | --- |
| | | | |
| - | - | - | - |
| President | 1st Vice President | High Representative, V. President | Vice President |
| - | - | - | - |
| | | | |
| - | - | - | - |
| Vice President | Vice President | Vice President | Commissioner |
| - | - | - | - |
| | | | |
| - | - | - | - |
| Commissioner | Commissioner | Commissioner | Commissioner |
| - | - | - | - |
| | | | |
| - | - | - | - |
| Commissioner | Commissioner | Commissioner | Commissioner |
| - | - | - | - |
| | | | |
| - | - | - | - |
| Commissioner | Commissioner | Commissioner | Commissioner |
| - | - | - | - |
| | | | |
| - | - | - | |
| Commissioner | Commissioner | Commissioner | Commissioner |
| - | - | - | - |
| | | | |
| - | - | - | - |
| Commissioner | Commissioner | Commissioner | Commissioner |
ACIDIFICATION - ADRIATIC - ARCTIC - ATLANTIC - BALTIC - BERING - CARIBBEAN - CORAL - EAST CHINA
ENGLISH CH - GOC - GULF MEXICO - INDIAN - MEDITERRANEAN - NORTH SEA - PACIFIC - PERSIAN GULF - SEA JAPAN
STH CHINA - PLASTIC - PLANKTON - PLASTIC OCEANS - SEA LEVEL RISE - UNEP