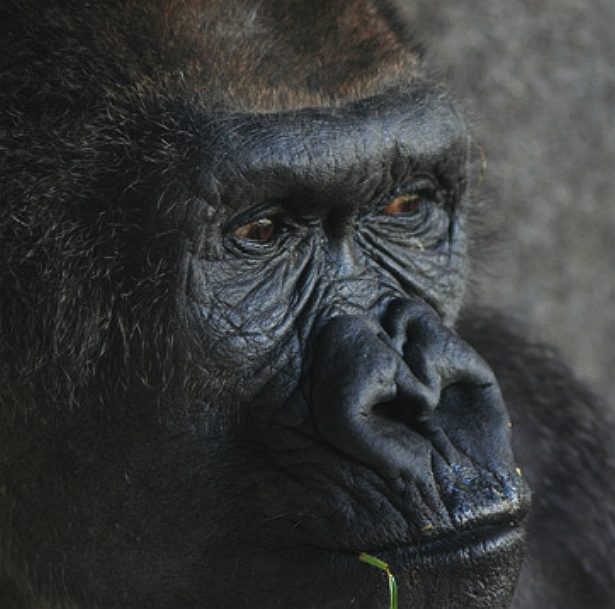 The Gorilla is an impressive and powerful animal related to humans, though not as closely as the Chimpanzee. The gorilla is the largest of the living primates. They are ground-dwelling omnivores that inhabit the forests of Africa. Gorillas are divided into two species and (still under debate as of 2007) either four or five subspecies. Its DNA is 97%-98% identical to that of a human, and is the next closest living relative to humans after the two chimpanzee species.
Name
The American physician and missionary Thomas Staughton Savage first described the Western Gorilla (he called it Troglodytes gorilla) in 1847 from specimens obtained in Liberia. The name was derived from the Greek word Gorillai (a "tribe of hairy women") described by Hanno the Navigator, a Carthaginian navigator and possible visitor (circa 480 BC) to the area that later became Sierra Leone.
Physical characteristics
Gorillas move around by knuckle-walking. Adult males range in height from 165-175 cm (5 ft 5 in-5 ft 9 in), and in weight from 140-200 kg (310-440 lb). Adult females are often half the size of a silverback, averaging about 140 cm (4 ft 7 in) tall and 100 kg (220 lb). Occasionally, a silverback of over 183 cm (6 feet) and 225 kg (500 lb) has been recorded in the wild. However, obese gorillas in captivity have reached a weight of 270 kg (600 lb). Gorillas have a facial structure which is described as mandibular prognathism, that is, their mandible protrudes farther out than the maxilla.
Hand of a Gorilla, San Diego Zoo
Gestation is 8½ months. There are typically 3 to 4 years between births. Infants stay with their mothers for 3-4 years. Females mature at 10–12 years (earlier in captivity); males at 11–13 years. Lifespan is between 30–50 years. The Philadelphia Zoo's Massa set the longevity record of 54 years at the time of his death.
Gorillas are omnivores, eating fruits, leaves, shoots, and sometimes insects which make up only 1-2% of their diet.
Almost all gorillas share the same blood type (B) and, like humans, have individual finger prints.
Classification
Until recently there were considered to be three species of gorilla, The Western Lowland, The Eastern Lowland and Mountain Gorilla. There is now agreement that the gorilla is divided into two species of at least two subspecies each. More recently it has been claimed that a third subspecies exists in one of these groups.
Primatologists continue to explore the relationships between various gorilla populations. The species and subspecies listed here are the ones most scientists agree upon.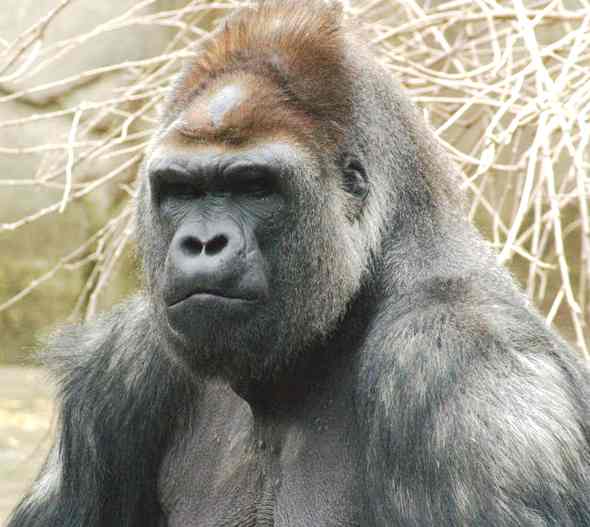 Western Lowland Gorilla
Genus Gorilla

Western Gorilla (Gorilla gorilla)

Western Lowland Gorilla (Gorilla gorilla gorilla)

Cross River Gorilla (Gorilla gorilla diehli)

Eastern Gorilla (Gorilla beringei)

Mountain Gorilla (Gorilla beringei beringei)

Eastern Lowland Gorilla (Gorilla beringei graueri)
The proposed third subspecies of Gorilla beringei, which has not yet received a full latin designation, is the Bwindi population of the Mountain Gorilla, sometimes called Bwindi Gorilla.
Endangerment
Both species of gorilla are endangered, and have been subject to intense poaching for a long time. Threats to gorilla survival include habitat destruction and the bushmeat trade. In 2004 a population of several hundred gorillas in the Odzala National Park, Republic of Congo was essentially wiped out by the Ebola virus. A 2006 study published in Science concluded that more than 5,000 gorillas may have died in recent outbreaks of the Ebola virus in central Africa. The researchers indicated that in conjunction with commercial hunting of these apes creates "a recipe for rapid ecological extinction"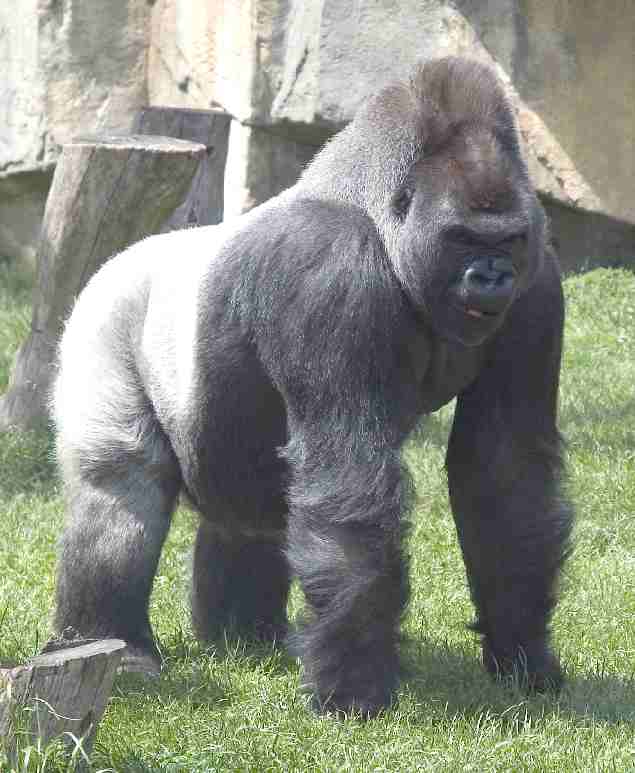 A silverback gorilla
Behavior
A silverback is an adult male gorilla, typically more than 12 years of age and named for the distinctive patch of silver hair on his back. A silverback gorilla has large canines that come with maturity. Black backs are sexually mature males of up to 11 years of age.
Silverbacks are the strong, dominant troop leaders. Each typically leads a troop of 5 to 30 gorillas and is the center of the troop's attention, making all the decisions, mediating conflicts, determining the movements of the group, leading the others to feeding sites and taking responsibility for the safety and well-being of the troop.
Gorilla with young, Bronx Zoo
Males will slowly begin to leave their original troop when they are about 11 years old, traveling alone or with a group of other males for 2–5 years before being able to attract females to form a new group and start breeding. While infant gorillas normally stay with their mother for 3–4 years, silverbacks will care for weaned young orphans, though never to the extent of carrying the little gorillas.
If challenged by a younger or even by an outsider male, a silverback will scream, beat his chest, break branches, bare his teeth, then charge forward. Sometimes a younger male in the group can take over leadership from an old male. If the leader is killed by disease, accident, fighting or poachers, the group will split up, as the animals disperse to look for a new protective male. Very occasionally, a group might be taken over in its entirety by another male. There is a strong risk that the new male may kill the infants of the dead silverback.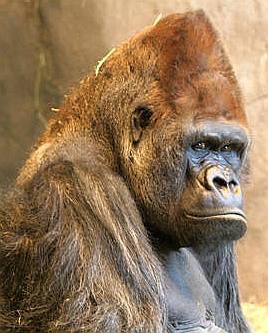 Gorilla in captivity, browned off
Studies
The first reference to gorillas was in the diary/history of Hanno the Navigator, a Carthaginian prince and sailor. There was some debate amongst his men as to whether gorillas were a separate species or just a strange tribe of men.
19th Century: The first scientific writings about gorillas dates back to the 1847 Proceedings of the Boston Society of Natural History, where Troglodytes gorilla is described, with a few other species following in the next couple of years.
Early 20th Century: The next systematic study was not conducted until the 1920s, when Carl Akely of the American Museum of Natural History traveled to Africa to hunt for an animal to be shot and stuffed. On his first trip he was accompanied by his friends Mary Bradley, a famous mystery writer, and her husband. After their trip, Mary Bradley wrote On the Gorilla Trail. She later became an advocate for the conservation of gorillas and wrote several more books (mainly for children). In the late 1920s and early 1930s, Robert Yerkes and his wife Ava helped further the study of gorillas when they sent Harold Bigham to Africa. Yerkes also wrote a book in 1929 about the great apes.
Mid 20th Century: After WWII, George Schaller was one of the first researchers to go into the field and study primates. In 1959, he conducted a systematic study of the Mountain Gorilla in the wild and published his work. Years later, at the behest of Louis Leakey and the National Geographic, Dian Fossey conducted a much longer and more comprehensive study of the Mountain Gorilla. It was not until she published her work that many misconceptions and myths about gorillas were finally disproved, including the myth that gorillas are violent.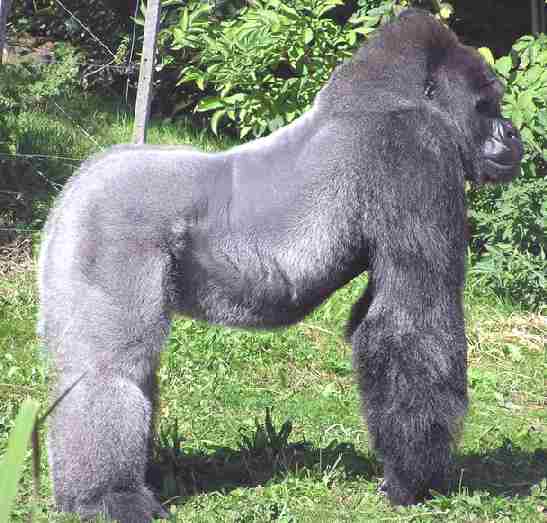 Western Lowland Gorilla on knuckles in Bristol Zoo
Intelligence
Gorillas are closely related to humans and are considered highly intelligent. A few individuals in captivity, such as Koko, have been taught a subset of sign language.
Natural tool use by all the "great apes"
The following observations were made by a team led by Thomas Breuer of the Wildlife Conservation Society in September 2005. Gorillas are now known to use tools in the wild. A female gorilla in the Nouabalé-Ndoki National Park in the Republic of Congo was recorded using a stick as if to gauge the depth of water whilst crossing a swamp. A second female was seen using a tree stump as a bridge and also as a support whilst fishing in the swamp. This means that all of the great apes are now known to use tools.
In September 2005, a two and a half year old gorilla in the Republic of Congo was discovered using rocks to smash open palm nuts inside a game sanctuary.. While this was the first such observation for a gorilla, over forty years previously chimpanzees had been seen using tools in the wild, famously 'fishing' for termites. It is a common tale among native peoples that gorillas have used rocks and sticks to thwart predators, even rebuking large mammals. Great apes are endowed with a semi-precision grip, and certainly have been able to use both simple tools and even weapons, by improvising a club from a convenient fallen branch. With training, in twentieth century carnival and circus acts, chimpanzees have been taught to operate simple motorbikes.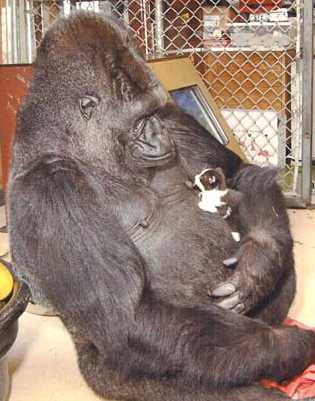 Koko the speaking gorilla
KOKO
Koko is a 35 year-old lowland gorilla who learned to speak American Sign Language when she was just a baby. Her teacher, Dr. Penny Patterson, began working with Koko as a Ph.D. project at Stanford, thinking it would only be a 4-year study.
Thirty-some years later, Penny and Koko continue to work together at the Gorilla Foundation in one of the longest interspecies communication studies ever conducted, the only one with gorillas. Koko now has a vocabulary of over 1000 signs, and understands even more spoken English.
Koko has become famous not only for her language capabilities, but also her heart-warming relationship with kittens (captured in the book Koko's Kitten). As Penny says, "she's just as much a person as we are."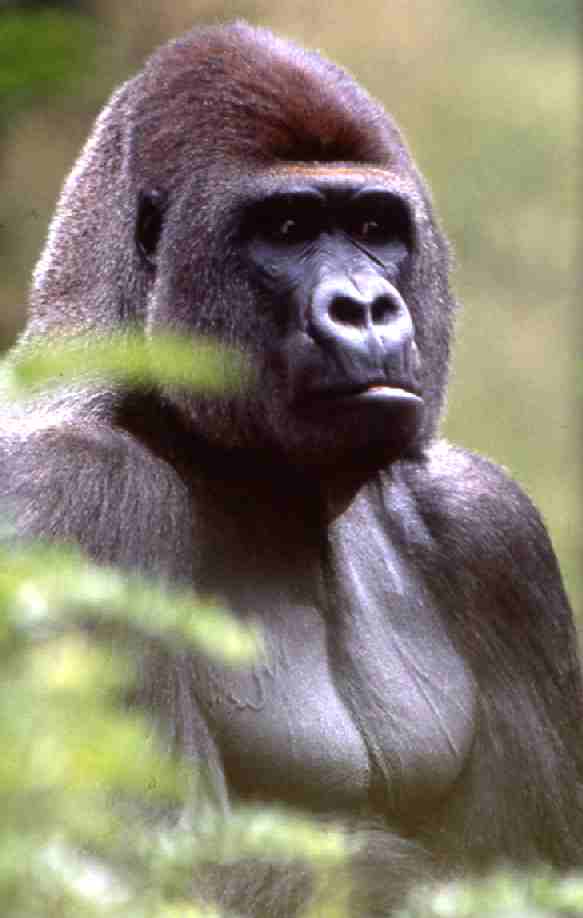 Bongo the Gorilla

Koko's greatest desire is to have a baby. She has indicated that she will teach her children sign language, which will engender the next generation of interspecies communication.
Koko has become the ambassador for her critically endangered species. People need to care about a species to save it, and Koko makes people care! The pending completion of the new Maui Ape Preserve by the Gorilla Foundation, and the expansion of our Africa Projects, will help assure the future for Koko, ape language studies, free-lliving gorillas and other great ape species. You can help!
Note that while Koko is well known for her communication skills, she is not unique. Koko's late male companion, Michael, was also fluent in sign language, a prolific painter, and intelligent beyond anyone's wildest expectations. And Koko's current silverback companion, Ndume, is equally personable, empathetic and intelligent. Koko's species is remarkable indeed.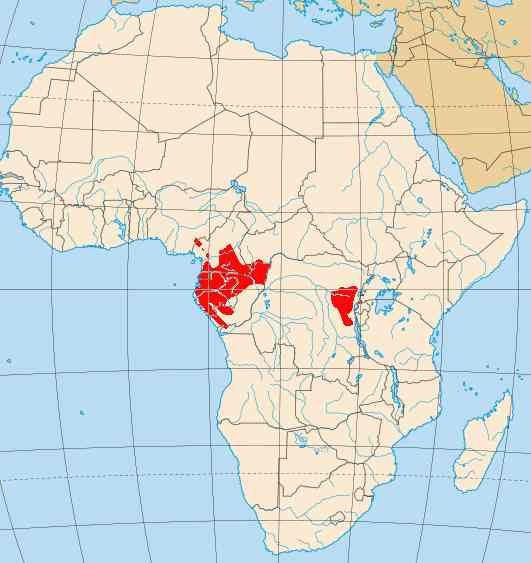 Gorilla distribution in Africa
CONTACTS
Phone: 1-800-ME-GO-APE
The Gorilla Foundation Business Office
P.O. Box 620530
Woodside, CA 94062
General Questions: contactus@koko.org
Donations, Memberships and Purchases: service@koko.org
Major Gifts and Sponsorship: major_gifts@koko.org
Job Inquiries: jobs_general@koko.org
Volunteering Inquiries: volunteer@koko.org
Kid Inquiries: kids@koko.org
Teacher Inquiries: education@koko.org
WishList (in-kind donations): wish_list@koko.org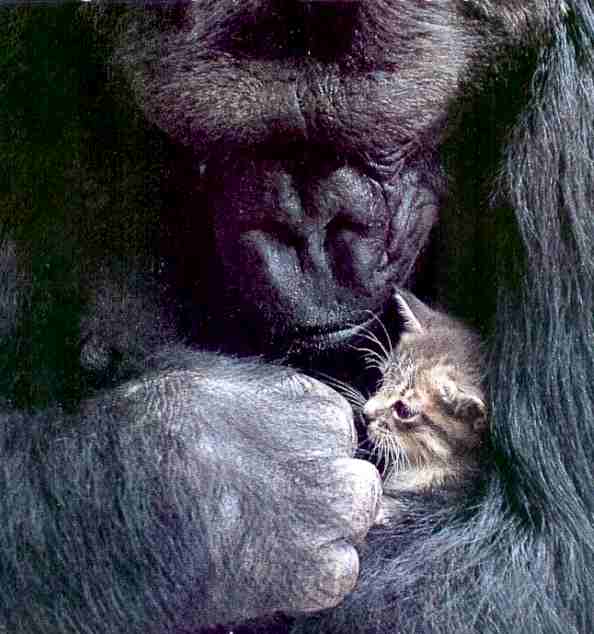 Koko the Gorilla protective of a small tabby kitten
Koko's First Interspecies Internet Chat

On April 29, 1998, Koko participated in the first interspecies web chat in internet history, hosted by AOL.. This introduced millions of people to the idea that the internet could be used to learn about the perspective of other species directly, especially endangered species
Laughter in primates
Laughter is not confined or unique to humans, despite Aristotle's observation that "only the human animal laughs". However, some behavioural psychologists argue that self-awareness of one's situation, or the ability to identify with somebody else's predicament, are prerequisites for laughter, so animals are not really laughing in the same way that we do.

Chimpanzees, gorillas, and orangutans show laughter-like vocalizations in response to physical contact, such as wrestling, play chasing, or tickling. This is documented in wild and captive chimpanzees. Chimpanzee laughter is not readily recognizable to humans as such, because it is generated by alternating inhalations and exhalations that sound more like breathing and panting. The differences between chimpanzee and human laughter may be the result of adaptations that have evolved to enable human speech. There are instances in which non-human primates have been reported to have expressed joy. One study analyzed and recorded sounds made by human babies and bonobos, also known as pygmy chimpanzees, were tickled. It found although the bonobo's laugh was a higher frequency, the laugh followed the same spectrographic pattern of human babies to include as similar facial expressions. Humans and chimpanzees share similar ticklish areas of the body such as the armpits and belly. The enjoyment of tickling in chimpanzees does not diminish with age. Discovery 2003 A laughter sample. Goodall 1968 & Parr 2005
Gorillas in pop culture
Gorillas have been a recurring element of many aspects of popular culture and media for at least the last hundred years. For example, gorillas have featured prominently in monstrous fantasy films like King Kong and pulp novels like Tarzan and Conan have featured gorillas as physical opponents to the titular protagonists.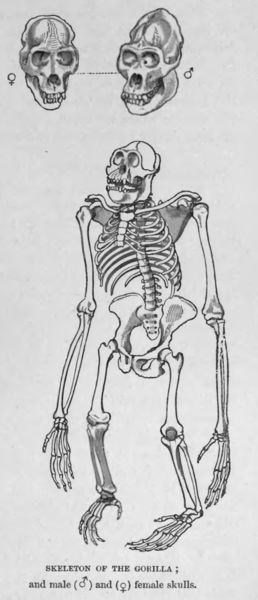 Skeleton of a Gorilla
LINKS and REFERENCE
Philip Briggs (2007). Uganda, 5th ed, Bradt Travel Guides.

Groves, Colin (16 November 2005). in Wilson, D. E., and Reeder, D. M. (eds): Mammal Species of the World, 3rd edition, Johns Hopkins University Press, 181-182. ISBN 0-801-88221-4.

This statistic ought to be taken lightly; by the same reasoning human DNA is around 40% identical to that of a potato or lettuce.

In a talk presented at the Annual Meeting of the American Anthropological Association on November 20, 1999, Jonathan Marks stated: "Humans, chimpanzees, and gorillas are within two percentage points of one another genetically." Jonathan Marks. What It Really Means To Be 99% Chimpanzee.

Müller, C. (1855-61). Geographici Graeci Minores, 1.1-14: text and trans. Ed, J. Blomqvist (1979).

Gorilla - The Columbia Encyclopedia, Sixth Edition. bartleby.com.

Western Lowland Gorilla. philadelphiazoo.org. Massa died of an apparent stroke shortly after a celebrating his birthday with a special meal. [1]

Looking at Ape Diets: Myths, Realities, and Rationalizations. beyondveg.com.

Blood Type Facts. bloodbook.com.

Santa Barbara Zoo - Western Lowland Gorilla. santabarbarazoo.org.

Groves, Colin (2002). "A history of gorilla taxonomy". Gorilla Biology: A Multidisciplinary Perspective, Andrea B. Taylor & Michele L. Goldsmith (editors): pp. 15–34.

Gorillas infecting each other with Ebola. NewScientist.com (2006-07-10).

Ebola 'kills over 5,000 gorillas'. News.bbc.co.uk (2006-12-08).

Breuer, T; Ndoundou-Hockemba M, Fishlock V (2005). "First Observation of Tool Use in Wild Gorillas". PLoS Biol 3 (11): e380. PMID 16187795 DOI:10.1371/journal.pbio.0030380.

A Tough Nut To Crack For Evolution. CBS News (2005-10-18).
"I'm related and like climbing trees!"
POPULAR MAMMALS: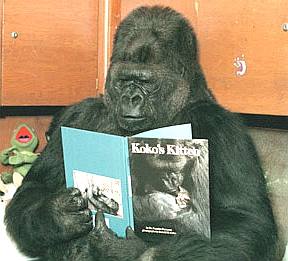 Gorillas like a good read too
BIRD INDEX:
Bishop, Orange

Canary

Chaffinch

Chicken
Cockatoo
Corella, Long-Billed

Cormorant
Crane, African Crowned
Crane
Crow

Cuckoo

Dodo
Dove
Duck

Eagle
Egret, Cattle
Emu

Falcon

Finch
Fishers Lovebird
Flamingo

Grebe
Goose, Egyptian

Grouse
Guinea Fowl, Helmeted
Hammerkop

Hawk
Hornbill, Wreathed
Hornbill, Red-Billed
Hottentot, Teal

House Martin
Ibis, Hadada

Ibis, Sacred
Kite, Black

Kingfisher

Kiwi
Kookaburra
Lapwing Plover

Lilac-Breasted Roller

Loon
Macaw

Mynah

Nightjar

Parrot, Amazon
Parrot

Partridge

Pelican

Penguin

Petrel

Pheasant
Pigeon

Quail

Robin
Roller, Blue-Bellied

Seagull

Sparrow
Spoonbill African

Starling

Stork

Swan

Swift
Toucan

Turkey
Vulture, Griffon

Wader
Weaver, Taveta Golden

Woodcock

Woodpecker
POPULAR INSECTS:
Apid

Army Ant

Bee

Beetles

Bulldog Ant

Butterfly

Centipede

Cockroach

Crickets

Damsel Fly

Death Watch Beetle

Dragonfly

Dung Beetle

Earwig

Fly

Grasshopper

Hornet

Ladybird

Leafcutter Ant

Locust

Mantis, Preying

Maybug

Millipede

Mosquito

Moth

Praying Mantis

Scarab Beetle

Stag Beetle

Stick Insect

Termite

Water Boatman

Wood Ant

Woodlice

Woodworm
Gorillas - Youtube
REFERENCE and LINKS:
OTHER ANIMALS:
| | |
| --- | --- |
| | Such as frogs (class: Amphibia) |
| ANNELIDS | As in Earthworms (phyla: Annelida) |
| | Neanderthals, Homo Erectus (Extinct) |
| | |
| | Such as Eagles, Albatross (class: Aves) |
| | |
| CRUSTACEANS | such as crabs (subphyla: Crustacea) |
| | Tyranosaurus Rex, Brontosaurus (Extinct) |
| ECHINODERMS | As in Starfish (phyla: Echinodermata) |
| | Sharks, Tuna (group: Pisces) |
| HUMANS - MAN | Homo Sapiens THE BRAIN |
| | Ants, (subphyla: Uniramia class: Insecta) |
| | Which includes PLANTS non- animal life |
| | Warm blooded animals (class: Mammalia) |
| | Such as Kangaroos (order: Marsupialia) |
| MOLLUSKS | Such as octopus (phyla: Mollusca) |
| | Trees - |
| PRIMATES | Gorillas, Chimpanzees (order: Primates) |
| | As in Crocodiles, Snakes (class: Reptilia) |
| | such as Rats, Mice (order: Rodentia) |
| SIMPLE LIFE FORMS | As in Amoeba, plankton (phyla: protozoa) |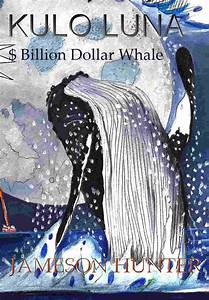 A heartwarming adventure: Pirate whalers V conservationists
with a $billion dollars riding on the outcome.