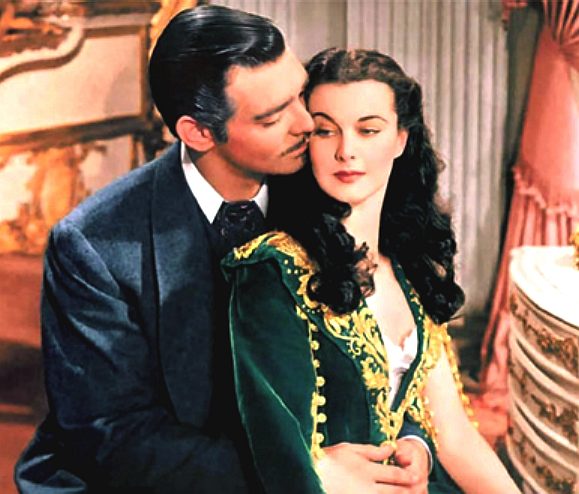 William Clark Gable (February 1, 1901 – November 16, 1960) was an American film actor. Though arguably best known for his role as Rhett Butler in the 1939 epic Gone with the Wind, Gable starred in a number of well-known films, among them It Happened One Night (1934), Manhattan Melodrama (1934), Mutiny on the Bounty (1935), and The Misfits (1961).

His performance in Gone with the Wind earned him his third nomination for the Academy Award for Best Actor; he was also nominated for Mutiny on the Bounty and won for: It Happened One Night.

Gable appeared opposite some of the most popular actresses of the time. Joan Crawford, who was his favorite actress to work with, was partnered with Gable in eight films, Myrna Loy worked with him seven times, and he was paired with Jean Harlow in six productions. He also starred with Lana Turner in four features, and with Norma Shearer and Ava Gardner in three each. Gable's final film, The Misfits (1961), paired him with Marilyn Monroe (also in her last screen appearance).
GONE WITH THE WIND

Despite his reluctance to play the role, Gable is best known for his performance in Gone with the Wind (1939), which earned him an Academy Award nomination for Best Actor. Carole Lombard may have been the first to suggest that he play Rhett Butler (and she play Scarlett) when she bought him a copy of the bestseller, which he refused to read.

Butler's last line in Gone with the Wind, "Frankly, my dear, I don't give a damn," is one of the most famous lines in movie history.

Gable was an almost immediate favorite for the role of Rhett with both the public and producer David O. Selznick. But since Selznick had no male stars under long-term contracts, he needed to go through the process of negotiating to borrow an actor from another studio. Gary Cooper was Selznick's first choice. When Cooper turned down the role of Butler, he was quoted as saying, "Gone With the Wind is going to be the biggest flop in Hollywood history. I'm glad it'll be Clark Gable who's falling flat on his nose, not me." By then, Selznick had become determined to hire Gable, and set about finding a way to borrow him from Metro-Goldwyn-Mayer. Gable was wary of potentially disappointing an audience that had decided that no one else could play the part. He later conceded, "I think I know now how a fly must react after being caught in a spider's web." Gone with the Wind was Gable's first Technicolor film. Also appearing in Gone with The Wind in the role of "Aunt Pittypat" was Laura Hope Crews who had coaxed Gable back into the theater from Portland.

By all accounts, Gable got along well with his co-stars during filming. Gable was great friends with actress Hattie McDaniel, and he even slipped her a real alcoholic drink during the scene in which they were supposed to be celebrating the birth of Scarlett and Rhett's daughter. Gable tried to boycott the premier of Gone with the Wind in Atlanta, Georgia, because the African-American McDaniel was not permitted to attend. He reportedly only went after she pleaded with him to go. Gable remained friends with McDaniel, and he always attended her Hollywood parties, especially when she was raising funds during World War II.

Gable did not want to shed tears for the scene after he inadvertently causes Scarlett to miscarry their second child. Olivia de Havilland made him cry, later commenting, "... Oh, he would not do it. He would not! Victor (Fleming) tried everything with him. He tried to attack him on a professional level. We had done it without him weeping several times and then we had one last try. I said, "You can do it, I know you can do it and you will be wonderful ..." Well, by heaven, just before the cameras rolled, you could see the tears come up at his eyes and he played the scene unforgettably well. He put his whole heart into it."

Decades later, Gable said that whenever his career would start to fade, a re-release of Gone with the Wind would soon revive his popularity, and he continued as a top leading actor for the rest of his life. Thanks in part to MGM's dominance in balloting, Gable was the lead actor in three films that won the Academy Award for Best Picture between 1934 and 1939. Only Dustin Hoffman has subsequently enjoyed a similar trifecta. Gone with the Wind was given theatrical re-releases in 1947, 1954, 1961, 1967 (in a widescreen version), 1971, 1989, and 1998.
Gone With the Wind
MUTINY ON THE BOUNTY
Mutiny on the Bounty was made in 1935 starring Charles Laughton and Clark Gable, and directed by Frank Lloyd based on the Charles Nordhoff and James Norman Hall novel: Mutiny on the Bounty.

The film was one of the biggest hits of its time. Although its historical accuracy has been questioned (inevitable as it is based on a novel about the facts, not the facts themselves), film critics consider this adaptation to be the best cinematic work inspired by the mutiny.

Historical blunders

The movie contains several historical inaccuracies. Captain Bligh was never on board HMS Pandora, nor was he present at the trial of the mutineers who stayed on Tahiti. At the time he was halfway around the world on a second voyage for breadfruit plants. Fletcher Christian's father had died many years before Christian's travels on board the Bounty, whereas the film shows the elder Christian at the trial. It should be noted, though, that the movie was always presented as an adaptation of the Nordhoff and Hall trilogy, which already differed from the actual story of the mutiny.

Bligh is depicted as a brutal, sadistic disciplinarian. Particular episodes include a keelhauling and flogging a dead man. Neither of these happened. Keelhauling was used rarely, if at all, and had been abandoned long before Bligh's time. Indeed, the meticulous record of the Bounty's log reveals that the flogging rate was lower than the average for that time. Prior to the mutiny, the Bounty had only two deaths—one seaman died of scurvy (not keelhauling), and the ship's surgeon died apparently of drink and indolence and not as a result of abuse by Bligh. Likewise, the film shows the mutineers taking over the ship only after killing several loyal crewmen, when in fact none died (although one crewman came very close to shooting Bligh until stopped by Christian). Lastly, Christian is shown being inspired to take over the ship after several crewmen have unjustly been put into irons by Bligh; this is fictional license.

For historical accuracy, Clark Gable reluctantly had to shave off his famous moustache because the sailors in the Royal Navy in the 18th century had to be clean-shaven.

In the final scene of the film, Gable gives a rousing speech to his fellow mutineers, speaking of creating a perfect society of free men on Pitcairn, away from Bligh and the navy. The reality was very different. Free from the restraints of naval discipline, the mutineers proved incapable of self-government. Pitcairn degenerated into a place of drunkenness, rape, and murder. Apart from John Adams and Ned Young, all the mutineers (including Christian) perished, most of them by violence.

Midshipman Roger Byam was based on a real person, Midshipman Peter Heywood, who is not listed in the novel or motion picture. Just as the fictional Byam is pardoned at the end of the film, the real-life Peter Heywood was pardoned for his part in the mutiny. MGM trailers in 1935 made an error calling Midshipman Byam an ensign.

Mutineer Thomas Ellison is depicted as being allowed to see his wife before his execution. There is no record to indicate that the real Ellison was married, and in any case a consolation visit of this type never would have been permitted in real life.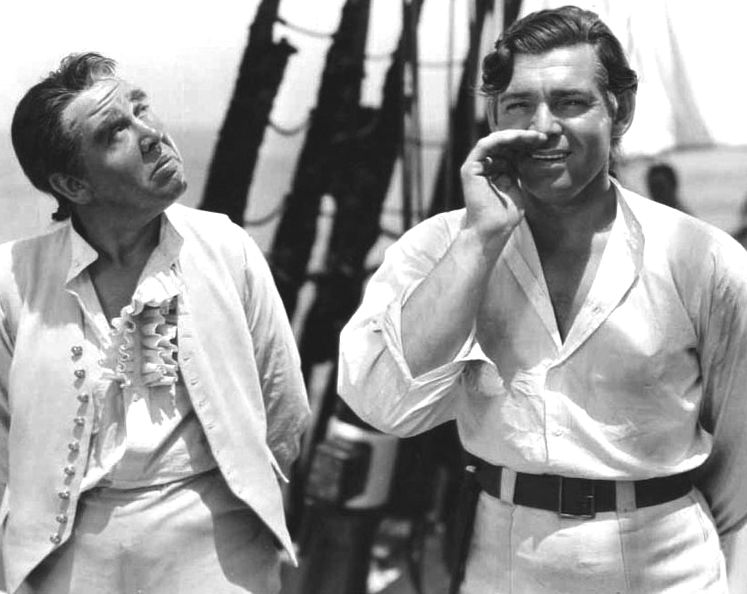 WORLD WAR II
In 1942, following tragic death of his wife, Carole Lombard, Gable joined the U.S. Army Air Corps. Carole had suggested that Gable enlist as part of the war effort, but MGM was reluctant to let him go, and he resisted the suggestion. Gable made a public statement after his wife's death that prompted Commanding General of the Army Air Forces Henry H. Arnold to offer Gable a "special assignment" in aerial gunnery. Clark was devastated by the loss of his wife (air crash) and some say this was his way of trying come to terms with his grief - and who can blame him. Gable had earlier expressed an interest in officer candidate school (OCS), but he enlisted on August 12, 1942, with the intention of becoming an enlisted gunner on an air crew. MGM arranged for his studio friend, cinematographer Andrew McIntyre, to enlist with and accompany him through training.

However, shortly after his enlistment, he and McIntyre were sent to Miami Beach, Florida, where they entered USAAF OCS Class 42-E on August 17, 1942. Both completed training on October 28, 1942, commissioned as second lieutenant, with Gable spending time as an assistant potato peeler. His class of 2,600 fellow students (of which he ranked 700th in class standing) selected Gable as their graduation speaker, at which General Arnold presented them their commissions. Arnold then informed Gable of his special assignment: to make a recruiting film in combat with the Eighth Air Force to recruit gunners. Gable and McIntyre were immediately sent to Flexible Gunnery School at Tyndall Field, Florida, followed by a photography course at Fort George Wright, Washington and promoted to first lieutenants upon completion.

Gable reported to Biggs Army Air Base on January 27, 1943, to train with and accompany the 351st Bomb Group to England as head of a six-man motion picture unit. In addition to McIntyre, he recruited screenwriter John Lee Mahin; camera operators Sgts. Mario Toti and Robert Boles; and sound man Lt.Howard Voss to complete his crew. Gable was promoted to captain while with the 351st at Pueblo AAB, Colorado, for rank commensurate with his position as a unit commander. (As first lieutenants, he and McIntyre had equal seniority.)

Gable spent most of the war in the United Kingdom at RAF Polebrook with the 351st. Gable flew five combat missions, including one to Germany, as an observer-gunner in B-17 Flying Fortresses between May 4 and September 23, 1943, earning the Air Medal and the Distinguished Flying Cross for his efforts. During one of the missions, Gable's aircraft was damaged by flak and attacked by fighters, which knocked out one of the engines and shot up the stabilizer. In the raid on Germany, one crewman was killed and two others were wounded, and flak went through Gable's boot and narrowly missed his head. When word of this reached MGM, studio executives began to badger the U.S. Army Air Corps to reassign their most valuable screen property to non-combat duty. In November 1943, he returned to the United States to edit the film, only to find that the personnel shortage of aerial gunners had already been rectified. He was allowed to complete the film anyway, joining the 1st Motion Picture Unit in Hollywood.

In May 1944, Gable was promoted to major. He hoped for another combat assignment but, when D-Day came and passed in June without further orders, he requested and was granted a discharge. His discharge papers were signed by Captain Ronald Reagan, Hollywood actor and eventual President of the United States. Gable completed editing of the film Combat America in September 1944, providing the narration himself and making use of numerous interviews with enlisted gunners as focus of the film.

Adolf Hitler favored Gable above all other actors; during the Second World War, Hitler offered a sizable reward to anyone who could capture and bring Gable to him unscathed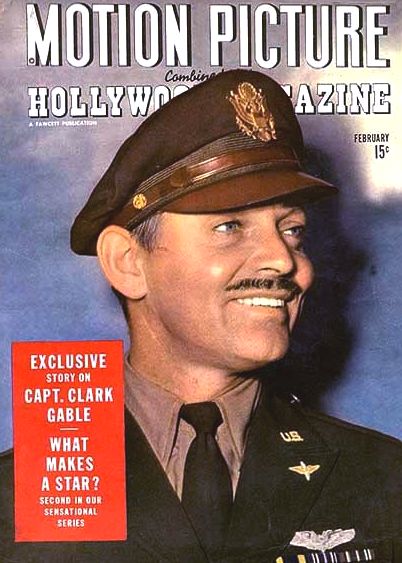 LAST WILL and TESTAMENT of CLARK GABLE
I, CLARK GABLE, being of sound and disposing mind, and free from fraud, duress, menace or undue influence, do hereby make, declare and publish this, my Last Will and Testament.

FIRST: I hereby expressly revoke any and all former wills and Codicils thereto heretofore made by me.

SECOND: I hereby declare that I am married to Kathleen G. Gable and that I have no children.

THIRD: I direct that all of my just debts, expenses of last illness and expenses of burial be first paid.

FOURTH: I give, devise and bequeath to JOSEPHINE DILLON, my former wife, that certain real property situate in the County of Los Angeles, State of California, known as 12746 Landale, North Hollywood, California, and more particularly described as follows:

The West fifty (50) feet of the East one hundred (100) feet of Lot 9, Tract 5588, as per map recorded in Book 59, page 49, of Maps, in the office of the Recorder of said County.

FIFTH: All of the rest, residue and remainder of my estate, real, personal or mixed, I give, devise and bequeath to my beloved wife, KATHLEEN G. GABLE.

SIXTH: I direct that all succession, inheritance or other death taxes or duties (by whatever name called) imposed upon or in relation to any property owned by me at the time of my death or required to be included in my gross estate under the provisions of any tax law shall be paid out of the residue of my estate without any charge therefor against any specific bequest or devise hereunder or against any assets not included in my probate estate.

SEVENTH: I hereby generally and expressly disinherit each and all persons whomsoever claiming to be and who may be my heirs at law, and each and all persons whomsoever who, if I died intestate, would be entitled to any part of my estate, except those herein provided for. If any devisee, legatee or beneficiary under this Will, or any person claiming under or through any devisee, legatee or beneficiary, or any other person who, if I died wholly or partially intestate, would be entitled to share in my estate, shall in any manner whatsoever, directly or indirectly, contest this Will or attack or oppose, or in any manner seek to impair or invalidate any provision hereof, or shall endeavor to succeed to any part of my estate otherwise than through this Will, then in each of the above mentioned cases I hereby bequeath to such person or persons the sum of One ($1.00) Dollar only, and all other bequests, devises and interest in this Will given to such person or persons shall be forfeited and become a part of the residue of my estate.

EIGHTH: I hereby appoint my beloved wife, KATHLEEN G. GABLE, to serve as executrix of my estate, without bond.

IN WITNESS WHEREOF, I have hereunto set my hand this 19 day of September_, 1955.

___________
CLARK GABLE

The foregoing instrument, consisting of three pages, including the page signed by the testator, was on the date hereof by the said CLARK GABLE, subscribed, published and declared to be his Last Will and Testament in the presence of us, and each of us, who at his request and in his presence, and in the presence of each other, have signed the same as witnesses thereto.


Mutiny of the Bounty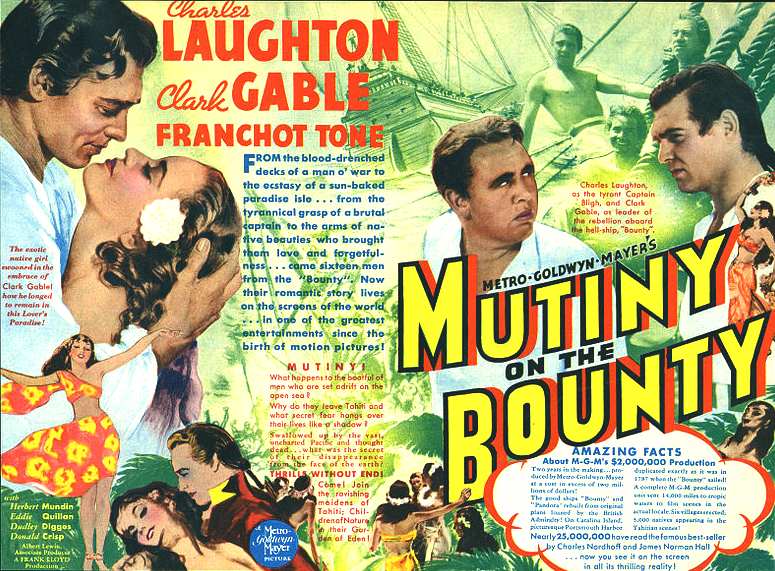 Metro Goldwyn Mayer Movie poster from 1935
A - Z FILMS INDEX
A - Z ACTORS INDEX
Dermot Mulroney

Kristen Bell

Sam Worthington

Ted Danson
A heartwarming action adventure: Pirate whalers V Conservationists,
introducing John Storm and his solar powered robot ship
as they fight to save a wounded whale from the sushi bars.
For release as an e-book from 2013/4 with hopes for a film in 2015 TBA