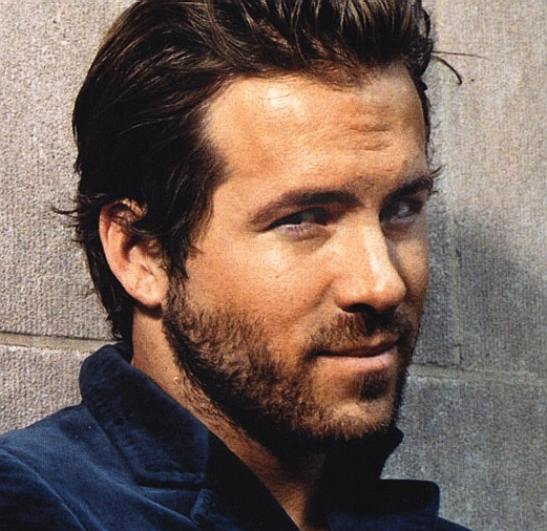 Ryan Rodney Reynolds (born October 23, 1976) is a Canadian film and television actor. Reynolds is known for playing Michael Bergen on the ABC sitcom Two Guys and a Girl (1998–2001), Billy Simpson in the YTV Canadian teen soap opera Hillside (1991-1993), as well as Marvel Comics characters Hannibal King in Blade: Trinity (2004) and Wade Wilson/Deadpool in X-Men Origins: Wolverine (2009). He has starred in films such as Serving in Silence: The Margarethe Cammermeyer Story, National Lampoon's Van Wilder, Finder's Fee, Just Friends, Definitely, Maybe, The Proposal, The Amityville Horror, The Change-Up, Smokin' Aces, Adventureland, Buried, and Safe House.

He also portrayed the DC Comics superhero Hal Jordan/Green Lantern in Green Lantern (2011) and made cameos in the well known films Harold & Kumar Go to White Castle and Ted.

Reynolds' career began in 1990 when he starred as "Billy" in the Canadian-produced teen soap Hillside, distributed in the United States by Nickelodeon as Fifteen. In 1996 he co-starred with Melissa Joan Hart in the TV movie Sabrina the Teenage Witch. As an adult, Reynolds starred in the National Lampoon movie Van Wilder and the American television series Two Guys, A Girl and a Pizza Place, playing medical student Michael "Berg" Bergen. In 1993–94 he had a recurring role in The Odyssey as Macro. He also cameoed in Harold & Kumar Go to White Castle as a nurse, appeared in The In-Laws with Michael Douglas and Albert Brooks, as well as the Canadian production Foolproof.


In 2005 he played a waiter named Monty in Waiting..., and as music executive Chris Brander in the romantic comedy Just Friends alongside Amy Smart and Anna Faris. Reynolds played the protagonist in the 2008 film Definitely, Maybe. He has also appeared in the second season finale of the television series Scrubs. In 2007, Reynolds guest-starred as Brendan's friend Hams in the episode "Douchebag in the City" of the TBS sitcom My Boys. In 2009, he portrayed Andrew Paxton, starring opposite Sandra Bullock, in The Proposal, and Mike Connell in Adventureland.

Although he has performed primarily in comedies, Reynolds underwent intense physical training to play an action role as the character of Hannibal King in the 2004 film Blade: Trinity. Reynolds played George Lutz in the 2005 remake of the 1979 horror film The Amityville Horror. Additionally, he played an FBI agent alongside Ray Liotta in the 2006 crime action film Smokin' Aces.

In a March 2005 interview, Reynolds spoke of his interest and involvement in a possible film adaptation of Deadpool with screenwriter David S. Goyer, as well as the possibility of playing the incarnation of The Flash known as Wally West in an adaption of the popular DC Comics character in the upcoming movie project. Reynolds portrayed Deadpool in the X-Men spinoff X-Men Origins: Wolverine and was announced to portray him again in a spin-off, Deadpool. It was later confirmed that the Deadpool film will be a reboot, ignoring the events that took place in X-Men Origins and establishing a new backstory for the character.

He also starred in the Spanish and American thriller Buried, which screened at the Sundance film festival.

In June 2010, Reynolds was invited to join the Academy of Motion Picture Arts and Sciences.

In the making of The Whale, Ryan moved in producing along with Scarlett Johansson as executives. The Whale is based on an award-winning documentary produced by Mountainside Films, directed by Michael Parfit and Suzanne Chisholm. It tells the true story of a lone baby orca named Luna, who was separated from his family and tried to befriend people on the west coast of Vancouver Island.

Reynolds portrayed superhero Hal Jordan/Green Lantern in Warner Bros.' film Green Lantern, released June 17, 2011 in 3D; this made him one of the few actors to headline in movies based on both Marvel and DC characters. In 2012, he portrayed an agent in Safe House, alongside Denzel Washington, one of our all time faves.
Reynolds portrayed Nick Walker in the Universal Pictures film adaptation of Dark Horse Comics' R.I.P.D. (Rest in Peace Department), which was released in 2013.
LINKS
http://www.dailymail.co.uk/tvshowbiz/article-2514179/Ryan-Reynolds-plays-visiting-Spanish-talk-show.html
http://www.imdb.com/title/tt1133985/
http://en.wikipedia.org/wiki/Green_Lantern_(film)


The Green Lantern film trailer
A - Z FILMS INDEX
A - Z ACTORS INDEX
Dermot Mulroney

Kristen Bell

Sam Worthington

Ted Danson
A heartwarming action adventure: Pirate whalers V Conservationists, introducing John Storm and his solar powered robot ship as they fight to save a wounded whale from the sushi bars. For release as an e-book from 2014 with hopes for a film in 2015/2016 TBA