Angelina Jolie (born Angelina Jolie Voight on June 4, 1975) is an Academy Award-winning American actress, a former fashion model, and a Goodwill Ambassador for the United Nations High Commissioner for Refugees. She is also known for her great beauty as well as her tumultuous off-screen life. She has received three Golden Globes, 2 SAG awards and 2 Emmy nominations as well as an Oscar for Best Supporting Actress for her performance in the film Girl, Interrupted.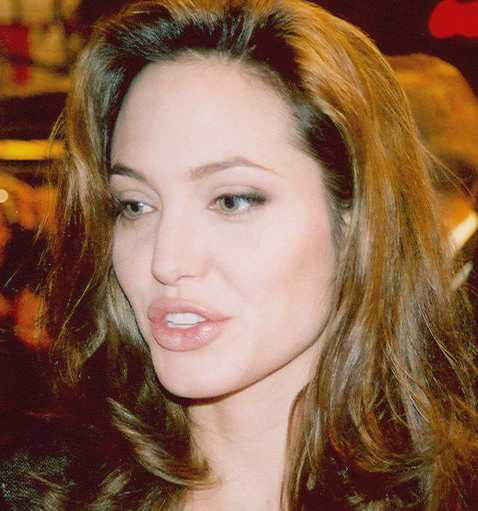 Angelina Jolie
Biography
Born in Los Angeles, California, Jolie is the daughter of actors Jon Voight and Marcheline Bertrand. She is the niece of Chip Taylor, sister of James Haven and the goddaughter of Jacqueline Bisset and Maximilian Schell. In a 2004 article in Vogue she stated that her mother is from Chicago. At the Premiere Magazine "Women in Hollywood" Awards, she said her mother was born in a bowling alley and has stated that because of her name people often assume that her mother is French. Jolie's grandparents were French - Canadian. Her paternal grandfather was from Czech Republic. She is of Czech and English descent on her father's side, and French-Canadian and Iroquois on her mother's side. As a teenager, Jolie dreamed of becoming a funeral director. She attended the Lee Strasberg Theatre Institute from the age of 11, later attending Beverly Hills High School. Her mother also studied with Lee Strasberg. Though she enrolled at the film school at New York University after finishing Gia, she did not complete her studies.
Jolie has been long estranged from her father, though a reconciliation was attempted by his appearing with her in Lara Croft: Tomb Raider. In the October 2004 issue of Premiere Magazine, Jolie indicated that she was no longer interested in pursuing a relationship with her father, but that she did not hate him because she realized that "...we only have so much energy in this life". Soon afterwards, he claimed that she has "serious emotional problems" on Access Hollywood, and she legally dropped Voight as her last name, taking "Angelina Jolie" as her legal name. She stated that she didn't want to publicize her reasons for not having a relationship with her father, but since she had just adopted her son Maddox, that she didn't think it was healthy for her to be around him. Voight has not met his grandchildren.
aaa
A - Z FILMS INDEX
A - Z ACTORS INDEX
Dermot Mulroney

Kristen Bell

Sam Worthington

Ted Danson
Solarnavigator is designed to carry the Scorpion anti pirate weapon. A fleet of such autonomous vessels could be the basis of an international peacekeeping, and/or emergency rescue force, the same platform is also ideal for endurance high-speed oceanographic surveys. This same vessel is also the star of the John Storm adventure series, the first of which is: The $Billion Dollar Whale