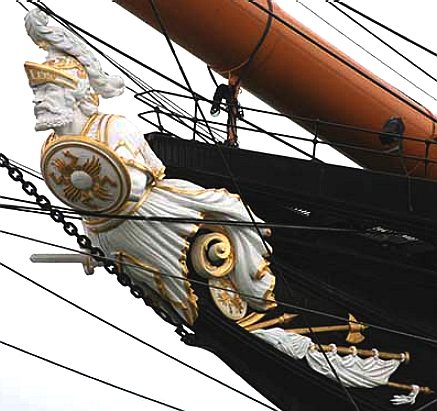 A ship often has an elaborate figure, usually carved from wood - and typically a maiden - attached to the bows or prow of the vessel to bring good luck to the crew on their voyages, act as an inspiration to the men on board and send a message to potential enemies of their resolve.
In the case of a powerful warship such as the Warrior, a maiden would not do. It had to be a classical soldier armed to the teeth, to send the message that this was a ship sailing the oceans to fight. The figurehead on the Warrior is massive; a superbly imposing mythological fighting man brandishing a sword, shield and trailing assortment of weapons, also resplendent with helmet adorned with feathers. Altogether, the sculpture conveys the message that England was trying to send to the world.
The carving is finished in white with gold detailing to add to the godlike statuesque qualities, which envelops almost completely the bows.
A stunning figurehead for the Solar Navigator has been designed to reflect both the traditional and modern aspects of our stated aims - now including artificially intelligent autonomous navigation, to complement the other robotic functions, such as energy harvesting. Our artist accepts both private and corporate art commissions and may be contacted via this website by simply emailing our webmaster.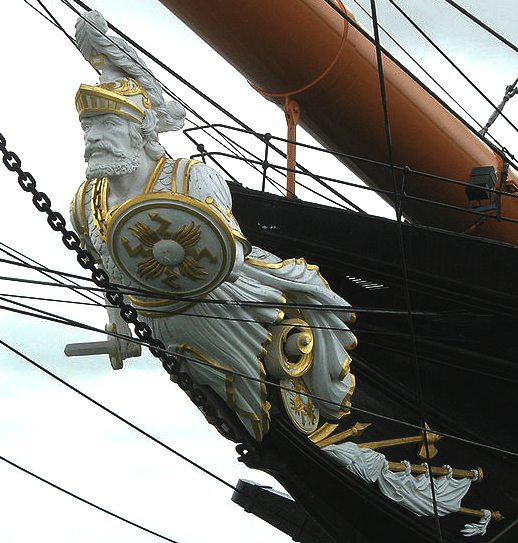 Warrior Preservation Trust
HM Naval Base
Portsmouth
Hampshire, PO1 3QX
United Kingdom
Tel: (+44) 23 9277 8600 (International) 023 9277 8600 (UK)
Fax: (+44) 23 9277 8601 (International) 023 9277 8601 (UK)

Email: info@hmswarrior.org

Website: http://www.hmswarrior.org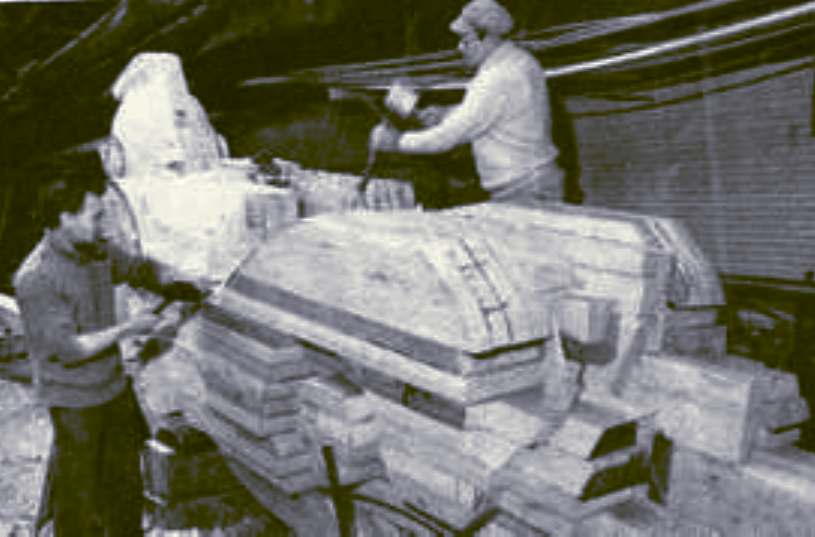 Norman Gaches creating a masterpiece in his Isle of Wight workshop, from the laminated blocks of timber on the left, to the fine detailing on the right.

Obsolete within a decade of her launch, HMS Warrior was the first British iron hulled warships to be powered by steam. In her day, she was larger, better armored and more powerful than any other ship afloat.

By 1883 she had been removed from service and stripped of her masts and guns. In 1904 she was renamed Vernon III and was used to supply steam and electricity to the Navy's torpedo training school.

In 1924 she was renamed Oil Fuel Hulk C77 and used as a shipkeeper's home and floating oil dock at the Pembroke Dock in Wales.

Today Warrior is the only surviving example of the 45 ironhulls built between 1861 and 1877. The Warrior Preservation Trust took charge of Warrior in 1979 and has carried out a truly stunning restoration considering the near fatal tragedy befalling her, when she was accidentally set on fire.
Class: Warrior Class Sail & Steam
Launched: 29 Dec 1860
At: Thames Iron Works & Shipbuilding Company, London, England
Commissioned: 1861

Length: 418 feet
Beam: 58 feet
Draft: 26 feet
Displacement: 9,210 tons
Maximum Speed: 13 knots under sail, 14.5 knots under steam
Armament: 26 muzzle-loading 68 pounders, 10 breech-loading 110 pounders
Complement: 705 men
The Solar Navigator - SWASSH (Small Waterplane Area Stabilized Single Hull) test model 2012
The latest Solarnavigator is a robot ship designed to be capable of an autonomous world navigation set for an attempt in 2015 if all goes according to schedule. The platform is also ideal for persistent monitoring 365 days year 24/7 - with data streamed back to your command HQ via satellite.