What does Solar Lady look like? The figurehead below is exhibited at the Maritime Museum in Paris, France. She is carved in the traditional way with classical form to good effect. The Solar Lady is both ancient and futuristic in style and form, She would not look out of place in a temple in Ancient Egypt, the Tate Modern or the Louvre.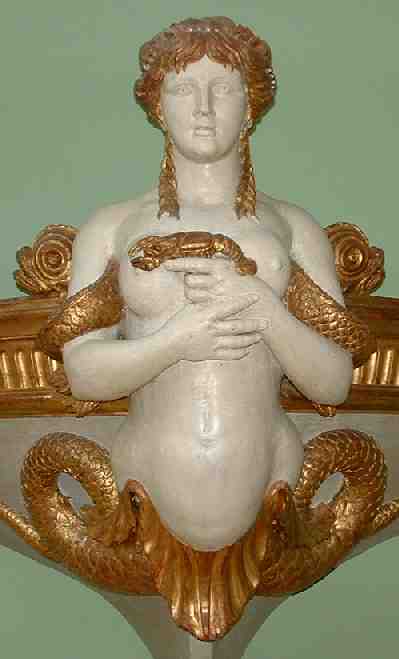 It was the practice in most French Military dockyards to have a statue watching out for the vessels under construction, repair or simply at anchor. The figure below is also exhibited at the Maritime Museum in Paris, France.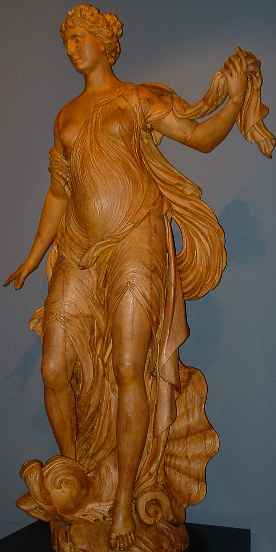 Some ships had exquisite stern carvings as to complement those at the prow, illustrated by the gold leaf covered relief of this scene; once again on display at the Maritime Museum in Paris, France.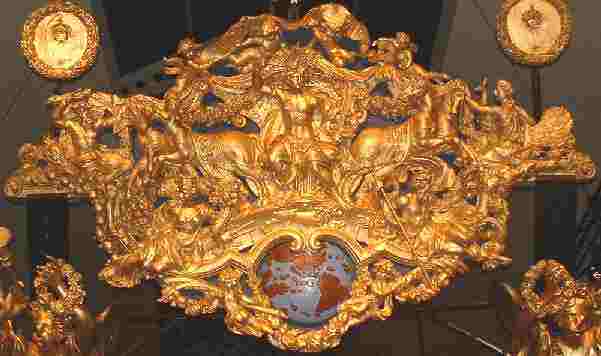 The Solar Lady is likely to be carved in a variety of materials, using different skill sets. It is likely the boats designer will use his wood carving and other experience to create a contemporary work to reflect the technology, while retaining traditional roots. Nelson believes the female form personifies the hopes of all mariners, reminds them of family and country, and symbolises the maternal hand that steers us all through life's ups and downs, while also representing regeneration - a driving force.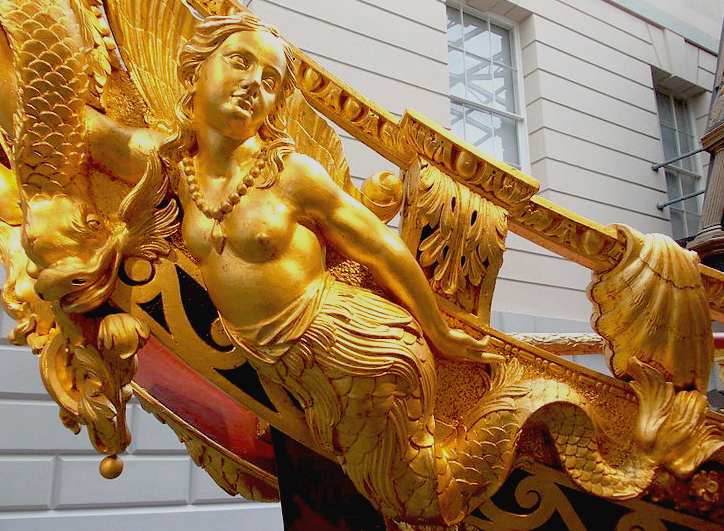 Mermaid figurehead in gold lleaf, Prince Fredericks Barge 1732
Pirate Spanish galleon, La Contessa, lighting the passage with a lantern.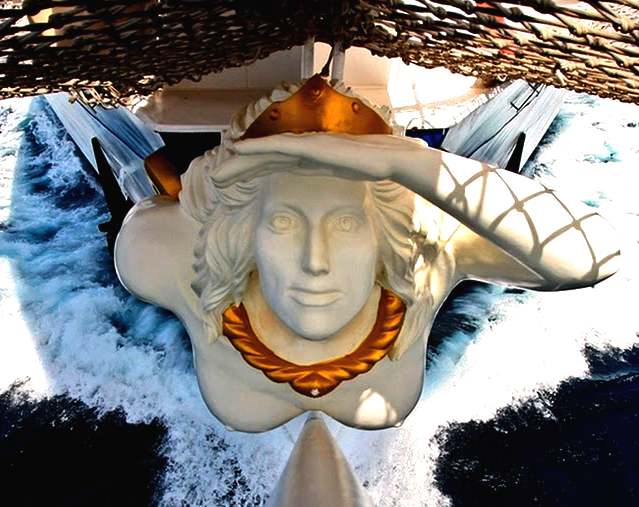 Mermaid figurehead, classis bare-breasted maiden keeping a watchful weather eye
LINKS
Richard Hunter
Figurehead Historian

15 Aughton Avenue,
Aughton, SHEFFIELD,
South Yorkshire, S26 3XB
United Kingdom.
Telephone/Fax: 0044 (0) 114 287 3465
J.P. URANKER WOODCARVER
All rights reserved, 2000-2006
P.O. Box 1393, 179 County Road, Oak Bluffs, MA 02557 Tel: (508) 693-5871
e-mail: jpuranker@jpuwoodcarver.com
http://www.maritimawoodcarving.co.uk/
MARITIMA
76 Mathews Way, Stroud, Gloucestershire, GL5 4EB
England.
Tel/Fax: +44 (0)1453 756716 Mobile: +44 (0)7836 323431
andy@maritimawoodcarving.co.uk
http://www.hartmann-designs.de/
Claus & Birgit Hartmann Harriersand 6 28 790 Schwanewede Germany Tel :+49 (0) 4296/ 573 Fax:+49 (0) 4296/ 74 81 79
http://www.dailymail.co.uk/The-bump-beach-arrives-Damien-Hirst-s-65ft-statue-pregnant-woman-place-seaside-town
| | |
| --- | --- |
| Clay modeling - Youtube | Sculpture - Youtube |
| | |
| --- | --- |
| Wood sculpture - Youtube | Wood carving - Youtube |
The Solar Navigator - SWASSH (Small Waterplane Area Stabilized Single Hull) test model 2012
The latest Solarnavigator is a robot ship designed to be capable of an autonomous world navigation set for an attempt in 2015 if all goes according to schedule. The platform is also ideal for persistent monitoring 365 days year 24/7 - with data streamed back to your command HQ via satellite.