A ship often has an elaborate figure, usually carved from wood - normally a maiden - attached to the bows or prow of the vessel to bring good luck to the ship and its voyages, act as an inspiration to the crew and send a message to potential enemies of their resolve. Victory's figurehead is rather different, incorporating a written message. This may be seen as a transitional stage where modern vessels, to include space ships, carry symbolic messages, numbers and pictures simply painted onto or printed and stuck onto a hull.
Figure head of HMS Victory - showing stem-head positional mounting details
Victory's current figurehead is a faithful replica of that which was fitted during the ship's 'repairs' between 1801 and 1803. The sculpture was carved in 1801 by George Williams at a cost of £50.
A 1/4 size replica of the original elaborate 1765 figurehead can be seen in the Victory Gallery at the Royal Naval Museum opposite the ship.

The classic design comprises two cupids supporting the royal coat of arms surmounted with the royal crown. The arms bear the Norman French inscription of the Order of the Garter: Honi Soit Qui Mal Y Pense. Translated this means: Shame to him who evil thinks.
At the time of George III, the royal coat of arms still included the escutcheon of Hanover. This is clearly evident by the white horse and Hanoverian crown at the centre. Each cupid wears a coloured sash: the starboard figure, blue; the port figure, red. These colours indicate that the two figures represent a Seraphim (red), and a Cherubim (blue).

We know from Midshipman River's personal report of the Battle of Trafalgar that the starboard figure had its leg shot away, and the port figure, its arm.

A Seraphim, relates to the highest order of angels representing the love of God.

A Cherubim, relates to the second order of angels representing wisdom.

Significant rot was discovered in the figurehead in October of 2009 requiring its removal from the ship.
The Victory's figurehead does not convey the typical message from one navy to another - that of power and might, but is rather an understated intellectual peace inspired message. There is no oceanic tie and no woman to lead the crew to safety. Compare this design to that on HMS Warrior that followed, where there is a reversion to traditional fighting symbolism.
COMMISSIONS
Out in-house artist is creating the figure-head for Solar Navigator to reflect both the traditional and modern aspects of our stated aims. We accept commissions for original works of art - if you are considering repairs of the addition of a figurehead to your yacht, etc.
Model of the HMS Victory figure head components - separate kit items and fitted to model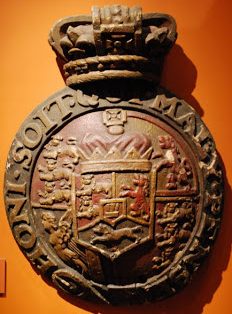 The Royal coat of arms, King George, as used on the HMS Victory
LINKS
LINK TO CUTTY SARK - FIGUREHEAD
LINK TO HMS VICTORY - FIGUREHEAD
LINK TO HMS WARRIOR - FIGUREHEAD
http://www.maritimawoodcarving.co.uk/
http://www.hartmann-designs.de/
http://www.cindyvallar.com/superstitions.html
http://misscavendish.blogspot.co.uk/2010_09_01_archive.html
http://www.cityofart.net/bship/figurehead.htm
http://www.telegraph.co.uk/expat/expatpicturegalleries/7299378/Ship-figureheads.html
http://www.contemporarysculptor.com/hms-victory.htm
https://en.wikipedia.org/wiki/HMS_Victory
http://www.fotolibra.com/gallery/392971/hms-victory-figurehead/like/
http://www.markreeves.co.uk/html/htmlcolourphotos/hmsvictoryfigurehead.html
The Solar Navigator - SWASSH (Small Waterplane Area Stabilized Single Hull) test model 2012. The latest Solarnavigator is a robot ship designed to be capable of an autonomous world navigation set for an attempt in 2015 if all goes according to schedule. The platform is also ideal for persistent monitoring 365 days year 24/7 - with data streamed back to your command HQ via satellite.