The Spirit of Weymouth is a fine looking vessel which I first encountered at the Seawork show in June 2007 at Southampton. The Open 60 class yacht was acquired by White Ocean Racing recently for the Vendee Globe race in 2008 subject to raising sufficient backing. NK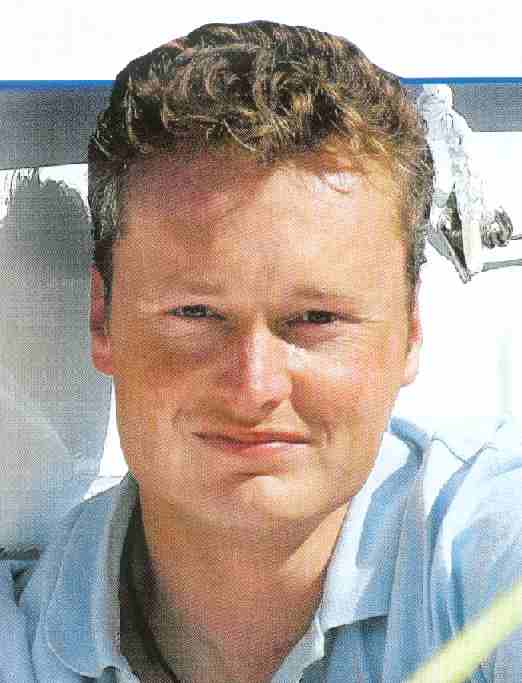 Steve White - looking for backing
How it all started
Born in Derbyshire, but a Dorset resident for many years, White began his journey just under ten years ago, and hasn't looked back as he explains:
"I did a trip around the Fastnet rock in the middle of winter, the wind was blowing 30 to 45 knots and it was absolutely fantastic. "I had no idea you could sail professionally, and it wasn't long after the 1996 Vendee, and I had been reading about Christophe Auguin and the boat he had, which is very similar to our boat here.
"After finishing that trip and mulling over the events of the the previous Vendee, all of a sudden something snapped. I handed in my notice and went to work in a boatyard and started to sail four or five times a week."
Priceless
Although it cost him a lot of money to get started, he is convinced that following his dream was no gamble:
"Regarding finances, early on, obviously you don't know anything and nobody's going to pay you so you've got to put in the time for nothing to get your foot in the door. "There obviously comes a time where you do become useful and you can make a half-reasonable living out of it, though you're never going to be fantastically rich." "When you're starting a project like this as we did in the February of last year, we re-mortgaged the house and packed in a good secure job and went for it."
"If we thought it was a gamble we wouldn't be doing it. There is no room in our camp for 'what ifs?' or 'might nots' - it's 'do or do not'. We won't be beaten and we'll get there in the end."
Local pride
Steve is among the world's most promising yachtsmen/offshore sailors, and is one of the real contenders for the Velux 5 Oceans race. He's very proud of his Dorset roots and is keen to bring his team to the area in his quest for success:
"It's incredible. It's taken nine years since I actually made my vow to do this to put all this together, and to actually come back to your home town with a boat you've put back together with the event that are in front of us, it's incredible." "The next event is the Velux 5 Oceans, which is single handed, round the world over three legs, so it breaks it up a little bit. The first leg is 11,000 miles from Bilbao to Freemantle, then Freemantle to Norfolk and then Norfolk back to Bilbao. "It gives us a chance to get the boat in the Southern Ocean, drive it hard in strong downwind conditions, see what I'm made of and treat it as a practice for the Vendee."
So what does he think is his greatest achievement thus far? "Sailing wise I think it was winning the OSTAR, the first monohaul, the first thing that had raised my profile. I'd done quite a bit of sailing previously but there wasn't a great deal in the media spotlight and that gave us quite a bit of coverage."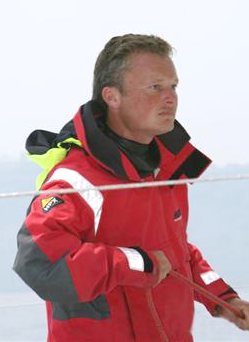 Offshore
As well as being a talented sailor, Steve is also a proud father and husband. However as he admits there isn't always time for them, let alone other pursuits. "There isn't room for anything else outside of sailing and family, and I don't get time to see my family as much as I should."
British media
With the multitude of sports available on television and the rest of the press, sailing has found it difficult to make real headway in the British sporting media. Steve says that the British coverage does not compare well with its continental counterparts: "If you go to France, the people come and talk and want to know about the boats - they know the boats like we know football teams and the skippers like we know David Beckham and people like that. "If you open a French newspaper while the big races are underway you will see very very good coverage and we just don't see that here unfortunately. The profile is on its way up, and the likes of Ellen MacArthur do wonders for the sport.
Dorset's sailing legacy
With the Olympic sailing coming to Dorset in 2012, Steve is fully aware of the capabilities of some of the local competitors and what they can do. "You've got Paul Larson over in the sailing academy, he's done lots of mileage and is well known in sailing circles. "I'm also led to believe there are a considerable amount of promising sailors in Weymouth ahead of the Olympics, although we're probably the only offshore, big boat sailing competitors in the area."
Ambitions
Having secured an open 60 sailing yacht. The team want to entered their splendid racing machine in the 2008 Vendee Globe, the most extreme race in the sailing arena. Steve White will sail the yacht around the world, alone, 27,000 miles non stop and preparations for this massive event are already under way. All they need now to be at the start line is a prime sponsor.
The boat will be pivotal to the success of the business. It is a perfect platform for corporate hospitality, team building and sponsor branding. The Open 60 yacht, formerly Gartmore Investment Managers, is a state-of-the-art carbon fibre racing machine with an impressive track record having already successfully completed the Vendee Globe with fellow Brit Josh Hall as skipper. While the focus of White Ocean Racing will be on preparing the skipper and boat for a race around the world, the more practical realities of running a profitable business will remain close to the surface and Spirit of Weymouth will be available for charter, corporate hospitality events as well as sponsor branding for international yacht races.
White Ocean Racing is as much a notion as it is a nuts and bolts business. It's a concept built on dreams, grit and an overwhelming desire to field a successful entry in the 2008 Vendee Globe. Headed by Steve White and backed by a formidable team of sailors, technicians and business people, White Ocean Racing is a practical, hands-on management team ready to take on the task of funding, preparing and successfully completing one of the world's toughest challenges, the Vendee Globe, a single-handed, non-stop lap of the planet in an Open 60 sailboat.
When Steve and Spirit of Weymouth gather in France prior to the start of the Vendee Globe they will be among few sailors prepared to undertake the rigors of a non-stop solo circumnavigation. More people have flown in outer space than sailed around the world alone and this fact alone brings out crowds. In the week leading up to the start of the Vendee Globe more than 300,000 people will pay a visit to the Vendee Race Village and on the day of the start close to half a million people will descended on Les Sable D' Olonne to wish the sailors a safe journey. When they return it will seem as if half of France has turned out to welcome them back and to witness another historic end to an event that has become a benchmark for all aspiring single-handed sailors.
If the team don't win the 2008 Vendee, they'll get a new boat built and do the 2012 Vendee. If they still allow them they'd get a 60ft Trimar. "They're like the boat we've got but instead of four tons of leads at the keel, you've got three hulls. The speeds of those boats are phenomenal and they also break up so they're quite exciting.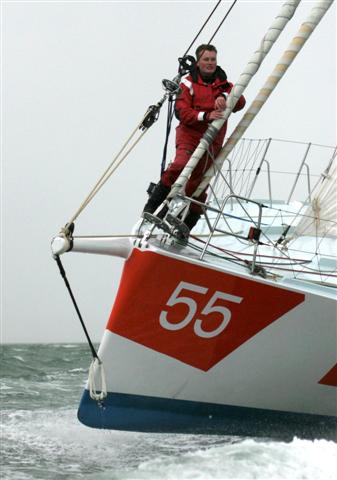 Spirit of Weymouth with Steve at the bow
THE TEAM
While most people view solo offshore racing as a solitary endeavour, the truth is that it takes a team to successfully complete the Vendee Globe as Ellen MacArthur could I'm sure confirm. In many cases the team is as important as the skipper. This is most definitely the case at White Ocean Racing where Steve has assembled a formidable group of highly qualified people, each experts in their own field. When Steve sets off at the start of the Vendee Globe in November 2008, he will need to know that his boat has been meticulously prepared, that his PR staff are ready to tell his story to gain maximum exposure for his sponsors, and that his mental and emotional needs will be met during the toughest moments of the race. The White Ocean Racing team stands ready to take on the challenge.
Steve White
Steve White's trajectory up the British solo sailing ladder began, like many things do, with a flash of inspiration while on sailing trip. It was after a sail from Plymouth around the infamous Fastnet Rock that Steve felt an almost primeval pull and knew instantly that he had found his calling. It was a truly life-changing experience. He handed in his notice at work, found a job in a local boatyard and decided then and there to become a professional sailor. He immediately set about getting as much practical experience on the water as he could spending a lot of time either racing, doing deliveries, or sailing alone on his boat, a Tucker Ballerina, which he had bough a year earlier. He also spent time learning about the technical side of sailing, reading books and asking questions of experts. His love of the open ocean and the spirit of competitiveness that professional sailing offered resonated with Steve and he was slowly drawn into the highly charged world of single-handed offshore racing. He now stands alongside fellow sailors Mike Golding and Alex Thompson as one of Britain's top hopes to win the next Vendee Globe.
Although he only started sailing a decade ago his learning curve has been steep. He initially ran the rigging and repairs side of the small, local boatyard before taking a job with legendary offshore sailor Pete Goss as Mate aboard Goss's Open 50 Aqua Corum. He also sailed as Mate aboard another of Goss's boats, British Steel, the yacht Sir Chay Blyth sailed single-handed around the world in 1970. From there Steve moved on to work for Blyth's company, The Challenge Business, charged with training skippers and crews planning on competing in the Global Challenge. During his tenure at The Challenge Business Steve sailed over 100,000 miles including 25 roundings of the Fastnet Rock. Working for both Blyth and Goss Steve learned some valuable lessons notably that professional sailing is more than simply racing sailboats; it's about perseverance, integrity and a strong belief in one's own raw talent.
Steve continues to sail for fun as well as professionally and will continue to do so as he ramps up his training for the Vendee Globe. In the summer of 2005 he sailed the Faraday Mill OSTAR single-handed transatlantic race, an event that laid a strong foundation for the Vendee. In the months ahead Steve will continue to build on that solid foundation until he is ready to take up the ultimate sailing challenge; a non-stop solo circumnavigation at the helm of his own Open 60.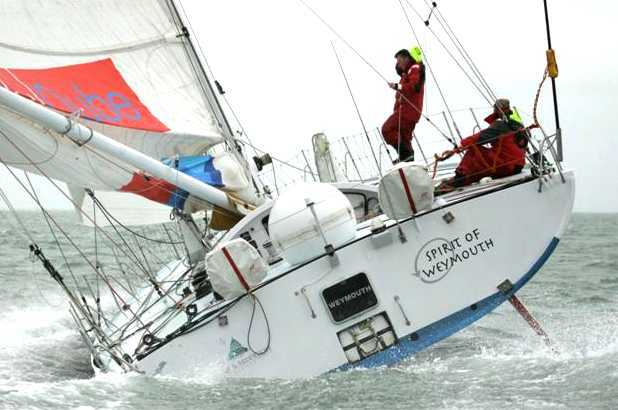 Spirit of Weymouth Open 60 racing boat

Peter Watson

Peter has agreed to act as an advisor to White Ocean Racing for the duration of the project. A Dorset based Canadian mechanical engineer, Peter's background is in sales and marketing. He has travelled and worked in over 50 countries and works on refinery and petrochemical projects, and was the General Manager of a US corporate subsidiary in Singapore. He was a VSO volunteer in Zambia where he helped to introduce new boat technologies and the sail as motive power to be used by the fishermen of the Kafue flood plain near Lusaka. Prior to that he sailed across the Atlantic and worked a charter season in the Caribbean during a break between jobs with Brown and Root. He has been a close friend of Steve's for more than 16 years and believes Steve's focussed approach and ability to push himself to
the limit will enable him to excel in whatever he does.
Josh Hall - Boat Prep Manager
As a former Vendee Globe veteran no one knows better than Josh what Steve and White Ocean Racing are up against. Josh built and successfully completed the 2000 Vendee Globe aboard the same boat that Steve will campaign and has an intimate appreciation for the challenges that Steve will face. Josh has not only completed three solo circumnavigations, but he has successfully secured and managed multi-million dollar sponsorship deals. His vast technical experience and attention to detail will ensure that "Spirit of Weymouth" is among the best prepared for the race.


Merf Owen - Technical Director
Merf Owen has not only successfully managed top Open 60 campaigns, but he has also circumnavigated the world as skipper of the Global Challenge entry, Global Teamwork. Now, as co-founder of the acclaimed design firm Owen Clarke Design LLC, Merf is at the top of his game with a number of his Open 60 designs winning international yachts races. Merf will bring his wealth of practical expertise as a well as a technical eye that will allow Steve to get the most performance out of his boat.


Kim White - Onshore Operations
Perhaps the most important member of the team is Kim White. Steve's wife and co-founder of White Ocean Racing and mother of their four children. Onshore Operations includes business administration and the provision of logistical and marketing support. For many years Kim worked in the family business. This gave her a good commercial background early on in life. Kim often works on the boat putting to good use the expertise she gained working in a boatyard and chandlery. Because the Vendee Globe is as much a mental exercise as it is a physical one, Kim will be on hand to offer emotional support as well as taking on the responsibility of communicating Steve's story on a day-to-day basis.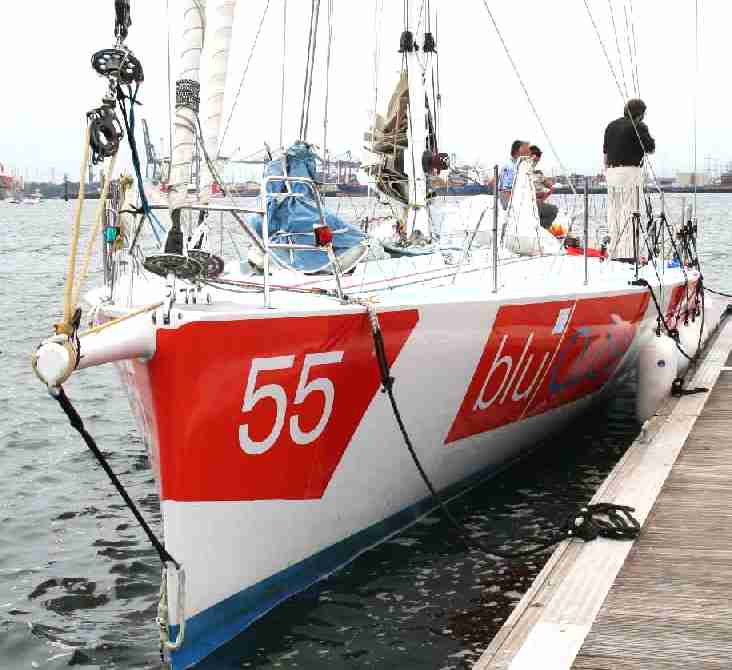 Open 60 racing yacht - White Ocean Racing
Vendee Globe contender seeking sponsorship for 2008
CONTACTS
Steve White
E-mail: steve@whiteoceanracing.com
Website: White Ocean Racing

Kim White

Onshore Operations
Mobile: +44(0)7957643794
E-mail: kim@whiteoceanracing.com
SPECIFICATIONS
Built

1998

Construction

Carbon fibre

Length

18.28m

Width

5.6m

Draft

4.5m

Mast

25m

Weight

8.3 tons

Sail area…


Main

169m2

Genoa

117m2

Spinnaker

300 – 350m2

Designed by

Group Finot

Built by

JMV Industries, Cherbourg.

Max Speed

30 knots
LINKS and REFERENCE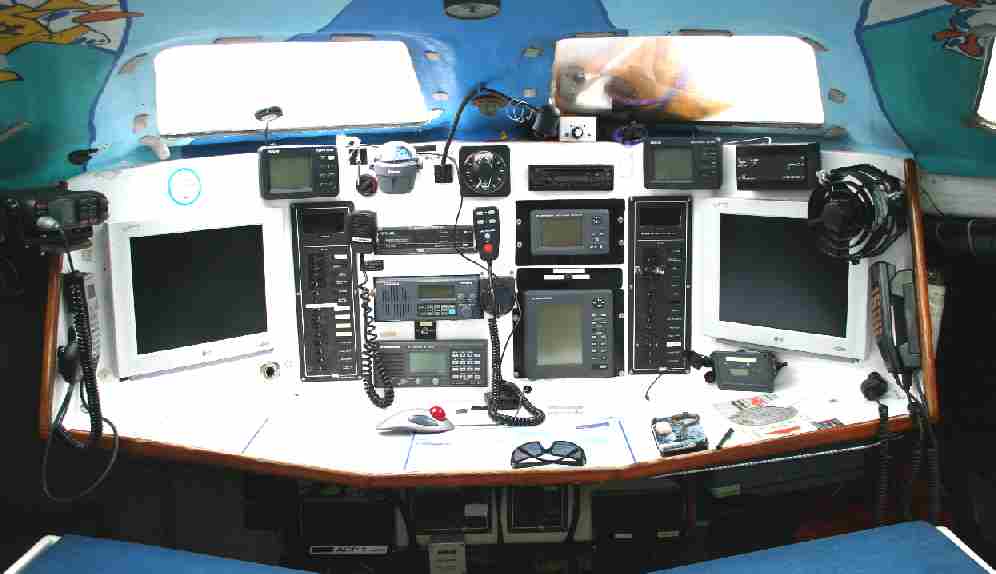 Spirit of Weymouth's instruments
Healthier alternative tastes for adventure capitalists
Solar Red | Solar Crush | Solar Cola | Solar Spice | Solar +