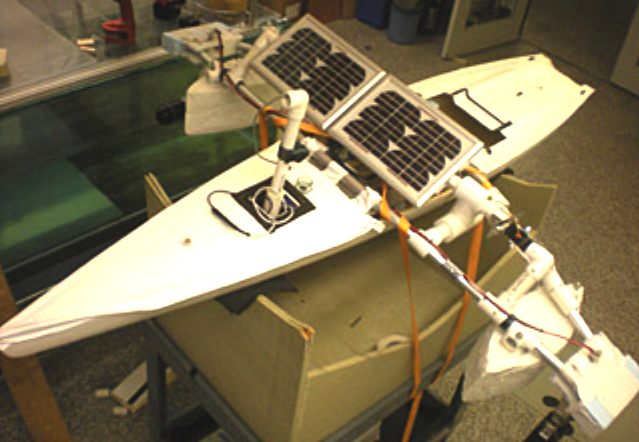 MIT & CAMBRIDGE UNIVERSITY
DEPARTMENT AEROSPACE & MECHANICAL ENGINEERING
Autonomous Drone :
Imagine controlling an airplane in flight just by holding your iPhone out in front of you: tilting it in the direction you want the plane to travel, or raising it to make the plane fly higher. Or tapping a point on a map on the screen, and having the plane automatically fly to the designated spot.

Now, imagine if the plane itself were a continent away from where you're doing this iPhone-based controlling.

This is not, in fact, some science-fiction vision of the future — it actually happened this summer, with people at Boeing's Seattle research and development center controlling a small rotorcraft, or Unmanned Aerial Vehicle (UAV), as it flew around an athletic field on the MIT campus in Cambridge — some 2,500 miles away.

But the most significant thing about this long-distance control, explains MIT associate professor of aeronautics and astronautics Mary "Missy" Cummings — who designed the controller along with her students — is how easy it is for even an inexperienced person to fly the plane. The control system designed by Cummings and her students is so simple and intuitive that operators can take charge of flying the plane after just a few minutes of instruction. By comparison, soldiers who control existing UAVs must undergo a comprehensive, months-long training program.

Cummings, who directs the Humans and Automation Lab at MIT, focuses her research on how to make control systems that are easy for people to learn and use. In principle, she says, the control system she and her team have created for smartphones could be used to control any aircraft, even a jumbo jet. In practice, it could easily replace the control systems not only for military drones, but for UAVs used by emergency personnel: for example, to track the progress of a forest fire in a remote area from a safe distance.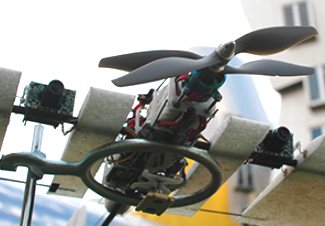 SMART PHONES FLY MINI-DRONES
Boeing engineer George Windsor sat in a small room at a Boeing building in Seattle and picked up an iPhone. After a short series of finger movements and taps, a miniature unmanned aircraft that's about as big as a pizza box started to hover, turn and fly. In some cases, Windsor tapped on locations on a map on the iPhone, and the UAV went to that spot; in other instances, Windsor moved the phone up, down, left and right, and the vehicle moved accordingly.

What made this flight demonstration even more fascinating is that the UAV was hovering over a baseball field on the Massachusetts Institute of Technology campus in Cambridge, Mass. – some 3,000 miles away.
"The application is very intuitive – it's amazing," Windsor said.
Students at MIT's Humans and Automation Lab and researchers at Boeing Research & Technology, Boeing's advanced, central R&D unit, are working to prove that a smart phone can be used to quickly and safely fly miniature unmanned aircraft.

"Boeing understands the need to do cutting-edge research."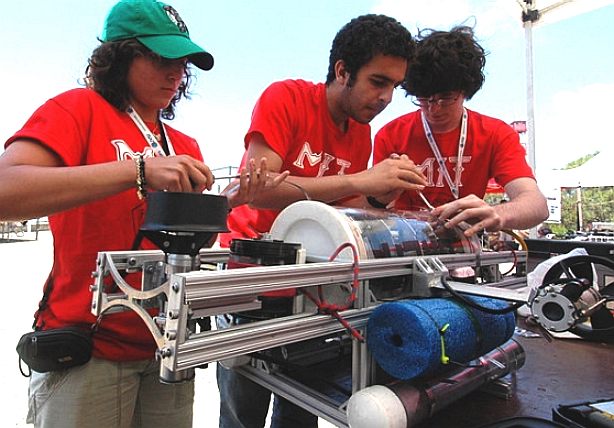 With support from Boeing, the MIT students have designed a prototype, easy-to-use application for would-be UAV pilots who have smart phones with wireless or cell-phone connection capability.

Named Micro Aerial Vehicle Visualization of Unexplored Environments, or MAV-VUE, the project is but a part of Boeing's overall advanced R&D effort to assimilate new ideas and innovative processes that can benefit customers. In this case, the company is working with industry and university partners such as MIT to find and develop better, simpler ways for people to control UAVs. These applications could allow UAVs to be used more effectively for tasks that are dirty or dangerous, as well as for missions that may be too long and tedious to have a human be continuously at the controls.

"Imagine a soldier pulling a small, lightweight UAV out of a backpack, and then controlling it – without having to micromanage the flight behaviors of the vehicle – to see around an otherwise inaccessible spot on the battlefield," said Joshua Downs, a human factors specialist with Boeing Research & Technology and the Boeing technical leader of the MAV-VUE project. "Or a firefighter seeking a better way to gauge how quickly a forest fire is spreading, or a rescue worker trying to more quickly find and help victims of tornadoes, earthquakes and other natural disasters. It is applications such as this that are helping to move the technology forward.

"I've really enjoyed being part of this research project with MIT," Downs added. "It's an excellent example of how Boeing is collaborating with people at top universities throughout the world, and it's been a lot of fun, too."
"Boeing has been a great company to work with because Boeing understands the need to do cutting-edge research," said Missy Cummings, director of MIT's Humans and Automation Lab. "The people at Boeing have been great at helping us frame the problem and prove the technology so that we can eventually transition it back to Boeing so that they can use it in the real world."

Cummings and the work at the MIT Humans and Automation Lab recently were featured in an article in The Boston Globe.
MIT & CAMBRIDGE
The Cambridge–MIT Institute, or CMI, is a partnership between the University of Cambridge in Cambridge, England, and the Massachusetts Institute of Technology in Cambridge, Massachusetts.

It was proposed by former British Chancellor of the Exchequer Gordon Brown in the summer of 1998, who wanted to bring the entrepreneurial spirit of MIT to British universities. Cambridge University was chosen as MIT's partner because of its strong record in science/engineering and the abundance of high-technology firms located in the Cambridge area (Silicon Fen).

Funded both by government and industry partners, including BP and British Telecom, CMI is experimenting with new ways of bringing universities, industries and government together to ensure that research findings are quickly exploited for the benefit of society and the economy of the United Kingdom. This includes funding new ideas in research and education, and the study and assessment of knowledge exchange experiments.

Aiming ultimately to enhance competitiveness, productivity and entrepreneurship in the UK, CMI is also working with a network of partners across the UK, holding a range of events to share lessons learnt, to develop effective models for national uptake, and to facilitate the debate on issues ranging from the role of universities in stimulating innovation, to ways of teaching the new skills required by emerging technologies.

One of the major initiatives arising from the collaboration of MIT and Cambridge has been the development of silent aircraft technologies.
LINKS
Email:

or phone UK:
+ 44 (0) 1323 831727 +44 (0) 7842 607865
Blueplanet Productions, Solar House, BN27 1RF, United Kingdom
Galley | Paints | Screens | Diving
Project Estimates | Record Attempt | PR Events
Batteries | Alloys | Timber | Composites | Navigation | Hydraulics
Motors | Electronics | Solar Panels | Propeller | Transmission | Tooling | Life Support
Tank Testing (Model Construction) & Results
---
Solarnavigator is a battery electric ASV (Autonomous Solar Vessel), a trimaran with an extremely
efficient active hull that runs on solar power = energy from nature. This hull form has never been
attempted before, nor has the use of wind energy been used in such manner for crew comfort
(or complete onboard autonomy). A fleet of such vessels could be the basis of an international peacekeeping, and/or emergency rescue force.
The design of the Solar Navigator boat has been licensed for use in
the John Storm series of books by Jameson Hunter