MAYFLOWER AUTONOMOUS SOLAR POWERED SHIP MAS 400
A consortium of scientists and engineers hope to cross the Atlantic Ocean with a 15 meter trimaran that is solar and (possibly) wind powered, in 2021. The boat also carries a diesel generator.
HORIZON 2020 - CALL FOR PROPOSALS 2019 - LC-MG-13
The European Commission put out a call for proposals aiming to decarbonize shipping by developing super fuels that are clean and cost effective as replacements to dirty diesel bunker fuel oils.
HORIZON 2020 - CALL FOR PROPOSALS 2014

H2020 Call: Zero or Near Zero Carbon Vessels (Section 4, Waterborne - MG.4.1-2014)
Seeking shipbuilders to co-develop low drag hull technology


Ref: RDUK20131220001
A UK company is part of a consortium of UK members seeking a European partner to join a Horizon 2020 funding bid. The aim is to develop a novel low-drag hull. They are seeking industrial partners in the shipbuilding industry to co-develop the innovation to proof of concept and to create a demonstration prototype. They are also seeking potential end users, such as supply ships.
ECO SHIPS CONFERENCE - 14th and 15th October 2013
Central London, UK


The Eco-Ships Conference 2013 served to provide a holistic approach to sustainability challenges in the maritime industry. Based on research the four main segments of the event will be:
* Green Technology,
* Finance & Investments,
* Regulations &
* Sustainability as a Strategic Driver for Future Development.

The aim is to provide a diversified agenda that will approach Green Technology and sustainability in shipping from different but interrelated angles allowing the delegation to understand the bigger picture in adopting a green strategy and making lucrative investments for their long-term viability.

SPEAKERS INCLUDED:-

Peter Vickers, Chairman and Managing Director, Vickers Oils

Mark Clintworth, Se Trans Engineer, Proj Directorate, European Investment Bank

Alan Klanac, Managing Director, AS2CON

David Balston, Director, Safety & Environment, Chamber of Shipping

Roger Strevens, Head of Global Environment, Wallenius Wilhelmsen Logistics

Don Gregory, Director, EGCSA

Sara Skold, Director and Environmental specialist, Clean Shipping Project

Pieter Huyskens, Senior Advisor & Sustainability Manager, Damen Shipyards

Unni Einemo, Editorial, Bunkerworld

Philip Roche, Partner, Norton Rose

Heiko Kunst, Policy Coordination Officer, DG Clim Action European Commission

Sten Björk, Project Leader, CLEAN BALTIC SEA SHIPPING

Joseph McCarney, Chairman, IACCSEA

Matthias Plötzke, Director Env. Protection, German Ship owners Association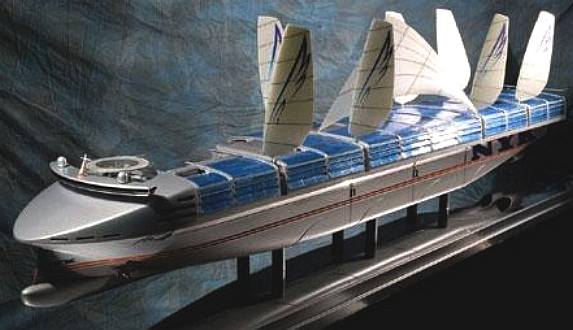 SHIP EFFICIENCY
Despite the fact that ships are an efficient means of transport, compared to other modes of transportation, the merchant fleet still has yearly carbon dioxide emissions equal to that of 130 million to 195 million cars. On the flip side they carry more cargo than trucks and vans but there is room for significant improvements in emission reduction.
The reality of the situation is that the shipping industry has a massive pollution problem. To power their back-and-forth trips across the seas, cargo vessels burn huge amounts of fossil fuels, so release vast volumes of greenhouse gases. Just one Capesize bulk carrier may use 10,400 tons of bunker fuel per year. Multiply that by the 90,000 cargo vessels currently traversing the oceans and the figure hits around 250 million tons of fuel burned annually. This accounts for about 4 percent of anthropogenic carbon dioxide emissions. Researchers have also linked this pollution to around $330 billion in heath costs in heart and lung disease annually.

Marine transport is increasing as the global economy looks to cheaper ways to move goods. Inevitably this has and will lead to more pollution from dirty marine diesel engines. With the need to clean up their act, shipbuilders all over the world are looking at ways of cutting sulphurous exhaust emissions (leading to acid rain), or otherwise reducing their energy bills. The quest for efficient shipping is taking many forms, some of which are rejected at the moment because of the potential to disrupt cozy shipping methods. Unfortunately, the only way to really clean up the oceans is to be radical and radical = disruptive, which no industry takes kindly to. The digital camera was disruptive to companies making film for cameras; inevitable, but disruptive. Those firms that just carried on making film went out of business. They became extinct, which could happen to the human race if we don't adapt. Those that adapted quickly, took new market leaderships. The same thing is about to happen to shipbuilding all over the world.
A solar array from Eco Marine Power and an Offshore wind farm
When they first started building wind turbines offshore the energy companies did not take it too seriously. Are they taking it seriously now? You bet. When they first started putting solar panels on the roofs of houses energy companies saw it as a fad. Do you think they think that now? No, it has become a growth industry. Thus, change may be seen as an opportunity even if a jolt is needed to upset comfort levels.

ZERO POLLUTION LIQUID TANKERS
It is ironic that the first vessel thought to be suitable for solar power is an oil tanker. An engineer working for Bluebird Marine Systems has carried out a provisional study and calculated that diesel engines are not needed to propel a medium size tanker, provided that the correct mix of energy capture devices are combined with a hybrid hull design.
Let us take as an example of a small oil tanker of 12,000 gross tons [8200 long tons cargo], 585ft (178m) with a 74ft (22m) beam and a maximum speed of 11 kts. The estimated fuel consumption is 350 gallons per hour of red diesel consumed at 11 kts. The diesel engines for this example are 2 x 4600 horsepower (9200hp = 6860kw). 350 x 24 = 8,400 gallons of fuel a day x $1.714 per gallon ($72 per barrel =42 gallons) equals $14,396 a day. That's a lot of money and a lot of air pollution from a relatively small tanker. This ship with its present hull design is not suitable for conversion to solar power. The hull is not efficient enough, but we can at least see the scale of the problem.
The size of a vessel and the speed it runs at determines the amount of fuel that is used in making a voyage. These are significant factors in deciding how fast the ship should steam. Though that, in turn, is controlled by how urgent the cargo is needed at the time. For example in 2007 spot rates for tanker hire per day went from $30,000 a day to $300,000, but more recently have fallen steadily.
According to Devanney VLCC, tankers move at between 12.5 knots (50% power) and 18 knots, at the higher speed increasing fuel demand may reach up to 800 barrels of fuel oil a day. Once we get to 12.5/14 knots, we note that by speeding up another half knot, we can save 1.53 days at a cost of $63,000. This is a good idea if and only if we can earn $44,000 per day or better with the days saved. The 12.5/14 knot selection refers to the difference in speeds between running loaded and when in ballast (i.e. empty). Now imagine that you can save the $63,000 dollars a day, but not having any fuel bill?
EMPTY SUPERTANKERS

An empty supertanker burns about 90 metric tons of fuel, known as bunkers, a day when traveling at 14 knots, according to Riverlake Shipping SA, a broker in Geneva. Hamilton, Bermuda- based Frontline, the world's second biggest supertanker operator, can cut that to about 25 tons when sailing at 10 knots on the empty leg of a journey, said Jens Martin Jensen, chief executive of the company's management unit in Singapore. That means saving about $42,000 a day at the global average price. As we say, imagine not having that fuel bill.
Let us take $45,000 dollars as the average fuel/day cost. That is $16.2 million a year. Multiply that by the average 10 year lifespan of a tanker, and that is more than the cost of the tanker: $160 million dollars. This is surely a solid case for oil tankers powered by nature. Please contact us to discuss the possibilities for your future fleets. We are looking to develop this patent technology in collaboration with the shipping industry:
All enquiries should be directed to:-
Solar House, Herstmonceux
BN27 1RF, United Kingdom
ALTERNATIVE TECHNOLOGIES

Ship owners are seeking alternatives to cut fuel bills. Akzo Nobel NV, the world's biggest paint-maker, said recently that it developed a hull coating that can cut a supertanker's fuel consumption by more than 10 percent. The paint is being used on more than 400 ships in the global fleet of 70,000, said John Wilshire, marine manager at International Paint, the Akzo Nobel unit that sells the product. The problem with coatings is that they don't work after a time with marine growth attaching to almost anything. So you may enjoy a 10% fuel saving for the first year, which progressively reduces each year.

Others suggest that liquefied natural gas will become the dominant merchant fleet fuel within 40 years because of tighter emissions laws, this prediction accorded to Det Norsk Veritas, a Hoevik, Norway-based company that inspects and classifies ships.

Nuclear power may be used to propel 10 percent of merchant vessels within 15 years, Lloyd's Register, a London-based ship classifier, said in November. The carriers would need refueling about every five to seven years. Though nuclear merchant vessels would present an unacceptable risk that pirates and terrorists would be bound to exploit. Even one such ship captured would be catastrophic.

SHIP KITES

SkySails GmbH & Co., a Hamburg-based company, created a sailing system for ships that can cut fuel use by as much as 35 percent. The 320 square meter (3,400 square foot) kite, already being used on four vessels, will be deployed on the largest ship so far next year, a carrier with a capacity of about 30,000 deadweight tons. Supertankers are about 10 times bigger. We applaud such enterprise.

Cutting speeds may curb or eliminate losses in a market where $ returns for ship owners in the spot, or single voyage, market are unrealistically low. This is down to management and regular low cost services.
THE TOP 30 FLEET OPERATORS

1.Teekay Corporation
2.Frontline
3.MOL Tankship Management
4.Overseas Shipholding Group
5.Euronav
6.Tanker Pacific Management
7.Kristen Navigation
8.Nippon Yusen Kaisha
9.MISC Berhad
10.Tsakos Group
11.Vela International Marine
12.NITC
13.Hyundai Merchant Marine
14.BW Shipping
15.Dynacom Tankers Management
16.Maersk Tankers
17.BP Shipping
18.Sovcomflot
19.Novorossiysk Shipping Company
20.National Shipping Company of Saudi Arabia
21.Shipping Corporation of India
22.Thenamaris
23.TORM
24.Chevron Shipping
25.COSCO Group
26.Kuwait Oil Tanker Co.
27.Titan Ocean
28.China Shipping Development Tanker
29.SK Shipping
30.Minerva Marine

THE PRICE OF SHIPS
AFRA Scale

Flexible market scale

Class

Size in DWT

Class

Size in DWT

New
price

Used
price

General Purpose tanker

10,000–24,999

Product tanker

10,000–60,000

$43M

$42.5M

Medium Range tanker

25,000–44,999

Panamax

60,000–80,000

LR1 (Large Range 1)

45,000–79,999

Aframax

80,000–120,000

$58M

$60.7M

LR2 (Large Range 2)

80,000–159,999

Suezmax

120,000–200,000

VLCC (Very Large Crude Carrier)

160,000–319,999

VLCC

200,000–320,000

$120M

$116M

ULCC (Ultra Large Crude Carrier)

320,000–549,999

Ultra Large Crude Carrier

320,000–550,000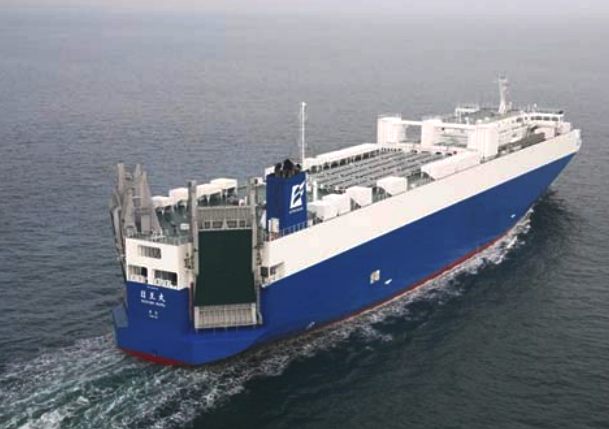 NISSAN DIESEL SOLAR HYBRID - AUGUST 2012
Nissan has married solar-power to auto shipping. It recently began using the "Nichiomaru", a cargo ship outfitted with more than 200 solar panels and a hybrid diesel engine, to transport autos up and down the coast of Japan.

Nissan claims the Nichiomaru will use 1,400 fewer tons of fuel and produce 4,200 few tons of carbon dioxide as a result of the solar + hybrid diesel combination.

The solar-diesel hybrid ship is part of Nissan's environmental action plan, which it calls the "Nissan Green Program 2016." Nissan is aiming to reduce carbon dioxide emissions not only coming out of the tailpipe of the car, but also in production, distribution and sales.

No word that we can find anywhere online about whether the cargo ship will carry Nissan LEAFs or not, though it would be great if it did.

Now, Nissan, how about using similar solar-hybrid diesel ships to get all-electric LEAFs to the U.S., Europe and the rest of the world, where, ideally, they'll run more and more on electricity generated by renewable energy sources such as wind and solar? www.solarfeeds.com/the nissan solar hybrid solar cargo ship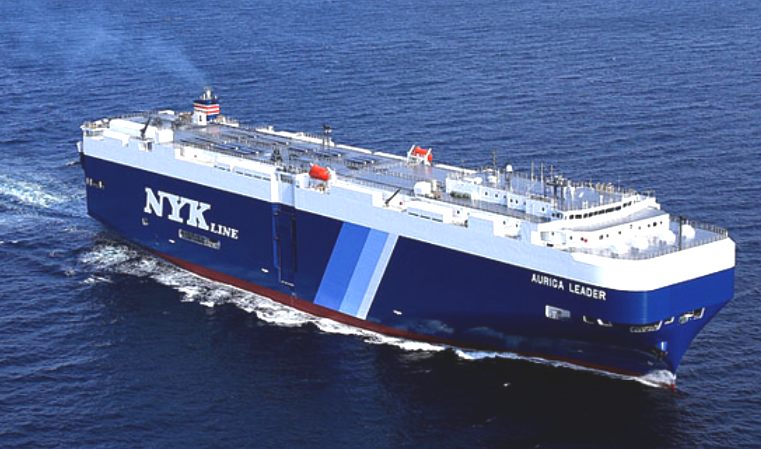 TOYOTA SOLAR HYBRID CARGO SHIP - OCTOBER 2009
Keeping its brand halo the greenest in the business is hard work, so Toyota has added "solar-powered carrier" to its cred.

The Japanese automaker made its first shipment of Toyota, Scion and Lexus vehicles from Japan to the Port of Long Beach in California using the Auriga Leader. The car-carrier vessel is outfitted with 328 solar panels that can generate as much as 40 kilowatts, which — unlike similar ships — actually feeds the generator and helps power the ship. Other carriers simply use solar power for lighting.

Stretching 656 feet and weighing 60,000 tons, the Auriga Leader is operated by NYK Line and can transport up to 6,200 vehicles.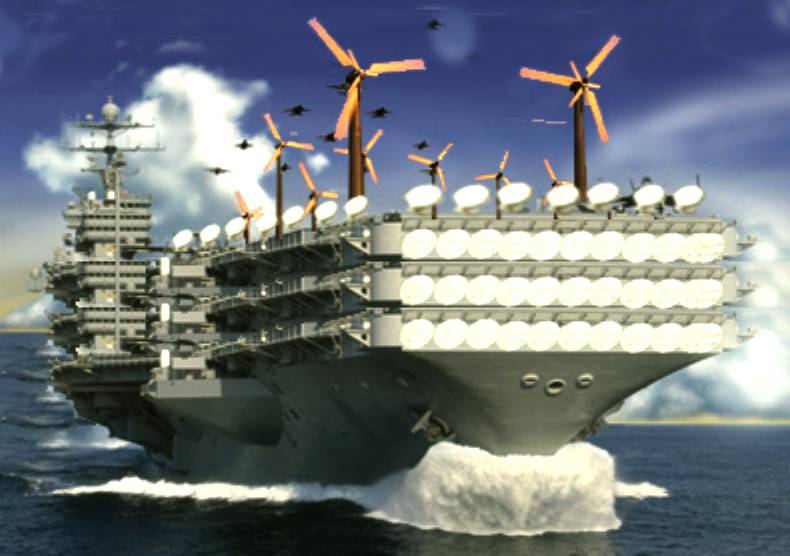 AUGUST 2008 - WORLD'S FIRST SOLAR POWERED SHIP

In 2008 it was reported that Nippon Yusen KK and Nippon Oil Corp were working on the world's first solar powered ship, which as it appears, is actually solar assisted. If it exists, it is a hybrid ship. The two companies wanted to put solar panels on top of the 60,000-ton ship that would be capable of generating 40 kilowatts of electricity each. The ship was to carry Toyota cars.

Fuel savings were said to be in the neighborhood of 6.5% with carbon dioxide emissions reduced by 1-2% or 20 tons per year. It would have cost Nippon Usen about $1.4 million to create the solar panel system. The ship was expected to be completed by December 2008 with damage to the panels from salt and vibration held to be the biggest obstacles.

A Nippon Oil executive is quoted as saying: "If it's possible, we want to aim for the full commercialization of the system in the next three to five years." Despite this level of enthusiasm Toyota appears to be shipping their cars in the Auriga Leader NYK ship seen in the above article.

NYK Line had set an ambitious goal to reduce the energy consumption of its ships 50% by 2010. This involves not just solar power generation but improved ship operation, redesigned hull form, innovative propulsion systems that save energy, and improved cargo handling.
Given that one container ship can emit nearly as much as 50 millions vehicles, even miniscule improvements made to boost the operating efficiency of these mammoth cargo-hauling vessels are worthy of praise.

Back in 2009, Toyota teamed with NYK Line for its transport ship, the Auriga Leader. Fitted with 328 solar panels that generate up to 40 kW of electricity to reduce demand on the vessel's diesel engines, the Auriga Leader – a ship that delivers thousands of Toyota, Lexus and Scion vehicles to the Port of Long Beach in California – is one impressive vessel.

Now, with the addition of massive NiMH batteries, it's sort of like Toyota has its own hybrid vessel that delivers the world's best-selling hybrid vehicle, the Toyota Prius. The batteries, along with the solar panels, have reduced the Auriga Leader's annual fuel consumption by more than 13 tons and cut its emissions by at least 40 tons. Regardless, massive vessels like this still gulp down somewhere around 120 gallons of diesel fuel per mile.
http://blogs.cars.com/kickingtires/2009/10/toyotas-solarpowered-cargo-ship.html
http://www.houseofjapan.com/auto-moto/toyota-auriga-leader-hybrid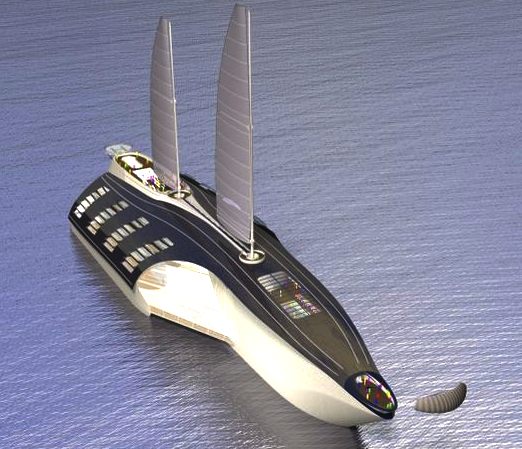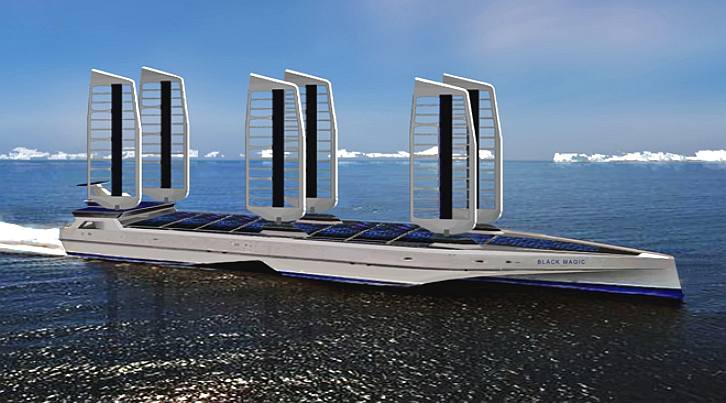 Concept eco ships from NYK, SolarSailor, Asgard and Sauter Design
MARINE DIESEL GIANTS - Emma Maersk' s Wartsila-Sulzer Super Ship Engine

The Emma Maersk's Wartsila-Sulzer RTA96-C turbocharged two-stroke diesel ship engine is the most powerful and most efficient prime-mover of super ships in the world today.
The Wartsila-Sulzer RTA96-C is the world's biggest engine. It is considered to be one of the most powerful and fuel-efficient low revolution engines in the world today. The Wartsila-Sulser is manufactured by the Aioi Works in Japan and is part of Japans Diesel United Ltd engine manufacturers. Below is an 89 foot long 44 foot wide 12 cylinder engine, literally as big as a house. These are dinosaur proportions.
The RTA96-C range of 6 to 14 cylinder versions are all inline engines. These engines were designed primarily for very large container ships but similar large diesel engines run large ships of all kinds. As ships continue to get larger with new generations of larger container ships being built each year shippers like A.P. Møller - Mærsk, will need bigger engines to propel them. One can imagine the difficulty installing such an engine in a ship. A 2000 ton engine is bound to be difficult to service.

The Wartsila-Sulzer engines are designed to power the worlds super oil tankers and container ships. Ship owners usually request an engine construction of a single unit and single propeller design for ease of maintenance and later repairs. A single unit and single screw design has proved over time to have a longer life span than double or quad screws. Simple really, fewer moving parts to go wrong. To help relate to the size of this godzilla of an engine consider that one cylinder bore alone is just under 38″ and the stroke is just over 98″. The 14 cylinder engine weighs in at 2,300 tons and is capable of delivering 109,000 horsepower.

These engines are built in 6, 8, 10, 12 and 14 cylinder configurations. The diameter of each cylinder bore is 3 foot 2 inches with a stroke of 8 foot 2 inches, normally termed 'long-stroke'. The 12 cylinder version weighs 2000 metric tons and delivers 90,000 HP at 100 RPM. The best fuel economy is obtained at: 53,244 HP and 90 RPM. Speaking of economy, to put things in perspective by way of example, the 14 cylinder engine with a displacement of 25,480 Litres (1.56 million cubic inches) burns 1,660 gallons of crude ('bunker') oil every hour.

If we work that through: 1,660 gallons/hour = 39.5 barrels of crude oil per hour, at a cost of $2,844.* The figures are worked out on a price for crude oil of $72 a barrel*. If we multiply $2,844 x 24 hours x 365 days, that gives us an annual cost (non-stop) of $24.9 million dollars. That would be $249.13 million over the average 10 years lifespan, minus any downtime in ports. This translates to 27.6 Gallons ($46.00) every minute or 76 cents a second. That is of course if the operators can buy oil at trade price. [*at time of publication]

Unlike normal car sized pistons the huge 3 foot diameter pistons incorporate lots of holes through which oil is injected via valves to keep all the working parts at a maximum low wear tolerance. Despite the colossal amounts of power output produced by these engines, surprisingly low wear rates have actually been recorded. Cylinder liner wear is only about 0.03 mm down for every 1000 hours of engine use. These engines work about 20 times slower than a normal 2.0 liter family car engine and this is a major contributor to the life of the engine.

These engines cost millions of dollars; more in fact than the ship that they are fitted into.
Marine diesel engine assembly and maintenance. The picture below shows the 300 ton crankshaft of a 10 cylinder engine.

Note that there are steps on the wall of the casing to climb down into the engines sump.

The crankshaft shell bearings are being fitted into the engine block. They are lowered into place by a crane and guided in by two workers and a supervisor.

They keep all surfaces of the engine clean at this stage as any grit or dirt could later add wear to the engine or worse destroy it, so the workers are wearing special cloth overshoes so as not to leave any abrasions on the fine working surfaces.
Sheeting is covering the rest of the engines crankcase bearing housing to keep the dust off.
TRANSITION: MIT DISRUPTIVE TECHNOLOGY REVIEW 2012
Q. What is a disruptive company?
A. It is a business whose innovations force other businesses to alter their strategic course.
Check out the web address below to see the list compiled by MIT Technology Review's editors. They look for companies that over the previous year have demonstrated original and valuable technology, are bringing that technology to market at a significant scale, and are clearly influencing their competitors.

As a group, the companies on the 2012 list represent their best judgment of the commercial innovations most likely to change lives around the world. Do you agree with them? Which companies that didn't make it onto the list should have, and which do you think didn't deserve a place?
http://www2.technologyreview.com/tr50/2012/
http://www2.technologyreview.com/tr35/
http://www.theoildrum.com/node/7435
http://www.bunkerindex.com/
http://www.boattest.com/resources/view_news.aspx?newsid=3055
http://www.ecomarinepower.com/en/aquarius-eco-ship
http://www.greenpacks.org/2008/08/29/worlds-first-solar-powered-ship-by-nippon-yusen-kk-and-nippon-oil-corp/
CONTACTS