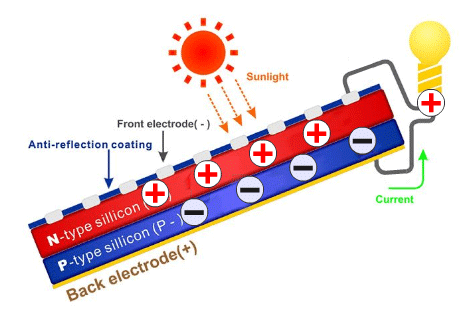 The solar panels most likely to be used on the SolarNavigator are monocrystaline cells that are 21% efficient, especially assembled and sealed to protect against the ravages of the sea. They are to be matched and balanced for output, and wired in banks with SunTracking electronics. Bluebird Marine Systems will be helping with this task.
Unlike other solar vessels, the wings and cells are to be fabricated as integrated units to conserve weight, also looking for a stronger structure and reliable sealing.
The panels are to be constructed as moveable wings that angle themselves towards the sun, in a second (physical alignment) phase of sun tracking.
How solar panels are made
SOLARNAVIGATOR PROJECT TIMETABLE
(1) Scheduled start-up date for the action: June 2013
(2) The duration of analysis is 6 months.
(3) The build stage is 6 months.
(4) Fit-out is a further 6 months.
(5) Launch target: January 2015.
(6) The duration of hull testing and navigation trials is 8 months.
(7) Events & hospitality for a further 12 months to September 2016.
2. BRUCE THE AUTOPILOT & A BIT MORE
3. STAR WARS - DRONE SATELLITE REMOTE CONTROL, MANUAL OVERRIDE
4. HAL COMPUTER HARDWARE
6. THE EYES AND EARS - HAWKEYE
7. SELF DEFENCE - SCORPION
8. CAPTAIN NEMO - AI ROBOT
9. LOCAL NAVIGATION EVENT
10. INTERMEDIATE CIRCUMNAVIGATION
11. THE AUTONOMOUS CIRCUMNAVIGATION
LINKS
http://enphase.com/products/enphase-microinverters/