4. HAL COMPUTER HARDWARE
What type of computers will be the most suitable for this project?
Computers have progressed so much that most laptops would have the computing power to run the SolarNavigator.
But is that enough?
It is suggested that the onboard processing takes place on several computers powered by a battery-backed, electronically-controlled power system. Well, even that is standard practice these days. We're sure that many people reading this page will have built their own workstation, so know how powerful most home machines have become., and also that they are subject to errors. But, we cannot afford an error on the SolarNavigator. Reliability is key.
For that reason the platform that is used must be of the highest quality. And even then, common sense dictates fail safes are built in. That would mean separate systems for the key functions, with overall monitoring and alerts; involving several computers.
The reason for having more than one computer system, is reliability. The other reason is that we may want some aspects of the ship's autonomy to be the lead (dedicated) program, running on one machine and another taking care of visuals, which is memory hungry. It all boils down to processing power.
The computer hardware includes a 6DOF inertial measurement unit. Other hardware, such as a GPS, is included in the Autopilot package above and the Navigation Instruments include radar and sonar (early warning), for obstacle avoidance.
HAL ties all this together - the hardware that is, and processes the information coming in.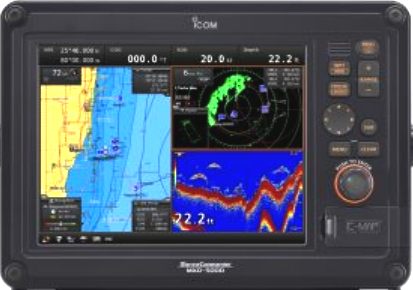 HARDWARE EXAMPLE
New Icom navigation system 06 Dec 2012 - Icom UK's MXS-5000 Marine Commander

Marine navigation expert, Icom UK, launched its new MXS-5000 MarineCommander product in December 2012, it is a fully integrated and fully customisable navigation system, that may prove to be suitable for autonomous vessels.

The system offers a multitude of solutions for boat owners giving the opportunity to 'connect' compatible VHF
radios, AIS transponders, radars and/or fish finders.

Ian Lockyer, Icom UK, said: "The MarineCommander is a robust, waterproof navigational system and integrates
various navigation options with a large, durable, multifunctional display (MFD) and powerful main black box
processor unit." In fact, it brings together, in one multifunctional display unit, all essential safety and navigational electronics.

Central to the system and the main user interface is the 12.1-inch MXD-5000 multifunctional display (MFD). The
main processor is the driving force behind the new system and allows configuration of compatible marine electronic
equipment to the system.

The MarineCommander can also be used in conjunction with the MXR-5000R/T Marine Radar to improve improve collision avoidance. It exchanges real-time boat traffic information with other AIS-equipped vessels using Icom's
MA-500TR transponder or MXA-5000 AIS receiver.

Being compatible with the Icom VHF marine transceiver, the available DSC function establishes and receives
various types of calls including individual, group, all ship and position/polling requests.

The video input ports with RCA connectors offer up to four video inputs for surveillance cameras, TV, DVD or
even thermal cameras for low light conditions. This allows monitoring of surroundings and of crew members all
displayed on the MFD.


RETURN TO MAIN AUTONOMOUS MENU
2. BRUCE THE AUTOPILOT & A BIT MORE
3. STAR WARS - DRONE SATELLITE REMOTE CONTROL, MANUAL OVERRIDE
4. HAL COMPUTER HARDWARE
6. THE EYES AND EARS - HAWKEYE
7. SELF DEFENCE - SCORPION
8. CAPTAIN NEMO - AI ROBOT
9. LOCAL NAVIGATION EVENT
10. INTERMEDIATE CIRCUMNAVIGATION
11. THE AUTONOMOUS CIRCUMNAVIGATION
LINKS
www.eng.uah.edu/~fahimi/Platform_Boat.html
www.gps4us.com/GPS-independent-navigation-system-for-autonomous-vessels
http://en.wikipedia.org/wiki/Geodetic_system
http://en.wikipedia.org/wiki/ECEF
www.apl.washington.edu/projects/seaglider/summary
www.seaglider.washington.edu/
http://en.wikipedia.org/wiki/IRobot_Seaglider
Tropical Boats
http://www97.homepage.villanova.edu/hashem.ashrafiuon