Starring Sean Connery, Goldfinger is the third film in the EON Productions James Bond series, and the third to star Sean as British Secret Service agent, Commander James Bond 007. Released in December 1964, the film was produced by Albert R. Broccoli and Harry Saltzman, and was the first of four to be directed by Guy Hamilton.
The film is one of the most critically acclaimed of all the James Bond films; for many, critics and fans alike, Goldfinger set the blueprint, the character archetypes, and the standard that the rest of the films of the series would follow, although the same is often said about the preceeding Bond film, From Russia with Love.
In 1965 Norman Wanstall received an Academy Award for Sound Editing for work on the film. The American Film Institute has also honoured the film four times ranking it #90 for best movie quote ("A martini. Shaken, not stirred."), #53 for best song ("Goldfinger"), #49 for best villain (Auric Goldfinger), and #71 for most thrilling film.
Goldfinger was the first James Bond film to be shown on U.S. television, which occurred on September 17, 1972 on ABC. At the time, it garnered the highest Nielsen Ratings of any film broadcast on television with 49% of all viewers.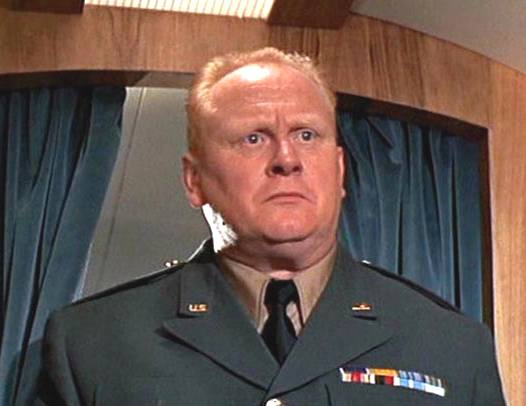 Gert Fröbe as Auric Goldfinger - here impersonating a U.S. Army Colonel in his last scene, and wears only small gold U.S. uniform insignia. He carries a golden revolver which is not in this novel.
Background
Goldfinger has been argued by film critics to represent a turning point for the James Bond films, both artistically and in terms of the series' impact on popular culture. This was the first one to emphasize the hi-tech elements that would become a staple of the series. Likewise, Goldfinger reflected director Guy Hamilton's determination to bring a more tongue-in-cheek approach to the films. Goldfinger had a (then relatively) hefty $3.5 million budget and was the first of the Bond films to be classified as a box-office blockbuster.
Plot summary
In the pre-title sequence, Bond destroys the base of a drug lord with plastic explosives, and defeats a thug in a bathroom brawl (electrocuting him in a bathtub with an impromptu lamp-toss, in a foreshadowing of Oddjob's demise). The film proper begins in Miami with Felix Leiter contacting Bond with a message from M to watch Auric Goldfinger. Bond foils Goldfinger's scheme to cheat at gin, by distracting a girl, Jill Masterson, who is watching the card game through a pair of binoculars and reporting to Goldfinger his opponent's cards. After foiling Goldfinger and forcing him to lose, Bond and Jill consummate their newfound relationship. Afterwards, as Bond goes into the kitchen to get some fresh champagne, he is knocked unconscious by a neck chop from Goldfinger's Korean henchman, Oddjob. When Bond regains consciousness, he discovers that Jill has been covered with gold paint and has died of epidermal suffocation.
Later in London, Bond finds out that his real mission is in fact to determine (at the request of the Bank of England) how Goldfinger (a jeweler and international businessman) is shipping his gold between countries, and determine if he is doing it illegally. Bond meets Goldfinger socially on a golf course (it is unclear at the time if Goldfinger knows of Bond's role in his cardgame loss). Bond plays a high-stakes round of golf with Goldfinger, with Oddjob caddying, luring him with the prospect of obtaining a rare Nazi gold bar from World War II. Goldfinger cheats and is caught by Bond. Instead of calling him out, Bond allows this to continue, but switches Goldfinger's ball and forces Goldfinger to lose, as they are playing strict rules of golf. After settling the bet, Goldfinger gives Bond a warning (letting him know he recognizes him), and having Oddjob throw his lethal steel top hat to decapitate a statue. When Bond wonders about damage to golf club property, Goldfinger notes that he owns the club.
Bond installs a homing device on Goldfinger's automobile and follows him to Switzerland. While there, he meets Tilly Masterson, Jill's sister. Tilly tries to shoot Goldfinger with a sniper rifle, almost hitting Bond instead. As Tilly attempts to flee the scene in her Ford Mustang, Bond slashes her tires with a spike that extends from his Aston Martin DB5 wheel hub. Bond subsequently gives her a ride to a service station.
Later that night, Bond reconnoiters Goldfinger's plant. He learns that Goldfinger has foundry capability and is casting parts of his Rolls-Royce in 18 kt. gold (explained as white gold in the novel) and using the car to smuggle the gold. He also overhears Goldfinger talking to a Chinese agent about Operation Grandslam. While there, he comes upon Tilly trying to shoot Goldfinger again and accidentally triggers an alarm. During their attempted escape (in which most of the special features of the Aston Martin DB5 are employed), Bond is captured. Tilly is killed by Oddjob with the metal hat.
In arguably the most famous scene in any Bond film, James is secured to a golden table underneath an enormous industrial laser, the beam of which is slicing the metal table in half very slowly between Bond's legs, and which will soon intersect Bond's crotch. Goldfinger explains the laser, a novelty at that time.
Goldfinger admits enjoying lecturing people he is about to kill; this will also work as a plot device in the Grandslam briefing. "Choose your next witticism carefully, Mr. Bond; it may be your last."
Bond: "Do you expect me to talk?"

Goldfinger: "No, Mr. Bond! I expect you to die."
This scene differs from the corresponding scene in the novel: Goldfinger, using a buzz saw in what is known as "the pressure room", spares Bond's life, not because he claimed knowledge of Goldfinger's plan, but in acceptance of Bond's offer to work for him. In the movie, Goldfinger temporarily puts Bond's execution on hold, after being convinced that Bond is being watched, and his disappearance or death will trigger involvement in the case of a new "00" agent. By his use of the term "Operation Grandslam," Bond also manages to bluff Goldfinger about his knowledge of Goldfinger's plans.
Later, Bond is put "on ice." He wakes aboard Goldfinger's private jet, a Lockheed JetStar, piloted by Goldfinger's personal pilot, Pussy Galore. She informs Bond that they are flying to Baltimore en route to Goldfinger's ranch in Kentucky, near Fort Knox. At one point she holds a pistol on Bond after mentioning that they are flying at 35,000 feet (10700 m), and Bond lectures her about a .45 bullet through an airplane hole causing explosive decompression and passengers "sucked into outer space." Bond manages to activate a homing device in the heel of his shoe. Felix Leiter picks up the homer's signal and informs M of Bond's whereabouts.
After they land, Bond is taken to Goldfinger's Kentucky stud farm. Goldfinger is holding a meeting with the representatives of several U.S. mob families, who have delivered the materials he needs. Bond is taken to a cell, but manages to disable his guard and escape. He eavesdrops on Goldfinger's mob meeting, finding out that Goldfinger intends to spray the troops guarding Fort Knox with nerve gas, then (supposedly) rob the gold depository. After the lecture, Goldfinger kills the mobsters with the nerve gas (a memorable scene includes one early-leaving mobster's body left inside a car reduced to a metal cube by a giant automobile wrecking compactor). As for Bond, he is captured by Galore and returned to his cell with multiple guards ordered to keep him under constant watch.
Later, Bond discusses the details of Operation Grandslam with Goldfinger. Bond notes that given the weight of the gold, and even if the entire garrison of the fort is killed as planned, Goldfinger would still need a small army, 500 trucks and a week's time to remove the gold from the fort; in the meantime, the U.S. military would learn of the attack and move to stop the theft within two hours. Goldfinger informs Bond that he does not intend to remove the gold, but instead he plans something he considers much more feasible: raid the fort just long enough to place an atomic bomb, supplied by the Chinese government, in the fort's main storage vault. The resulting blast would irradiate the entire gold supply of the United States, rendering it useless for 58 years and multiplying the value of Goldfinger's own supply by at least ten times. As a side-effect, the entire economy of the Western world will be disrupted.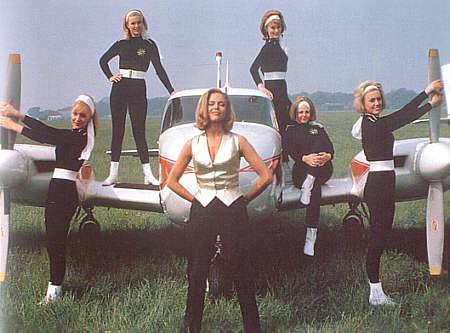 Pussy Galore's Squadron / Goldfinger
As the operation begins the next day, Pussy's squadron of female pilots sprays the area around Fort Knox, seemingly killing thousands of soldiers as well as Felix. Actually, Bond had seduced Pussy Galore, leading her to contact Leiter, who substitutes a harmless gas; the soldiers faked their deaths. (Ms. Galore had been told by Goldfinger that it was sleeping gas, not nerve gas, so she hadn't been planning mass murder anyway.) Goldfinger and his men blow up the main gate with a Bangalore torpedo and use the laser to break into the vault building, where Goldfinger has Bond handcuffed to the bomb. Outside, the U.S. Army "revives" and engages Goldfinger's forces in a fierce gun battle. During the battle, Goldfinger manages to escape by impersonating an army officer. Bond battles and kills Oddjob in the vault (the unique metal hat finally and appropriately settles Oddjob's fate, by acting as an electrical conductor to kill him.) Oddjob crumples to the ground. As Bond tries vainly to deactivate the bomb, an expert enters the vault with Leiter and switches off the bomb, with seven seconds to spare (the indicator shows 007).
Afterwards, Bond is honored with a personal meeting with the President of the United States, but during the flight back in a business jet (again a Lockheed JetStar, but painted differently), finds out that Goldfinger has hijacked the plane and is planning to fly to Cuba. After a struggle onboard, Goldfinger's pistol is fired, breaking the window, and Goldfinger is subsequently sucked out of the plane. Grasping to hold onto something, Auric is sucked out of the plane to his death. He is pressurized and killed.
Goldfinger is playing his golden harp.
The plane then crashes, but Bond and Pussy Galore, who was piloting, manage to parachute out in time and land on a tropical beach.

Also Known As:
Ian Fleming's Goldfinger
Runtime: 112 min
Country: UK
Language: English
Color: Color (Technicolor)
Sound Mix: Mono (Westrex Recording System)
Certification: Canada:PG (Manitoba/Ontario) / Singapore:PG / Canada:A (Nova Scotia) / Canada:G (Quebec) (re-rating) (2003) / Canada:13+ (Quebec) (original rating) / Iceland:12 / Ireland:PG / Argentina:13 / Australia:M / Finland:K-16 / Netherlands:12 (video rating) / Norway:15 / Norway:16 (original rating) / Peru:14 / Sweden:15 / UK:PG (video rating) / USA:Approved (original rating) / USA:GP (re-rating) (1971) / USA:PG (re-rating) (1994) / West Germany:16 / UK:A (original rating) (cut) / Brazil:14
Soundtrack
Goldfinger is the first of three James Bond films with a theme song sung by Shirley Bassey. Though she only performed three out of the many Bond film theme songs, her strong, brassy style became a Bond theme trademark. "Goldfinger" was written by John Barry and Anthony Newley. The theme was originally recorded by Newley, but was rerecorded with Bassey for the film and the soundtrack. Newley's version was later released in 1992 as part of the 30th Anniversary of James Bond on film in the compilation collectors edition The Best of Bond...James Bond. Bassey's theme sold over a million copies in the United States awarding her a Gold album. In the United Kingdom the theme reached number 21 on the charts.
The film's soundtrack was composed by John Barry, marking this as his second credited James Bond film soundtrack. The last four tracks were not released on the original soundtrack and were first released on the 30th Anniversary compilation, The Best of Bond...James Bond. They were also later released on the remastered Goldfinger soundtrack in 2003.
Track listing
"Goldfinger" - Shirley Bassey

"Into Miami"

"Alpine Drive / Auric's Factory"

"Oddjob's Pressing Engagement"

"Bond Back in Action Again"

"Teasing The Korean"

"Gassing The Gangsters"

"Goldfinger" - (instrumental version)

"Dawn Raid on Fort Knox"

"The Arrival of the Bomb and Count Down"

"Death Of Goldfinger, The End Titles"

"Golden Girl"

"Death Of Tilly"

"The Laser Beam"

"Pussy Galore's Flying Circus"
Myths
Although James Bond films are not known for their technical accuracy, but rather for outlandishly plausible action, two incidents in this film bear special examination: skin asphyxiation, and bullet-induced airplane explosive decompression.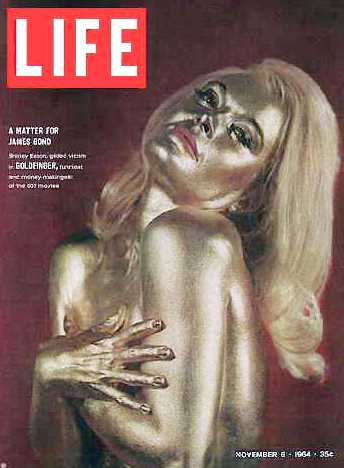 Life magazine cover - Goldfinger myth
Asphyxiation argument
In one scene, the villain's girlfriend, Jill Masterson, is murdered by "skin suffocation." She is painted with gold paint and died, because her skin is unable to breathe. According to urban legend, the concept was based on the death of a Swiss fashion model who painted herself and asphyxiated. Another urban legend in Europe involved Italian children who were painted gold as part of a religious parade, and died.
Though this is a plausible explanation for this unusual method of killing, it has been argued whether or not it is possible. Humans, being mammals, achieve respiration via their mouths and nostrils to fill their lungs with air. The only animals that breathe through their skin are amphibians, insects and worms. In fact, were it true that people breathe, in auxiliary fashion, through their skin, it would, therefore, be impossible for people to engage in extended bathing, mud baths, scuba diving and, indeed, body painting - activities requiring extended covering of the skin. If one did try murder via gilding, the victim would die of heat stroke, but only after a long period and not in the manner shown in the movie. The gold paint would clog the pores and prevent perspiration, rendering the body unable to properly regulate its temperature. Dying in this fashion, however, would take several days and is a very inefficient manner of killing.
The Discovery Channel series, MythBusters has twice attempted to prove or disprove whether skin suffocation due to paint was possible. In both experiments one of the hosts of the series was covered head-to-toe in gold paint. The first experiment was called off when the subject began experiencing breathing and blood pressure problems. In a follow-up experiment, a different subject was covered but this time showed no ill effects [4].
A different urban myth (similar to the permanent marker myth) is that there is (or was) a chemical in metallic paints that is toxic and can be somehow absorbed through the skin, causing illness and eventual death; this has yet to be proven, but it may be plausible. A third myth is that painting your skin will not kill you, but it will cause skin problems if you don't wash the paint off properly; this may also be plausible
Explosive decompression airplane window argument
In a 2003 episode of Discovery Channel's MythBusters, the mythbusters attempted to recreate a scene in several movies (including Goldfinger) in which a window in a jet at high altitude is broken by a bullet, resulting in a passenger being sucked through the window hole by the force of the decompression. The popular idea that this was a realistic possibility almost certainly dates from the Goldfinger book and film (Bond in the film claims a .45 bullet fired at 35,000 feet will cause people to be sucked into "outer space"), and it had settled into the national consciousness firmly enough to be mentioned in the 1970 film Airport (where a character tells of seeing this happen).
MythBusters' attempted a recreation of the phenomenon by over-pressurizing a commercial airliner sitting on the ground to a differential of 8 p.s.i. (the normal pressure difference between inside and outside a commercial airliner at cruising altitude), then firing a handgun at the window. They were unable to re-create any kind of window blowout or sudden cabin decompression, using a firearm (instead, a small hole merely appeared in the plastic). Even when explosives were used to blow a window out entirely, a dummy passenger near the window stayed in the cabin. A claim was later made by the MythBusters team in a Skeptic Magazine interview, that the U.S. government had sought data from this particular segment, since federal agencies and their contractors had been seriously contemplating the same sort of tests, in relation to its armed sky-marshal program, after the events of the September 11, 2001 attacks. Fortunately, today's airliner windows apparently do not behave in the same way as the window in the Lockheed JetStar used to represent a jet at 35,000 ft in the film.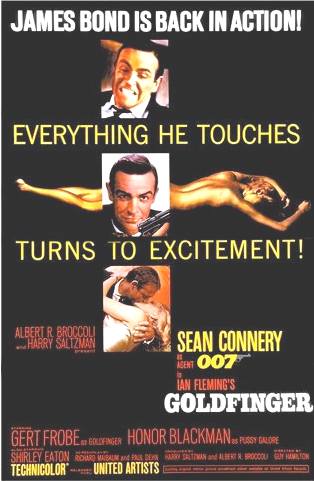 LINKS
A - Z FILMS INDEX
A - Z ACTORS INDEX
Healthier alternative tastes for adventure capitalists
Solar Red | Solar Crush | Solar Cola | Solar Spice | Solar +