Solo World Navigation Record - FEBRUARY, 2004
Francis Joyon became the fastest world solo navigator, setting a blistering new record of 72 days 22 hours and 54 minutes and 22 seconds of navigation, covering more than 28,000 miles at an average speed of 15.5 knots. This is over 20 days faster than the previous record. In 1969 Robin Knox Johnston completed the first solo not stop voyage in 313 days.
The single-handed, non-stop, round-the-world record bar has been raised by 20 days, making it a difficult record to beat in the future. Joyon acheived this record on his 90 foot trimaran IDEC pictured below. Unlike the Open 60 mono hull that set the previous record, IDEC was not purpose built for solo sailing. In fact under its previous name: 'Sport Elec' the boat once held the Jules Verne Trophy for fasted crewed voyage around the world. Remarkably Joyon's time was just 32 hours longer solo than when the same boat circled the globe with crew.
Joyon is the 4th on an all French list to have soloed a trimaran around the globe. The others are the late Alain Colas, Phillipe Monnet and Olivier de Kersuason. Joyon a 47 year old father of 2 got about 4 hours of sleep per day.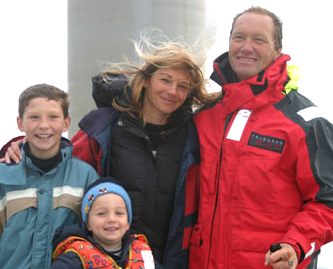 Francis Joyon and family
Joyon's time of 72 days is actually faster than that of the first two boats that held the Jules Verne trophy. Bruno Peyron's Explorer took 79 days and ENZA with Peter Blake aboard needed 74 days. It is amazing how technology has again provided man with the means to go faster. Solar Navigator carries the latest technology in the quest to set the first electric world navigation. It is doubtful if the incredible average speed set by IDEC using wind energy, can be matched at the current state of solar panel development.
Top sailors from the round the world, have been hailing Joyon's achievement as incredible. It is a 90 foot boat, built for a large crew. To sail round the world safely by your self is an amazing achievement. Joyon didn't potter round the world, he pushed the machine to its limits throughout. Not only has Joyon even beaten records set previously by boats with full crews, but he has also taken an incredible 53 days off the multihull solo record.
With any record, you know that one day it will be beaten, it's just a question of when. These days records aren't held for that long, whereas before you could hang on to them for some time. Mike Golding held his round-the-world record for 7 years. That is perhaps one thing to be said about racing, that once you have won a race, nobody can take it away from you. It's yours forever. But in this instance, Joyon will make it very hard to others to beat, but you can be sure they will one day." See Ellen Macarthur.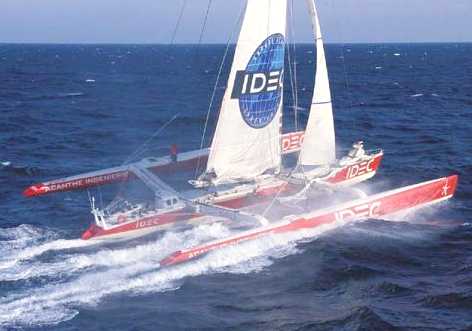 IDEC 90' Trimaran
If you look at Joyon's voyage in comparison to past Jules Verne record holders he was better than all at some point. To the equator he was 23 hours faster than Sport Elec. From the equator to the Cape of Good Hope he was 8 hours faster than current record holder Orange. From Cape Horn to the Equator he was faster than Enza and Explorer. From the equator to the finish he posted the fastest time ever! Again all this while sailing solo v. sailing with a crew. Joyon was not flushly funded. His mainsail dated from the boat's previous circumnavigation in 1997. Further unlike many contemporary ocean record voyages he did not have shore side routing assistance.
Mike Golding commented on Joyon's achievement: "I take my hat off to him. He really has done fantastically well and this record will be very hard to beat. I wish I had thought about doing it! It's an old boat (20 years old), with a fantastic record-breaking track record. Joyon is a great sailor, on a great boat and had the right weather conditions. You can only predict the weather for so long at the start of these challenges, so you always need to have a lot of luck with the weather too. Joyon has sailed meticulously and look at the out come!"
One of the people this record directly affects is Ellen Macarthur. She recently launched a 75 foot trimaran intended for solo record breaking. She is being coy about whether she will make an around the world attempt saying, "With regards to the round-the-world record attempt, all I can say for now is that we shall see." Macarthur's past record shows she will likely make an attempt, but Joyon has raised the standard she will have to achieve considerably.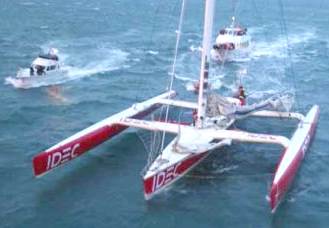 Escort for IDEC on the home straight
In 2000, after winning the OSTAR Trans Atlantic, Joyon said: " "But for me the goal was really to take my offshore racing experience to greater heights and gain a greater understanding of the ocean....I think it was because I was more in touch with the elements, that I won in the end." He's moved to yet greater heights with this voyage. Perhaps the greatest for a long time to come!
Joyon's success has been recognised by the media throughout the world. UK TV stations have been hungry for expert opinions from previous record breakers. Later today, Mike Golding will be on both Channel 4 News and BBC News 24 later today, going through the details of how Joyon managed the epic voyage.
This is sail power. The technology is hundreds of years old and a tradition. but how can sails be developed to replace diesel engines. Indeed, can they?
Sponsors are keen to get their names of fast sailing craft - why not on vessels using alternative energy, such as electric boats powered by solar energy. The answer to that could be it's not proven enough for all those corporate play it safe backers, who want guaranteed returns for their contributions. We say, how about some adventurous sponsors backing something untried, but potentially a nautical milestone?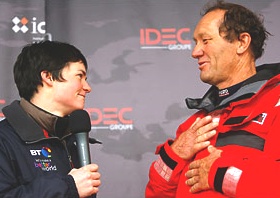 Ellen and Francis - role reversal January 2008
Immediately after B&Q crossed the finish line the previous record holder, Francis Joyon, was congratulating Ellen.

"I always said that Ellen was a serious contender, and I can see today that she has decided to prove me right. The mere fact that she was able to sail around the world non-stop was quite an exploit, but to smash the record at the same time fully deserves my warmest congratulations. Ellen achieved this result through her concentrated efforts. Her team worked hard and backed her before and during her circumnavigation, and she did not ever lose her resolve. Being well supported is one thing, but when you find yourself in the middle of the southern lows in this type of boat, you really feel very alone. Having experienced the deep south in a multihull, and with this memory still fresh on my mind, I know full well that this can be very tough on the nerves. I am sure that at times, it must have been very hard going, and I often thought about Ellen, when she was in some difficult patches with south westerly winds and squalls violently pouring down on the boat. Her trimaran is big, there is a large surface area of sail, and in times like those, it is not her shore team that was able do much for her.

"I was hoping to keep the record for a bit longer, but it was not something that I put on a pedestal either. During the press conference following my arrival, I pointed out that in my opinion it was possible to improve on my time, taking into account my damage and the times when I was becalmed. However, I did not think it would be Ellen beating me so soon, and so magnificently. Once again, well done to her!"
FJ's World Navigation Records - FEBRUARY, 2004 AUGUST 2012 JANUARY 2008 DISTANCE 2008 2013
Globe killer on Youtube

Max Energy Ltd and Bluebird Marine Systems Ltd
Solar House, BN27 1RF, United Kingdom
Intelligent Battery Support System