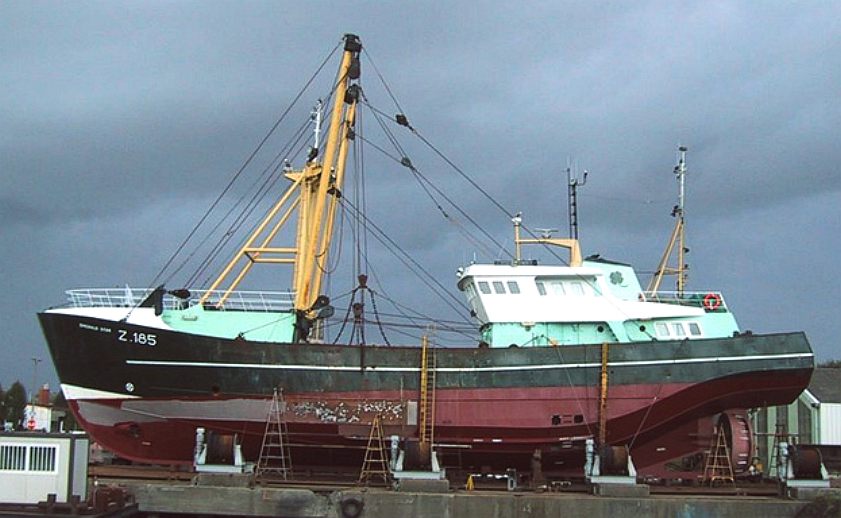 A fishing vessel is a boat or ship used to catch fish in the sea, or on a lake or river. Many different kinds of vessels are used in commercial, artisanal and recreational fishing.

According to the FAO, there are currently (2004) four million commercial fishing vessels. About 1.3 million of these are decked vessels with enclosed areas. Nearly all of these decked vessels are mechanised, and 40,000 of them are over 100 tons. At the other extreme, two-thirds (1.8 million) of the undecked boats are traditional craft of various types, powered only by sail and oars. These boats are used by artisan fishers.

It is difficult to estimate the number of recreational fishing boats. They range in size from small dingies to large charter cruisers, and unlike commercial fishing vessels, are often not dedicated just to fishing.

Prior to the 1950s there was little standardisation of fishing boats. Designs could vary between ports and boatyards. Traditionally boats were built of wood, but wood is not often used now because it has higher maintenance costs and lower durability. Fibreglass is used increasingly in smaller fishing vessels up to 25 metres (100 tons), while steel is usually used on vessels above 25 metres.


TRAWLERS

Trawler designs adapted as the way they were powered changed from sail to coal-fired steam by World War I to diesel and turbines by the end of World War II. During World War I and World War II, many fishing trawlers were commissioned as naval trawlers to be used as minesweepers, the activities being similar, with the crew and layout already suited to the task. Since World War II, commercial fishing vessels have been increasingly equipped with electronic aids, such as radio navigation aids and fish finders. During the Cold War, some countries fitted fishing trawlers with additional electronic gear so they could be used as spy ships to monitor the activities of other countries.

The town of Grimsby on Lincolnshire's east coast once laid claim to the title of the 'largest fishing port in the world', Its fleet of over 700 trawlers and the rail links from the town to London's Billingsgate Fish Market allowed Grimsby fish to be renowned nationwide. Today Grimsby's fish docks are virtually deserted, though the towns port is still a hive of activity for cargo vessels. The glory days of fishing in the town are remembered at the town's Fishing Heritage Centre (previously the National Fishing Heritage Centre) where the preserved trawler Ross Tiger provides a unique glimpse into the lost lives of the 1950s trawlerman.

The largest fishing port in Europe from the 1970s onwards has been Peterhead in the North-East corner of Scotland. In its prime in the 1980s Peterhead had over 500 trawlers staying at sea for a week each trip. Peterhead has seen a significant decline in the number of vessels and the value of fish landed has been reduced due to several decades of overfishing which in turn has reduced fishing quotas.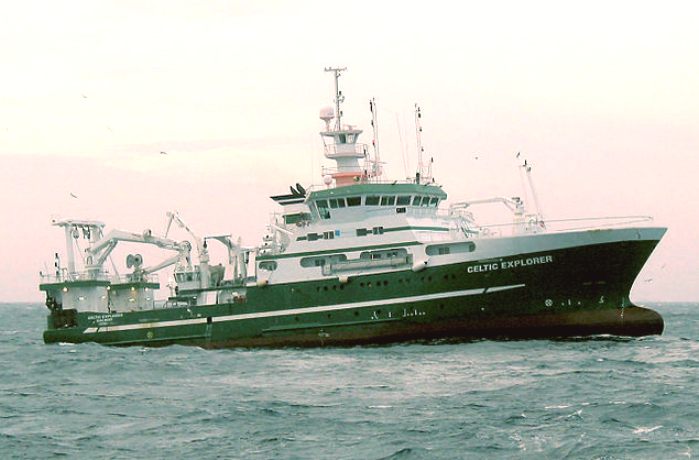 MODERN TRAWLERS

Modern trawlers are usually decked vessels designed for robustness. Their superstructure (wheelhouse and accommodation) can be forward, midship or aft. Motorised winches, electronic navigation and sonar systems are usually installed. Fishing equipment varies in sophistication depending on the size of the vessel and the technology used. Design features for modern fishing trawlers vary substantially, as many national maritime jurisdictions do not impose compulsory vessel inspection standards for smaller commercial fishing vessels.

Mechanised hauling

Mechanised hauling devices are used on modern trawlers. Trawl winches, such as Gilson winches, net drums and other auxiliary winches are installed on deck to control the towing warps (trawling wires) and store them when not in use.

Electronics

Modern trawlers make extensive use of contemporary electronics, including navigation and communication equipment, fish detection devices, and equipment to control and monitor gear. Just which equipment will be installed depends on the size and type of the trawler.

Much of this equipment can be controlled from the wheelhouse or bridge. Smaller trawlers have wheelhouses, where electronic equipment for navigation, communications, fish detection and trawl sensors are typically arranged about the skipper's chair. Larger vessels have a bridge, with a command console at the centre and a further co-pilot chair. Modern consoles display all the key information on an integrated display. Less frequently used sensors and monitors may be mounted on the deckhead.

Navigational instruments, such as an autopilot and GPS, are used for manoeuvering the vessel in harbour and at sea. Radar can be used, for example, when pair trawling to keep the correct distance between the two vessels. Communication instruments range from basic radio devices to maritime distress systems and EPIRBs, as well as devices for communicating with the crew. Fish detection devices, such as echosounders and sonar, are used to locate fish.


During trawling operations, a range of trawl sensors may be used to assist with controlling and monitoring gear. These are often referred to as "trawl monitoring systems" or "net mensuration systems".

* net sounders (trawl eyes) give information about the concentration of fish around the opening to the trawl, as well as the clearances around the opening and the bottom of the trawl
* catch sensors give information about the rate at which the cod end is filling.
* symmetry sensors give information about the optimal geometry of the trawls.
* tension sensors give information about how much tension is in the warps and sweeps.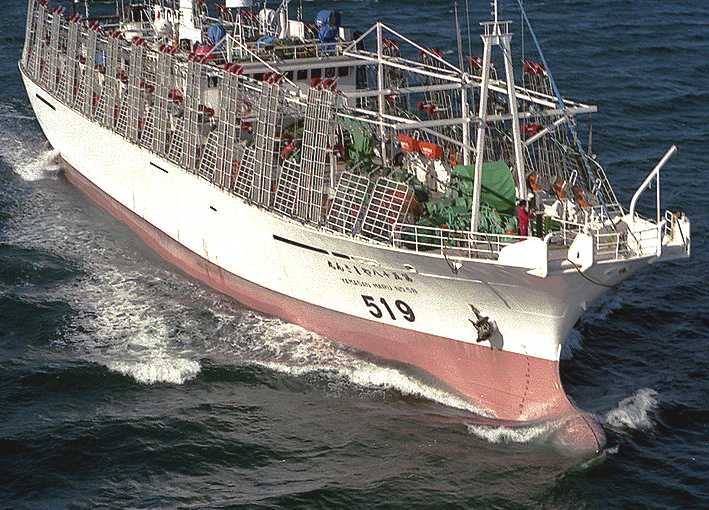 FISH STORAGE

Modern trawlers store the fish they catch in some form of chilled condition. At the least, the fish will be stored in boxes covered with ice or stored with ice in the fish hold. In general, the fish are kept fresh by chilling them with ice or refrigerated sea water, or freezing them in blocks. Also, many trawlers carry out some measure of onboard fish processing, and the larger the vessel, the more likely it is to include fish processing facilities. For example, the catch can undergo some preliminary processing by being passed through sorting and washing devices. At a further stage, the fish might be mechanically gutted and filleted. Factory trawlers may process fish oil and fish meal and may include canning plants.


COMMERCIAL VESSELS

The 200-mile fishing limit has changed fishing patterns and, in recent times, fishing boats are becoming more specialised and standardised. In the United States and Canada more use is made of large factory trawlers, while the huge blue water fleets operated by Japan and the Soviet-bloc countries have contracted. In western Europe, fishing vessel design is focused on compact boats with high catching power.

Commercial fishing is a high risk industry, and countries are introducing regulations governing the construction and operation of fishing vessels. The International Maritime Organization, convened in 1959 by the United Nations, is responsible for devising measures aimed at the prevention of accidents, including standards for ship design, construction, equipment, operation and manning.

According to the FAO, in 2004 the world's fishing fleet consisted of 4 million vessels. Of these, 1.3 million were decked vessels with enclosed areas. The rest were open vessels, of which two-thirds were traditional craft propelled by sails and oars. By contrast, nearly all decked vessels were mechanized. Of the decked vessels, 86 percent are found in Asia, 7.8 percent in Europe, 3.8 percent in North and Central America, 1.3 percent in Africa, 0.6 percent in South America and 0.4 percent in Oceania. Most commercial fishing boats are small, usually less than 30 metres (98 ft) but up to 100 metres (330 ft) for a large purse seiner or factory ship.

Commercial fishing vessels can be classified by architecture, the type of fish they catch, the fishing method used, or geographical origin.
Marine & Boat Insurance Providers Table

| Company | Type of Insurance | Website |
| --- | --- | --- |
| 24 hour dinghy insurance | Dinghy & Sailboard Insurance Immediate insurance premiums displayed by clicking onto the class of craft. | |
| ABG | We've teamed up with Boatinsure.co.uk to provide our clients with a competitive online marine quote: DINGHY, SPEED BOAT, SMALL YACHT, CABIN CRUISER. | |
| Affinity Insurance Brokers | Official Brokers to the Irish Sailing Association. Affinity Insurance Brokers, the premier source for insurance coverage and risk management advice for Ireland's sailing and fishing communities. | |
| Amilcroft | Cargo INSURANCE. Take advantage of capacity and services through the London market and other specialist insurers. Our arrangements include insurers able to write surplus lines in most of North America. | |
| Arden Insurance | Arden Insurance Services are able to arrange cover on all craft from the smallest of dinghies to the largest ocean going vessels. Discounts are also available for: RYA Qualifications, Policy excesses up to 1,000GBP, Craft in Marina Berths, Craft with alarms. Many of our standard policies include: Third Party Liability up to 2,000,000GBP, 12 Months in commission cover, Underwater Machinery Damage, Protected No Claims Bonus, Road Transit Cover, Legal Protection Cover. | |
| Edwards & Associates | We offer marine insurance to cover pleasure boats such as yachts and cabin cruisers, as well as larger private boats. Whether you are looking for personal or commercial marine insurance, we have a large base of insurers who we use to make sure that you get the best possible deal: Personal and Commercial Marine Insurance. | |
| BC-Marine Inurance | Set the right course to solve your Marine Insurance Requirements. Marine Craft Insurance, Legal Protection, Foreign Travel, Boat SalesAccident & Medical, Loss Of Earnings, Marine Finance, Marine Tradesmen, Crew Liability, Instalment Plans, Boat Builders & Repairers, Public Liability, Recovery & Assistance, Product Liability. UK, Ireland, Scotland, Wales & the EU. | |
| Bishops | We have particular expertise in the following: International Marine, Cargo, Inland Goods in Transit, Hauliers Liability, Freight Forwarders Liability. | |
| Alfred Blackmore | Alfred Blackmore Group Ltd UK insurance broker specialising in bloodstock, classic car, construction, financial services, healthcare, international motor, marine, professional indemnity, reinsurance and special accident. | |
| Blythin & Brown | Loughborough brokers provide online quotes for marine insurance, and also offer a full range of financial advice. | |
| | Marine insurance underwritten by Lloyd's of London. Discover what is covered by the policies, read the FAQs, get an online quote or claim online. | |
| | Covers most commercial risks in the following industries: manufacture, motor trade, haulage supply, farms, shops, offices, clubs, pubs, hotels and marine (ONLINE APPLICATION FORM). | |
| Craftinsure | German marine insurer provides boat-insurance services throughout Europe. Select a boat type, get a quick quote, and track a claim. 20% internet purchase discount. | |
| Newton Crum | Dinghy - Narrowboat - Motorboat - Sailboard- Yacht - Marine Insurance. FREE INSURANCE QUOTATIONS no charge or obligation. Dinghy Insurance, Sailboard Insurance, Inland Waterways Insurance, Yacht - Motorboat - Speedboat Insurance, Stolen Boat List. | |
| Engine Breakdown Cover Ltd. | Offers unique insurance policies for marine in-board engines. | |
| Fairmont Insurance Services | Super Yacht Insurance for yachts in excess of $1 Million to over $125 Million. Coverage includes Liability, Loss of Charter, and Crew Personal Accident and Medical. | |
| Lucas Fettes & Partners | Marine Insurance: Hull and accessories of a vessel, passengers and worldwide cargo movements. | |
| Navigators and General | Navigators and General has been at the forefront of yacht and motorboat insurance since 1921 and has been the market leader in this field for over 70 years. Navigators & General is part of the Zurich Financial Services Group and Financial Ombudsman Service, providing policyholders with world-class security. Today, Navigators provides cover for vessels with a total value in excess of £750,000,000. Underwriting insurance for all types of leisure craft, from dinghies to £5,000,000 vessels, has provided us with the breadth of experience to understand even the most individual requirements. | |
| Giles Insurance Brokers | Marine Insurance. Dinghy, Power Boat, Yacht, Cabin Cruiser, Jet Ski, Charter Boat, Commercial Fishing Boat, Yacht Yard | |
| SHW Group | Marine Cargo Insurance. Cover is arranged with specialist insurers and the individual policies are written to suit your business requirements including if required Warehousing for distribution during export or import. | |
| LONHAM GROUP LTD | Freight legal liability for both UK and international domiciled companies. Freight legal liability insurance, Cargo insurance, Charterer's Liability insurance. Delegated authority to deal with claims matters relating to marine insurance. | |
| Mardon Marine Insurance Brokers | boat-insurance.co.uk and yacht-insurance.co.uk are the websites of Mardon Marine and maritime Underwriting Agencies Ltd. (Including Maritime Underwriting Agencies Ltd) | |
| Noble Marine | Noble Marine are specialist insurance brokers dealing with all classes Yacht insurance, rowing insurance, laser class, dinghy insurance, sailboard insurance. | |
| Rob, Perry Marine | Need Insurance? We are agents for one of the most competitive insurance brokers in the country who specialise in marine insurance. | |
| Pendleton May | We operate a scheme for the insurance of yachts, motor boats and small craft. Our expertise, experience and number of clients insuring their boats enables us to provide you with wide cover at competitive cost. Try us by completing our form. | |
| Terra Nova | Terra Nova Protection & Indemnity provides fixed premium P&I cover for the Owner / Manager / Charterers of commercial ships operating in domestic, coastwise or short-sea trades. | |
| Oban Insurance Centre | Read about the insurance schemes covering marine, holidays, business, motoring and agriculture. Offers an online quote system. | |
| B Portwood & Co.Ltd | Marine and boat insurance. On-line insurance rates are provided for dinghies, canoes, sailboards, small craft, inflatables, speedboats, yachts and motorboats for use in the uk and in Western Europe for up to 60 days. | |
| Alexander Brooks & Stevens Ltd | Marine Insurance providers | |
| Graham Sykes Insurance | Graham Sykes Insurance insure a variety of boats. Our polices cover you for use on inland and costal waterways between May and September. Smaller craft usually have to be laid up ashore over the winter months. For larger vessels we can provide cover for them all year round. For the water skiers out there we can usually extend your policy to include liability for towing water skiers. | |
| Craig & Suttar | In most cases we can provide all risks cover including third party liability for you and your craft. Polices cover you for use on inland and costal waterways between May and September. For the waterskiers out there we can usually extend your policy to include liability for towing waterskiers. In some case we can add your boat onto your house contents insurance which is sometimes cheaper. | |
| Tyser (UK) Ltd | Marine and boat Insurance | |
| Yachtsman Marine Insurance Ireland | Yachtsman Marine Insurance Ireland. Sports boats, Yacht cruisers, motor cruisers. We offer yachtsmen an exceptional insurance package at a highly competitive price. We are constantly reviewing our policy wording to provide the most up to date terms and conditions to ensure that our clients have the most appropriate cover. | |
Meeting Your Needs

Offering a range of services to most business sectors the providers below specialise in insurance design, risk placing and risk management for UK and international concerns.

They have considerable experience in the development of solutions for both Marine and Commercial risks. With access to Lloyds of London and a range of ABI registered Insurers they can secure the most competitive premiums and terms. All of the above is a very good reason to click through from us to obtain your online quotation, and it doesn't cost you a penny more to do so.
FISHING BOAT LINKS
BostonWhalerForum.com The premiere site for Boston Whaler community discussions, information, etc.
Worldfishingtoday.com Fishing vessels photos and data, worldwide
National Library of Scotland Screen Archive archive films fishing around the coasts of Scotland
(Members of the Trans Continental Insurance Services Group)
Lloyd's Insurance Brokers
Fleet operators might reduce insurance costs if their ships have
autonomous capability, which system promises safer seas.